Assessing the Wind Vulnerability of Building Stock Across the Caribbean
Editor's Note: AIR plans to release a substantially updated tropical cyclone model for the Caribbean this summer. This article provides an overview of the enhancements to the vulnerability module, including a discussion on how the extensive data AIR collected on primary and secondary characteristics, information about the evolution of building codes and their enforcement, and lessons learned from damage surveys after recent major hurricanes have been leveraged in our new vulnerability modeling framework to enhance our ability to quantify vulnerability across the Caribbean.
In just the past few years, the Caribbean has experienced significant loss-causing major hurricanes, such as Gonzalo (2014), Matthew (2016), Irma and Maria in 2017, and Dorian (2019). Because tropical cyclones (TC) tend to be the primary drivers of natural catastrophe risk in the Caribbean (although the region is also at risk for devastating earthquakes), it is critical for (re)insurers to manage and mitigate TC risk effectively.
Modeling and quantifying TC risk in the Caribbean is challenging because many factors that contribute to the response of the built environment to tropical cyclone winds must be accounted for, including: the heterogeneity of the countries that make up the Caribbean, resulting from their individual colonial histories; the nature of the built environment in terms of construction materials, building practices, and the evolution of building standards and adoption practices; the different insurance markets that operate within each country and associated policy terms; and insurance take-up rates when it comes to various market segments. AIR has invested a significant amount of time and resources into understanding these various factors and they are taken into account in our new vulnerability modeling framework, which is incorporated into the substantially updated AIR Tropical Cyclone for the Caribbean, anticipated for release this summer.
The model also includes, by necessity, newly developed and enhanced Industry Exposure Databases (IED) for the Caribbean, reflecting the built environment of the region, as well as a detailed study of the evolution of building code requirements and construction regulations of each of the 29 countries in the model domain. Moreover, the observations made during damage surveys after recent major hurricanes such as Gonzalo, Irma, Maria, and Dorian not only confirmed what we know about the kind of damage that hurricane winds can cause but also enhanced our knowledge about the performance and vulnerability of the impacted regions. Such enhanced knowledge has also been implemented in the updated model.
The AIR Tropical Cyclone Model for the Caribbean provides a realistic view of TC risk and an updated stochastic catalog reflecting current historical data, as well as new features and capabilities, including support for additional lines of business such as infrastructure, marine lines, a detailed view of the temporal and spatial variation of vulnerability, and high-resolution unknown damage functions. In this article, we focus on the key aspects of Caribbean TC vulnerability—in particular, the region's common construction practices and building regulations and standards, the performance of the building stock observed during the recent major hurricanes, and the lessons learned.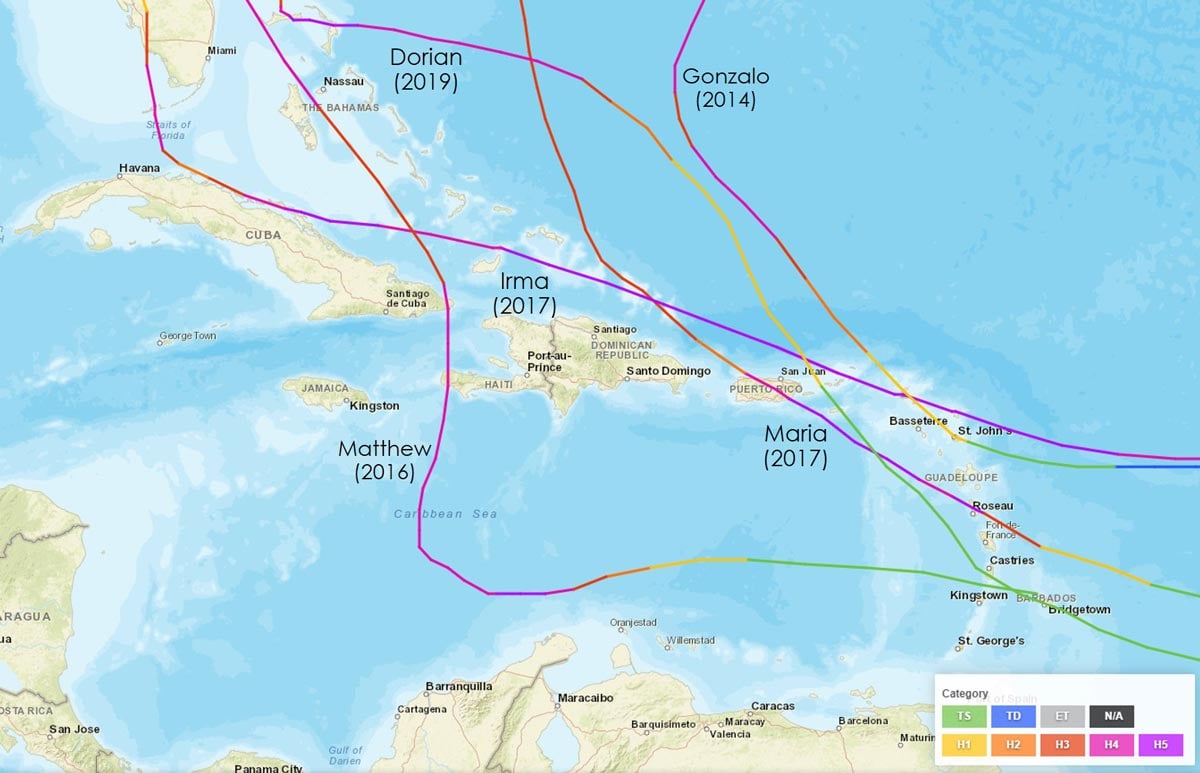 Caribbean Regional Vulnerability and Building Stock
Among several factors, the overall wind vulnerability of the Caribbean is determined by the characteristics of its built environment. The most fundamental determinants of the region's vulnerability are its construction/occupancy mix and height distribution (Figure 2). The newly updated AIR Industry Exposure Databases (IED) for the Caribbean consist of the latest available information on risk counts, building characteristics, and replacement costs, at a 90-meter resolution for all 29 countries within the Caribbean TC model's domain. Developed using local sources and on-the-ground observation, the IEDs capture the characteristics of properties at a high level of detail, including new types of risks such as mixed-material buildings, large industrial facilities, and resorts. The IEDs also capture enhanced policy conditions and terms that reflect market conditions in the specific countries within the model domain, which can vary greatly from country to country.
Figure 2 shows that masonry buildings predominate for both residential and commercial buildings in the Caribbean, indicating that the overall wind vulnerability of buildings in the Caribbean is moderate, as masonry buildings are generally the second most vulnerable after wood-frame structures and are more vulnerable than reinforced concrete or steel frame structures. However, the construction mix can vary significantly from one country to another (Figure 3).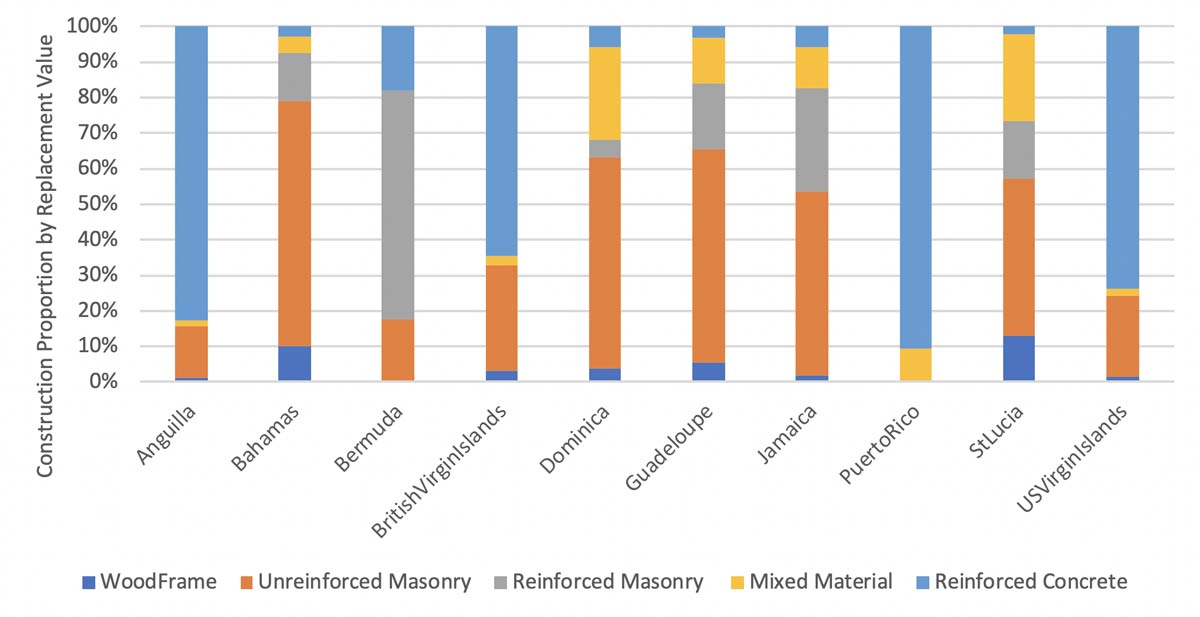 Bunker Style
Figure 3 indicates that for the majority of the countries single-family residential buildings are made of unreinforced masonry; however, reinforced concrete structures are the dominant form of single-family residential buildings for some countries/territories, including Puerto Rico, U.S. Virgin Islands, and British Virgin Islands. The reinforced concrete single-family buildings in the Caribbean, generally known as bunker style homes, are a form of construction with reinforced columns or walls, and reinforced concrete roof that is framed monolithically into the walls (Figure 4). These homes have performed well during major hurricanes in the past. The observations made by AIR after the region was impacted by Hurricane Maria indicated that while damage to nonstructural components, e.g., windows, doors, and rooftop solar water heaters, of bunker style buildings can occur at different wind speeds, these buildings typically maintain their structural integrity, even during major hurricanes. Furthermore, the interiors of a vast majority of these traditional bunker homes are modest, e.g., tiled floors and minimal wall finishes such as direct painted concrete walls. Thus, the overall vulnerability of residential buildings for islands such as Puerto Rico and the U.S. Virgin Islands is considered relatively lower than it is for others.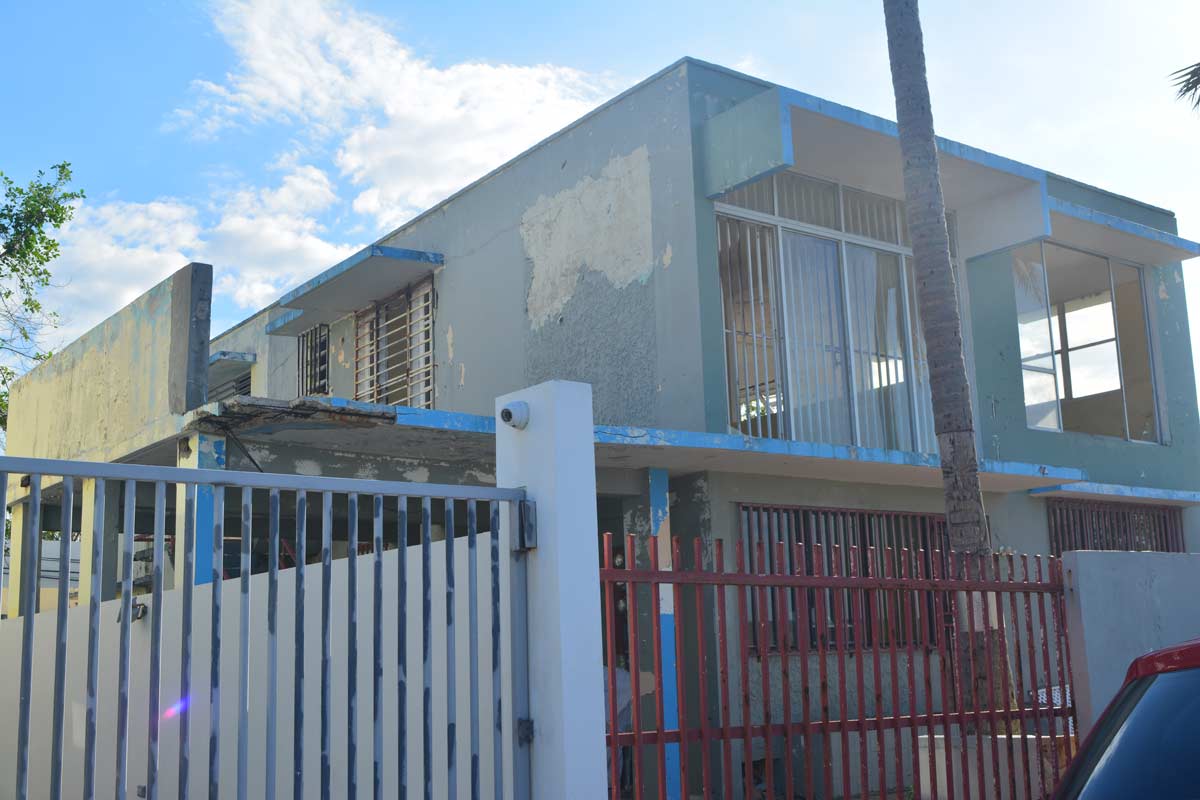 Mixed Material
The mixed material construction type represents one of the relatively common construction practices in many Caribbean countries (Figure 5). For mixed material buildings, the first story is made like a bunker style home and the second story consists of a more vulnerable wood frame or unreinforced masonry construction with a light metal roof, typically built as an unofficial addition to the building to expand the space for higher occupancy. Damage to the highly vulnerable second story can cause further loss to the first story in these mixed constructions, mainly due to water leaking from the second to the first story. The vulnerability of such constructions is captured in the updated Caribbean tropical cyclone model.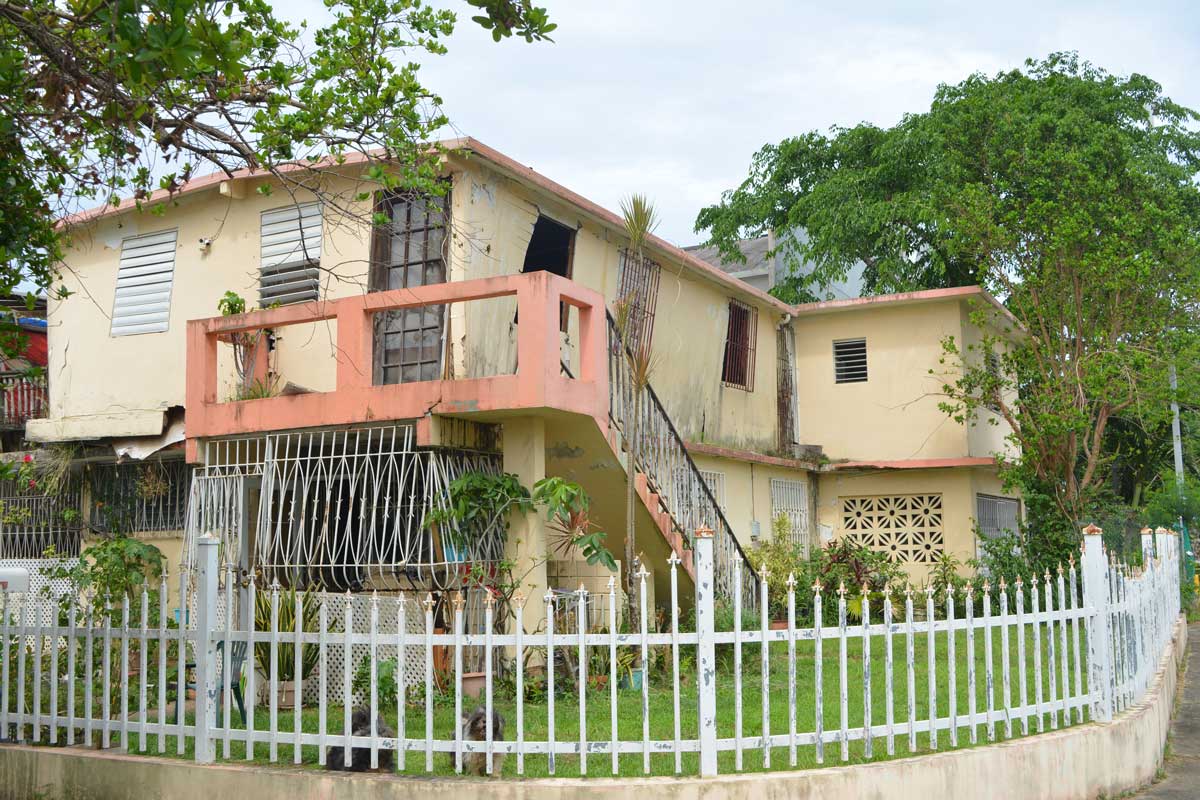 Secondary Risk Characteristics
In addition to primary risk characteristics (i.e., construction, occupancy, building height, and year built), a building's secondary risk characteristics have a significant impact on the vulnerability of the region's building stock. These features include various structural detailing, such as roof cover material, roof geometry, roof pitch, and wall siding. Many of these characteristics are determined by the common construction practices in each country, rather than building code requirements and construction regulations. AIR engineers studied census data and aerial imagery and consulted with local experts to inform the model's damage functions.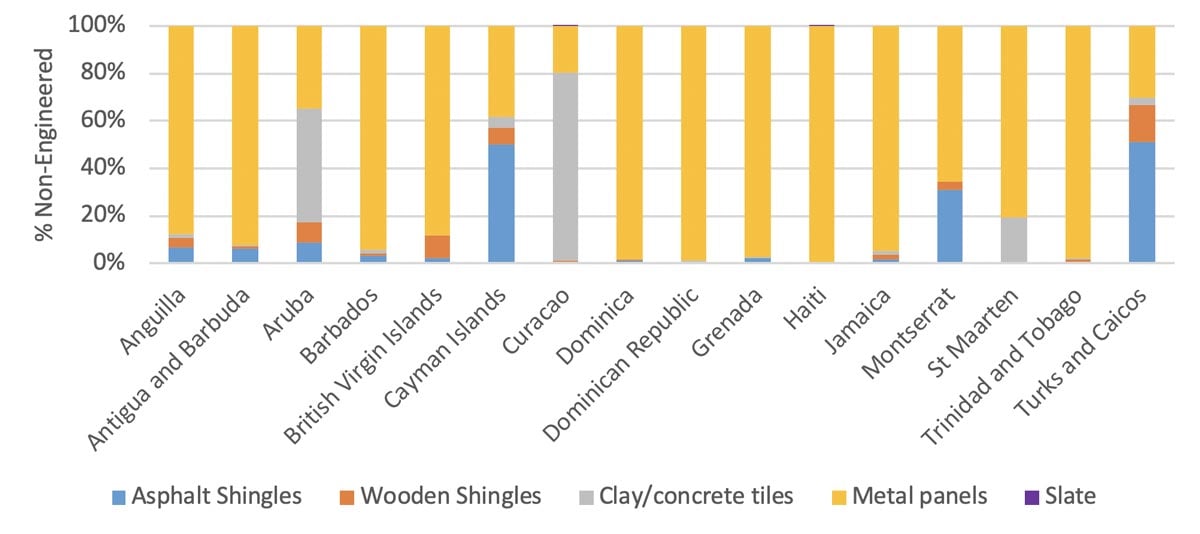 Roof Cover
Figure 6 demonstrates that metal sheets (light metal or standing seam metal) are the common roof cover material for most Caribbean countries; however, in a number of countries, clay/concrete tiles and asphalt shingles are also common. To highlight the importance of capturing such data and performing a more informed vulnerability assessment and damage function development, Figure 7 shows the relative vulnerability of two similar buildings, each constructed with roof cover materials common in the Caribbean. The use of light metal sheets can considerably increase the overall vulnerability of a building, while clay/concrete tiles and standing seam metal panels are significantly less vulnerable to hurricane wind damage.

Roof Geometry
Roof geometry in typical residential homes (those with a pitched roof) in the Caribbean is mostly gable or hip. Hip roofs, which predominate in the Cayman Islands, are typically less vulnerable than gable (Figure 8).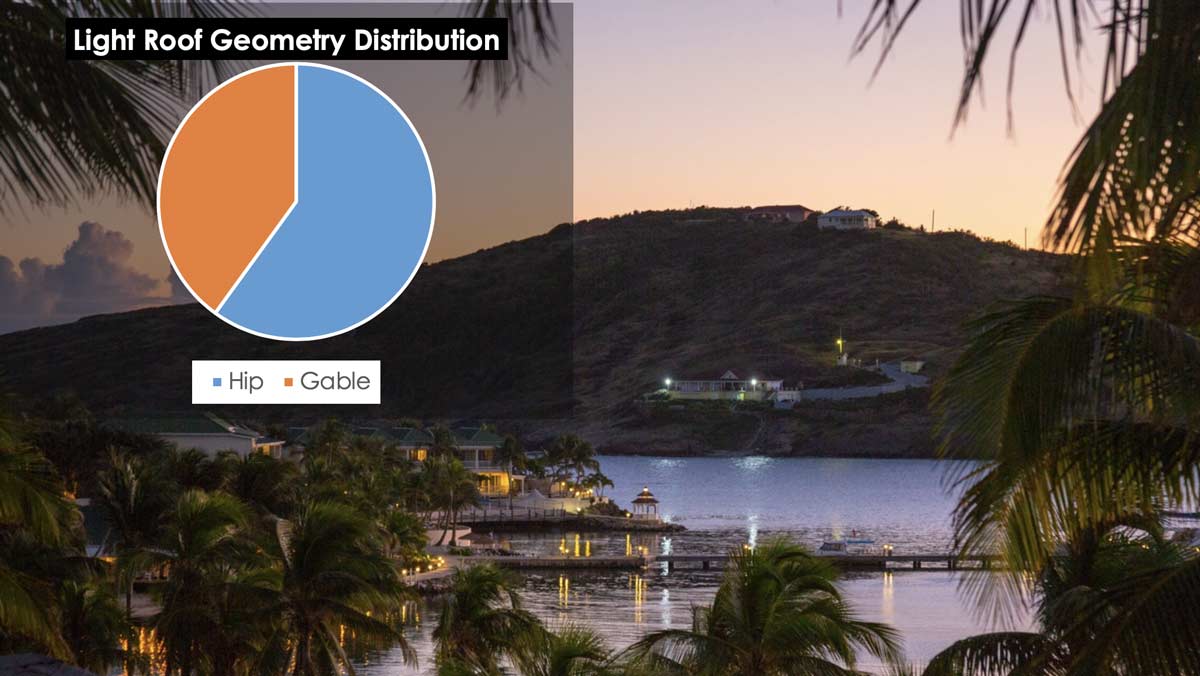 Figure 9 shows the difference in relative vulnerability of buildings with different roof geometry, underscoring the importance of accounting for such building characteristics in vulnerability assessment and modeling.

The enhanced Caribbean TC vulnerability modeling framework (see section below) captures the distribution and impact of secondary risk characteristics on the view of vulnerability across all countries in the region, accounting for regional construction practices and building attributes by sourcing local data.
Building Codes in the Caribbean and Their Impact on Wind Vulnerability
Although many building characteristics (construction type, roof cover, etc.) are a product of the common construction practices of each region, many others are not. For example, low-level construction details such as member connections (roof cover to roof deck, roof to wall, etc.), reinforcement, and material properties are not; yet many of these have significant impact on a building's level of wind vulnerability. A detailed study of building codes, their requirements, and enforcement levels can shine significant light on and help us capture the impact of such characteristics on the vulnerability of the building stock in the Caribbean.
Building codes and standards are the documents used by engineers to properly design various structural and nonstructural building components. Typically, these documents have specific requirements tailored to address the design and construction needs of buildings constructed in different regions. These include design specifications allowing building components to withstand loads from extreme events such as hurricanes and earthquakes. Building codes evolve to provide the most efficient techniques and practices for addressing such design challenges.
In the Caribbean, different countries have implemented different building codes during different time periods. A comprehensive discussion of all relevant Caribbean building codes across different time periods is beyond the scope of this article but Caribbean countries generally fall into four basic categories with respect to their building code adoption: (1) adoption of Caribbean building codes, e.g., CUBiC (Caribbean Uniform Building Code) and OECS (Organization of Eastern Caribbean States); (2) adoption of European building codes, such as Euro Code-1 and the French NV-65, with local amendments, with Dutch-governed countries adopting the Netherlands Housing and Building Ordinance for the permit process and requirement, with no adoption of an official building standard; (3) adoption of a version of ICC (International Code Counsel) standards and reference to International Building Code (IBC) and International Residential Code (IRC) with local amendments and requirements for the design and construction of buildings; and (4) country-developed building codes such as Reglamento para Diseño y Construcción de Edificios en Mampostería Estructural for Dominican Republic, and Norma Cubana 285:2003 for Cuba, although in their development they might have borrowed from other well-established standards such as ASCE-7 (American Society of Civil Engineers) for wind force calculations (Figure 10).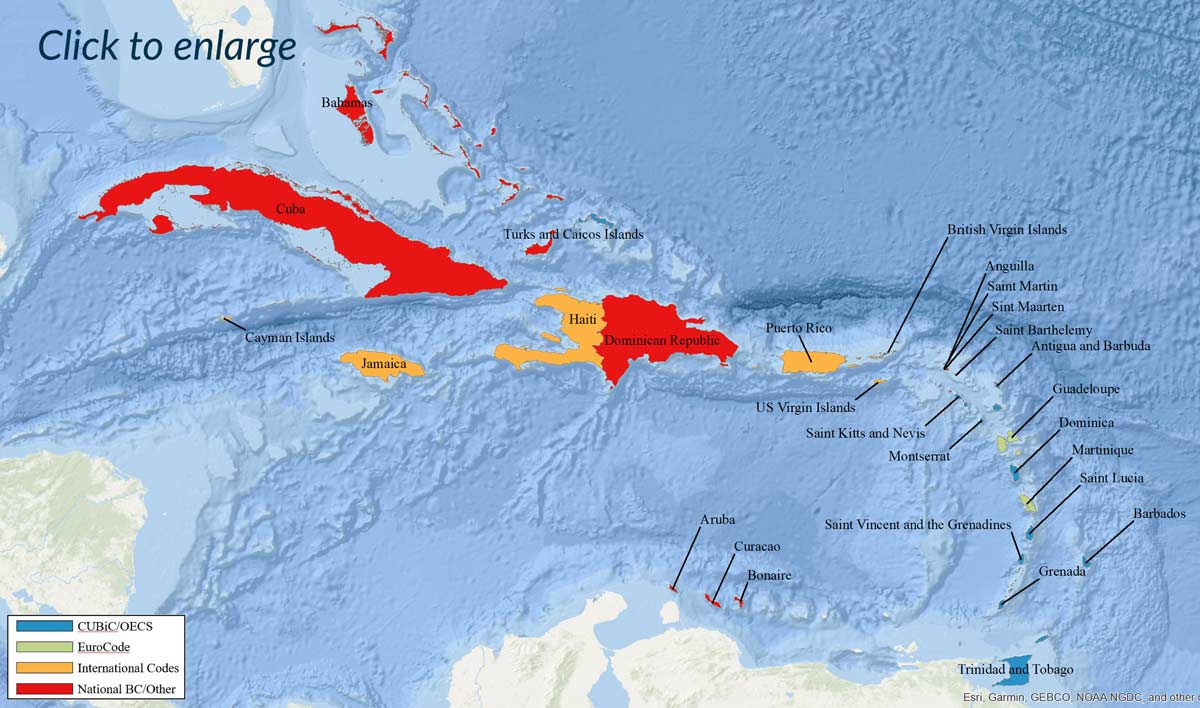 As the design and construction requirements specified by each of these codes can be considerably different, so too can the wind vulnerability of the buildings constructed to those codes. Such variation in requirements can also be due to the building's age, as building codes tend to get more rigorous over time to better mitigate damage—particularly damage caused by extreme events such as hurricanes. Two building codes relevant to the U.S. Virgin Islands (USVI), the Uniform Building Code (UBC) and Construction Information for a Stronger Home (CISH), illustrate this point (Table 1). The newer code in the table demands much stricter requirements (nailing schedule with smaller spacing, stronger anchorage) and thus the building constructed to such standards is expected to have lower hurricane vulnerability. Similar data has also been collected from the building codes used across different time periods in all 28 other countries in the Caribbean tropical cyclone model's domain.
Table 1. Comparison of USVI building code requirements in different years.

| Building code | Adoption year | Roof deck attachment | Roof anchorage | Foundation connection |
| --- | --- | --- | --- | --- |
| UBC 1988 | 1989 | 8d nails @ 6 spacing, 12 on center (6) | Nail or screw | - |
| CISH 4th edition | 2018 | 3" long screws at 5" O.C. | Hurricane tie | Hurricane tie |
Building Code Enforcement and Permitting Process
No matter how strong and rigorous the requirements of a building code are, if they are not properly enforced, they typically won't be implemented in the design and construction of buildings. Similar to building code adoption itself, code enforcement level in the Caribbean varies significantly from one country and time period to another. The level of enforcement depends on several factors such as the economy, the government, the availability of resources (e.g., adequate number of experts), and the impact of recent hurricanes (Figure 11).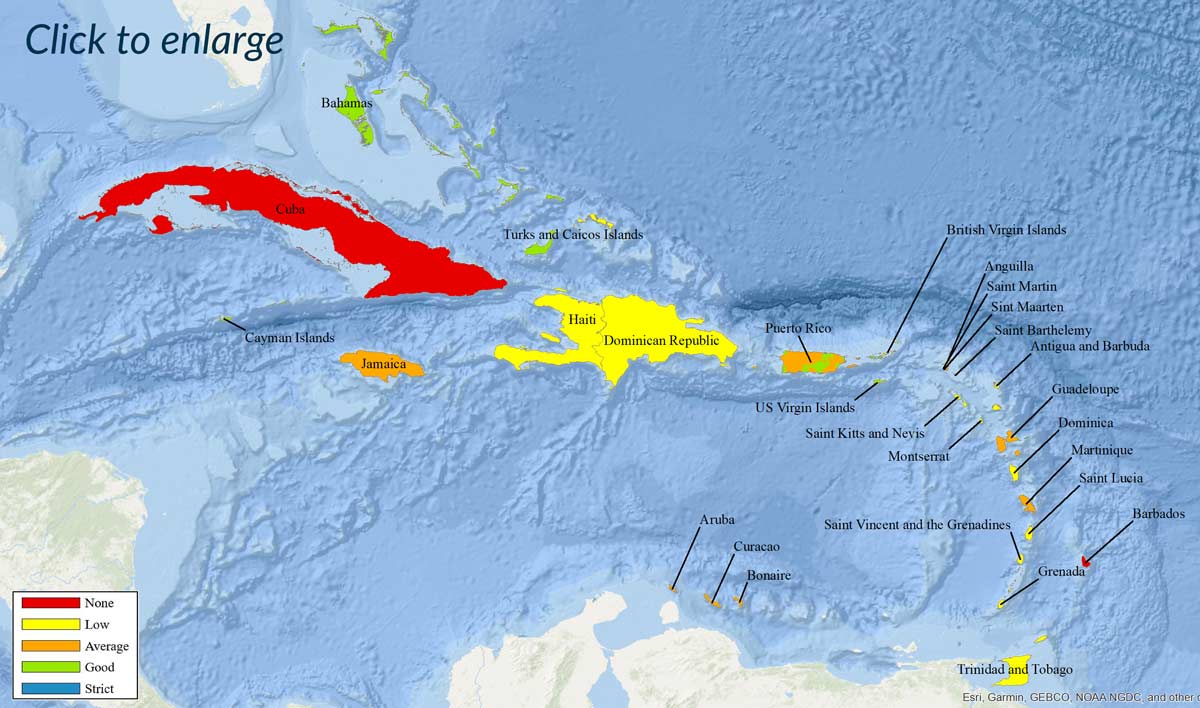 Material Quality and Building Condition
The quality of the material used for the construction of a building and a building's condition are also among the factors that can impact the wind vulnerability.
Population and housing data sets reveal that the median age of buildings varies from about 15 to 40 years in the region. In general, the vulnerability of older buildings is expected to be more than newer buildings and can be as high as 25% more. This is mainly due to environmental factors on building components; corrosion and fatigue, for example, cause older buildings to be more vulnerable, and improvement in materials and building technology over time can mean less vulnerability for newer buildings.
In addition, a building's condition contributes to its vulnerability. An example of low and high vulnerability due to condition are Guadeloupe (a French overseas region) and Cuba, respectively. Most of the building components in Guadeloupe must be imported from France and Europe; it is also mandatory for the materials used to have CE markings, which ensures the materials conform to European standards. On the other hand, the building materials and quality of the buildings (especially residential constructions) in Cuba are poor; for example, roof metal sheets detached and fallen during hurricanes are reportedly sometimes re-used to cover roofs.
An Additional Decade's Worth of Hurricane Activity and Damage Surveys.
Different hurricanes offer opportunities to not only understand the performance of the built environment but also to test the modeling assumptions we make. After hurricane landfalls, AIR sends out engineering teams to conduct damage surveys. The main objective of these surveys is to gain knowledge and answer the ever-growing list of questions about these typically destructive natural catastrophes and the built environment's response. And because no two hurricanes are alike, each survey has unique objectives ranging from building performance evaluations and footprint validation to modeling assumption confirmation and evaluation of the secondary features of the building stock. The primary objective of all post-event damage surveys AIR conducts is to gain as much knowledge as possible from each event and use our findings to continuously improve our catastrophe models.
A few recent Caribbean examples include insights into how a major hurricane impacts residential and commercial buildings in a Caribbean country with strong building codes after Gonzalo; improved understanding of residential vulnerability, especially masonry construction after Irma in the U.S. Virgin Islands; residential bunker performance and, more importantly, performance of engineered buildings (mid- and high-rise) and large industrial facilities in Puerto Rico after Maria; and the performance of wood and masonry residential buildings in the Bahamas after Dorian. After all of these events we surveyed how hotels and resorts in the Caribbean performed. We have incorporated the knowledge we gained after surveying the damage these events caused into the updated Caribbean tropical cyclone model; Matthew, Gonzalo, Irma, and Maria are events in our historical catalog.
Managing Caribbean Tropical Cyclone Risk through Accurate Modeling of the Built Environment's Vulnerability
The accurate modeling of the built environment is a critical component of any model that seeks to estimate losses in the Caribbean. The most comprehensive view of the region's risk and vulnerability must take into account all primary and secondary characteristics discussed and their potential interaction together. The comprehensive data collected on the individual characteristics of the Caribbean building stock and the global knowledge obtained by studying the vulnerability of various regions of the world informed the development of a comprehensive framework to digest and incorporate such data for a more accurate assessment of vulnerability in the Caribbean region (Figure 12).

Stronger building codes, good enforcement, and good building materials/conditions are among the most important contributors to the relatively lower vulnerability of countries such as Bermuda, the Cayman Islands, and those that are part of France. On the other hand, countries such as Cuba and Jamaica are the most vulnerable as a result of no to low building code enforcement and low building quality.
The extensive amount of research conducted to better understand the characteristics of the built environment in the Caribbean region in collaboration with local experts and integrated with our global wind engineering expertise as well as our numerous observations of building behaviors during damage surveys inform the substantially updated AIR Tropical Cyclone Model for the Caribbean, which has been extensively validated.
The updated model spans all 29 countries that make up the Caribbean and shares 90-meter resolution industry exposure databases that include high-value exposures, such as luxury hotels and resorts, with the updated AIR Earthquake Model for the Caribbean, also anticipated for release this summer. With the new vulnerability modeling framework, the upcoming AIR Tropical Cyclone Model for the Caribbean provides a more detailed and accurate view of the potential damage hurricanes can cause, enabling more effective risk management.