Understanding the Seismic Vulnerability of Manufactured Homes
Editor's Note: Although manufactured homes represent only a small percentage of total housing units in the seismically active western U.S. (just 4% in California, for example), the raw numbers are still significant. In this article we discuss the seismic vulnerability of manufactured homes and describe AIR's approach for accurately modeling the impact of ground shaking on these structures.
Due to lower construction costs, manufactured homes offer an attractive economic alternative to traditional site-built homes. Manufactured homes enjoy particularly high popularity in the U.S. Southwest and Southeast (Figure 1), but there are an estimated 560,000 units in earthquake-prone California as well. By studying damage observations and reports from historical events, we can determine and evaluate the common modes of failure and better understand the vulnerability of manufactured homes to ground shaking.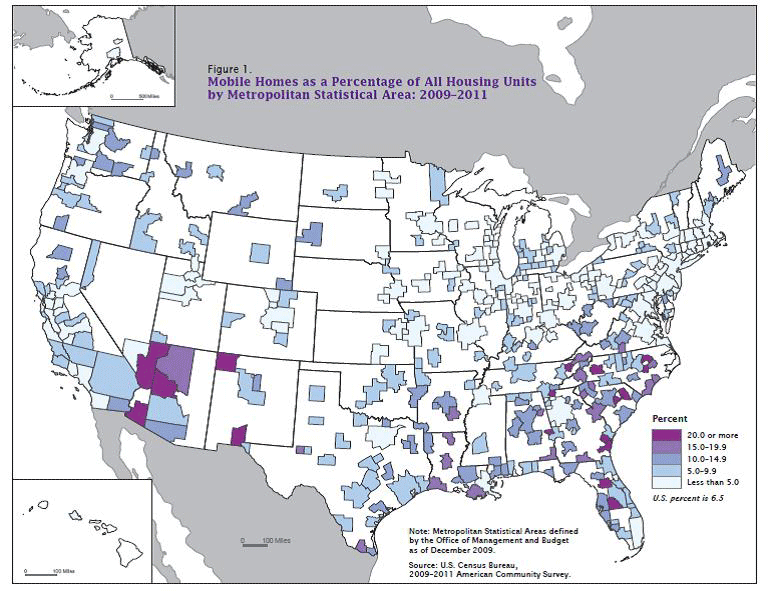 Historical Damage Demonstrates Manufactured Home Earthquake Vulnerability
Support piers—commonly steel jacks or concrete or masonry blocks—and/or perimeter walls and footings provide the foundation to bear gravity loads for manufactured homes. Lateral resistance against ground motion forces (as well as wind loads) is typically achieved by tie-downs, perimeter walls of concrete or masonry, or bracing systems, as shown in Figure 2. Engineered tie-down systems (ETS), which are primarily required for wind resistance, resist earthquake forces as well. For high seismic zones, other bracing techniques, such as the Earthquake Resisting Bracing System (ERBS), have been used to provide lateral load resistance.

Manufactured homes in general are lighter than site-built houses, an advantage in the context of earthquake ground motion, as seismic forces are proportional to the mass (weight) of structures. In addition, manufactured homes are built to resist the severe forces and shaking they are exposed to when transported from factory to site, which can be more severe than the shaking during an earthquake. Nonetheless, the seismic performance of manufactured homes depends largely on the condition of the foundation and particularly on the connections between the home and the foundation.
Damage observations from past earthquakes—such as Loma Prieta 1989, Northridge 1994, and San Simeon 2003—indicate that the most common modes of failure for these buildings are falling from or shifting on their support piers, damage to the supports, and damage caused by attached structures such as carports, sheds, sunrooms, and screen rooms. Figure 3 shows the relative proportion of damage modes for manufactured homes during the 1994 Northridge earthquake.1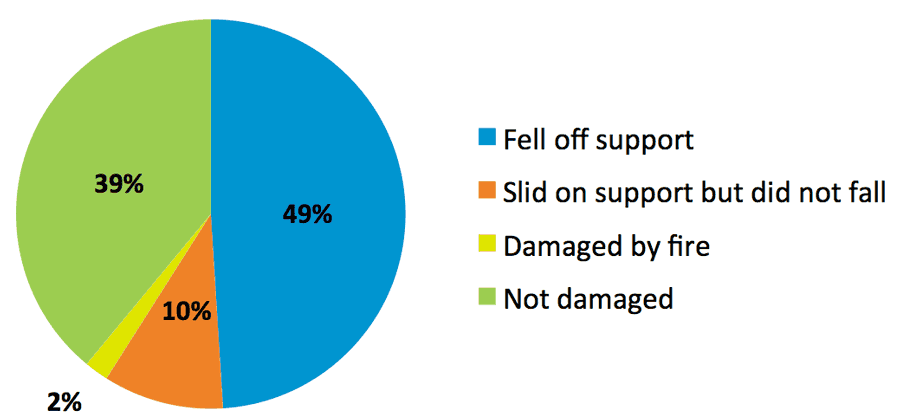 The 1989 Loma Prieta earthquake revealed the importance of earthquake-bracing. Within 20 miles of the epicenter, about 15% of the approximately 2,500 manufactured homes fell from their supports. None had been braced to resist earthquake shaking [Steinbrugge and Roth, 1994].
Damage surveys have also revealed that once a home has fallen from its supports, shake damage (that is, excluding damage caused by fire, landslide, or tsunami) does not increase. In addition, based on claims data from the Loma Prieta and other historical earthquakes in the U.S., content losses were around 25% to 35% of the building loss, and content damage was below 50% in most cases.
Damage surveys following the 2014 M6.0 South Napa earthquake suggest that although the performance of newly built manufactured homes was in line with the objectives of the seismic code in terms of protecting lives, 21% with ETS and 27% with ERBS fell from their supports and required reinstallation.2 The primary cause of damage for these manufactured homes—with either system—was sliding, caused by the lack of or insufficient connection between the base of the ETS or ERBS and the ground.
In addition, this sliding caused the severing of the utility hookup for these manufactured homes and/or damage to their gas-fired water heaters, resulting in fire damage to them following both the Northridge and South Napa earthquakes.
Overall, observations from past earthquakes suggest that manufactured homes are two to five times more vulnerable than site-built wood frame houses.
HUD Code and Construction Standards for Manufactured Homes
Before 1975, no construction regulations for manufactured homes existed in the United States. In 1976 the Department of Housing and Urban Development (HUD) published the National Mobile Home Construction and Safety Standards (HUD 24 CFR 3280) to establish uniform and performance-based construction standards for manufactured homes. This HUD code became law when the 1980 Housing Act was passed, applying to all manufactured homes built after June 1976.
The 1976 HUD code provided strict safety standards for manufactured homes to protect lives, which led to higher quality construction, but it did not add a specific requirement for anchorage and foundations. In the wake of the significant damage to manufactured homes caused by Category 5 Hurricane Andrew in 1992, the code was updated to require manufactured homes in areas of high wind potential (Zones II and III in Figure 4) to withstand extreme wind forces, starting in 1994. And after heavy damage was observed during the 1994 Northridge earthquake, HUD provided improved standards for foundations and the use of tie-downs in areas affected by high wind or seismic forces in its 1996 revision.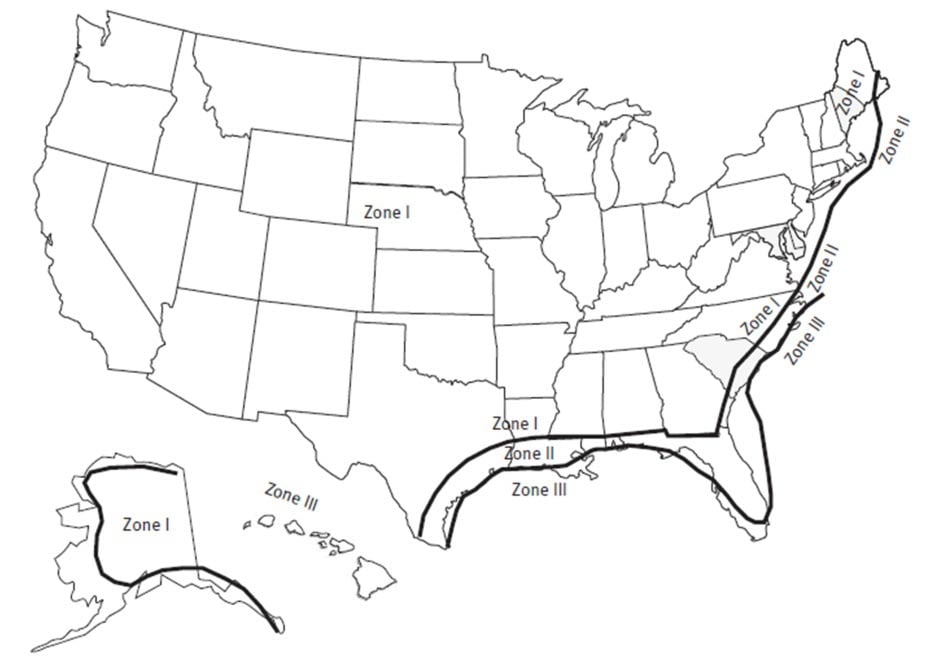 The HUD code remains the only nationally required standard. However, with HUD's publication in 2005 of installation guidelines, recommended measures were introduced to improve safety, especially in areas with high hazard of flood, wind, or earthquake. These measures, "the Model Manufactured Home Installation Standards," now serve as the basis for developing manufacturers' installation instructions. Then, in 2008 HUD's Model Manufactured Home Installation Standards established regulations to provide not only the minimum acceptable standards for the installation of manufactured homes but also detailed methods for the design and construction of foundations. In states that chose not to operate their own installation program for manufactured homes, these recommended measures became the minimum acceptable standards for manufactured home installations. And in 2016 the HUD-administered installation program was made mandatory for the 13 states that had not adopted installation regulations. Manufactured homes built and installed according to these standards are expected to perform better in future earthquakes.
Accurately Representing Seismic Vulnerability
The 2017 update to the AIR Earthquake Model for the United States represents an enhanced view of vulnerability for manufactured homes. Through a multi-hazard vulnerability assessment approach, the model offers refinement on the spatial variation of vulnerability for manufactured homes. As shown in Figure 5, four major and distinct vulnerability zones are defined by the boundary of regions where requirements for engineered tie-downs and construction practice have influenced the seismic resistance of manufactured homes: California, the Pacific Northwest, the wind zones along the Gulf Coast and Eastern Seaboard, and the rest of the contiguous United States.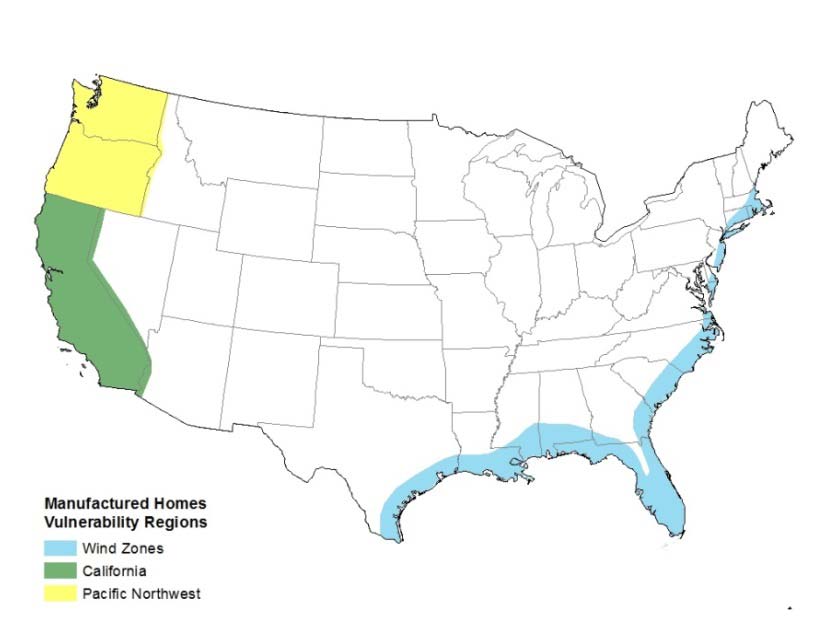 In seismically active regions such as California, Washington, and Oregon, state building codes and the experience of past earthquakes have raised awareness about the design and construction of foundations and tie-downs. For example, in Oregon, the manufactured dwelling installation specialty code explicitly states requirements for anchors and bracing to provide protection against earthquake shaking.3
Figure 6 summarizes the evolution of manufactured home standards and design guidelines and shows how the relative vulnerability varies by region and age.4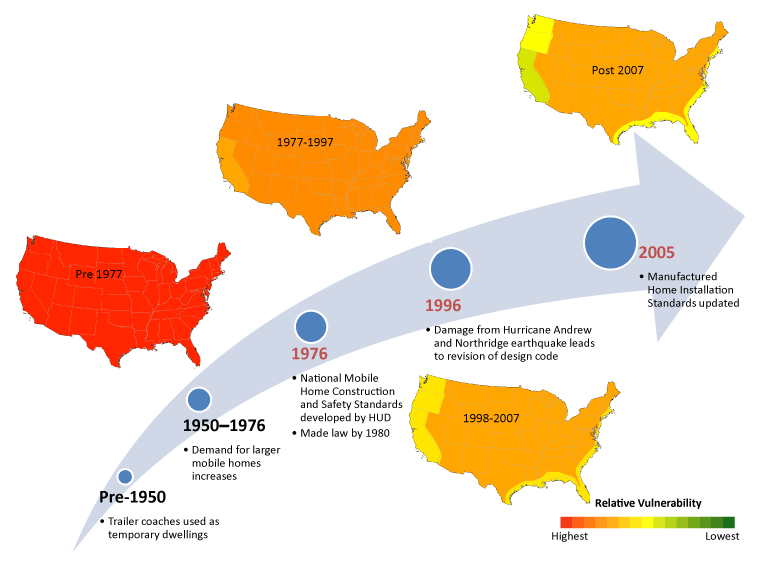 Managing Manufactured Home Earthquake Risk
The AIR Earthquake Model for the United States calibrates the vulnerability of manufactured homes based on damage and claims data from historical earthquakes and a rigorous evaluation of design and construction practices adopted after major changes in standards and regulations. In 2015 more than 45,000 new manufactured homes were sold or placed for residential use in the United States. This growing number of manufactured homes underscores the importance for insurers to understand the seismic vulnerability of manufactured homes to inform how they manage their overall earthquake risk.
Learn more about the differences between manufactured, mobile, and modular homes.
References
HUD (U.S Department of Housing and Urban Development) (1996) "Permanent Foundations Guide for Manufactured Housing", prepared by School of Architecture/Building Research Council, University of Illinois at Urbana-Champaign, Champaign, Illinois, September 1996.
HUD (U.S. Department of Housing and Urban Development), (2008) "Model Manufactured Home Installation Standards," 24 CFR Part 3285.
FEMA p-1024, 2015. "Performance of Buildings and Nonstructural Components in the 2014 South Napa Earthquake", FEMA P-1024 / February 2015, Prepared by Applied Technology Council, Prepared for Federal Emergency Management Agency, p. 359.
Steinbrugge, Karl V., and Roth Jr., Richard J. (1994) Dwelling and Mobile Home Monetary Losses due to the 1989 Loma Prieta, California, Earthquake with an Emphasis on Loss Estimation, USGS Numbered Series, Bulletin 1939‐B, http://pubs.er.usgs.gov/publication/b1939B
Endnotes
1 "Minimizing Damage and repair Costs to Manufactured Homes During an Earthquake," 1996. National Conference of States on Building Codes and Standards (Report for HUD, 1996).
2 FEMA p-1024, 2015.
3 Oregon Manufactured Dwelling Installation Specialty Code, Department of Consumer and Business Services, Building Codes Division, 2010.
4 For the purpose of identifying age bands, we reviewed milestones in the evolution of regulations and guidelines in construction and installation of manufactured homes. Not all the changes in the regulation and construction guidelines of manufactured homes has impacted their seismic resistance, therefore the AIR model considers only the following age bands: pre-1976, 1977-1997, 1998-2006, and post-2006.
5 Based on data from the United States Census Bureau.