Damage from Hail, the Quintessentially Canadian Peril
Editor's Note: Of the hazards associated with severe thunderstorms in Canada, hail is not the most frequent; that distinction goes to straight-line wind. Neither is it the most intense; that would be tornado. But hail is most certainly the costliest. In fact, hail results in higher insured losses over time than either tropical cyclones or winter storms in Canada. In this article we look at some key issues related to hail vulnerability and risk mitigation.
Frequent, destructive, and widespread, hail exacts a heavy toll on Canada. The annual aggregate insured loss from hail and hail-related hazards shown in Figure 1—which includes direct damage due to both hailstones and water inflitration—underscores the significance of hail damage to properties.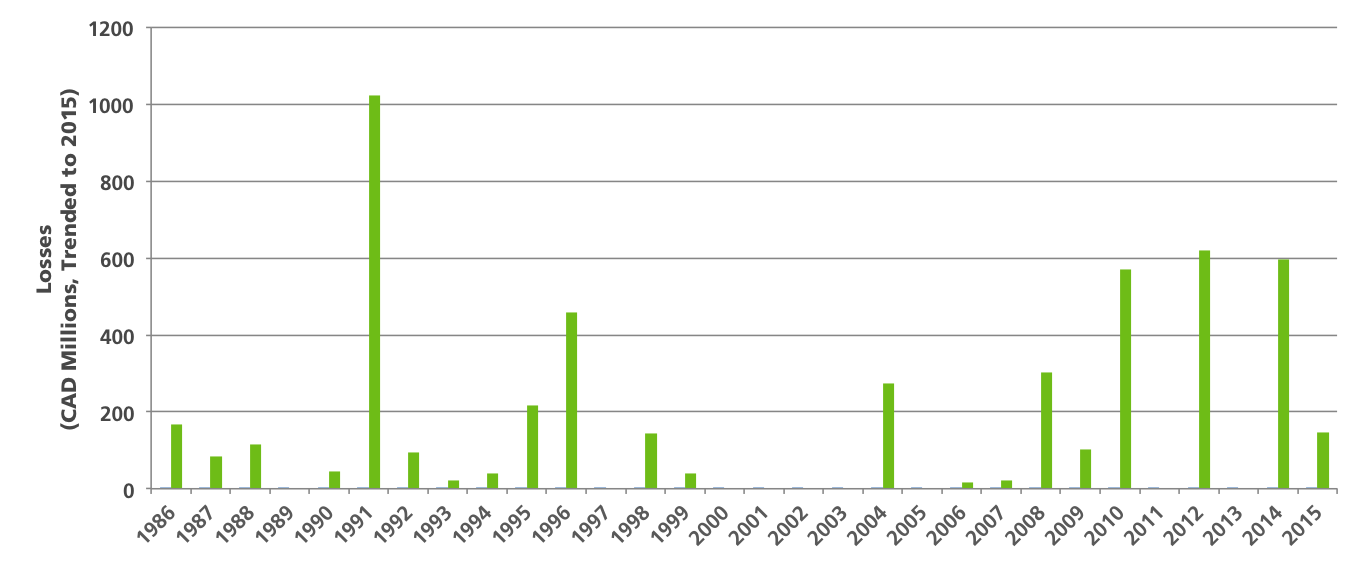 In the decade from 2004 through 2013, the average annual aggregate insured loss from hail was CAD 134 million. In recent years, the insurance industry in Canada has experienced more than CAD 1.4 billion in payouts from three hail-dominating major storms alone: Calgary 2010 (CAD 570 million), Calgary 2012 (CAD 278 million), and Airdrie 2014 (CAD 558 million).1  
The quintessentially Canadian atmospheric peril, hail presents a risk in all provinces, but disproportionately impacts Alberta, Saskatchewan, and Manitoba (Figure 2). Canada's infamous "Hailstorm Alley" runs through south-central Alberta, from Calgary through Red Deer to Edmonton.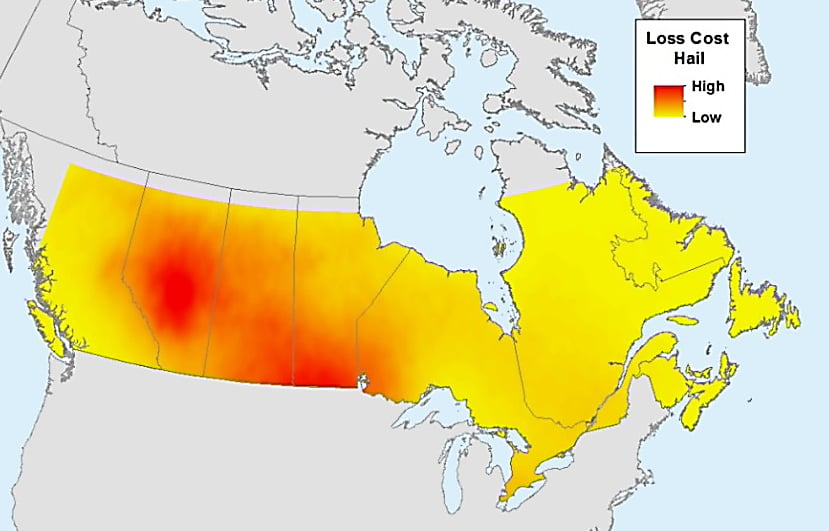 Hailstorms are most common from May through October in Canada, although there is natural variability both between regions and from year to year. Also, although single, large-loss hailstorms do occur, the accumulation of losses from multiple smaller events presents the greatest risk to insurers. In fact, AIR's analysis of claims data shows that in an average year, the annual aggregate losses in Canada can be twice the largest occurrence loss in the year.
Hail Vulnerability
According to Environment Canada, hailstones with a diameter of 2 centimeters or greater present a risk to properties. The degree of damage, however, varies, depending on hailstone size and shape, the density of individual hailstones, the concentration of hailstones in the hailstorm, the duration of the hailstorm, and the accompanying wind speed and direction. Depending on these factors and the type of property at risk under consideration, the modes of damage from hail could be cracks, tearing, spatter marks, dents, and finishing or coating damage.
Hail becomes more damaging when driven by high winds, which are common in severe hailstorms. In addition to increasing the impact energy, wind can cause hail to fall at an angle, which can alter where hailstones strike property and expand the potential damageable area. As a result, wind-driven hail can severely damage not just roofs and skylights, but also wall sidings, windows, doors, exterior insulating finishing systems (EIFS), glass façades, downspouts, and vents.
Typically hail damage affects both functional and cosmetic components of properties—depending on the total kinetic energy imparted by the hail and the condition of the property at risk. For buildings, damage to roof coverings, wall siding, doors, windows, screens, and roof-top equipment is considered functional damage.
For residential buildings most of the damage occurs to roofs and roof coverings. In fact, a recent hail claims study by the Insurance Institute for Business and Home Safety (IBHS) on residential buildings following the 2011 hailstorms in Dallas-Fort Worth showed that over 90% of the losses were from roof damage.2
The severity of hail damage varies by roof cover type. Standardized tests are used to classify the relative resistance of roof products for hail impact. Underwriters Laboratory standard 2218 (UL 2218), for example, uses steel balls to rate the impact resistance of asphalt shingles, while Factory Mutual standard FM 4473 uses freezer-made ice balls (shot with a mechanical device) to test the impact resistance of rigid roofing materials.
Haag Engineering tested the performance of roof materials under hail impact using freezer ice balls and identified the damage threshold of different roofing products (i.e., at what size of hailstone a roof panel starts showing visible damage).3 Figure 3 shows the damage threshold of roofing products from laboratory testing and field surveys. Although dropping steel balls or shooting ice balls on roof surfaces doesn't accurately replicate natural hailstone, it gives a way to quantify the relative performance of roofing.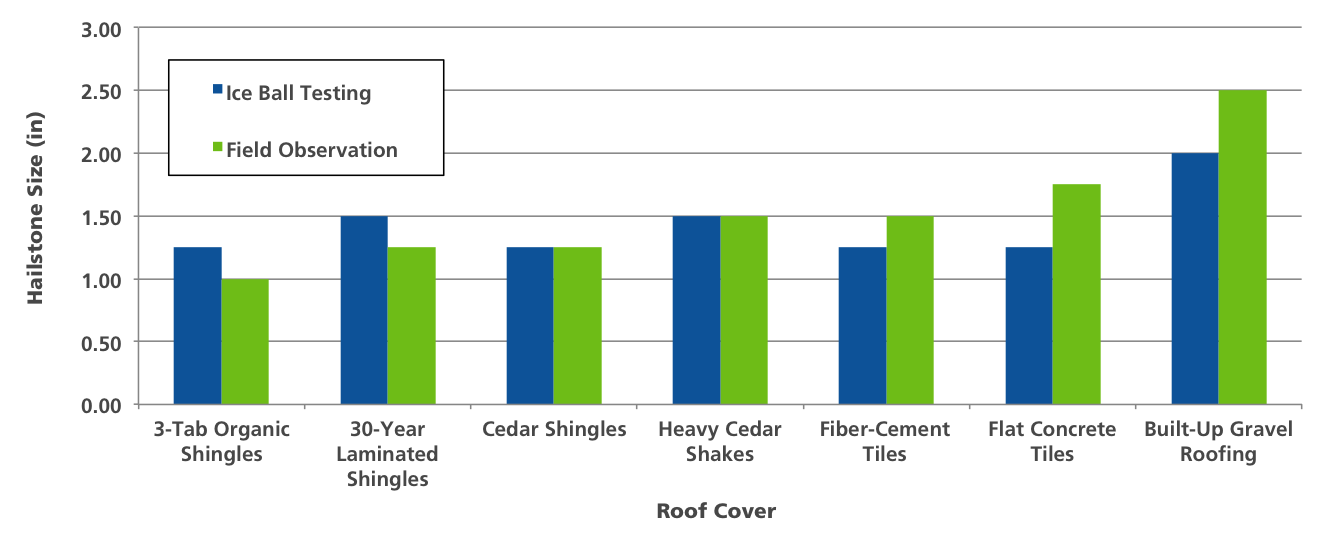 For automobiles, severely damaged windshields are functional damage. Damage associated with aesthetics (such as painting and exterior finish coats) and dents constitute non-functional damage. (See "Large Hail in Canada: An Impromptu Damage Survey.")
In automobile dealer lots, a great many vehicles, both new and used, are commonly parked in an open space, exposed to hail damage. Often a severe and fast-moving storm will leave no time for evacuation and sheltering properties, which substantially increases the hail vulnerability of vehicles at dealerships. PCS Canada® estimated that during a June 2014 Nebraska hailstorm more than 30,000 vehicles were damaged: windshields shattered, windows broken, and exteriors severely dented.
Rain often accompanies hailstorms. If hail damages the exterior of a building so severely that rainwater can enter the building, internal components can be damaged, such as paintwork, interior wall finishes, wallpaper, ceilings, insulation, carpets, furniture, electrical/electronic equipment, and perishable items.
Building Code, Property Condition, and Hail Damage
In Canada, damage from hail during severe thunderstorms results in significantly higher insured loss than straight-line wind and tornado. The National Building Code of Canada (NBC) does not include hail-specific provisions to mitigate risk, although it is fair to say that some of the mitigation features and construction practices employed in the building code to protect against hurricane winds can also serve to mitigate hail damage. Enhancements to the NBC may be coming, however. After observing insurance industry practices in the United States, the Toronto-based Institute for Catastrophic Loss Reduction (ICLR) has started advocating for the inclusion of hail impact-resistance (IR) roof covers in the Canadian building code.
Building condition also affects the degree of hail damage. In general, newer houses tend to perform well in hailstorms, with just minor to moderate damage, while older homes suffer more severe damage. Aging and material deterioration, for instance, cause roof covers to become brittle and vulnerable to hail impact.
Roof Repair and Replacement Costs Drive Hail Losses
Roofs are the most vulnerable part of a building to hail, and roof damage can progress to wall system damage. The severity of roof damage—and thus the required replacement or repair cost—varies by the type of roof cover. Among commonly used roof cover materials, common asphalt shingles are the most vulnerable, followed by light metal, tile, slate, and roof covers "built up" with a series of materials (such as insulation, asphalt, roofing felt, surface membrane, and gravel).
In Canada, as well as in the United States, most homes have an asphalt shingle roof cover. Any visible evidence of an opening on the surface of a shingle—tearing, fracturing, cracking, or rupturing—indicates damage and could warrant roof repair or replacement. Xactware® Industry Trend Reports show that the total replacement cost of roofs has been increasing steadily in Canada, primarily due to the increase in demand for roofing material and skilled labor after major events. (See Figure 4.)

The increase in material and labor costs for shingles in Canada during the same period also showed a steady increase, as shown in Figure 5.

Mitigation Measures
What can be done to reduce hail damage?
The roof system is the first line of defense against hailstorm damage. Aside from routine inspection and fixing normal wear and tear, improving components of the roof system can help mitigate damage. Accordingly, roof coverings—the most susceptible component of the roof system—should be impact-resistant.
Reviewing roof damage experience in the United States can be helpful when considering mitigation in Canada. A claim study of residential buildings by IBHS and a damage survey organized by the Roofing Industry Committee on Weather Issues (RICOWI) following a 2011 Dallas-Fort Worth hailstorm showed that IR roofs performed better than traditional roofs, although impact resistance does vary.4 Also, due to a rise in hail claims, some states in the United States (e.g., Alabama, Oklahoma, and Texas) are encouraging the use of IR roofs and other mitigation measures to reduce the risk of damage from hail and severe winds. In addition, some primary insurers are giving premium discounts to homeowners with IR roofs.
Roof-mounted utility equipment also can suffer damage from large hailstones. Covering this equipment with wire mesh and taking other protective measures are vital in averting physical damage and related service interruptions.
Field observations of severe hailstorms have shown that when hailstones carry enough impact energy they can break windows, doors, and glass cladding; chip paint walls; and crack and shatter vinyl siding. Although research is currently limited, the potential damage from hail generally can be reduced by designing buildings for the optimum percentage of glass, as well as implementing certain retrofitting features for wind, such as window protection and laminated glass.
When water enters a building because of hail damage, additional losses can result. To fend off water infiltration through the roof, measures like sealing the roof deck and installing flashing around any intersection of roofs (e.g., vents, pipes, chimneys, adjoining walls, dormers, and valleys) are critical in minimizing internal and content damage.
Managing Hail Risk
Canada has high population density in some areas, sparse in others. Accordingly, the risk of hail damage that results in insured loss can vary considerably from region to region. For insurers, brokers, and reinsurers, modeling hail explicitly, through a full range of scenarios with high-quality exposure data, can help effectively manage this common and damaging peril.
Accurately assessing hail risk in Canada can be complicated by evolving building codes, in addition to shifting exposure concentrations, as the risk of insured losses from hail damage can be lower for buildings constructed under enhanced building codes that promote resilience to hail.
An effective catastrophe model will account for construction material, occupancy type, building height, and building age, using damage functions that capture the unique damage mechanisms of each peril, capture regional variations, and calculate the probability of various levels of risk. With high-quality model output, insurers, brokers, and reinsurers can develop portfolio- and location-level loss estimates—as well as prepare for both large-loss events and multiple smaller-loss hits—and explore "what-if" scenarios by analyzing the impact of both historical events and Extreme Disaster Scenarios (EDS) on their present-day exposures.
References
Institute for Catastrophe Loss Reduction, "Taking Action in Canada to Reduce Mounting Hail Losses," AIR Toronto Conference (October 20, 2015): http://www.slideshare.net/glennmcgillivray/iclr-canada-taking-action-in-canada-to-reduce-mounting-hail-losses-air-toronto-conference-oct-20-2015.
Timothy P. Marshall et al., 2002. "Hail Damage Threshold Sizes for Common Roofing Materials," Haig Engineering.
Public Safety Canada, "Hail" web page (March 4, 2014): http://www.publicsafety.gc.ca/cnt/mrgnc-mngmnt/ntrl-hzrds/hl-eng.aspx.
Endnotes
1PCS Canada
2Tanya M. Brown and W. H. Pogorzelski, February 4, 2014. "Claims Analysis Study of May 24, 2011 Hailstorms in Dallas-Fort Worth," American Meteorological Society.
3Marshall et al., 2002.
4 Impact-related performance criterion can be evaluated using the Underwriters Laboratory (UL 2218) and Factory Mutual (FM 4473) standards. The UL 2218 standard uses steel balls and FM 4473 uses freezer ice balls to classify resistance of roofing materials at a different threshold.