Twenty Years After Northridge—Can We Fix Earthquake Insurance in California?
Editor's Note: This month marks the 20th anniversary of the M6.7 Northridge Earthquake—the major turning point in the history of California's earthquake insurance industry. This article discusses how earthquake insurance has evolved since 1994 and what role catastrophe models can have in shaping its future.
Although California had experienced major earthquakes prior to the January 17, 1994, magnitude 6.7 (M6.7) Northridge earthquake, none had as lasting an effect on California's earthquake insurance industry. Insured losses for the Northridge earthquake totaled USD 12.5 billion1—substantially more than the amount of earthquake insurance premiums collected during the previous 80 years.2
Just two years before Northridge, unprecedented losses from another U.S. natural catastrophe, Hurricane Andrew, affirmed the value of catastrophe modeling (and the inadequacy of relying on loss experience) in managing hurricane losses, just as the Northridge earthquake would for managing earthquake losses. However, in contrast to windstorm coverage, which is near universal in the U.S., earthquake take-up rates are exceedingly low. Ironically, the very protection that insurance provided after the Northridge earthquake set in motion a contraction of the market that leaves millions of California homeowners more vulnerable than they were 20 years ago.
Before Northridge
California first required all insurance companies selling homeowner policies in the state to offer earthquake insurance on January 1, 1985.3 During the early years of this requirement—prior to the M6.9 Loma Prieta quake that struck the San Francisco Bay area on October 17, 1989—typical earthquake cover costs USD 2 for every USD 1,000 of coverage per year, with a 10% deductible. Thus, for a USD 200,000 home, the consumer could expect to pay USD 400 per year in earthquake insurance, with a USD 20,000 deductible. Fewer than 30% of California homeowners were estimated to have earthquake insurance policies during this time period.4
After the Loma Prieta earthquake, which led to an insurance claims payout of USD 960 million,5 the California Legislature proposed a mandatory earthquake insurance bill—the California Residential Earthquake Recovery (CRER) Act—that went into effect on January 1, 1992. The bill was intended to cover the costs that fell into the deductible gap—up to USD 15,000 per homeowner during the first few years and then increasing after that as the CRER Fund grew. Every homeowner in the state was required to pay a surcharge on their policy at the time of purchase or renewal.
However, the CRER Act was deeply flawed. With no enforcement provisions or penalties for non-payment in place, it became clear that the fund would not be able to collect the anticipated USD 250 million in annual fees; high reinsurance costs further jeopardized the fund's solvency. And yet, during the brief time that the CRER Act was in effect—during 1992 only—although fewer than half of California homeowners participated, the CRER Fund made payouts for damage after three earthquakes that year. More than 1,300 homeowners had collected money after the Cape Mendocino earthquakes in April, and nearly 5,000 homeowners whose homes suffered damage during the M7.3 Landers and M6.4 Big Bear quakes on June 28, 1992, collected checks averaging just under USD 6,500.6
Between the Loma Prieta and Northridge quakes, earthquake insurance take-up in major cities increased, soaring to 40% in San Francisco and Los Angeles, although, statewide, fewer than one in four Californians had coverage.7 With more policies being held by people with more expensive homes in these cities, insurers faced increased risk.
The Earthquake that Changed Everything
On January 17, 1994, at 4:31 a.m., PST, a previously unknown blind reverse-thrust fault ruptured nine miles beneath a town called Northridge in the San Fernando Valley. With a magnitude of 6.7 and an epicenter just 20 miles northwest of downtown Los Angeles, it produced the largest ground motions ever recorded in an urban environment, heavily damaging more than 40,000 structures across several counties, including Anaheim stadium, and resulting in USD 12.5 billion in insurance payouts.
The effect on homeowners' insurance in California was immediate. Because earthquake insurance had to be offered as part of homeowners' insurance, residential property coverage became exceedingly difficult to obtain.
The FAIR Plan
To address the void in coverage in the private market, the state stepped in once more. The state-managed Fair Access to Insurance Requirements (FAIR) plan, set up in 1968 as a syndicated fire insurance pool, extended its remit to include homeowners seeking earthquake insurance.
Although the FAIR plan offered minimal earthquake coverage, it was attractive to those who otherwise could not find affordable coverage in the private market. But it was too attractive. Less than 2 ½ years after Northridge, 236,000 property owners had USD 13.5 billion in FAIR plan coverage—USD 10 billion of which was in Los Angeles County. Premiums, though, totaled only USD 40 million. Fears mounted that the plan was growing too fast and that claims from a major earthquake could force a debilitating industry assessment. The insurance commissioner barred the FAIR plan from writing new homeowners' and earthquake insurance policies after June 1, 1996.8
The California Earthquake Authority
After Northridge, the state reduced the extent of coverage that insurance companies were mandated to offer to a "mini-policy"—very basic earthquake coverage at higher premiums (see box for details). But with talk about a publicly managed option being created to provide similar coverage, insurers waited to market these policies.
In September 1996, the state passed legislation to create the privately funded, publicly managed, not-for-profit California Earthquake Authority (CEA). Intended as a permanent solution to California's earthquake insurance cover issues, a little over two-thirds of insured residential property risk is now borne by the CEA. Residential insurers can either write policies on behalf of the CEA at predetermined rates, or they can choose to offer private earthquake coverage in accordance with minimum state requirements. In addition, specialized companies offer standalone earthquake coverage.
According to the CEA, gross premiums total about USD 560 million per year. It has some 800,000 policies in force in the state, and the average premium in 2011 was about USD 750, according to the California Department of Insurance. It reports that its claims paying ability currently exceeds USD 10 billion.
Why Is the Take-Up Rate So Low?
The percentage of California homeowners who have an earthquake insurance policy is still about 12%.9 Perhaps the biggest obstacle to increasing this percentage is the value proposition and risk perception. Many homeowners assume that they will not experience a major home-damaging earthquake. Typically, the longer it has been since the previous large earthquake, the more complacent they become. In contrast to flood coverage, which is required in order to obtain mortgages for properties in flood-prone areas, lenders do not require homeowners to buy earthquake insurance. And homeowners in California who do purchase earthquake policies are often the ones most at risk from earthquakes, leading to a market characterized by adverse selection.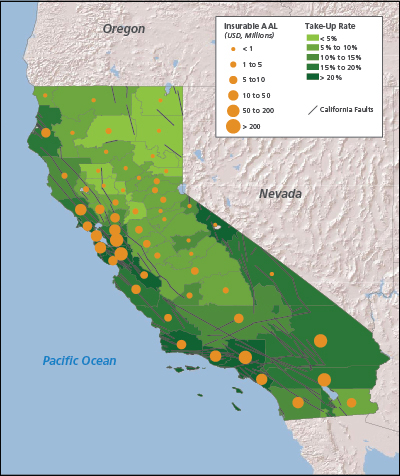 Even for those who are not in denial about the possibility of a large damaging earthquake, the deductibles for earthquake policies are so high that when they do the math, they conclude that they are better off taking their chances. Some assume that the Federal Emergency Management Agency (FEMA) will step in to provide post-disaster assistance, and still others are likely to simply walk away from their mortgages if their properties sustain enough damage, shifting the financial burden to the lending institutions.
A New Way Forward?
Notwithstanding political realities, a highly regulated catastrophe insurance market throughout the U.S., and low existing consumer demand, many stakeholders—AIR among them—consider the low take-up rate in California to be a systemic failure. While the insurance industry is much better prepared to handle high losses than it was in 1994, its current stake in the game is insufficient to protect home and business owners from disastrous financial consequences. Figure 2 shows the disparity between what would currently be covered by insurance, insurable losses under current policy conditions, and total losses to residential properties at different annual aggregate modeled exceedance probabilities.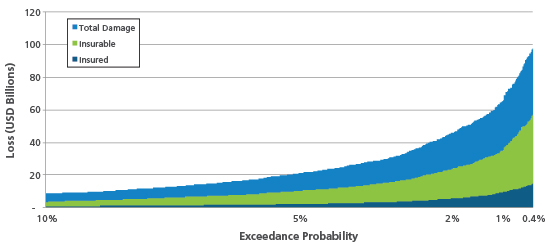 Under currently policy conditions, an annual aggregate insured loss of USD 9 billion—which falls near the 1% exceedance probability—represents only about 12% of the total damage to residential properties and only 20% of what's insurable. This more than USD 30 billion gap should be wide enough to give any policymaker pause, and greater ones are possible.
Given the status quo, the next "Big One" would not only put stresses on the uninsured, but would also test the resiliency of lending institutions, local and state governments, and the final backstop—the federal budget. Ultimately, as is the case with countless historical catastrophes, a new set of regulations and laws will likely be enacted that once again will transform the landscape of earthquake insurance in California and the role of private insurers. But it is not a foregone conclusion. The last two decades have demonstrated that improving the take-up rate is no easy task, but it is not impossible. While catastrophe modelers certainly cannot solve the problem singlehandedly, probabilistic modeling can provide insight into what kinds of policy structures might work and offer compelling ways to improve the value proposition of mitigation or risk transfer mechanisms, while keeping short- and long-term financial objectives in mind. In addition, the increasing convergence of capital markets with the insurance industry means that there are more (and more innovative) ways to transfer and manage California earthquake risk than ever before.
Earthquake models are not what they were 20 years ago. The understanding of seismicity, ground motion, and engineering have improved, and advances in technology have allowed models to make sense of high resolution hazard information (such as soil type and liquefaction potential). Furthermore, the realization of the importance of exposure data quality has led to industrywide efforts to improve the accuracy and level of detail of the data collected. The result is more accurate and granular risk differentiation, based on both seismic hazard and building characteristics. Companies are thus better equipped than ever to perform advanced sensitivity analyses to test alternate policy conditions, underwriting guidelines, and the impact of mitigation features to develop viable insurance products, and to make better portfolio optimization and reinsurance purchasing decisions.
Twenty years after the Northridge earthquake, it is time for public and private entities to rethink earthquake insurance in California. Before the next big one, there is room for improvement and innovation, and AIR is committed to being a part of the discussion.
1 Property Claim Services® (PCS®)
2 Reich, Kenneth, "Earthquake Insurance Agency Is Born," Los Angeles Times, September 28, 1996
3 Comerio, Mary C., 1998. Disaster Hits Home: New Policy for Urban Housing Recovery. Berkeley and Los Angeles: University of California Press.
4 Ibid
5 PCS
6 Morain, Dan, "Earthquake: The Long Road Back," Los Angeles Times, January 30, 1994
7 Comerio, Mary C., 1998. Disaster Hits Home: New Policy for Urban Housing Recovery. Berkeley and Los Angeles: University of California Press.
8 "Calif. Regulator Puts Lid On FAIR Plan," Property Casualty 360, June 10, 1996
9 Insurance Information Institute, Earthquakes: Risk and Insurance, November, 2013
http://www.iii.org/issue_updates/eathquakes-risk-and-insuance-issues.html