2013: Germany's Year That Was
Editor's Note: Last year was an extraordinary one for the German insurance industry. Beleaguered by flooding, hailstorms, and extratropical cyclones, Germany experienced the gamut of natural catastrophes. This article explains the value of taking a holistic view of risk and what role catastrophe models play in helping companies understand their aggregate loss potential.
In 2013, Germany was beset by historic flooding in June, hailstorms in July, and extratropical cyclones in October and December. The combined insured losses serve as a reminder that accounting for both occurrence and aggregate losses is critical to understanding and managing risk.
Largest Insured Loss Event
Last year, the catastrophe that topped the list of insured losses for a single country was an outbreak of severe hailstorms spawned by a low pressure system dubbed Andreas, according to Munich Re.1 Large and damaging hail battered northern and southwestern Germany on two consecutive days. Based on the standard hours clause, the outbreak was treated as a single event.
The first hailstorm hit the northern industrialized area around Hannover on July 27, followed the next day by the southwestern event that affected the densely populated and industrialized region near Stuttgart. The insured losses resulting from these hailstorms totaled EUR 2.74 billion (USD 3.7 billion, Munich Re), making it the largest loss hail event in Germany since the 1984 Munich hailstorm.
As these hailstorms only skirted the cities of Hannover and Stuttgart, the large loss that resulted highlights the significant loss potential of hail in Central Europe. A more direct hit on the city centers would have resulted in far greater losses.
Furthermore, this loss represented less than half of Germany's total insured losses in 2013, which underscores the importance of accounting for potential aggregate losses as well as occurrence losses when managing risk. In 2013, the combined insured losses from severe flooding, several hailstorms, and two winter storms amounted to a staggering EUR 7 billion (German Insurance Association [GDV]) across property and automobile lines of business.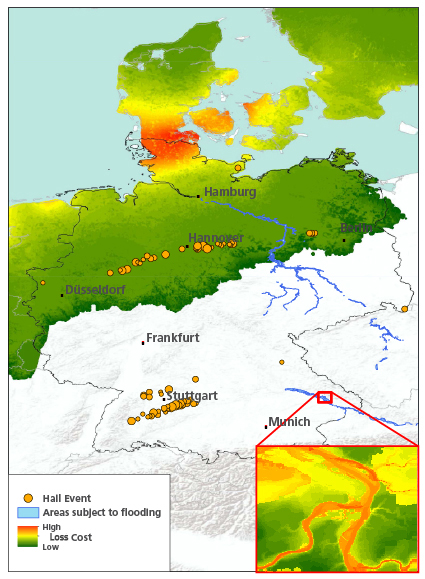 In the German reinsurance landscape, stop-loss and quota share treaties are commonly written to protect from an excessive aggregation of losses. Germany is exposed to a wide range of natural catastrophes, including extratropical cyclones, coastal and inland floods, hailstorms, and—to a lesser extent—earthquakes. While the largest potential loss is associated with winter storms because they can affect large portions of Germany, it is imperative to also consider the potential losses of additional multiple smaller events across multiple perils. Reinsurance protection should take into account both perspectives—the risk from large events and the aggregation of smaller events.
The Importance of Accounting for Aggregate Losses
Natural catastrophe models can provide the tools to quantify the likelihood of different levels of losses, which helps companies structure appropriate reinsurance programs. The current suite of AIR models for Germany covers extratropical cyclone, flood, and earthquake.
Potential losses can be examined for each peril individually or, because of AIR's unique year-based catalog architecture, for all three perils combined. Figure 2 shows the occurrence and aggregate exceedance probability curves for the three modeled perils in Germany. The occurrence loss represents the single largest loss event for each modeled year, while the aggregate loss represents the cumulative loss across all events and all perils for each modeled year.
Important insights can be derived from looking at both loss perspectives. For example, the 10-year return period aggregate loss in Figure 2 is comparable to the 25-year return period occurrence loss. In other words, this loss level in a given year is more than twice as likely to result from aggregate losses than it is from a single event.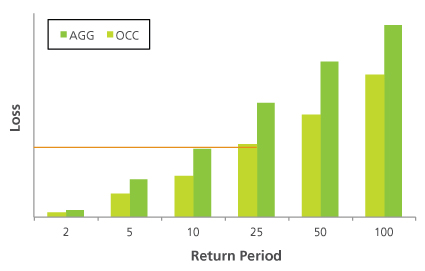 While AIR does not currently offer a hail model for Germany, a severe thunderstorm model for Europe (that will explicitly capture hailstorms in Germany) is currently under development. Accounting for this peril in Figure 2 would further increase the spread between the occurrence and aggregate perspectives because hail is usually characterized by high frequency but moderate losses.
A look at Germany's recent insured loss history further confirms the importance of taking a holistic view. As seen in Figure 3, in most years the losses derive from several events. Only in 2007 are the aggregate losses predominantly from a single event, Winter Storm Kyrill.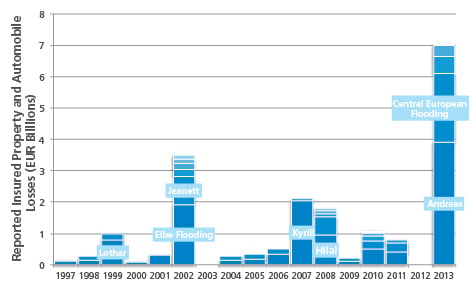 Lessons Learned
While a single large event might be easily absorbed by a reinsurance program, 2013 clearly demonstrates that the accumulation of losses across multiple perils can pose a serious challenge if the aggregate perspective is not also considered. Catastrophe models provide scientifically sound loss simulation so companies can understand and quantify their risk to prepare for the full range of loss outcomes, including years like 2013.
1 On a per event basis, according to Swiss Re, the hailstorms were the second highest source of insured loss after the June 2013 Central European floods (estimated at USD 4 billion).