Preview of the 2013 Atlantic Hurricane Season
Editor's Note: AIR Vice President and Director of Atmospheric Science Dr. Peter Dailey discusses forecasts for the 2013 Atlantic hurricane season. The article also discusses why warm sea surface temperatures, while correlated with increased tropical cyclone activity in the Atlantic, do not necessarily mean that insured losses in the U.S. will be high.
The 2013 hurricane season has officially begun and so far the Atlantic has been relatively quiet, its calm disturbed only by two rather weak tropical storms, Andrea and Barry. If preseason forecasts are realized, however, this situation will not last long. Early expectations, including those from Colorado State University (CSU), the National Oceanic and Atmospheric Administration (NOAA), and others, indicate that this hurricane season will be active to extremely active.This article will discuss climate factors behind the 2013 hurricane season's outlook and demonstrate how AIR's unique alternative catalog provides a robust view of risk in years with potentially elevated Atlantic activity.
Multiple Factors Influence Tropical Cyclone Development
A multitude of factors influence hurricane development, track, and intensity in the Atlantic. One of the more reliable indicators of short-term (less than six months) hurricane activity is the temperature of the ocean. This makes sense intuitively, because warm water fuels hurricanes. And indeed this idea plays out in the historical record: During the current warm ocean period that began in 1995, an average of 15 named storms have formed per season, compared to a long-term average of 11. 
Forecasters' Preseason Storm Counts
This year NOAA, CSU, and other organizations have forecast an above-normal and possibly very active Atlantic hurricane season. For the six-month season, which began June 1, forecasters estimate around 13 to 20 named storms (winds of 39 mph or higher) could form, of which 7 to 11 could become hurricanes (winds of 74 mph or higher), of which 3 to 6 could become major hurricanes (Category 3, 4 or 5; winds of 111 mph or higher). These ranges are above the long-term seasonal average of 11 named storms, 6 hurricanes, and 3 major hurricanes. Only five seasons since the active hurricane period that began in 1995 have not been above normal—including four El Niño years (1997, 2002, 2006, and 2009), and the neutral 2007 season.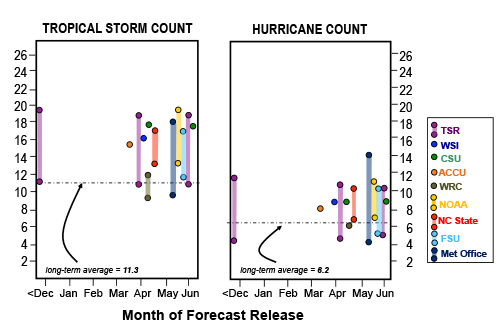 The dotted horizontal line on Figure 1 indicates the long-term average number of named tropical storms and hurricanes that form in the Atlantic. About half of the forecasters, including NOAA, state a range of activity rather than a point estimate, which is an indication of the uncertainty surrounding any forecast. Note also the absence of landfall predictions in most of the forecasts; landfalls (and thus regional risk and, most importantly, insured losses) are very sensitive to day-to-day weather conditions and cannot be predicted with any accuracy ahead of the season. The track of each tropical cyclone is unique and challenging to forecast even days in advance.
While a multitude of climatological and meterological factors affect tropical cyclone formation, track, and intensity, this year's basinwide forecasts are strongly influenced by two major factors: the development of an El Niño event, which can hinder tropical cyclone development, appears to be increasingly unlikely; and continued elevated sea surface temperatures in the tropical Atlantic, which have been above the long-term average each hurricane season since 1995.
A Catalog Conditioned on Warm SSTs
Starting in 2007, AIR has released two catalogs for its U.S. hurricane model: a standard catalog, which reflects hurricane risk under average climate conditions and uses data from historical hurricanes back to 1900, and a supplemental catalog, which is constructed in much the same way as the standard catalog but is based on data only from those years since 1900 during which sea surface temperatures have been higher than the long-term average. Like the standard catalog, the warm sea-surface temperature (WSST) catalog provides a long-term and stable view of risk from landfalling hurricanes—but it reflects an increase in the mean frequency for U.S. hurricane landfalls of between 5% and 10% (in some cases higher or lower depending on the geographical region and the measure of intensity considered in the analysis).
Note that the WSST catalog, like the AIR standard catalog, does not forecast hurricane activity. Rather, it estimates the sensitivity of landfall risk to a typical warm ocean condition; however, because it is based on a smaller historical sample, it is subject to higher levels of statistical uncertainty. The model, with its two views of risk, is intended to help insurance and reinsurance companies understand and manage their potential losses with respect to a wide range of possible storm scenarios.
So, do warmer than average ocean temperatures (or current forecasts for an active season, for that matter) mean that insurers and reinsurers should expect greater insured losses this season? Not necessarily. As previously noted, there are multiple correlated factors that influence tropical cyclone formation, track, and intensity. Indeed, these factors play a major role in the heightened uncertainty associated with any climate-conditioned catalog. This very complexity, however, validates AIR's multi-modeling approach (which provides more than one estimate of risk) and establishes a clear context for understanding this year's crop of hurricane season predictions and what they mean for insurers and reinsurers.
AIR Research Finds that Warm SSTs May Alter Regional Landfall Risk
Research into the climatological influences on tropical cyclones is focused on basinwide activity, not landfall risk. The data so far indicate that it is not appropriate to simply scale up the number of landfalls in direct proportion to an overall increase in basinwide activity and then distribute the landfalls evenly along the U.S. coast. Figure 2 shows the spatial distribution of storm genesis locations in years with warm or cool SSTs since 1950. It is immediately apparent that there are qualitative differences in regional risk in years with warm SSTs compared to years with cool SSTs.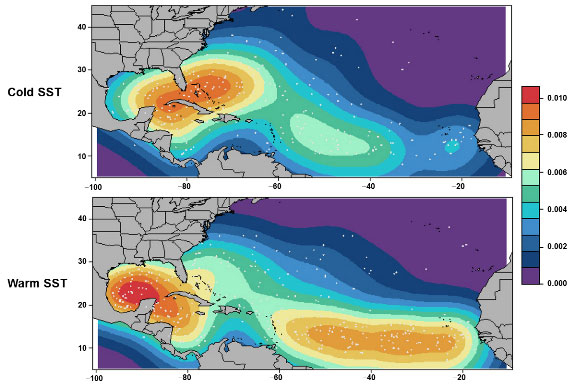 Figure 2 shows an increase in storm genesis in the Gulf of Mexico and a significant shift eastward in genesis locations in the Atlantic in warm SST years. One implication of these changes is that elevated activity under warm SST conditions could actually result in a lower proportion of storms making landfall in the U.S. as compared to the long-term average. There are a couple of reasons why this might be true.
First, storms that form in the Gulf do pose a greater landfall threat because of their proximity to the U.S. coast—but there is little time for them to intensify before landfall. Thus, the Gulf Coast could quite possibly experience more frequent landfalls at tropical storm strength—while experiencing little increase in hurricane landfalls.
Second, historically, storms that form in the eastern region of the tropical Atlantic and off the coast of Africa are more likely to curve northward before ever reaching the U.S. coast. Such an eastward shift in hurricane formation would likely increase hurricane activity basinwide—but such a shift also would likely increase the probability that the storms would turn northward without making landfall in the U.S. Thus, the proportion of named storms making U.S. landfall as hurricanes would actually be lower. This possibility may not reduce the overall risk of an increased number of storms developing, but the increased propensity for such storms to turn away from the U.S. coast may temper that risk.
Conclusion
The goal of seasonal forecasts is to provide a general indication of basinwide activity, not to predict precisely where hurricanes will form, track, or make landfall (if they do). From a risk manager's perspective, seasonal forecasts have limited utility. Even when environmental conditions are accurately forecast in advance, day-to-day weather variability makes it very difficult to correlate basinwide activity with landfall risk and losses.
The advantage of a catastrophe model is that it can provide a fully probabilistic estimate of loss without having to forecast the short-lived climate and weather signals that cannot be anticipated in advance of a season. For a hurricane season that is forecast to be active to very active, like 2013, AIR's standard and warm sea surface temperature catalogs provide companies with the most appropriate view available of potential risk.