Improving Exposure Data in Touchstone Using the Property Specific Database
Editor's Note: In this article, George Davis, Vice President, Business Development, and David Wilson, Senior Product Manager, Product Management discuss how the Property Specific Database in Touchstone™ can be used to improve companies' exposure data and their understanding of their risk.
Introduction
AIR's next generation software platform, Touchstone™, offers companies a variety of tools that allow them to truly own the risk—and the first step is a deep understanding of their exposure data.
In this article, we discuss how Touchstone leverages AIR's Property Specific Database to augment incomplete data and correct incorrect data.
Touchstone's Data Quality Analytics
Accurate data are of paramount importance to reliable modeled losses. In Touchstone's Data Quality Analytics module, AIR provides companies with the tools needed to measure and improve their data quality, and to understand its potential impact on losses. The module includes a comprehensive suite of solutions, including scoring, benchmarking, validation, and augmentation.
Briefly, data scoring can help companies decide where to allocate resources for data quality improvement for maximum return on investment. Companies can benchmark their data against that of the industry by construction, occupancy, coverage, and line of business. They can validate their data using completeness and reasonability checks to identify where data are missing, determine whether a property is accurately geocoded, or whether coded risk characteristics make sense. Validation results provide guidance on steps companies can take to enhance exposure data at the portfolio level through data augmentation.
Finally, Touchstone's data augmentation feature can fill in missing or questionable values in exposure data with replacement values, building characteristics, and geocodes for individual buildings. Successful augmentation requires two critical factors. First, matching addresses within a portfolio to actual buildings on the ground, not average distributions by geography. Second, the source data must be of the highest integrity. This is where AIR's Property Specific Database (PSD) comes in.
Developing the PSD
The PSD is an extensive and detailed database of residential and commercial properties in the U.S.1 It contains the exposure data necessary for catastrophe analyses, including property-specific replacement valuation, building characteristics, and geocoded location.
The PSD is a blended data set drawn primarily from data sources unique to Verisk Analytics, AIR's parent company, as well as census and tax data. The blended data approach enables AIR to assemble the most reliable data for each attribute. Verisk data sources contributing to the PSD include the following.
ProMetrix® property information provides detailed high quality data on millions of commercial properties in the United States. The information is compiled exclusively from actual physical surveys of individual commercial buildings conducted by one of ISO's hundreds of trained building inspectors.
360Value® provides individually calculated, component-based replacement cost estimates for residential and commercial property records, supporting a complete range of building types. Powered by Xactware's comprehensive and up-to-date reconstruction cost information, 360Value provides reliable replacement values consistent with recent claims data.
ISO PushPin™ is a database of property-specific information for U.S. residential and commercial properties. It comprises aggregated public records data collected from county tax assessors across the United States. The assessor records undergo a proprietary process to clean and format them for use by the insurance industry.
All of the data elements in the PSD (see Data Elements callout) undergo an extensive quality assurance process to ensure their suitability for use in catastrophe modeling. The PSD has been validated through a multi-step process involving overlapping methods to test data accuracy and reliability, including the use of reasonability rules to identify and filter out unrealistic data, validation of questionable data using satellite and aerial images, and identifying and researching unusual data shifts of property specific records. AIR then assigns each element a quality grade, which allows the user to determine if the PSD data element is a more suitable option than the data they already have.
Individual structures in the PSD are identified by an ISO Building Identification Number (BIN). Because millions of buildings in the U.S. have ambiguous addresses and many properties have multiple addresses for the same building, while still others have a single address but represent multiple buildings, companies face challenges when trying to identify and appropriately geocode their risks. The ISO BIN dispels the ambiguity that can be associated with building identification because it uses an alpha-numeric key tied to the property specific information needed for catastrophe modeling.
A Significantly Expanded PSD in Touchstone V1.5
Key to successful augmentation of portfolio exposure data is ensuring high match rates with the buildings in Touchstone's PSD. With the latest release in Touchstone Version 1.5, the PSD contains 68 million residential property records and more than 6.5 million commercial property records. Updates to the database are integrated into every Touchstone release.
Also in Version 1.5, the replacement cost estimates for both residential and commercial properties have been updated to account for changes in construction costs during the past year.
A Hypothetical Case Study Illustrates the Benefits of Data Augmentation with PSD
In this business case, we are using a fictitious insurance company called Quality Insurance. They have a potential hotel chain client with close to 1,000 locations who is asking for an insurance quote. Quality Insurance knows that this is a competitive situation and that they need the most accurate view of risk possible to provide the best quote. It comes down to understanding the accuracy of the client's exposure data, and—if the client's data is questionable—finding expedient ways to augment the client's data to improve its quality.
Touchstone provides the right tools to meet the challenge. Right away, Touchstone's Exposure Dashboard Summary reveals possible reasons for concern (see Figure 2). Specifically, a significant percentage of the exposure is missing information on building height; the construction type, too, is missing for a substantial number of risks.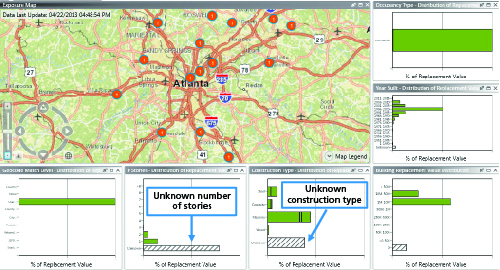 What the underwriters do not know is the significance of the unknowns. The scoring functionality in Touchstone's Data Quality Analytics can provide this insight. The Data Quality Score is a measure of how missing exposure data impacts uncertainty in modeling results, and this score is lower than what the underwriters would like to see.
They decide to augment the data using Touchstone's PSD. Figure 3 shows the results: 27% of the risks in the portfolio, representing locations with unknown or incorrect construction type, have now been augmented with property specific information from the PSD, and 37% of the locations in the portfolio have been augmented with height information. The underwriters now have a more accurate view of their client's exposure data and when they re-score the data, the improvements are immediately apparent.

The detailed loss analysis that the underwriters will run prior to developing the quote for the hotel chain will have less uncertainty and, therefore, the underwriters will have more confidence in their pricing proposal. Furthermore, comparing the percent change in replacement values and modeled loss before and after augmentation will give underwriters a good indication of potential insurance-to-value issues for the portfolio as a whole and its impact on loss estimates.
Conclusion
It is now widely acknowledged that the catastrophe loss estimates generated by detailed catastrophe modeling are only as good as the quality of the exposure data entered. Through the Data Quality Analytics module and leveraging AIR's Property Specific Database, Touchstone offers innovative approaches to assess and even improve that quality of exposure data, enabling companies to increase the reliability of their catastrophe risk analyses.
1 The benchmarking, scoring, and validation Data Analytics features are also available in Europe.
2The user can choose whether augmented data overwrites the existing data. The default option is to create a new exposure view, retaining the original data.