Catastrophe Modeling in the Cloud
Editor's Note: This article was updated in January 2013 to reflect the name of AIR's new software, Touchstone™, and the fact that it is available now. AIR Vice President of Technical Services Peter Lewis and Marketing Manager Serge Gagarin demystify cloud computing and discuss whether it's suitable for catastrophe modeling.
Cloud computing is the latest technology trend dominating the consumer space and the language of cloud computing is quickly entering the corporate lexicon. According to technology research firm Gartner, "Consumer adoption of cloud services will continue to increase in the coming years, with one-third of personal data being stored in the cloud by 2016." The insurance industry, however, seems to be responding more cautiously. In a recent AIR client survey, 65% of respondents indicated that their organization will not be moving their data into the cloud in the near future. The chief concern, and a legitimate one, is security—of entrusting data to a cloud service provider.
Even so, we have seen increasing interest from companies wanting to explore cloud solutions for managing their catastrophe modeling workload, particularly in light of the release of Touchstone™. However, what is apparent from discussions we have had with clients is that everyone has a slightly different take on what the cloud is and how it might be leveraged for catastrophe modeling purposes. This article attempts to provide a primer on cloud computing and discuss the many important considerations in moving your catastrophe modeling into the cloud.
What Is the Cloud?
Simply put, the cloud is virtualized hardware, compute power, and storage delivered over the Internet as a service. The major difference from traditional computing is in how the resources are acquired, paid for, and accessed. Gone is the lengthy hardware ordering process, as cloud resources are purchased on demand and the cloud provider handles all hardware acquisition and configuration. The traditional buying and depreciating of hardware every few years is replaced by paying for only what is used. Concerns about data center space and other related expenses are gone.
Accessing traditional compute resources typically required your computer to be connected to the corporate network directly or via a virtual private network (VPN). Cloud computing now makes it possible to access computing resources over the Internet virtually—from any device, anytime, almost anywhere.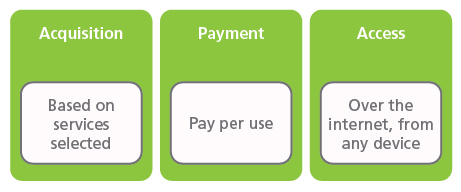 Cloud computing platforms can be either private or public. In a private cloud, the cloud infrastructure is operated exclusively for an organization; its resources are not shared with the general public. It can be managed by the organization or a third party on- or off-premises. Public clouds are shared, are available to the general public and are owned by the cloud provider. The three cloud computing service models are as follows:
Software as a service (SaaS): The most common type of cloud service used by corporations is software as a service. SaaS provides access to a vendor's software via the Internet, and all hardware, software and data is managed by the cloud provider. AIR's hosted CATStation® software has been delivering access to AIR's models using the SaaS model since 2003. Another example of SaaS is the popular customer management software Salesforce.com®.
Platform as a service (PaaS): Platform as a service provides a development environment through which users can build their own customized applications. In this type of environment, the consumer does not manage or control the underlying cloud infrastructure, network, servers, operating systems, or storage, but can control their own deployed applications. Google App Engine is an example of a cloud service that provides online platforms for application developers.
Infrastructure as a service (IaaS): Infrastructure as a service provides the capability for consumers to allocate processing, storage, networks, and other fundamental computing resources dynamically, on an as-needed basis. The consumer is charged only for the resources used. The consumer does not manage or control the underlying cloud infrastructure, but has control over operating systems, storage, and deployed applications. This cloud computing model can provide on-demand pay-per-use resources for catastrophe modeling.
Is the Catastrophe Modeling Workload Suitable for Cloud Computing?
Now that the basics of cloud computing have been defined, let's address the question of whether the catastrophe modeling workload is suitable for cloud computing. To answer this, two issues must first be explored: software readiness and business risk.
As AIR prepared for the release of Touchstone, we worked very closely with our clients to determine what deployment option would work well for their organizations. Touchstone was developed to give customers flexibility to use the environment of their choice, be it traditional in-house or through a third-party cloud. AIR invested significant time and resources to develop a sizable virtualized infrastructure, which is the core component of IaaS offerings. We built and validated Touchstone on this virtualized infrastructure from a software functionality, performance, and scalability perspective. So, from the software point of view, the catastrophe modeling workload is suitable for cloud computing—assuming that the cloud computing infrastructure has been configured properly and optimally sized.
From a business point of view, however, each company must weigh several non-software factors—the primary ones being data security and performance. Companies must first be able to ascertain that their data is adequately secured and can be tracked as it moves through the cloud infrastructure.
Once this hurdle is cleared, the next concern is performance. Most cloud platforms use shared resources, meaning that there can be variations in system performance based on how much of the shared resources are being utilized. Cloud providers must be able to guarantee consistent platform performance and availability during your busy business periods (in many companies, this might be all year long). This is especially critical if the entire catastrophe modeling environment is running in the cloud.
Other relevant factors include data transfer requirements between the cloud provider and the corporate LAN, and integration requirements for the catastrophe modeling environment in the cloud with the corporate-hosted proprietary systems. These are just some considerations that should be addressed prior to deciding whether an organization is ready to move into the cloud.
AIR Believes in Choice
When it comes to the deployment of AIR software, we believe in choice. Clients who wish to move their catastrophe modeling environment into the cloud to take advantage of the resource efficiencies the cloud has to offer have that option with Touchstone. However, we also recognize that some organizations have built robust practices around their current workflow and will opt to maintain their catastrophe modeling environments on premises, perhaps moving into the cloud in the future. Regardless of the choice of deployment option, AIR is fully committed to helping establish a catastrophe modeling environment that works best for each client's organization. The following deployment options will be supported.
Option 1: On Premises
AIR will continue to develop software applications that can be deployed on a client's internal computing resources, including on both physical and virtualized resources. When catastrophe models are installed internally on virtualized hardware, they effectively function as a private SaaS cloud application. While this option requires that companies purchase and maintain their own hardware, it gives them the greatest control over their resources and data. We expect the majority of our clients to stay with this traditional deployment method for some time to come.
Option 2: In a Third-Party Cloud
AIR's Touchstone can be deployed on a third-party cloud. This enables companies to manage the scale of their catastrophe modeling operations dynamically to suit their current needs, and they would only pay for the computational cycles they use in running the models. However, they would also have to entrust their data to the cloud provider. Putting in place a robust Service Level Agreement (SLA) with the third-party cloud provider will be a critical step in this kind of implementation to guarantee availability, performance, and security. We expect that a few clients looking to reduce costs and gain scalability may choose this type of public IaaS cloud application for catastrophe modeling.
Option 3: In the AIR Analytical Cloud
Based on feedback from our clients and in light of market trends, AIR has a robust and scalable cloud solution on our roadmap that will address concerns about entrusting a third-party vendor with data and about software performance and resource availability. Unlike all-purpose cloud solutions developed by third-party vendors, the AIR cloud will be built solely with catastrophe modeling in mind.
AIR understands the unique requirements for optimally configuring physical or virtual environments suitable for running large-scale catastrophe modeling analyses. AIR's solution will guarantee a superior level of performance that would otherwise be difficult to achieve with a third-party vendor that is not acutely aware of the particular challenges associated with running large catastrophe modeling analyses.
Many clients will consider this an appealing option as it will provide a turnkey flexibility and scalability, without compromising security, performance, or integrity of data. More information on this customized IaaS cloud solution will come as we move closer to making it available.
Conclusion
While many vendors are offering to help companies move to the cloud, it may not be the right option for every company's catastrophe modeling environment. While the cloud promises more flexibility and potential cost savings, concerns about data security and performance need to be addressed before a company trusts all of its catastrophe modeling to the cloud. AIR understands these concerns and is prepared to support our clients regardless of their deployment choice.