Record 2017 California Wildfire Season
More than two weeks since it began, the Thomas Fire has soared into the record books as one of the largest wildfires in California history. As other Southern California fires, including Skirball and Lilac, were brought under control, the Thomas Fire continued to rage across hillsides and homes in Ventura and Santa Barbara counties. Thus far, it has burned more than 280,000 acres—or 440 square miles—and demolished more than 1,000 structures.
Just two months ago, fires in Napa, Sonoma, Mendocino, Solano, and Yuba counties destroyed more than 8,900 structures, according to Cal Fire.
By any measure, the recent wildfires in California are among the most destructive in history. The insured losses from these events will be substantial—and more generally, losses from the wildfire peril will continue to increase as long as properties continue to be built in areas of high hazard.
What made the season so severe?
For starters, an unprecedented series of winter storms put an end to the five-year drought. The wet winter led to an abundance of new vegetation. By summer, California had reached record-breaking temperatures that dried all that freshly grown vegetation into tinder.
Strong winds also intensified the wildfire threat, with the Diablo winds pushing the Northern California fires in October and the blustery Santa Ana winds fanning the Southern California fires.
Large swaths of these wildfires occurred within the wildland-urban interface (WUI)— the region where undeveloped forests, grasslands, and chaparral meet urban expansion—a zone most at risk from wildfires. As populations in these areas have grown, fire suppression efforts have become more aggressive, resulting in the further build-up of fuels.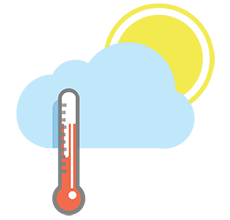 What is the role of climate change?
While it would be unwise to argue that any given event is the result of climate change, most scientists agree that wildfires are becoming more frequent, more intense, and lasting longer as global temperatures rise. Thus seasons like the one we've experienced in 2017 may become more frequent.
How wildfire mitigation efforts can reduce risk

California has taken significant steps toward the development of standards that make buildings more fire-resistant. Recently adopted building codes mandate vegetation clearance around homes in high fire-hazard zones and require the use of fire-resistant building materials in new construction.

The insurance industry is also educating landowners on ways to reduce wildfire risk. They have helped to fund the Insurance Institute for Business & Home Safety that conducts research on mitigating wildfires and other disasters. However, this wildfire season may bring about a reassessment of land use policies that dictate where and how people build.

Read the blog: "Taming Wildfire Risk with Mitigation and Incentives"

The way you manage wildfire risk is about to change
Drawing on our extensive experience modeling the wildfire hazard, AIR is answering the call for advanced risk management tools with the introduction of the industry's most comprehensive wildfire model for the western United States.
This innovative model, anticipated for release in summer 2018, will enable companies to make more informed underwriting and pricing decisions, and develop more effective portfolio management and risk financing strategies.