Top Ten Historical Hurricanes
10. Galveston Hurricane of 1915, USD 32.0 Billion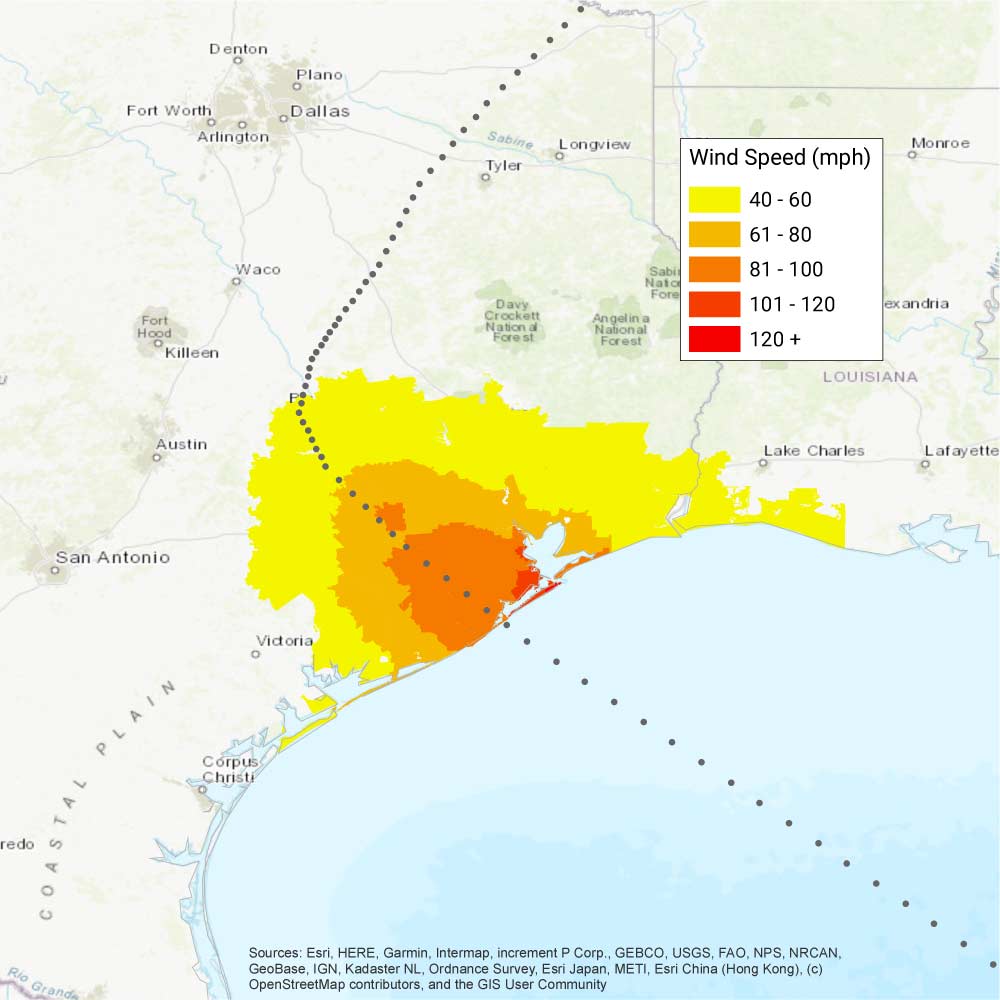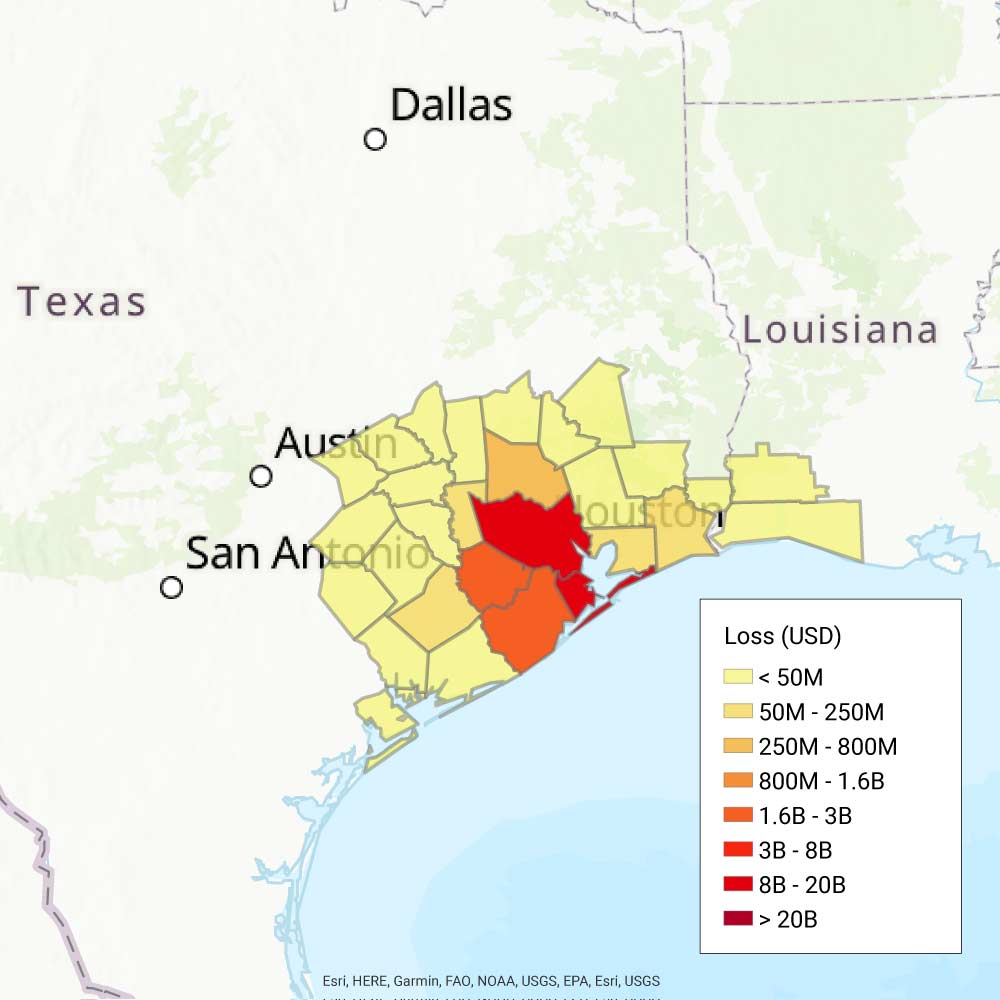 Compare the wind and loss maps by sliding.
Moving from south of Puerto Rico and tracking past Cuba, this unnamed storm was a Category 3 at landfall in Texas on August 17, with an atmospheric pressure of 940 mb and maximum sustained winds at 127 mph—strong enough to border on a Category 4. Several hundred boats were wrecked along the Texas and Louisiana coasts. Galveston, Texas, experienced a storm surge that wiped out the causeway to the mainland; however, the Galveston Island seawall, built in the wake of the deadly 1900 Galveston storm, protected a significant portion of homes and prevented significant loss of life there. While its winds weakened rapidly after landfall, passing Houston as a Category 1, it brought prodigious rain, dumping 20 inches on Texas that wiped out the region's cotton, corn, and rice crops, and brought damaging flash flooding as far as north as New York State.
9. Great New England Hurricane (1938), USD 58.1 Billion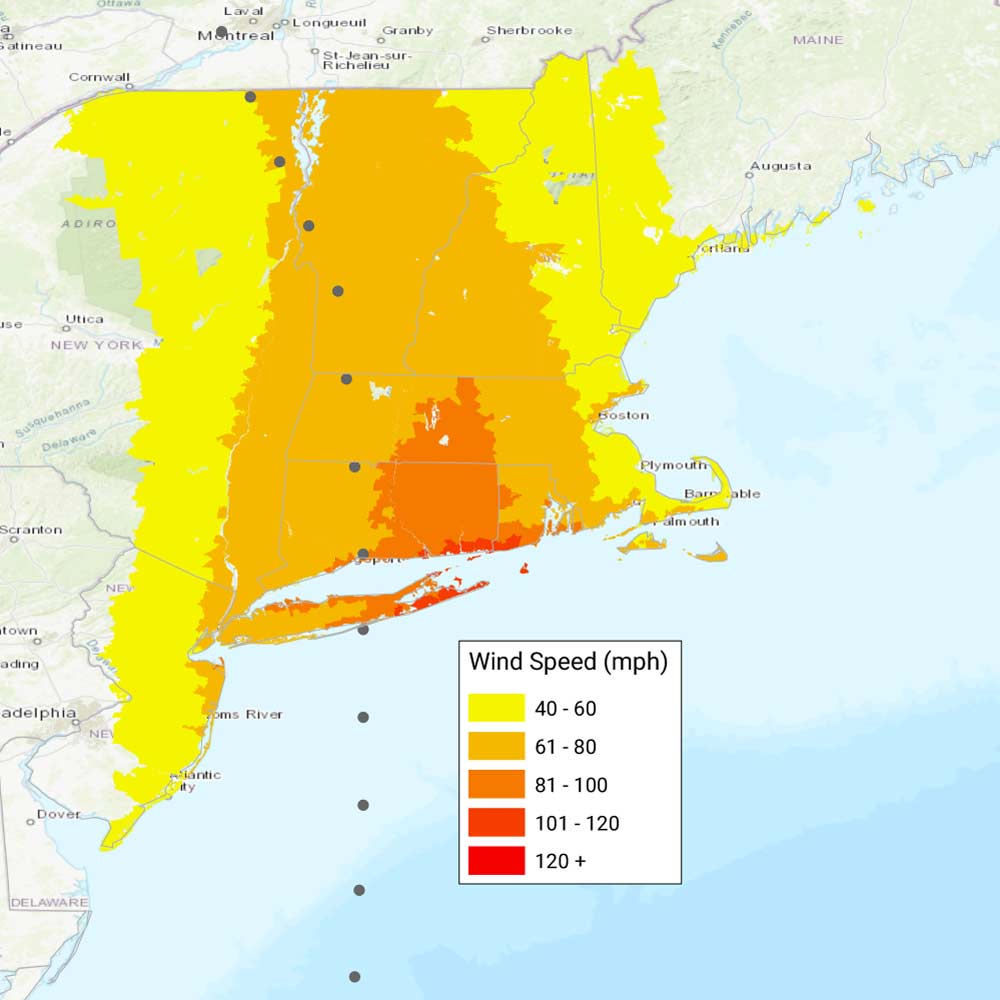 Compare the wind and loss maps by sliding.
Also known as the Long Island Express, this Category 3 hurricane made landfall in Long Island, New York, on September 21, with maximum sustained winds of 121 mph, a central pressure of 941 mb, and flooding rainfall of 15+ inches fell in some areas. It sped north, maintaining most of its strength, becoming the first major hurricane to strike New England since 1869, decimating coastal towns near its path. Landfall at high tide created storm tides as high as 25 feet. Surge and riverine flooding submerged cities and destroyed ships and marinas. The high winds and floods killed more than 680 people and destroyed approximately 57,000 homes in New York, Connecticut, Rhode Island, Massachusetts, New Hampshire, and Vermont.
8. Galveston Hurricane (1900), USD 62.6 Billion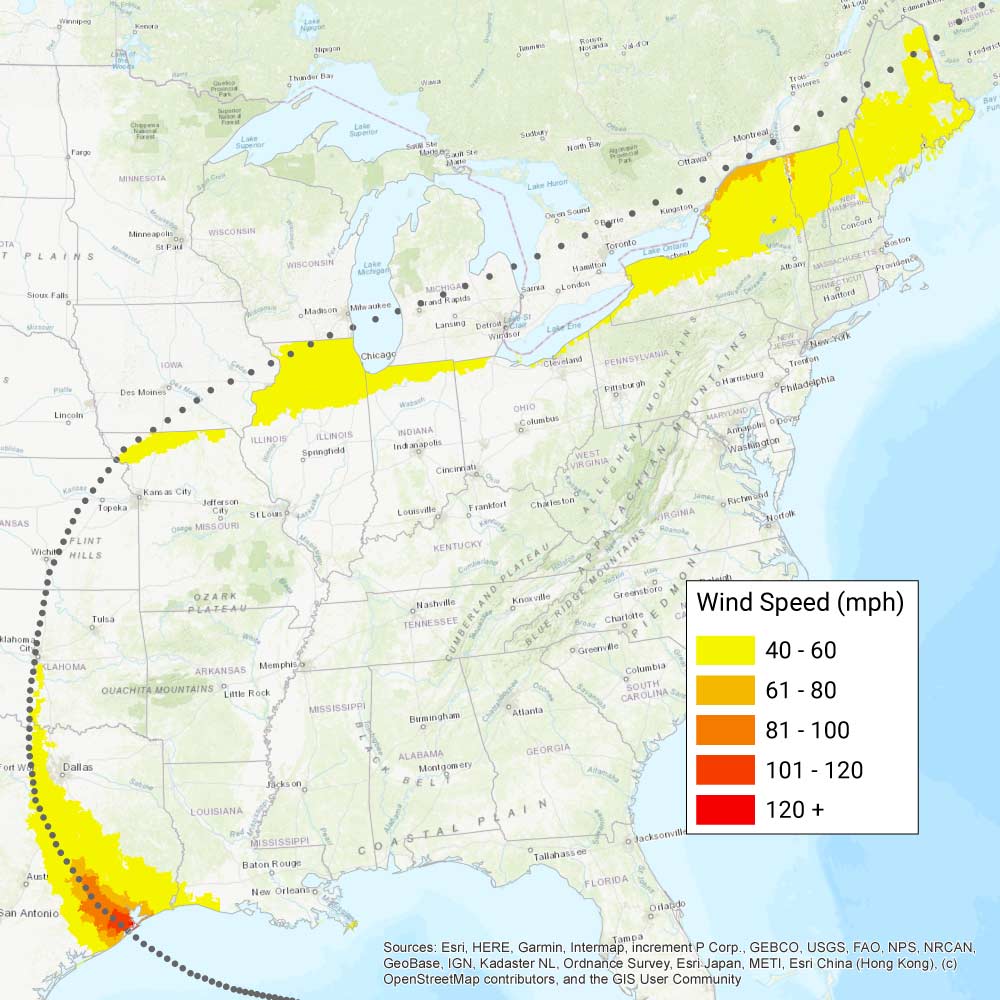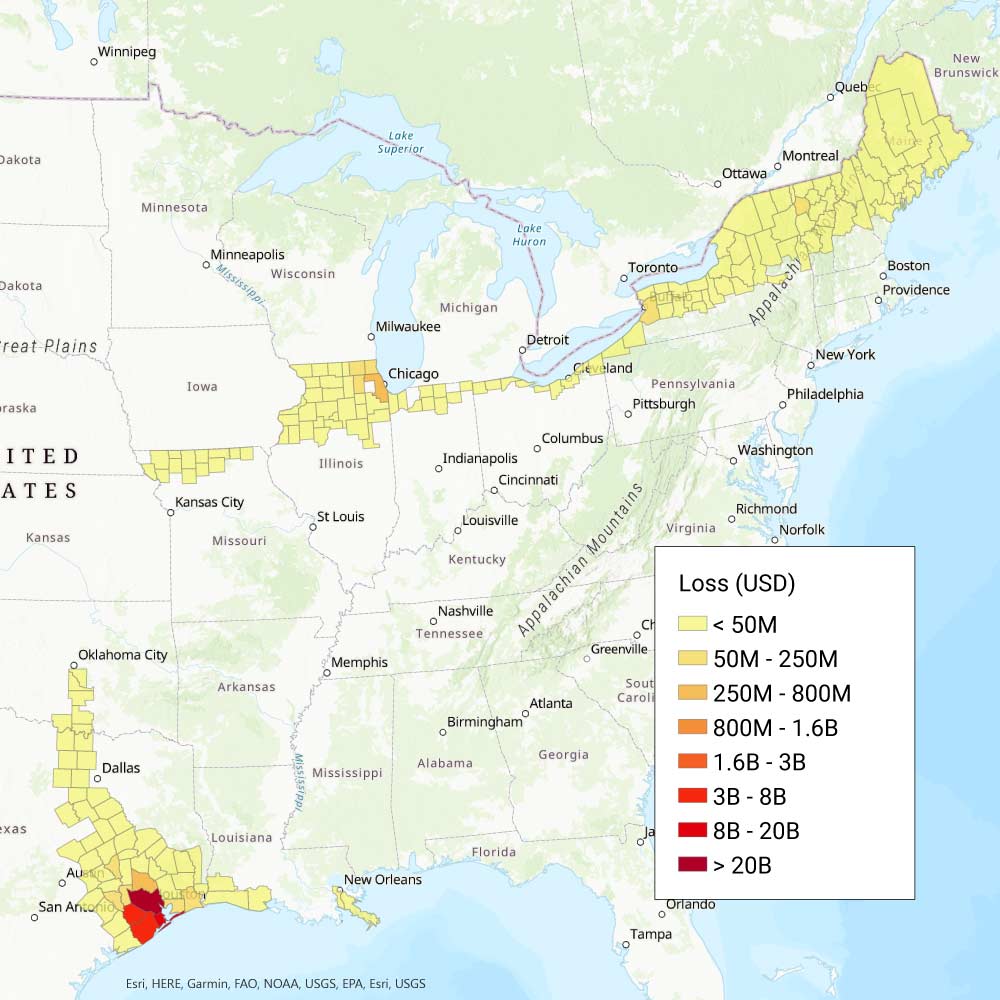 Compare the wind and loss maps by sliding.
Galveston was the largest city in Texas and a bustling port on September 8, 1900, when the hurricane made landfall and caused the deadliest natural disaster in the history of the United States. Bearing estimated sustained 135 mph winds, Category 4 strength, and gusts recorded as high as 144 mph, the storm's greatest destruction and loss of life stemmed from the 15-foot storm surge that swept through the low-lying island city of 40,000 people, destroying more than 3,600 homes. With limited warning to help them prepare and evacuate, an estimated 8,000 to 12,000 people lost their lives. The storm continued north through Kansas and Iowa, then northeast through New York State and Maine, causing widespread wind damage.
7. Hurricane Betsy (1965), USD 65.3 Billion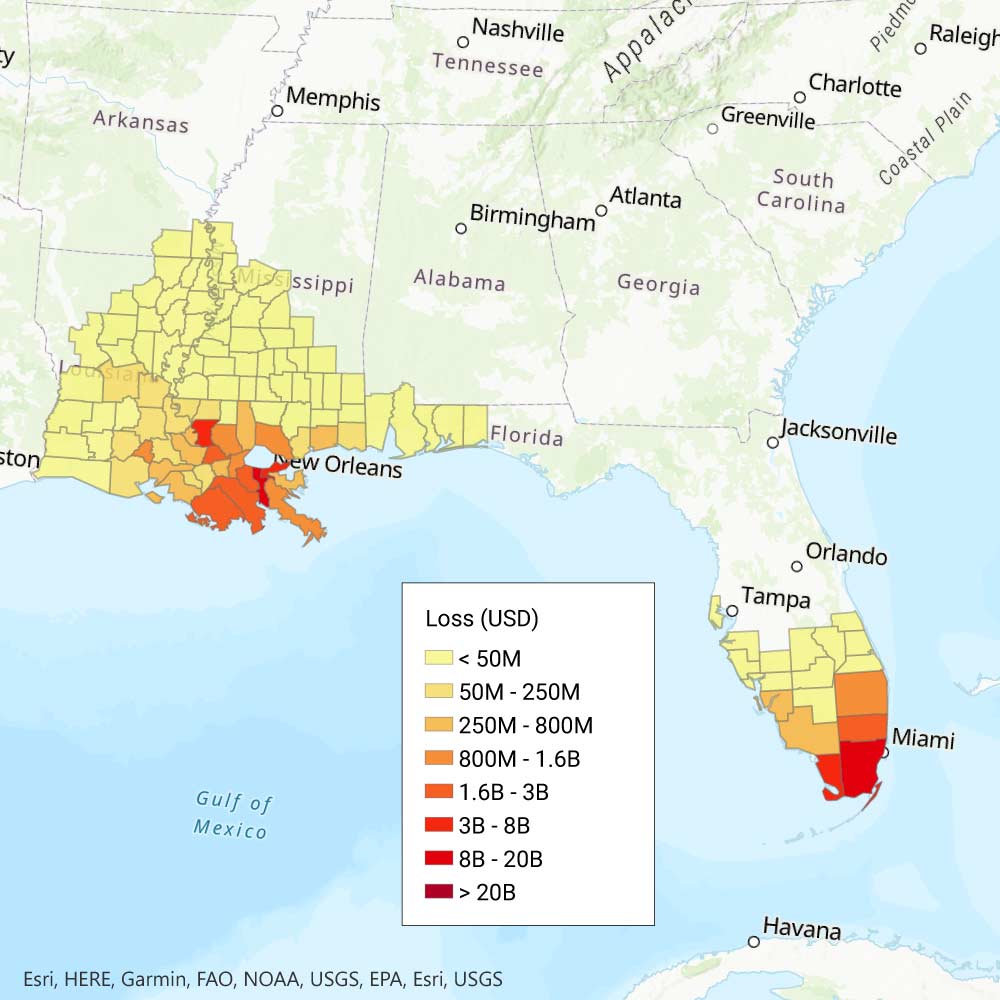 Compare the wind and loss maps by sliding.
This storm caused more than USD 1 billion (1965 currency) in total economic losses, earning it the nickname "Billion Dollar Betsy." After looping through the Bahamas, Hurricane Betsy struck Key Largo, Florida, on September 8 as a Category 3 storm, then crossed warm Gulf waters to make landfall as a Category 4 storm on September 9 just west of the Mississippi River in Grand Isle, Louisiana, destroying nearly every building on the island town. Damaging hurricane-force winds smashed oil platforms in the Gulf and reached properties up to 170 miles inland. As it moved north, storm surge raised the Mississippi River 10 feet at New Orleans and 15 feet at Baton Rouge, causing levee failures. Damage to hundreds of marine vessels left shipwrecks that blocked the river mouth to trade and nearly caused a massive chemical spill. Betsy flooded 164,000 homes and killed approximately 76 people.
6. Hurricane Andrew (1992), USD 66.6 Billion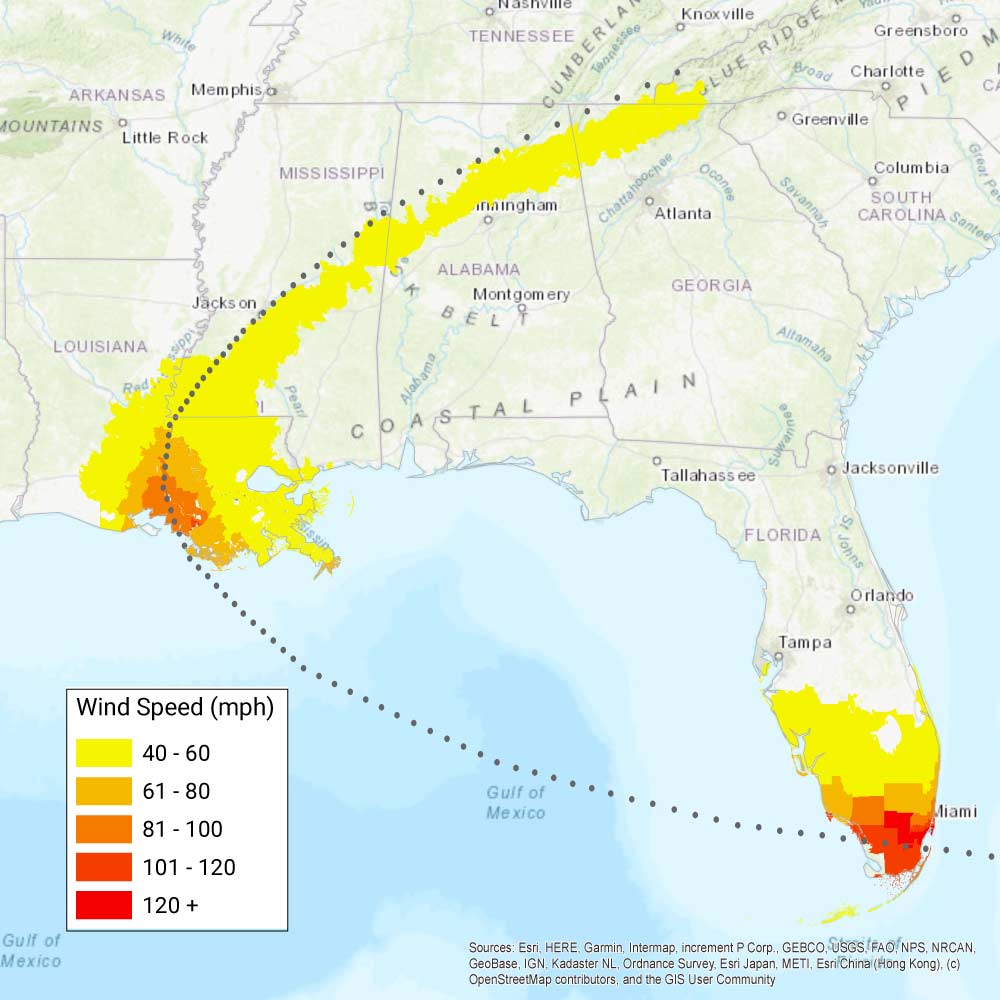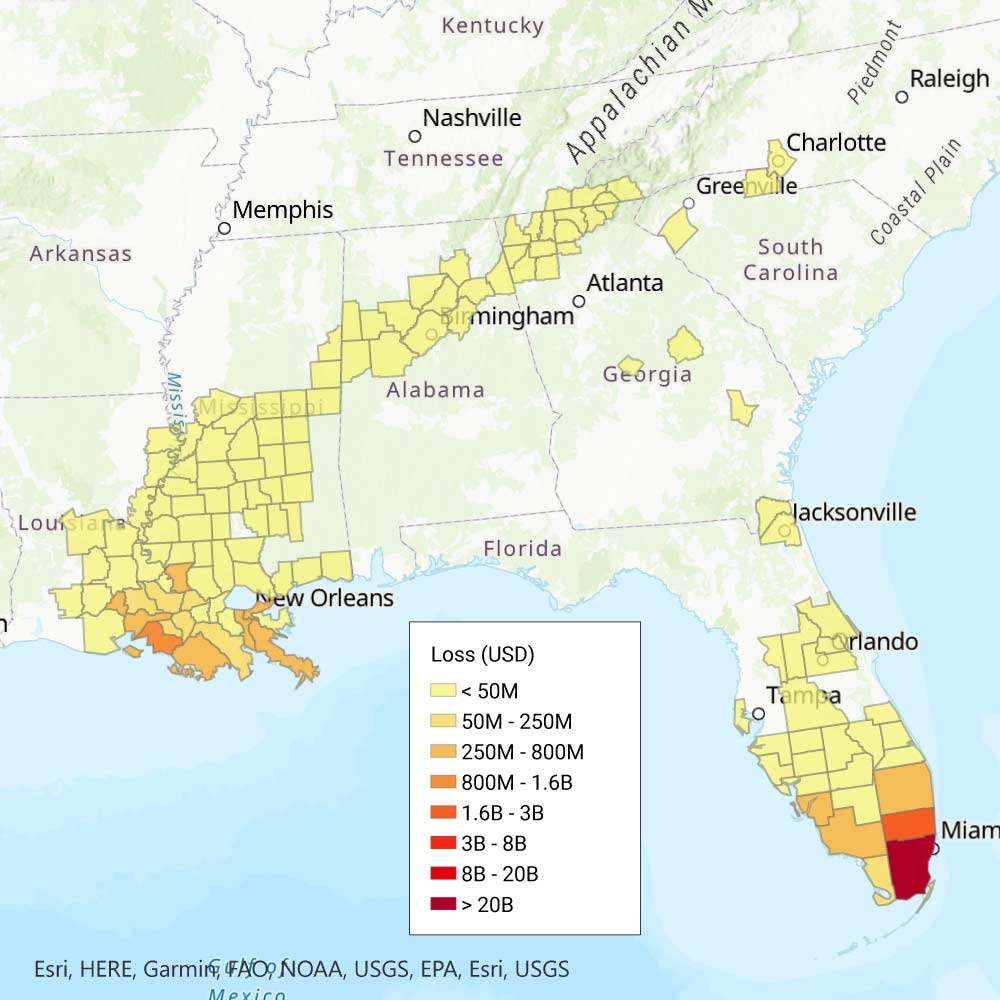 Compare the wind and loss maps by sliding.
On August 23, Hurricane Andrew caused extensive damage to the Bahamas before it slammed into Florida's Elliot Key as a Category 5 hurricane at 4:40 a.m. on August 24 and minutes later made a second landfall at Homestead Air Force Base, just east of the City of Homestead. Bearing 1-minute maximum sustained wind speeds exceeding 160 mph, a central pressure of 922 mb, and a storm surge as high as 17 feet, Andrew left a swath of devastation in Dade County before crossing back into the warm waters of the Gulf. It damaged or destroyed nearly 90 offshore platforms en route to a third U.S. landfall on August 26 as a Category 3 storm in south-central Louisiana, bringing sustained winds of 105 mph, storm surge, tornadoes, and over 11 inches of rain. In total, Andrew destroyed or severely damaged approximately 600,000 homes and businesses and caused more than 80 deaths. Coastal marinas and offshore exposures suffered huge losses as well.
For more on this, see our feature on the 25th anniversary of Hurricane Andrew.
5. Fort Lauderdale Hurricane (1947), USD 70.3 Billion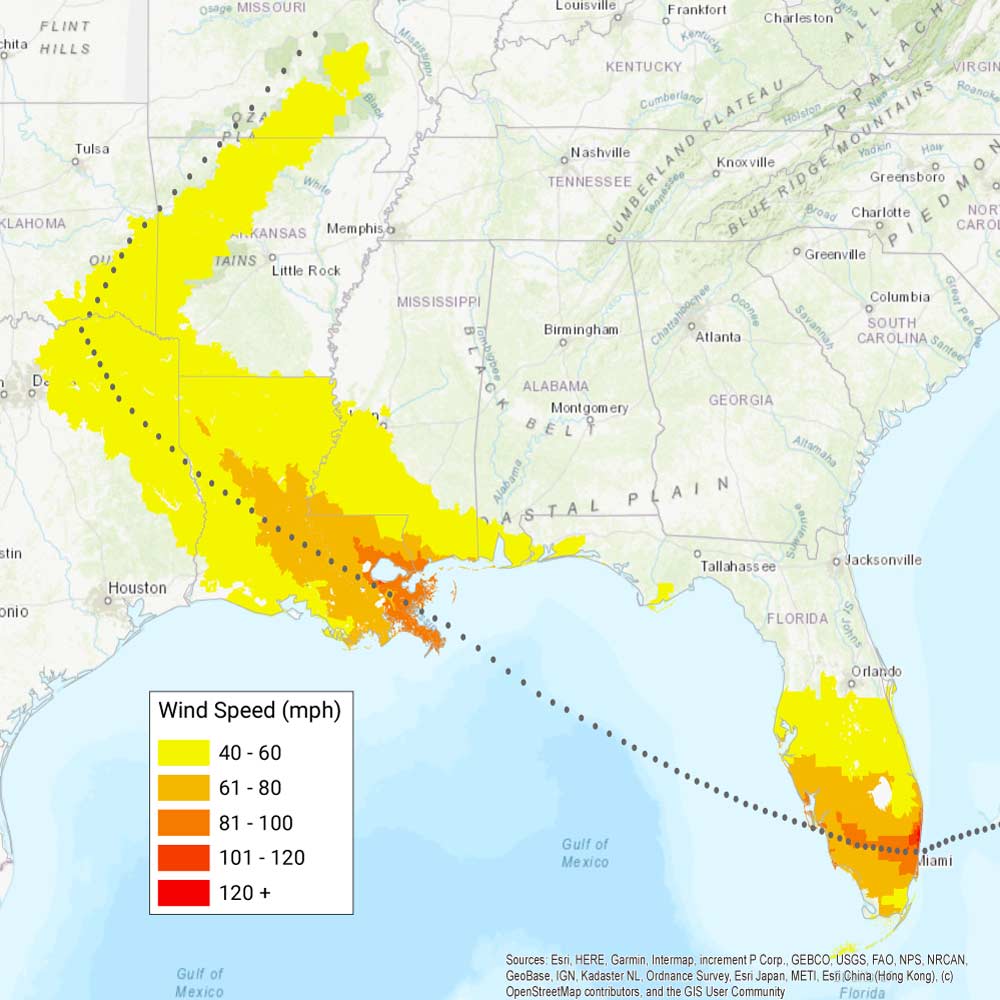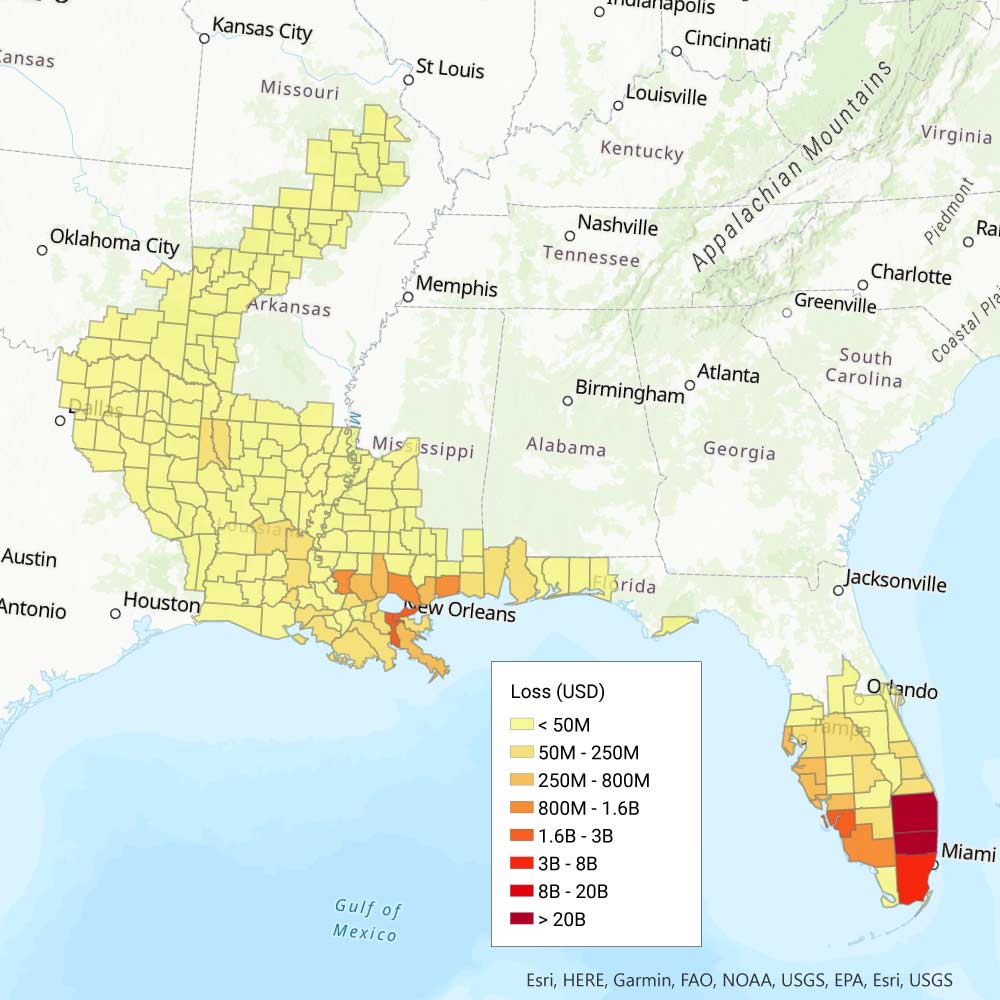 Compare the wind and loss maps by sliding.
After striking the Bahamas, the storm also known as the Pompano Beach Hurricane made landfall on September 17 near Fort Lauderdale, Florida, at Category 4 strength, with wind speeds recorded at 155 mph near Pompano Beach, hurricane-force winds stretching across 240 miles, storm surges as high as 11 feet, and record rainfall. Subsequent landfall in New Orleans at Category 3 strength brought extensive crop and property damage to Louisiana and Mississippi. Severe flooding inundated New Orleans and persisted for weeks. In total, 51 people lost their lives.
4. Hurricane Katrina (2005), USD 71.0 Billion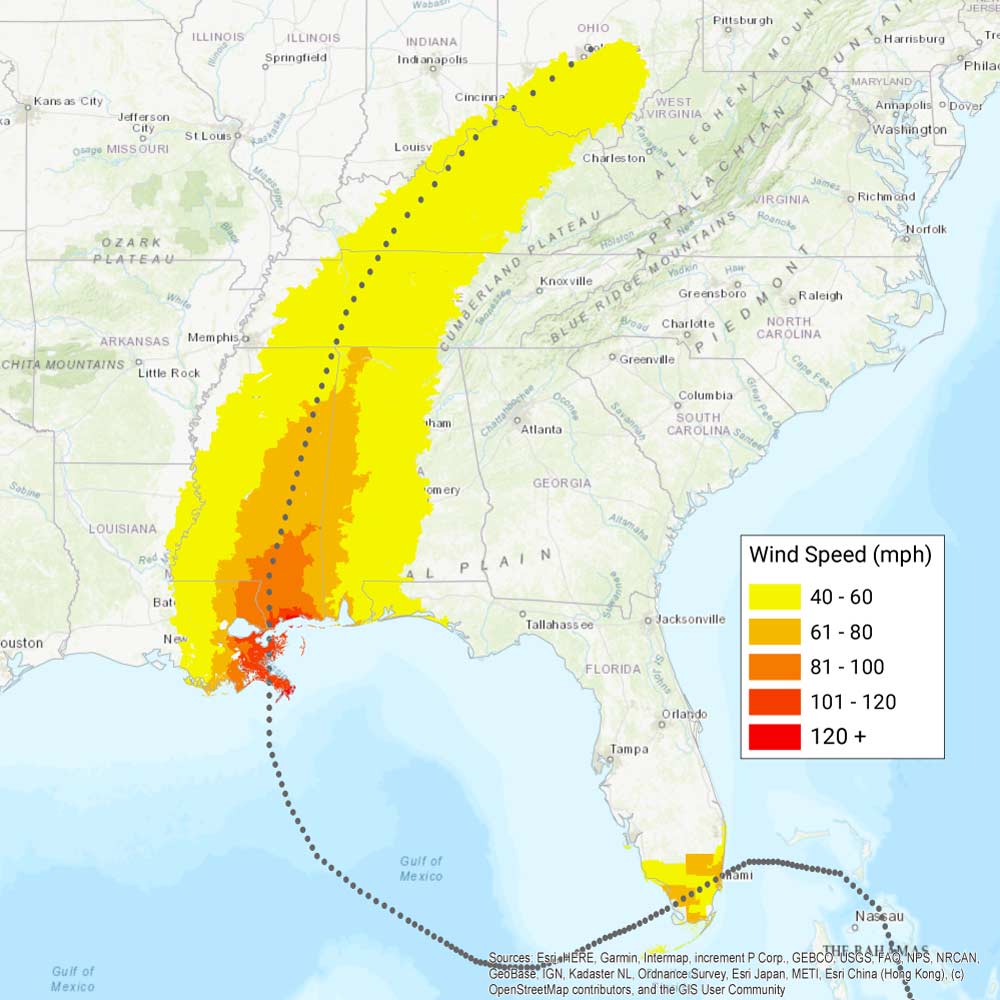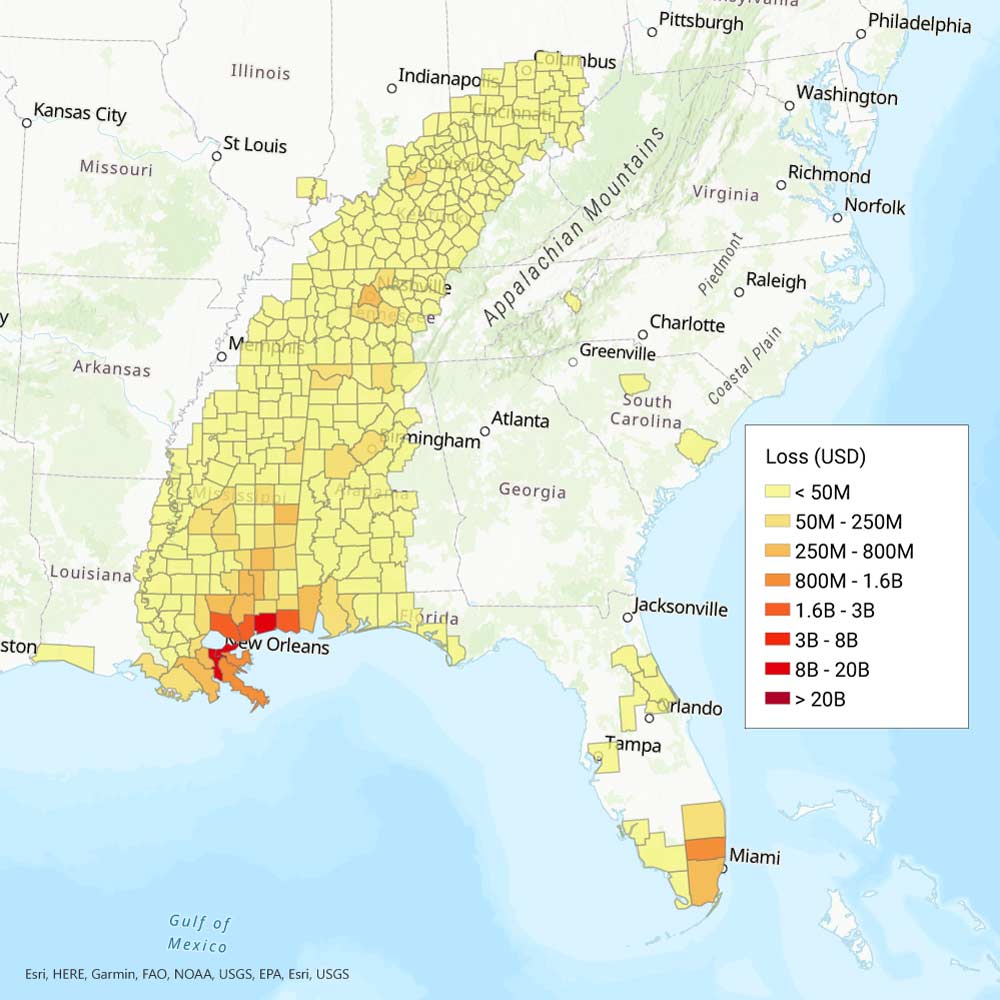 Compare the wind and loss maps by sliding.
Katrina remains the worst natural disaster the insurance industry has ever handled. A Category 1 storm for its first landfall on August 25 near Miami Beach, Florida, it intensified and doubled in size over warm Gulf of Mexico waters to make landfall on the Gulf Coast on August 29 as a massive Category 3 hurricane—first on an island at the mouth of the Mississippi River, then near the Louisiana/Mississippi border. Katrina traveled at 8-9 mph, bringing wind impacts and 8 to 10 inches of flooding rain to the region. Katrina's storm surge caused the most damage and loss of life: 26 to 28 feet of surge impacted Mississippi towns such as Gulfport, while a surge of 10 to 15 feet breached 53 levees in New Orleans, submerging 80% of the city. Residential, commercial, and industrial property were ravaged, bridges were severely damaged, power and water outages persisted for weeks, hundreds of thousands of people were displaced, and nearly 2,000 people died as a result of the storm.
For more on this, see our feature Is New Orleans Safe from Another Katrina-Like Storm Surge?
3. Hurricane Donna (1960), USD 95.1 Billion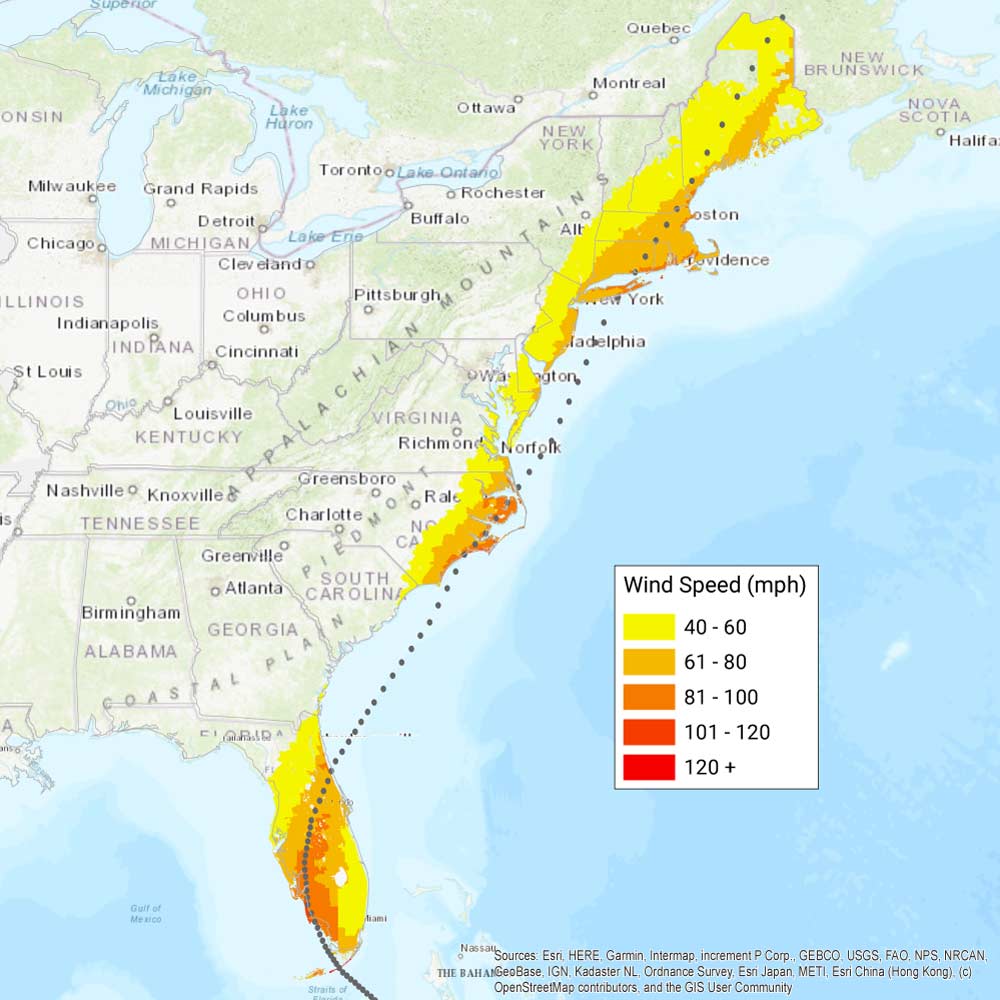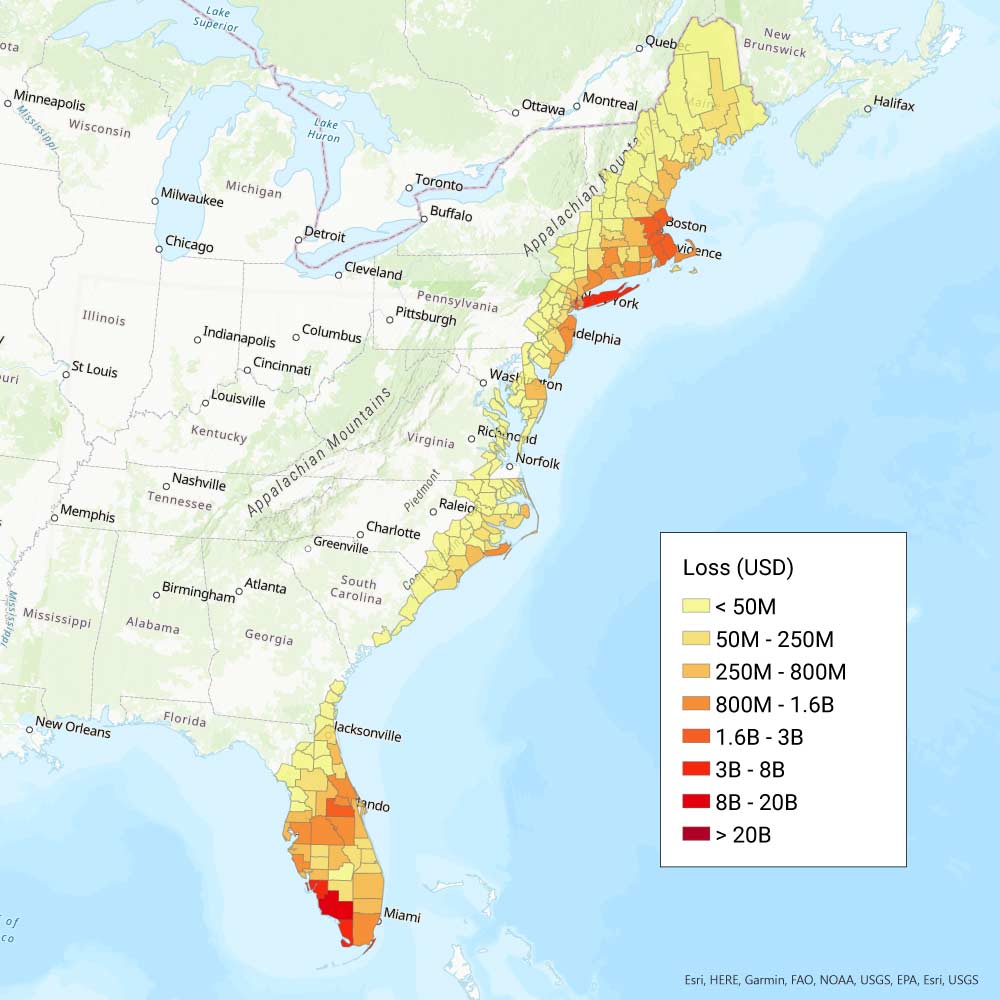 Compare the wind and loss maps by sliding.
Hurricane Donna caused significant damage in the Caribbean, including precipitation-induced flooding that devastated the eastern half of Puerto Rico from September 5 to 6. Donna then made landfall on September 10 in the City of Marathon in the Florida Keys, as a Category 4 hurricane, bringing 13-foot storm surges. It tore northeast through Florida, reaching the Atlantic, then sped north to make two Category 2 landfalls in North Carolina and Long Island, New York, on September 12. Donna remains the only hurricane on record to persist at hurricane strength along the entire East Coast: Were it to recur today, the losses in New York State and Massachusetts would be more than USD 18 billion and USD 15 billion, respectively.
2. Great Miami Hurricane (1926), USD 149.1 Billion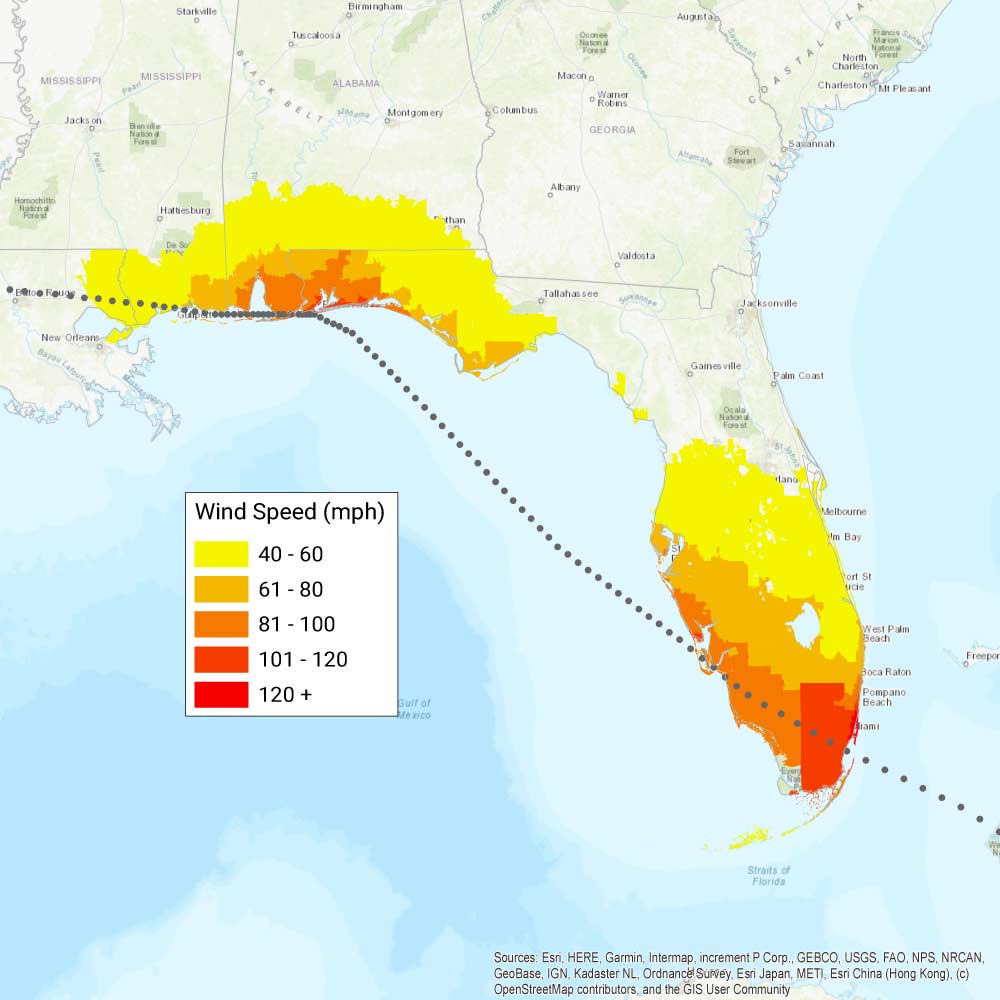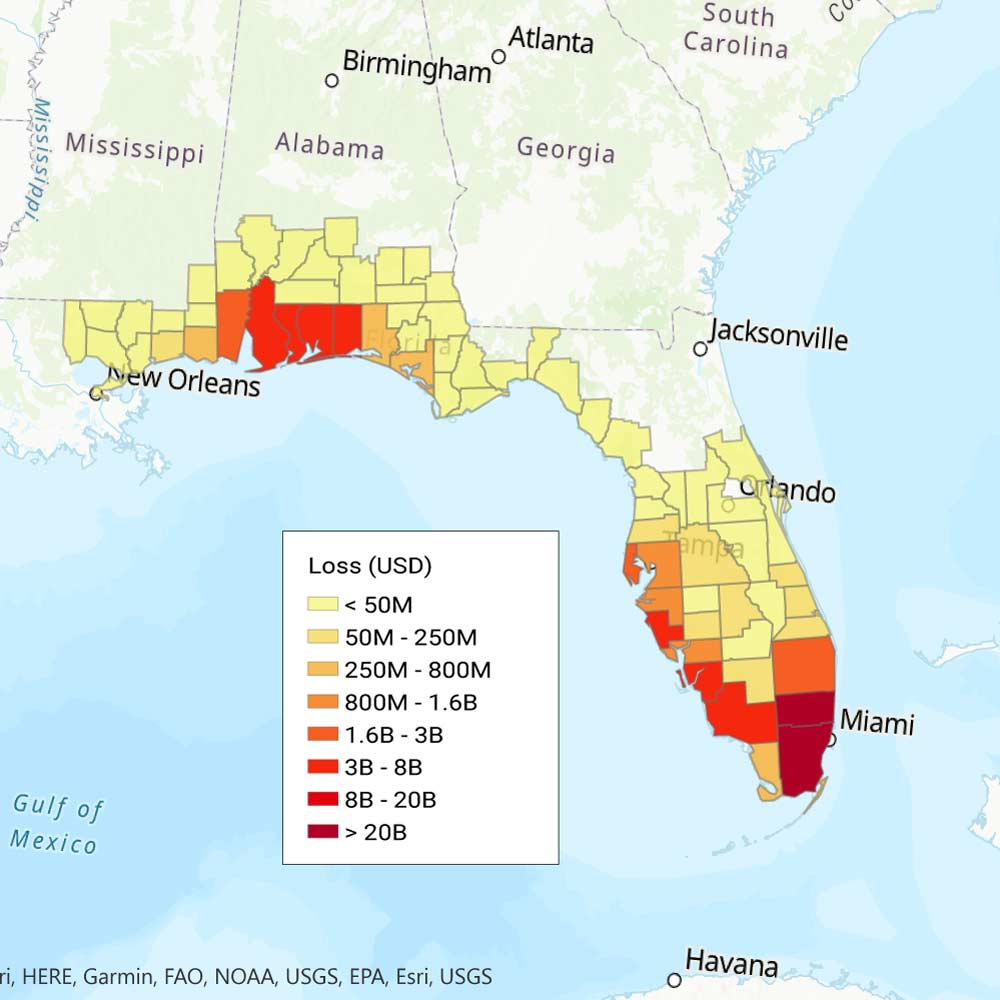 Compare the wind and loss maps by sliding.
This intense Category 4 storm made a direct hit on the burgeoning City of Miami on September 18, striking an unprepared population with sustained winds of 125 mph and a 15-foot storm surge. The storm then slowly crossed the Gulf of Mexico, hammering the Florida Panhandle offshore for 24 hours before making landfall on September 20 in Alabama as a Category 3 storm. Heavy damage was reported along the Gulf Coast, but the greatest devastation by far was in Miami, where the storm surge submerged Miami Beach and Biscayne Bay: between 25,000 and 50,000 people were left homeless, and nearly 370 people were killed.
The Great Miami Hurricane affected a population of just over 100,000 in 1926, but Miami-Dade and Broward counties today would have a combined population of more than 4.6 million at risk.
1. Great Okeechobee Hurricane (1928), USD 154.7 Billion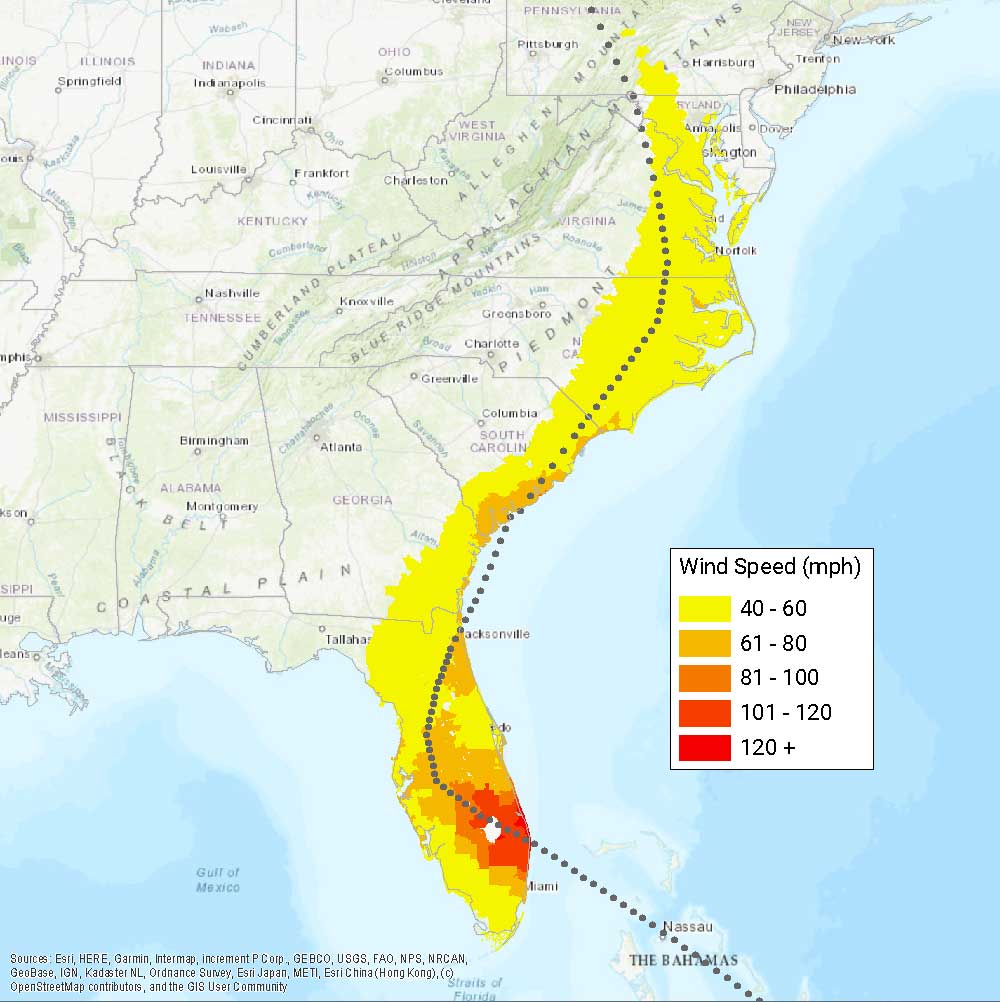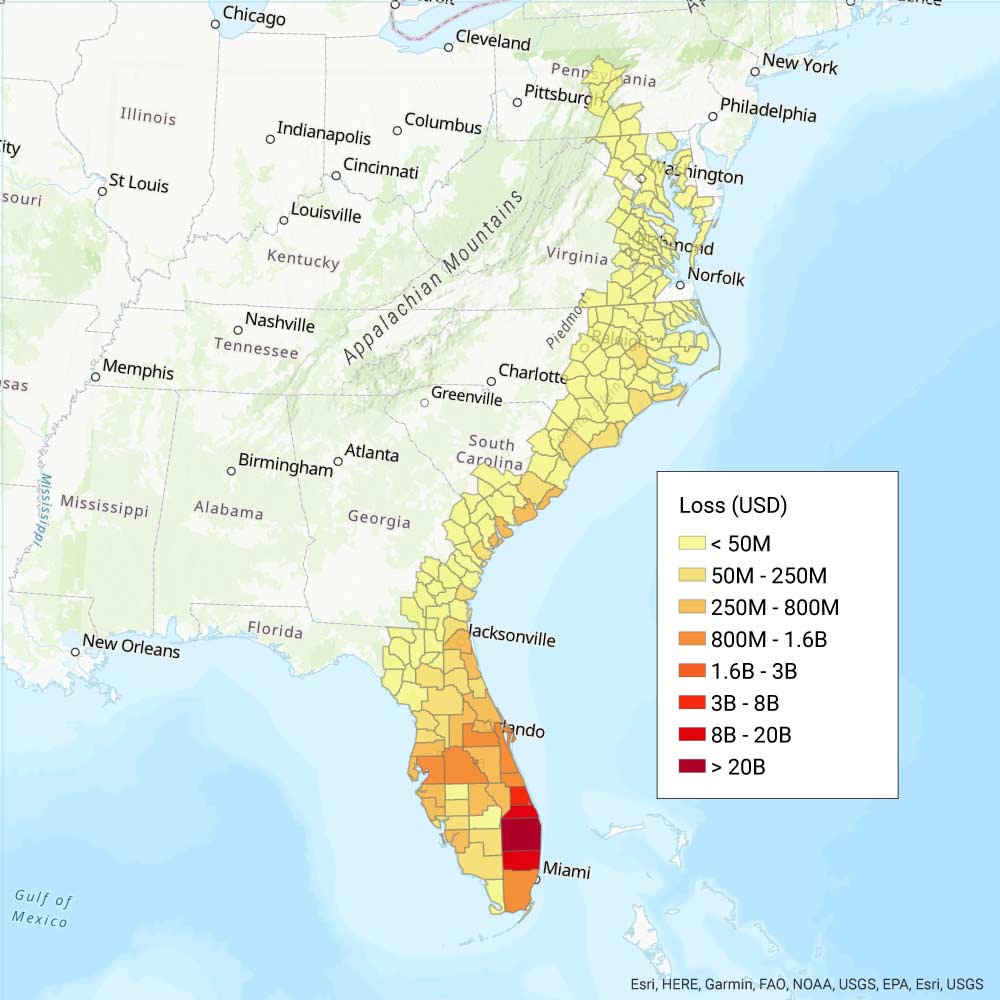 Compare the wind and loss maps by sliding.
The 1928 Great Okeechobee hurricane was the second deadliest disaster in U.S. history and remains one of the 10 most intense storms documented to make landfall in the United States. It is also the only recorded hurricane of Category 5 strength to make landfall in Puerto Rico.
After causing extensive property damage in the Virgin Islands and Guadeloupe on September 12, the massive, powerful storm crept across Puerto Rico on Sept. 13 for 8 hours, demolishing thousands of homes. Were it to recur today, the damage to Puerto Rico alone from this storm would be more than USD 55 billion.
The hurricane made landfall in West Palm Beach, Florida, on September 16 with maximum sustained winds of nearly 150 mph and a recorded atmospheric pressure of 929 mb, bringing a 10-foot storm surge. Coastal damage in Southern Florida was catastrophic, particularly where the eyewall lingered near landfall. The most extreme destruction occurred at Lake Okeechobee, where storm surges from Category 4 winds breached the dike, flooding an area 7 miles long, leaving thousands homeless and more than 4,000 dead.
* The Verisk Hurricane Model for the United Stats and the Verisk Tropical Cyclone Model for the Caribbean include detailed industry exposure databases and peril-specific take-up rates. Modeled loss to onshore property, contents, and business interruption and additional living expenses for residential, mobile home, commercial, and auto exposures as of December 31, 2021, using the indexed take up rates provided in the July 2021 Touchstone Re® release for historic hurricanes modeled in the U.S. hurricane model, and the losses to U.S. territories of Puerto Rico and U.S. Virgin Islands using the Caribbean tropical cyclone model. Losses include demand surge and account for straight-line winds, storm surge, and precipitation-induced flooding.