A Better Way to Manage Severe Thunderstorm Risk
Are you confident that your company has a complete view of severe thunderstorm risk?
If you're relying on loss experience alone to manage your severe thunderstorm risk, you might be unpleasantly surprised when an outbreak occurs in your "backyard." Tornadoes, hailstorms, and straight-line winds are highly localized events, and historical loss data do not tell the whole story about future storm occurrence potential.
AIR has released a major update to its U.S. Severe Thunderstorm Model for the U.S. The update reflects a unique blend of statistical and physical modeling that overcomes the limitations and reporting biases in the historical data to produce a truly comprehensive view of the risk.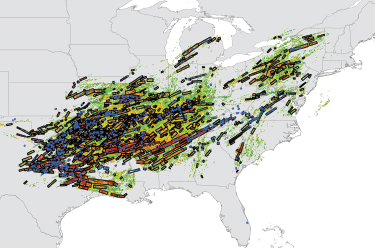 Frequent hits can add up to large losses.
Unpleasant surprises can arise not only from large loss events, but also from the accumulation of multiple smaller hits to the bottom line. To capture the full range of loss potential on both an aggregate and occurrence basis, the AIR model simulates daily severe thunderstorm activity, regardless of loss size.
Output has been used to generate 10,000-year, 50,000-year, and 100,000-year stochastic catalogs for full spatial coverage at high resolution—and robust loss estimates.
In good company
In all scientific endeavors, independent peer review is the gold standard for credibility. AIR brought two world-renowned severe thunderstorm experts—Dr. Harold Brooks of the National Severe Storms Laboratory, and Timothy Marshall, PE, of Haag Engineering—into our headquarters to give them a "behind the scenes" tour of the updated model. Hear what they had to say.
$40 billion in claims data
Through our partnership with Xactware® and in collaboration with client insurance companies, AIR has leveraged nearly $40 billion in claims data—along with the recent engineering research—to provide you with the most up-to-date view of vulnerability across the entire country.
To help differentiate your risk across regions, different lines of business, and building characteristics, the AIR model explicitly accounts for not only primary building features, construction type, occupancy, number of stories, and year-built, but also many secondary features such as hail-resistance category of the roof cover, other roof and building envelope characteristics, and many others.
Findings from AIR's multi-year, peer-reviewed study into the regional and temporal variations of building codes and their enforcement in the U.S. are incorporated into the model to capture changes in spatial and temporal building practices.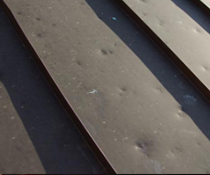 Your exposures, your view
Manage uncertainty and better understand your risk associated with severe thunderstorm loss. In AIR's Touchstone®, users can test the sensitivity of some of the most critical components of the model, including event catalogs, building characteristics, and policy terms and conditions. Now, you can also analyze losses from each sub-peril (hail, straight-line wind, and tornadoes) individually to gain insight into what drives your risk.
You can also leverage your own loss experience by blending historical claims data with AIR model output to enable you to make better decisions regarding risk and capital.
---