How Are You Managing Flood Risk in Brazil?
River and flash flooding have been frequent occurrences in Brazil throughout its history. As urbanization accelerates in at-risk floodplains, more property owners are seeking protection, presenting opportunities for insurers who can appropriately assess the risk.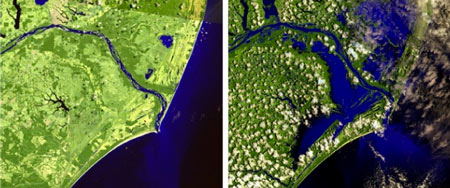 AIR's Solution: Probabilistic Flood Hazard Maps for Brazil
Available as a hazard layer for use with the Geospatial Analytics Module in Touchstone®, AIR's probabilistic flood hazard maps enable a sophisticated understanding of the threat posed by Brazil's unique and complex river networks. Here are a few applications of the maps that can be put to use today:
Underwriting and pricing
Apply damage ratios by water depth to achieve a more accurate view of potential losses.
Accumulation management
Identify where you may be overexposed by predefined geopolitical boundaries, custom zones, or user-specified and develop effective risk mitigation strategies.
PML creation
Determine where the flood hazard will drive your probable maximum loss (offered on a consulting basis)
The Difference: High-Resolution Data
AIR seeks out the best elevation data sets for our flood hazard maps. We use historical high-resolution flow data to estimate future flood frequency and severity. Then we translate water flow to flood extents using a state-of-the-art mapping process that accounts for factors such as terrain, soil type, and land use/land cover.
Multiple Flood Depths Available
Water depth is an important determinant of flood damage. AIR's probabilistic flood hazard maps for Brazil allow users to accumulate on flood depth as well as spatial extent, enabling a more accurate view of risk. The depths for Brazil's flood hazard maps are 0-1, 1-3, 3-6, 6-9, and 9+ meters at the 25-, 50-, 100-, 200-, 250-, and 500-year return periods.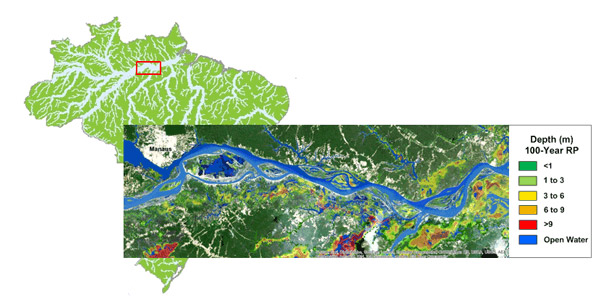 The Coverage You Need
AIR's Brazil hazard maps cover all areas at significant flood risk:
More than 500,000 km of
modeled rivers
To learn more about how AIR Probabilistic Flood Hazard Maps in Touchstone can help your company make better flood risk management decisions, read our solutions brief:
Read the Solutions Brief >>