Spawned by severe thunderstorms, tornadoes are among the most destructive forces in nature. The month of May 2011, normally the most active month for tornadoes, began quietly. For three weeks, only a handful of isolated twisters were reported. But on May 20 severe thunderstorms in eastern Texas and parts of Arkansas and Oklahoma brought high winds, hail, and five reported tornadoes.
Then over the next seven days 150+ confirmed tornadoes raged across the heart of the country. The severe weather funneled across a corridor that stretched from Lake Superior to central Texas and east through Missouri, Tennessee, Kentucky, Ohio, and to the East Coast, impacting more than 20 states in all.
Thousands of buildings were damaged, hundreds were destroyed, and more than 1,000 people were injured; a total of 184 people were killed. There was significant damage in Minnesota, Kansas, northern Texas, and southern Indiana. In Minnesota, more than 100 houses and several commercial properties were damaged, and many trees and power lines were knocked down.
In Kansas, 14 reported tornadoes touched down on May 21, and some locales were hit with hail as large as baseballs. In Texas, hail the size of tennis balls bombarded the Dallas and Fort Worth areas through the early evening of May 24, smashing car windows, damaging roofs, and leaving nearly 70,000 homes and businesses without electricity. Eight confirmed tornadoes also touched down in Texas. In Indiana, the small town of Bedford sustained significant damage as several homes were destroyed. Missouri was, however, the most severely hit as several tornadoes touched down on May 22.
An Extraordinarily Violent Tornado
Some lives were lost in Arkansas, Kansas, Minnesota, and Oklahoma but most deaths—158 of them—occurred in the city of Joplin in Jasper County, Missouri. This was the greatest loss of life in a single tornado since April 1947. Joplin is described in the city's historic preservation plan as being significant as the "commercial center of the Tri-State Mining District encompassing portions of southwest Missouri, southeastern Kansas, and northeast Oklahoma." At the time of the 2010 census its population was 50,150, while the surrounding Metropolitan Statistical Area had an estimated population of 175,518.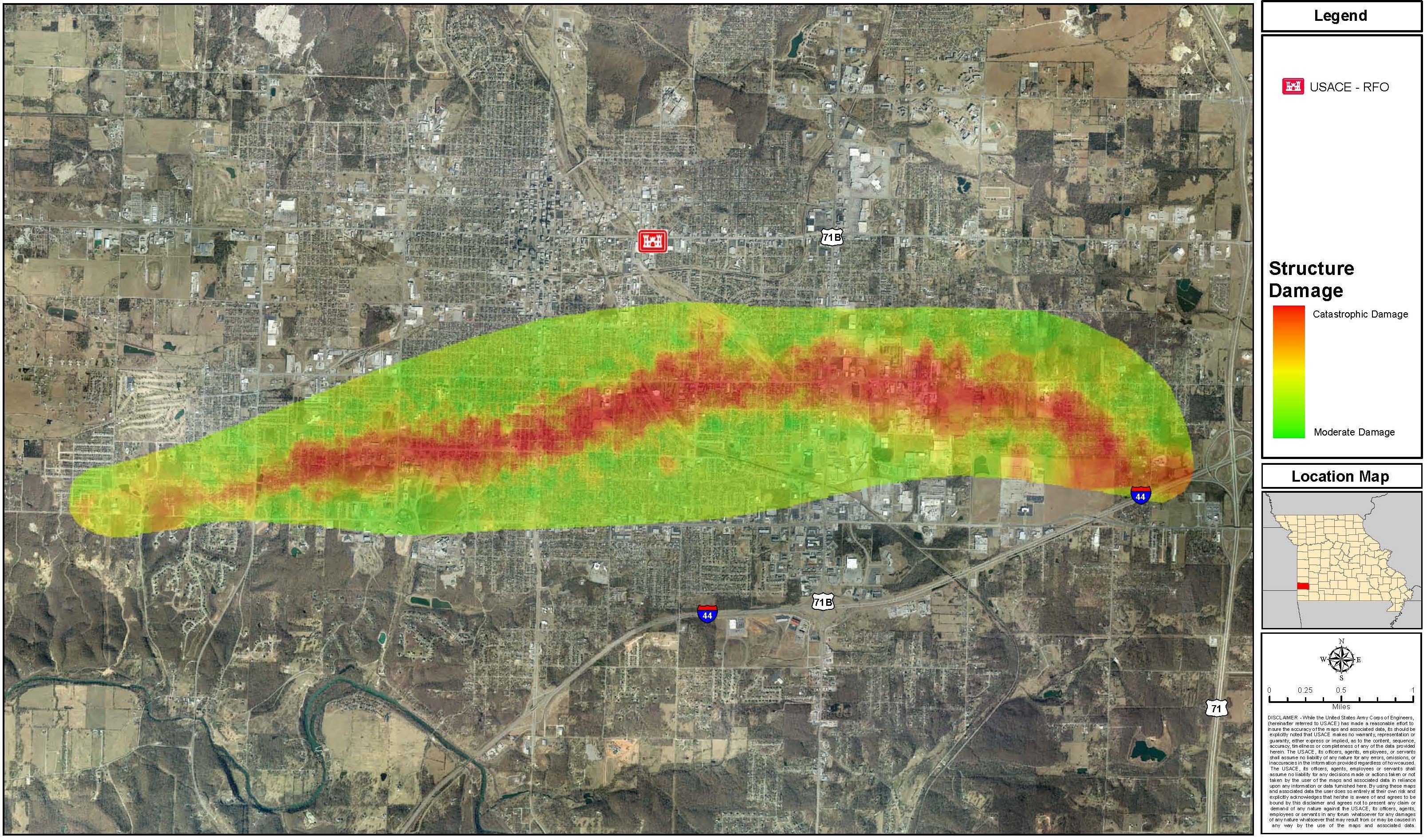 Shortly before 6 p.m. Joplin, a few miles from the Kansas border in the southwestern corner of the state, experienced an extraordinarily violent tornado. The twister was later rated an EF-5 on the Enhanced Fujita Scale; tornadoes of this intensity have 3-second gusts of at least 200 mph and potential damage can be incredible as strong frame houses can be leveled off their foundations and automobile-sized missiles become airborne. Steel reinforced concrete structures can be badly damaged and high-rise buildings may experience significant structural deformation.
The tornado touched down just inside the Missouri border and cut straight across heavily populated southern Joplin before continuing to the east. It left a flattened path through the city three-quarters of a mile wide and 14 miles long. It tracked into the outer suburbs as an EF-2 or EF-3 but it was rapidly intensifying and growing larger. By the time it crossed South Schifferdecker Avenue it was inflicting the types of catastrophic damage associated with EF-5 twisters to a relatively small area near the core of the tornado.
The city center narrowly escaped devastation but in just nine minutes more than 8,000 homes and apartment units in Joplin and more than 500 commercial properties were heavily damaged or destroyed. In McClelland Boulevard/26th Street neighborhood, for example, almost every home was destroyed. Two fire stations were destroyed, and eight primary schools were damaged or destroyed. The nine-story St. John's Regional Medical Center suffered severe damage and had to be demolished because its foundation and underpinning system deformed. Vehicles were flung around, 100-pound iron covers were lifted from manholes, and where a bank had stood only its concrete vault remained. Flattened cell towers disrupted communications and there were widespread power outages. About 75% of the city was damaged to some extent and at least 20% of its buildings were destroyed.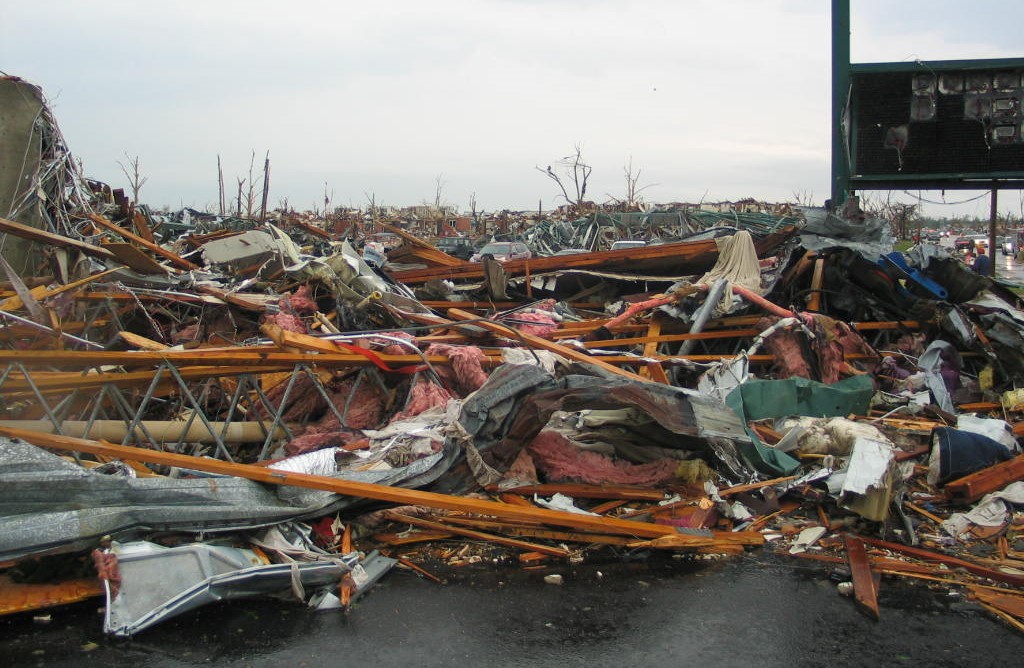 Tornadoes were one of few natural hazards not considered in design standards and building codes at the time of the Joplin tornado. To improve resilience, a multi-year technical investigation by the National Institute of Standards and Technology (NIST), supported by the National Oceanic and Atmospheric Administration (NOAA), studied the event and made 16 recommendations to enhance our understanding of tornadoes, the performance of structures, and emergency communications to help organizations better protect life and property from tornadoes.
A Rare Combination
Thunderstorms occur singly, in clusters, or in lines. The four main types are single cell, multicell cluster, multicell line, and supercell storms. Supercells are rare but highly organized severe thunderstorms that pose a high threat of damage to life and property and are the most likely type to be accompanied by large hail, high winds, and violent tornadoes.
It should be noted that none of the individual meteorological elements that gave rise to this outbreak of severe thunderstorms in 2011 was unusual. Large, strong jet stream disturbances happen occasionally; persistent low pressure frontal systems are common, especially in spring; and the storms that developed occurred where they were expected to occur at this time of year.
What was unusual was for all the factors that contribute to the development of severe thunderstorms to have aligned themselves so optimally in the same place at an opportune time. To get optimal intense instability, shear, and lift all in the same place for a long period of time is, fortunately, a relatively rare circumstance.

Read "Managing U.S. Severe Thunderstorm Risk: Part 3, Quantification of the Risk and Ratemaking Considerations"