Construction of a major flood barrier on the UK's southwest coast in Somerset was approved on January 20, 2022, two years after the proposal was submitted, and coinciding with the anniversary of one of the UK's worst coastal flooding disasters.
On the night of January 31, 1953, a powerful storm in the North Sea sent waves crashing over coastal defenses in the UK and the Netherlands. Low pressure, high winds, and high spring tide conditions made a devastating combination: surge levels totaled over 5 meters in the Netherlands, and over 4.5 meters in areas along the coast of the UK. Floods inundated thousands of square kilometers of land, damaging some 70,000 properties, farms, and businesses. More than 2,500 people were killed along the North Sea coastline, including 307 in England and 19 in Scotland, and it remains one of Europe's worst natural disasters in several centuries.
Following the 1953 disaster, the UK government resolved to make more significant investments in improved coastal defenses. The most famous of these is the Thames Barrier, a massive floodgate that protects London and the surrounding areas. The project faced decades of delays before becoming operational in 1982. As of January 2022, there have been 203 flood defense closures of the Thames Barrier.
With the new approval, Bridgwater's GBP 100 million tidal barrier is set to begin construction in late 2023 and become fully operational by 2027. Located on the River Parrett in Chilton Trinity, Somerset, it will be one of England's biggest flood defense infrastructures. Similar to the Thames barrier, it will feature two vertical gates that can be closed in the case of dangerously high tides and storm surge to prevent water from flowing into the river and overtopping flood defenses upstream, protecting an estimated 13,000 homes and 1,500 businesses currently in the floodplain.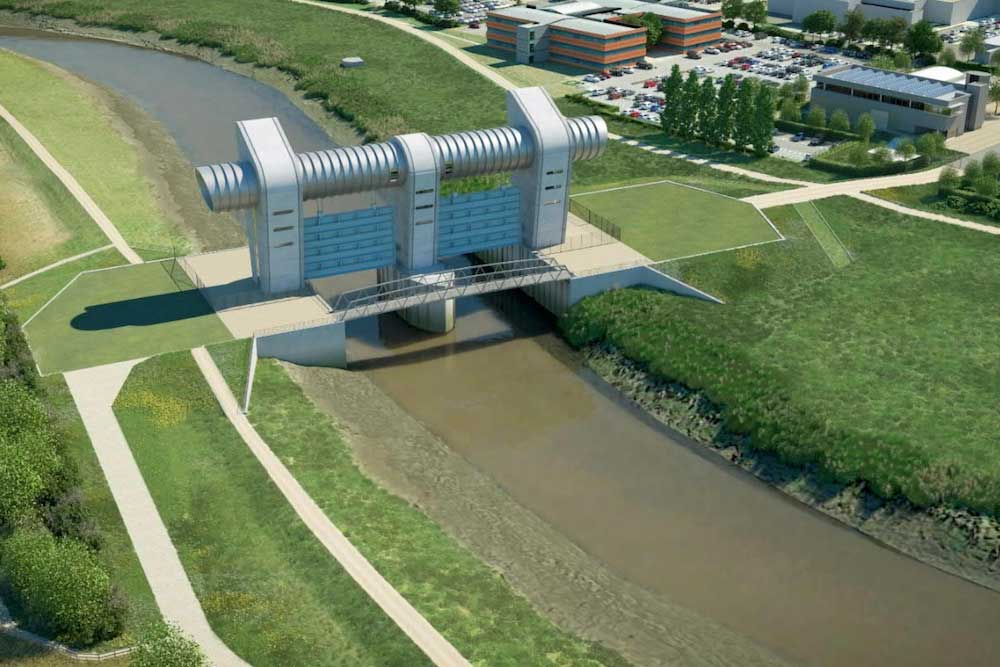 With its northern coast facing the Bristol Channel, this area features low, flat coastal plains, known as the Somerset Levels, and wetlands known locally as moors—much of which has historically been drained for farming and residences, leaving areas below historic high tide marks. The River Parrett is the only major Somerset river currently lacking a mitigation structure to exclude high tides. After Somerset experienced devastating flooding in the winter of 2013/14 when several winter storms struck in succession, more attention and funding were directed toward mitigating flood risk in this region.
The Bridgwater barrier is designed to help address the increasing impact of sea level rise and will help the town and surrounding areas mitigate flooding past the year 2100, according to project reports.
Managing UK Storm Surge Risk
The Verisk Extratropical Cyclone Model for Europe, including a storm surge module that covers all of England and Wales, finds that loss-causing ETCs in England and Wales are a regular occurrence, about five or six per year, but the annual frequency of loss-causing coastal flood events is only two or three (although most of these are small and not memorable to insurers). Future storms similar to the 1953 North Sea Flood can occur, and they could be worse meteorologically, but the flood risk has been greatly reduced because of the modern-day levee infrastructure. Coastal barriers, such as the future Bridgwater barrier, are also effective at mitigating storm surge flooding. The full range of scenarios a model can generate provide a unique and important perspective on an organization's risk. The careful analysis of model results can help risk managers prepare for many contingencies—thus ensuring that another North Sea Flood of 1953, for example, will not be entirely unexpected.

​ Read the blog, "Why Coastal Defenses are Never One and Done"