The term "secondary perils" has become a thing lately, but what does it mean, if it means anything at all? Ask a dozen insurers and you'll likely get a dozen different answers. Are they non-modeled risks, sub-perils, perils for which model availability is patchy, perils perceived to be not well modeled, secondary effects following primary perils, or any peril that's not among those that are regularly (re)insured? The term is so ill-defined that it can refer to any or all of these, and more.
The Association of British Insurers' (ABI) guide to Non-Modeled Risks, to which Verisk contributed, notes that, "Following the major natural catastrophe events of 2010 and 2011, the term 'non-modeled risks' entered the insurance industry's lexicon as shorthand for limitations in the suite of tools commonly used for catastrophe risk management." We seem to be in a similar place today regarding the term "secondary perils," which is often used as shorthand for perils for which the industry is insufficiently prepared for one reason or another.
All catastrophes contribute to losses, whether they are a single major event, an aggregation of smaller ones, or a combination of the two (Figure 1). The Scots have a wonderful saying—many a mickle maks a muckle—which essentially means that lots of little things make a big one. And so it is with losses; whatever their source, they all contribute to the bottom line. Some perils, however, are responsible for far greater losses than others, but we're talking about a spectrum here—not two distinct categories, "primary" and "secondary." Where one insurer draws the line defining what they consider secondary perils may be very different from where another might place it. It is all a matter of perspective and preparation.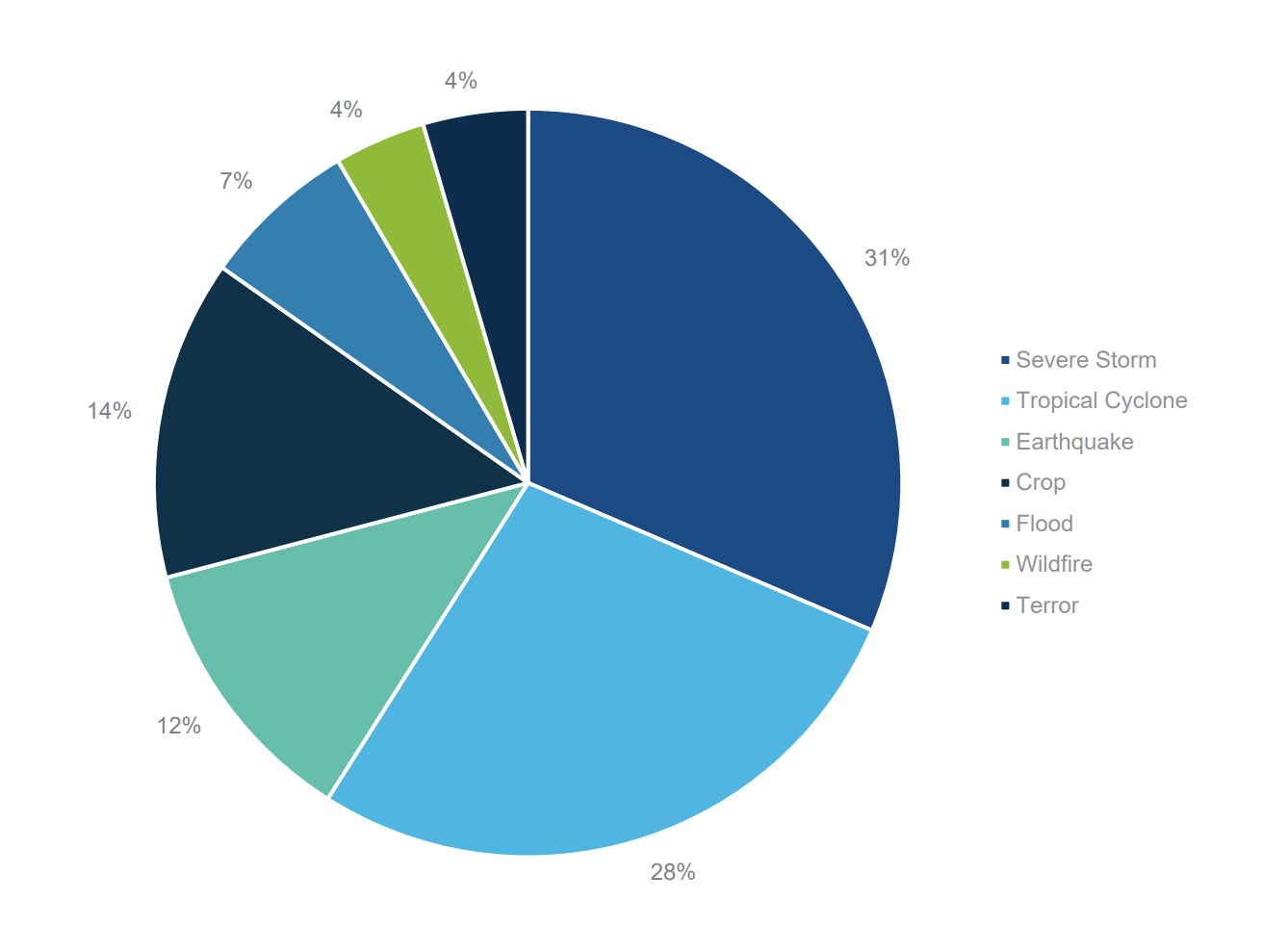 Many perils, whether they be regarded as primary or secondary, are weather-related. As such they are impacted by climate change as it increases the potential frequency and severity for catastrophic events around the world. Verisk's probabilistic atmospheric peril models represent the near-term climate on a 0- to 10-year time frame. As the risk continues to evolve, our models will continue to incorporate the latest research on this evolution and our global modeled losses will continue to be updated to reflect this changing risk.
According to Swiss Re Institute's annual sigma review of natural catastrophes and man-made disasters more than 70% of the USD 81 billion of insured natural catastrophe losses in 2020 were due to "secondary peril" events. Some "secondary perils," however, such as cyber risk or infectious disease, are causing greater losses or garnering greater attention for different reasons; cyber risk, for example, was not on anyone's radar 20 years ago, and today liability risk is a growing concern.
"Secondary perils," however you define them, can cause significant losses individually or in combination with a greater event. Earthquakes and tropical cyclones are considered among the most significant "primary" perils. Because they cause the most losses they are well covered by catastrophe model vendors and the insurance industry is correspondingly well prepared. Some so-called "secondary perils" are directly associated with such primary perils; storm surge only occurs, for example, because of windstorm activity and tsunamis are almost always caused by earthquakes. But other perils regarded as secondary by the industry can be independent of greater perils; from an industry perspective these can include flood and wildfire or perils such as terrorism or infectious disease for which there is a more limited set of models available.
But most of these perils termed secondary perils, are in fact, modeled.
Within Verisk we consider "secondary perils" too vague a term. Semantics are important, and we should be careful to distinguish between perils that are directly related to another peril and new sources of concern. We refer consistently to the former as sub-perils while the latter are probably best described as emerging perils. Using the descriptor "secondary" implies that these sources of loss are less important than others.
Verisk refers to industry insured losses that can and do occur from perils and in regions that we do not currently model as non-modeled perils. And Verisk's current suite of extreme event models—which covers perils in more than 110 countries—captures catastrophe events responsible for 92% of worldwide insured losses for the 20-year period from 2000 through 2020. Verisk models covered 85% of the global reported insured losses for 2020. Floods in China, India, and Israel, a severe thunderstorm in Japan, riots, and weak (i.e., non-hurricane) tropical cyclones in the U.S. accounted for most non-modeled losses
The Verisk Earthquake Model for the United States, for example, models ground shaking, liquefaction, landslide, tsunami, fire following, and sprinkler leakage. And the Verisk Inland Flood Model for the United States models non-hurricane precipitation flooding in addition to storm surge and the effects of levee failure in the flood defense systems that protect New Orleans, Louisiana.
To better serve the needs of the industry, we continue to integrate our models and to expand into previously non-modeled regions and perils through an ambitious model development program and research roadmap. As climate change–related perils grow in significance, and the industry becomes better prepared for them, different perils will likely emerge that will be of concern until the cat modeling and insurance industries are in a position to better manage them.

Verisk offers an expanding range of tools and options in Touchstone® and Touchstone Re™ to help you truly own your risk.