Over the past 18 months the cost of construction materials has been volatile. From a slight decrease in prices following an expected construction slowdown in Q2 of 2020 to extraordinarily high prices for some materials a year later that would have been unimaginable before the COVID-19 pandemic, the interconnectedness of supply and demand shocks is clear. It has never been more challenging to determine if price increases following an extreme event are just cost inflation, or can be attributed to the event itself.
In this article, we are going to explore some of the economic shocks that can affect commodity prices, even in the absence of an extreme event. We will start by taking a high-level look at the Xactware® Basket of Goods Material data, then take a closer look at the market shocks affecting the lumber market. We will finish up with a discussion of upcoming market shocks that have the potential to affect the construction material market in Q4 of 2021 and beyond.
A High-Level Look
Usually when we try to understand cost inflation and how it relates to demand surge, we look at a time series of Xactware's Basket of Goods Material Index after an extreme event. The index also gives a good indication of how replacement values have changed before an extreme event. For economic demand surge affecting claims after an event, the mix of materials required for repairs can vary with the level of damage. Because of this, low-severity and high-severity event damage can potentially have very different cost inflation, but it is dependent on economic conditions at the time.
Recently Xactware provided insight into the contribution of structural lumber to materials cost inflation in the U.S. since July 2020. Figure 1 is an excerpt from the article and shows just how significant lumber was in initially driving cost inflation last year. The increase without framing, indicated by the dark blue line, through Q1 2021 is stable following a long-term cost trend we looked at earlier this year. The increase with framing was significant in Q3 of 2020 and remained static until the end of the year. From January through April 2021, there is a slight increase, which corresponds to the increase in diesel fuel typically used in vehicles to transport goods in the U.S.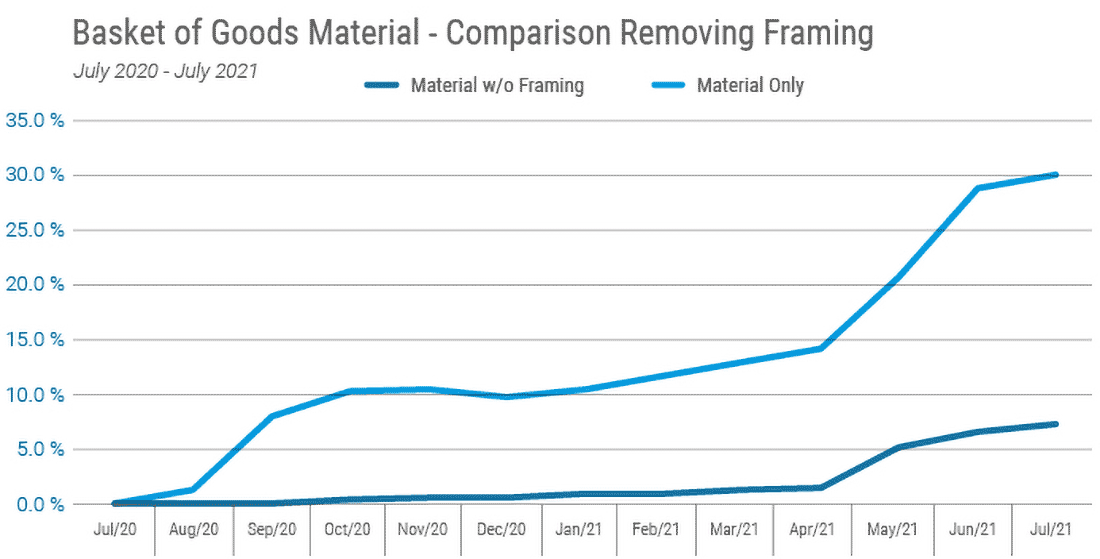 Prices started increasing at a faster rate starting in April 2021 and this is what we are going to look at next. In Figure 2, the quarterly changes in the Basket of Goods Material Index are shown from Q1 2017 to Q3 2021. The quarterly changes since 2009 have been stable at less than 1%, so they have been left out for clarity. The bar for Q2 2021 has been highlighted in orange because it is an outlier; we are going to take a closer look to find out what was going on.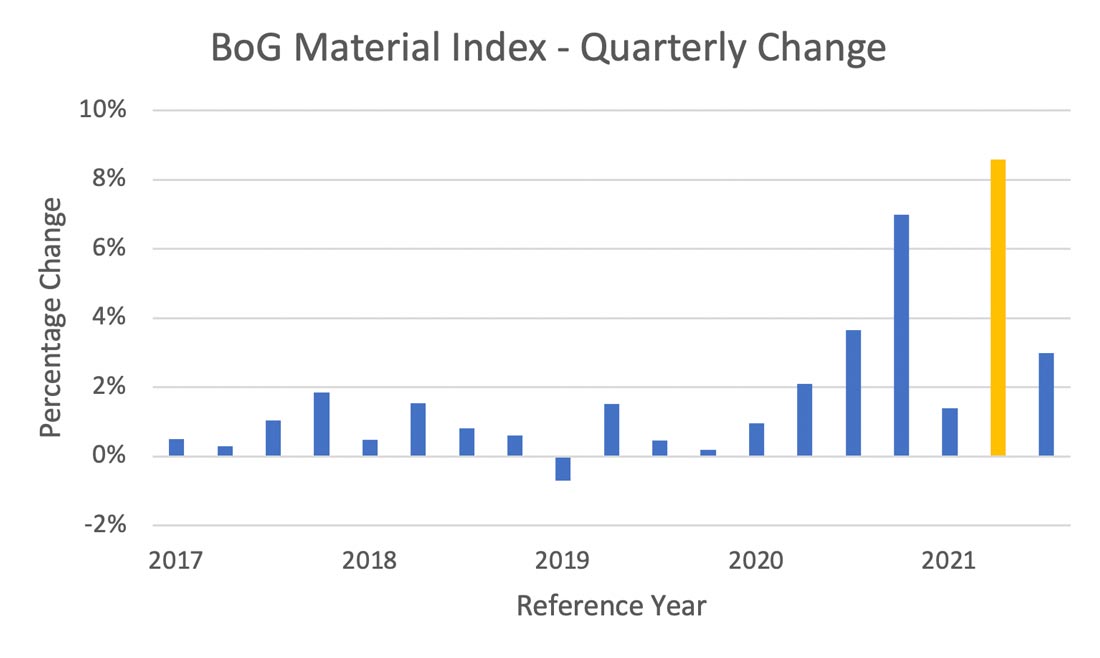 Wholesale Price vs. Retail Price
Xactware provides a look at the retail price levels and trends for construction materials; however, underlying these are the wholesale prices that have been getting a lot of media attention over the past 18 months, particularly those for lumber. The price of lumber can vary depending on how it is purchased: the price for buying it today is called the spot price; and the price for buying a futures contract for delivery at a future point in time is called the futures price. Lumber futures contracts are for delivery every two months and can be purchased anytime in the preceding 14 months once they are available. This allows a lumber distributor to stabilize the cost of goods by buying when the cost is at the preferred level. Any shortfall in lumber inventory can be made up with lumber purchased on the spot market. In effect, the wholesale price is a weighted average of the purchase price of the contract and purchases made at the spot price. Figure 3 shows the monthly spot prices for lumber from 2011 to 2021 with the vertical axis showing the unit price in U.S. dollars.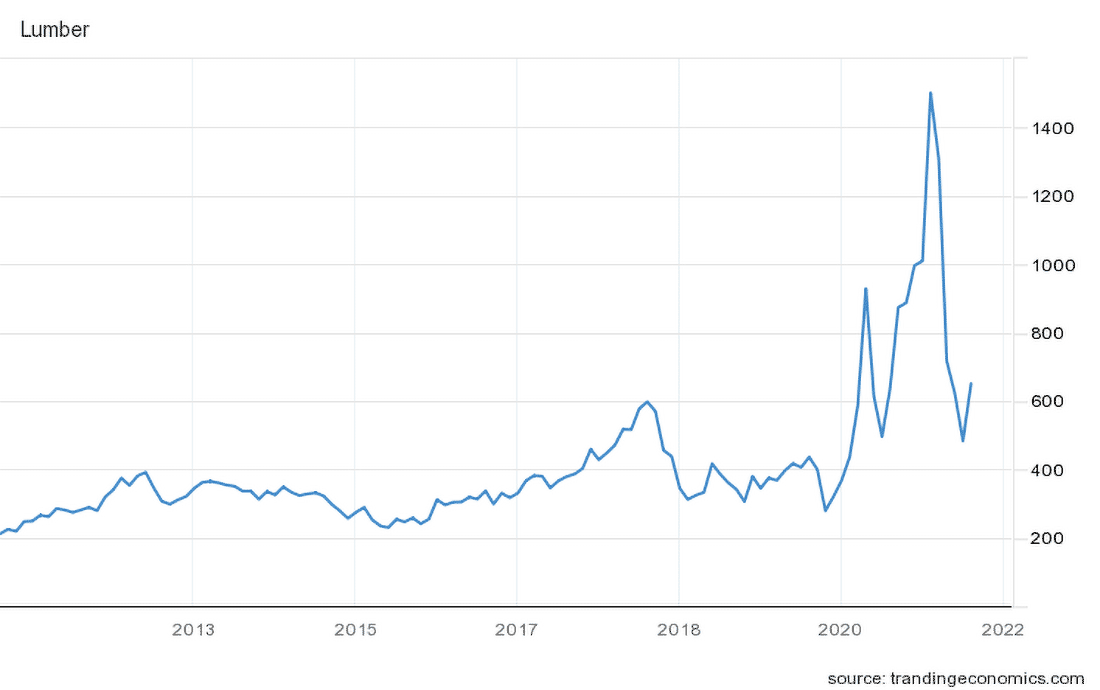 Before 2020 the unit cost was very stable, remaining below 400 U.S. dollars for the most part. There was a slight uptick at the end of 2017, but the unit cost quickly returned to trend by the spring of 2018. In the second half of 2020 there was an uptick that has been attributed to do-it-yourself (DIY) homeowners and the extreme events during hurricane season. None of this was unexpected, but what happened in 2021 surprised everyone. As the vaccines started to roll out and returning to normal by summer seemed a real possibility, the spot price of lumber stabilized. The third stimulus bill passed in March of 2021 may also have had an unexpected effect.
Part of the excess demand for lumber came from DIY homeowners who were not otherwise employed. The third stimulus had the potential to keep them focused on home projects during the summer of 2021. Starting in the middle of March, a dramatic spike in the price of lumber began that would eventually peak in early May before tumbling close to pre-pandemic levels just two months later. What happened?
Two data points are relevant here. One is that starting in early May, the first of 22 states announced they would be ending participation in the third stimulus beginning in June. This effectively decreased the supply of unofficial construction workers and the associated demand for construction materials. The second is that in August, a big box store reported about a 6% year-on-year drop in customer transactions for Q2, which may signal an end to the DIY effect. We will have to wait for Q3 results to see if this trend continues.
Future Uncertainties
Mortgage forbearance under the CARES Act in effect since March 2020 ends today. The program was intended to help people experiencing financial hardship due to COVID-19 to stay in their homes. There were reportedly 1.8 million homes in forbearance at the beginning of this September. Of those, approximately 1 million will be leaving the program by the end of 2021. How those homeowners choose to proceed after forbearance ends can affect the construction market.
It's been reported that there are approximately 1.3 million homes currently for sale. While home prices are still increasing in many areas, the number of sales are decreasing in some areas. Depending on the number of homeowners who decide to sell when they leave the program, the increased supply could drive down the selling price of existing homes. As I have discussed before, how construction projects move forward based on the ability to make a profit. Lower prices for existing homes could drive down prices for new housing and make starting projects less attractive. This could ultimately lead to decreased demand for construction materials.
Another area of uncertainty has to do with shipping bottlenecks, particularly in the port of Los Angeles where about 40% of imports come into the U.S. Some claims are mainly content losses where resolution is delayed because appliances are not available to make a dwelling habitable. This could lead to longer additional living expenses while waiting for shipping containers to be processed in the port.
Stay Tuned
Everything still costs more to build than it did before the pandemic and any claims resulting from Hurricane Ida, or any other extreme event, should account for this increased cost before considering demand surge. We saw the spot price of lumber drop to reasonable levels in July before rising again in the weeks after Hurricane Ida. We have yet to see if this is a temporary trend as in years past, and whether the continued weakening of the DIY sector and its lack of demand will continue to drag down structural lumber prices.

​ AIR's Supply Chain Consulting Services: Book a free 30-minute consultation