Flooding was—and remains—a perennial problem during summer along China's major rivers and in coastal provinces. According to a report by the Asian Development Bank, it costs the country 1% of gross national product each year on average. Significant flooding is once again taking its toll this year, but 90 years ago arguably the worst natural disaster of the 20th century was unfolding.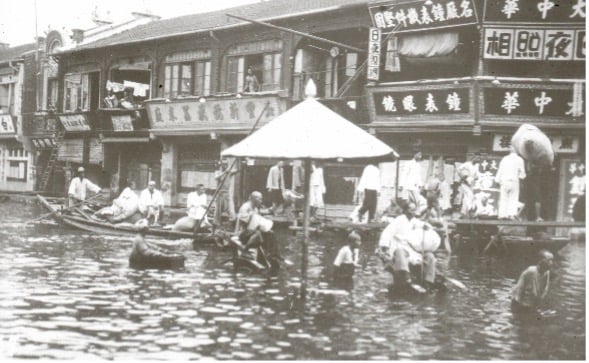 Higher numbers have been suggested, but about 2 million people likely died directly or indirectly from the flooding in China in 1931. Although often referred to as the Yangtze River Flood, several rivers and a huge swath of central China were impacted by a series of floods. About 181,500 km2 was affected for much of the year—an area roughly equivalent to the states of New York, New Jersey, and Connecticut combined.
The worst flooding occurred in the provinces of Anhui, Hubei, Hunan, Jiangsu, Zhejiang, Jiangxi, Henan, and Shandong. Most of the inundated area was rural, but several major cities, including Wuhan and Nanjing—then the capital of Nationalist China—were also inundated. Flood levels reached their peak on August 19 when levels 16 meters (53 feet) above the average were recorded at Hankou in Wuhan, but six days later the dikes of the Grand Canal burst at night near Gaoyou Lake in Anhui Province and about 200,000 people died in their sleep. The impacts of the Central China Floods were widely felt long after the waters had begun to recede.
Natural and Anthropogenic Causes
In the spring of 1931 significant snow and ice that had accumulated in the river's mountainous upper catchments during a particularly severe winter melted. Flooding started as extremely heavy precipitation fell and joined snowmelt in swelling the volume of the rivers. An unusually severe monsoon season followed in the summer, bringing not the average of two cyclonic storms to the Yangtze basin, but seven. One and a half times the region's annual precipitation fell within the single month of July. Rivers rose further and defenses were overwhelmed or failed.
The exceptional rainfall was not the sole cause of the disaster, however, for it was in part man-made. For many centuries, attempts had been made to control flooding in the region by building dikes and other defensive infrastructure. Deforestation and the protection from flooding afforded by these defenses enabled agricultural expansion. Marshes and lakes—natural receptacles for floodwater—were drained and became productive farmland. Economic growth followed, but the natural fluvial ecosystem had been impaired. In challenging economic or political times, when flood defenses were often neglected, regular seasonal floods could become major flood disasters. From the early 1800s a hydraulic crisis developed in the Yangtze basin as a lengthy series of catastrophic floods was experienced well into the 20th century.
Evolving Humanitarian Crisis
It's thought that about 150,000 people died as a direct and immediate result of the floods in 1931 but crops in the fields and much stored produce had been destroyed; in some areas flooding continued into the fall and prevented planting a secondary crop. A subsistence crisis quickly developed in this impoverished region, and its effects were amplified by ongoing political tensions and conflict that inhibited the distribution of the foreign aid that was pouring in and delayed agricultural recovery.
As a result of the hardships faced in flooded areas there was widespread population displacement. About 40% of the population is estimated to have become refugees and in Southern Anhui 61% left their homes. As many as 52 million people were affected by the catastrophe. The famine and disease that followed the inundation cost many more lives than the flooding itself.
A New Urgency and a New Approach
In late July 2021 much of Henan Province in central China was devastated by sudden and unprecedented rainfall and flash flooding. The weather station in the provincial capital of Zhengzhou referred to "once in a thousand years" precipitation after almost 8 inches (20 cm) of rain fell within an hour. Nearly a year's worth—24 inches (61 cm)—fell within the space of three days. Aging dams and defenses in the province were tested; the warning level at a dam near Zhengzhou was exceeded and an emergency discharge of water was initiated as the dam reportedly came close to collapse.
Climate change and rapid urbanization are contributing to increased flood risk in China. For centuries China has relied upon structural measures such as dams and dikes to control floods, but now a more integrated approach is being implemented. Flood risk management based on the analysis of flood hazard and the vulnerability of people and property lies at its heart; the goal is the implementation of measures to manage or reduce flood risk to acceptable levels.
After Beijing experienced major flooding in 2012, for example, China began working to make urban environments more sustainable and compatible with local ecosystems by collecting, storing, treating and reusing rainwater more effectively. Its "sponge city" program has now expanded to include more than 30 locations where pervious infrastructure is being encouraged to absorb runoff during downpours. Zhengzhou is one of the sponge cities. Whatever their form, however, flood protection measures only offer a certain level of defense; this past July the huge volume of water flowing into Zhengzhou in a short span of time overwhelmed its defenses and drainage.
Flood Hazard Maps
AIR's Probabilistic Flood Hazard Maps for China enable a sophisticated understanding of the threat posed by complex river networks. Available as a geospatial layer for use with our Touchstone® platform, the hazard maps are based on the flooding potential of China's river network and incorporate the physical properties of China's terrain along with a thorough analysis of the frequency of flooding. They include 16 major river basins that affect China, as well as rivers outside China's borders that contribute to flooding within it.
The maps provide a view of inland flood hazard corresponding to the 100-, 250-, and 500-year return periods and for each given return period provide only the flood extent. They do not include inundation depth or flood defenses but do provide an envelope of the maximum potential flood hazard at the particular return period. The maps can be used for effective management of accumulations, for determining whether a risk meets underwriting guidelines, and for developing effective portfolio management and risk transfer strategies.

Read the blog, "Is Climate Change to Blame for the Floods in China?"