On July 1, 2021, the National Hurricane Center reported that a tropical depression had become Tropical Storm Elsa, with sustained winds near 40 mph. Just over 24 hours later, Tropical Storm Elsa strengthened to become a hurricane, with sustained winds near 75 mph.
On Wednesday, July 7, Tropical Storm Elsa made landfall in northern Florida along the Gulf Coast. While our ALERT™ service does not issue similar stochastic events for landfalling tropical storms, clients can avail themselves of other Verisk resources to help them better understand their risk.
Verisk's Real-Time Analytics Bundle is a comprehensive solution to extreme weather event response. Combining three of our most sophisticated data streams—Respond®, ALERT, and 3D Visual Intelligence, Verisk can bring you a solution that will provide a full suite of data, imagery, and analytics for the next extreme weather event.
Throughout Elsa's development, Verisk delivered frequent forecasts and updates to ensure clients could monitor and understand their risk through the life cycle of the storm using our collection of real-time data and analytics products.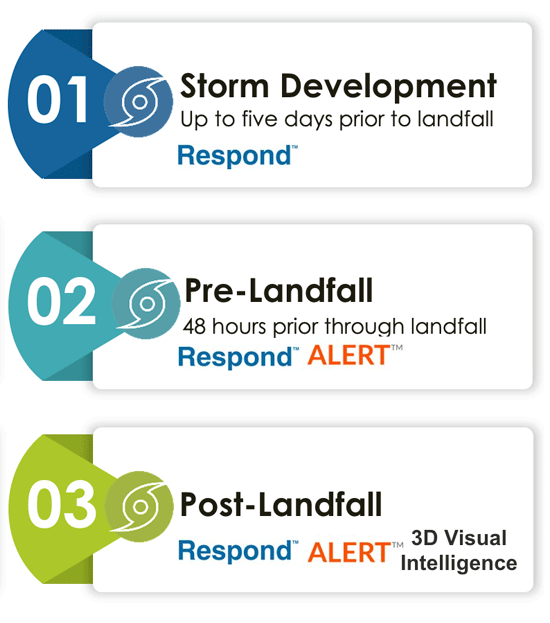 With the Verisk Analytics Bundle you can understand your potential impacts of an approaching storm up to five days before predicted mainland U.S. landfall, starting with Verisk's Respond.
Verisk's Respond
Once Tropical Storm Elsa became a named storm on July 1 and for several days prior to landfall, the Respond team began providing clients with a data package four times daily (Figure 2). Data packages such as this include observed and forecast wind footprints for sustained winds, wind gusts, and durations of >39 mph winds (tropical storm-force), >50 mph winds (stronger tropical storm-force), and >74 mph winds (hurricane-force). The footprints can be analyzed in any GIS tool to investigate the strength, path, and impact of the storm as it approaches land. The Respond team also provided a written hurricane analysis and forecast for Elsa in addition to the wind speed analysis to help clients estimate potential impacts up to five days before landfall.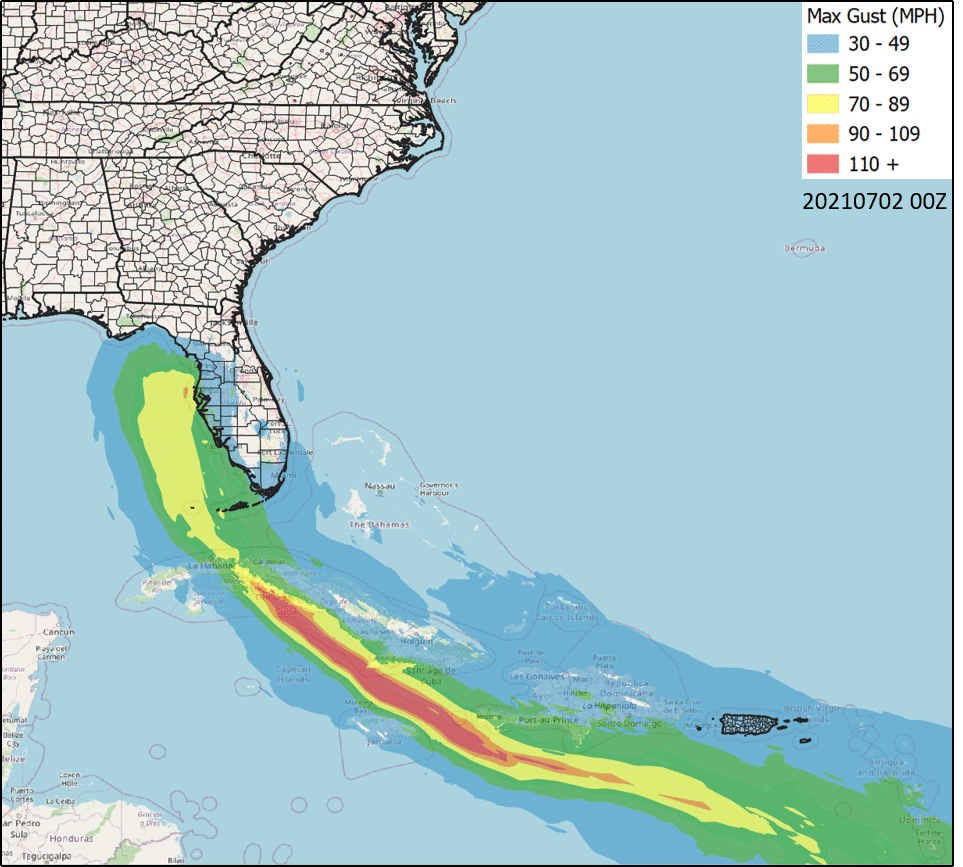 ALERT™
Along with continued delivery of Respond data, when a storm is ~48 hours from forecast landfall as a hurricane, our ALERT service delivers similar stochastic events (SSEs) from the U.S. hurricane model's catalog and, if the forecast holds, delivers SSEs ~24 hours before landfall and around landfall. The ALERT service can help catastrophe management and claims teams zero in on the location and severity of the event. Although no ALERT deliverables were issued for Elsa, as it did not make landfall as a hurricane, the ALERT team monitored this storm and provided daily forecasts and updates on potential impacts of the storm.
For storms that make landfall as a hurricane and meet the ALERT loss threshold, we issue custom event sets, shapefiles for the relevant sub-perils, and industry loss estimates afterward.
Verisk 3D Visual Intelligence
The Verisk Real-Time Analytics Bundle continues to provide data for days after landfall. In addition to views of the impacts from ALERT and Respond, members of the Geospatial Insurance Consortium can receive satellite imagery of the impacted area from Verisk 3D Visual Intelligence to help triage and settle claims more efficiently and effectively. In addition to ALERT's post-landfall deliverables, the Respond team provides post-landfall footprints including observations within 24 hours after the storm has been downgraded.
It has been a month since Elsa became the first hurricane, if ever so briefly, of the 2021 Atlantic season; the heart of the season is still to come. With the Verisk Real-Time Analytics Bundle you can be assured that you will always have the data and analytics you need leading up to, during, and after an event.
The Verisk Real-Time Analytics Bundle isn't just for tropical cyclone analytics, but it can also be used for severe weather, wildfire, and more. To learn more about how the Verisk Real-Time Analytics Bundle can help you through the next extreme weather event, contact your local Verisk representative for more information.

Learn more about the Respond natural hazard analysis and forecast service