The chemical compound ammonium nitrate, used as a nutrient when producing antibiotics and yeast, is also an important component of high-nitrogen fertilizers. While it is not ordinarily harmful or flammable, it does have a highly volatile quality and in a confined space and under extreme conditions of heat and pressure it can explode.
Due to this behavior, ammonium nitrate is one of the key ingredients in explosives used in the mining and construction industries, and because it is widely available it has also, sadly, been used by terrorists to make bombs. The device used to such devastating effect in the 1995 Oklahoma City bombing, for example, contained more than two tons of ammonium nitrate fertilizer and fuel oil. Under certain conditions, however, ammonium nitrate can also explode accidentally, sometimes with catastrophic results.
The 2020 Beirut Explosion
The Lebanese capital, Beirut, was rocked by a huge and devastating explosion on August 2, 2020, when 2,750 tons of ammonium nitrate stored unsafely in the port for several years detonated. The blast energy was equivalent to the detonation of about 2,000,000 lbs. of TNT and one of the most powerful non-nuclear blasts in history. It was heard 150 miles away in Cyprus, felt as far as Turkey, and recorded by the United States Geological Survey (USGS) as the equivalent of an M3.3 earthquake.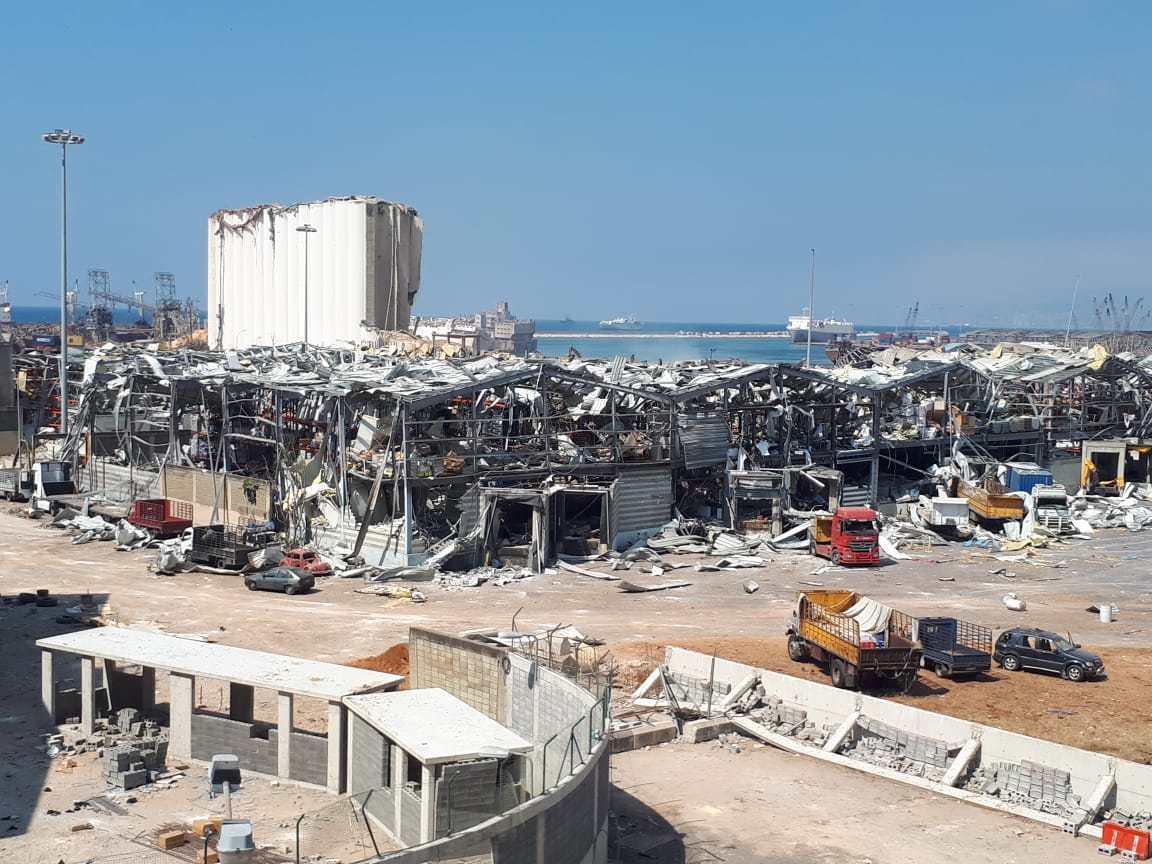 The ammonium nitrate came from a Moldova-flagged freighter that had been abandoned in 2013 after failing an inspection. Following a court order the cargo was unshipped and stored in the port's Warehouse 12, but it was not disposed of as it should have been and languished for years, deteriorating.
On August 2, 2020, welders making repairs to secure one of the warehouse's doors reportedly started a fire. The blaze set off an explosion that was followed by a series of smaller blasts and, about 30 seconds later, by a catastrophic explosion that left a crater 460 feet wide. The immediate port area was destroyed, about half of the city—the nation's largest—sustained damage, and the shock wave blew out windows as far as 5 miles away. At least 215 people lost their lives, about 7,500 were injured, and as many as 300,000 were made temporarily homeless.
Could This Happen in the U.S.?
It already did. On April 16, 1947, fire broke out onboard the freighter Grandcamp as she was loading ammonium nitrate-based fertilizer in the port of Texas City, TX, and a few minutes later the ship exploded with devastating consequences.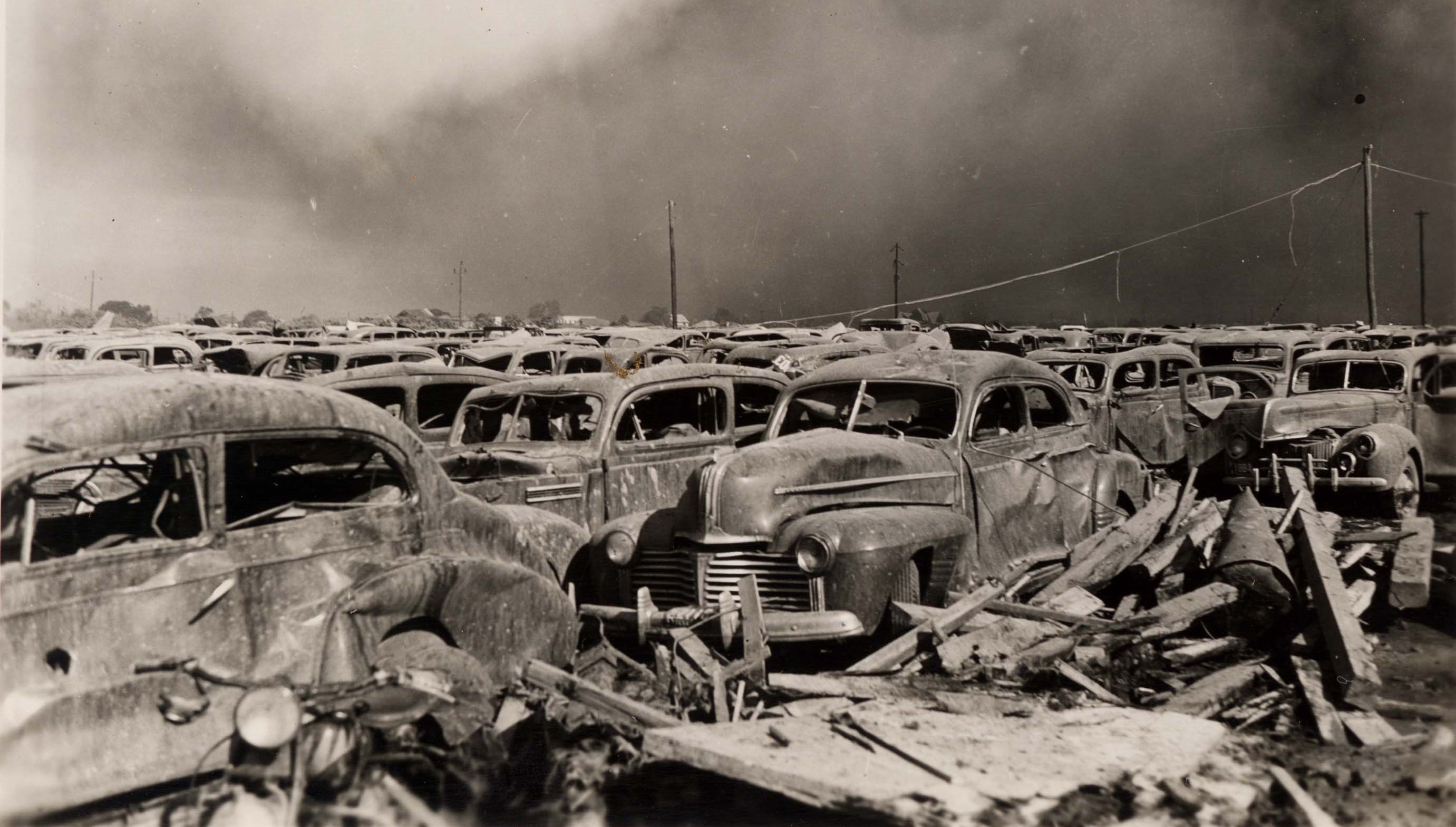 The blast was heard at a distance of 150 miles and deposited the ship's 1.5-ton anchor 2 miles away. Flaming debris damaged nearby oil refineries, a chemical storage facility in the vicinity blew up, 500 homes close by were flattened, and the High Flyer, an adjacent fertilizer freighter, was set alight and detonated the following day. About 600 people died in the disaster and many more were injured.
About 30 years earlier, in December 1917, there had been a similarly massive explosion in Halifax, Nova Scotia. On this occasion wartime munitions exploded about 20 minutes after two freighters collided in the harbor and caught fire. The explosion was felt as far as 130 miles away, obliterated the district of Richmond, and damaged Dartmouth across the harbor. About 400 acres were completely devastated, at least 2,000 people were killed, and more than 9,000 were injured.
Case Study
In the process of validating the 2021 updates to the AIR Model for Terrorism we undertook case studies involving the 1995 Oklahoma City bombing, the 2013 Boston Marathon bombing, and a 2020 Beirut-size blast. These incidents were selected for analysis to represent a wide range of explosions in various urban environments.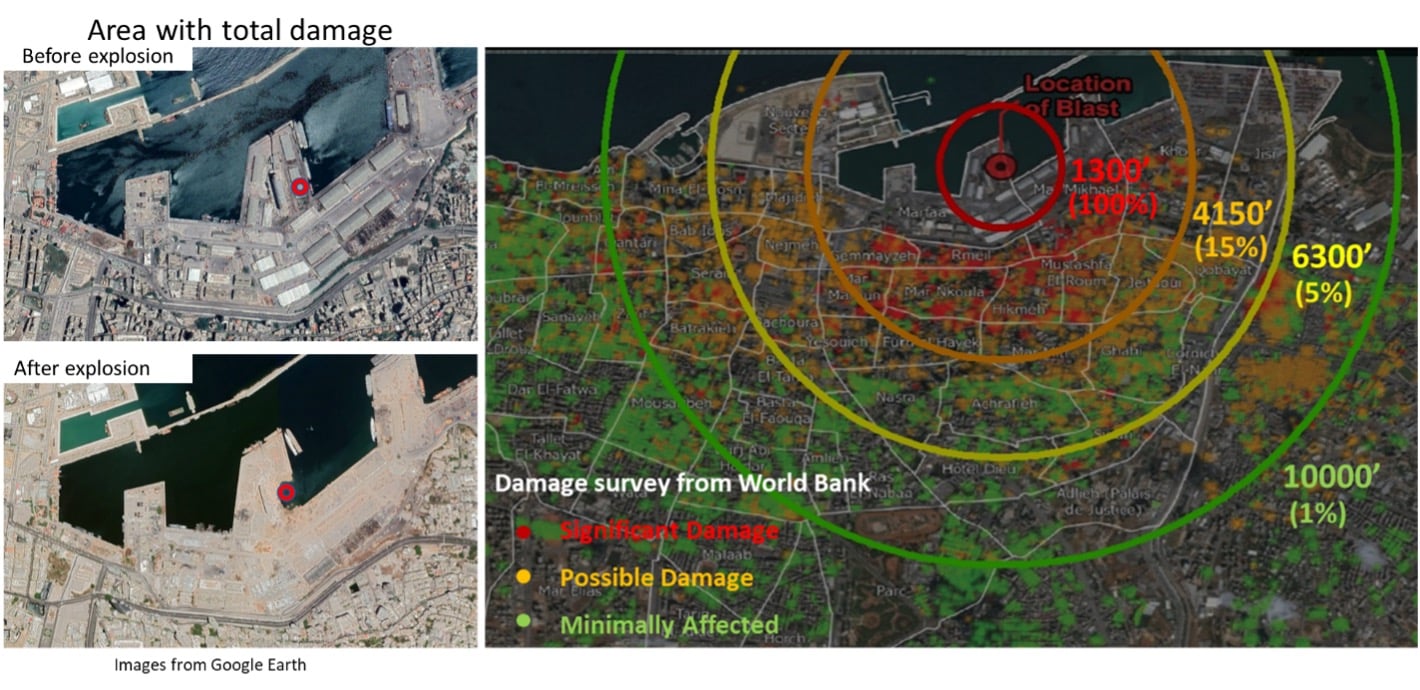 There are two important points to note in this case study. First, the 2020 Beirut explosion was not a terrorist attack; second, the AIR model was used to simulate a scenario whose blast size was of similar magnitude and as though it had occurred at a location in United States with similar urban density, using a hypothetical uniformly gridded exposure of two-story concrete apartment buildings. This was the most common type of structure in the Beirut harbor area and therefore worked as a good representative risk type for this analysis.
The size of the Beirut blast is much larger than any of the conventional weapon sizes available in Touchstone®, but the modeled damage extent for this event obtained using the updated AIR Terrorism Model nevertheless agreed with observations from the explosion in Lebanon.
The deterministic event modeling capabilities in Touchstone allow a blast size and location to be selected so that the impact it will have on a specific book of business can be analyzed. This complements the exposure aggregation capabilities provided by Touchstone's Geospatial Analytics Module, which can leverage dynamic ring analysis to identify locations corresponding to maximum exposure concentrations. The AIR model enables (re)insurers to estimate the potential property, business interruption, workers' compensation, and personal injury losses that can arise from terrorist bombs in the United States. The model also provides deterministic loss scenarios for 27 other countries, one of which is Lebanon, to assist companies in prudently managing their terrorism risk.

Read more about updates to the AIR Model for Terrorism.