Of all the natural hazards that cause property damage in Europe, flood is the costliest. Low pressure system "Bernd" parked itself over central Europe and brought about significant flooding from July 13 to 18. The Rhineland-Palatinate and North Rhine-Westphalia regions in particular experienced heavy and, in some cases, historic rainfall, with the border region between the German states of Bavaria, Thuringia, and Saxony affected by localized flooding as well.
Impacted German rivers with notable gauge readings included the tributaries of Mosel and Rhine, some of which reached historically high levels. During a 24-hour period 154 mm (6 inches) of rain fell on Cologne. Hagen, a city in the North Rhine-Westphalia region recorded 211 mm (8.3 inches) of rainfall during the same period. One area that was especially hard hit is the Ahr valley, which is named after the Ahr River, a left tributary of the Rhine River in Germany. Also heavily affected were the mountainous areas in the border region between the southeasternmost region of Germany and the Austrian states of Salzburg and Tirol.
Belgium was also affected, including the Maas and Albertkanaal rivers. Other countries and regions experiencing flooding this July included Luxembourg, the Netherlands' southernmost province Limburg, and Switzerland's Bern, Lucerne, Nidwalden, and Zurich cantons.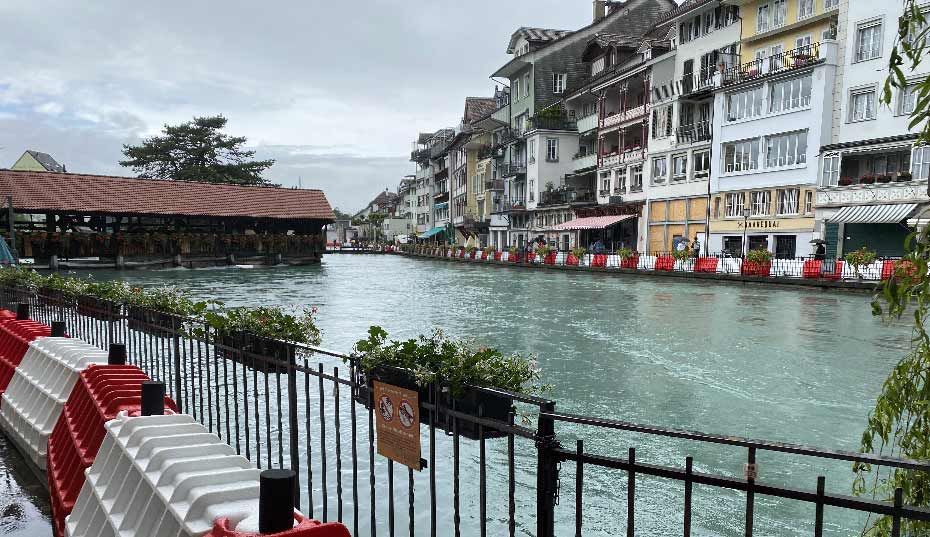 Across the region at least 200 people have died as a result of the July flooding. Transportation was disrupted and infrastructure damaged heavily in western Germany. In the North Rhine-Westphalia and Rhineland-Palatinate areas hardest hit by these events, the restoration of infrastructure such as water and gas pipes, power lines, and roads will take weeks or even months, according to some estimates. Heavy rainfall continued to affect parts of Europe, hampering rescue and recovery operations.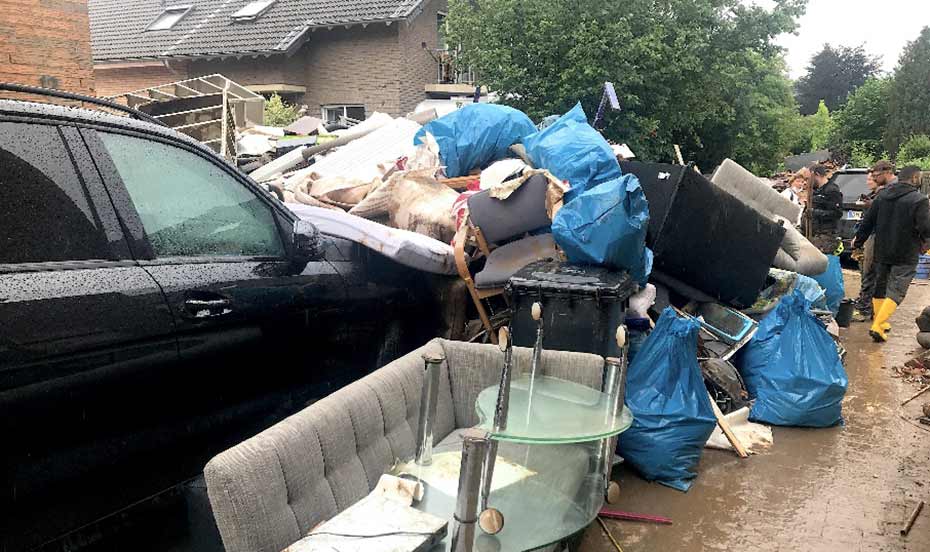 Warning Systems Found Wanting
Flooding causes more than a third of Europe's average annual catastrophe losses and affects about two thirds of the people impacted by natural catastrophes. The European Flood Awareness System (EFAS) was set up following major European floods that claimed nearly 100 lives in the first half of 2002 and caused billions of euros in damage. Its role is "to support preparatory measures before major flood events strike, particularly in the large trans-national river basins and throughout Europe in general"; it has been fully operational since 2012 as part of the Copernicus Emergency Management Service. In advance of this flooding EFAS functioned as it was intended to; forecasts accurately predicted the flooding that occurred and multiple warnings were issued.
In different countries across the region, however, and sometimes even within those countries, the laws and regulations determining which authorities alert citizens and the procedures those organizations implement differ widely. Some areas, such as the province of Limburg in the Netherlands acted promptly before the floods hit to issue evacuation warnings while others, such as the adjacent German state of Rhineland-Palatinate, responded too late. The intensity of the rainfall experienced, the speed with which water levels rose, and the levels attained surprised many and defensive infrastructure was quickly overwhelmed.
While it is important that timely warnings are issued, if they are to be effective they have to be received, understood, and acted upon. The extensive loss of life resulting from these floods is likely due as much to the inconsistency of the alerts disseminated and people's comprehension of them as to the severity of the event. It is clear that improvements to the warning systems employed and to public education are needed if lives are to be saved in future European flood events.
Past Experience and Concerns for the Future
Systematic reviews following devastating flood events over the last 30 years have triggered some improvement in Germany's flood risk management, including greater awareness of flood risk, increased investment in flood defenses, and more property-level mitigation. Flood insurance coverage is widely available, but optional, for most households. Despite progress, challenges remain in coordinating planning and management activities and incentivizing the necessary improvements. With heavier rainfall expected in a warmer climate, these recent events are another example of the urgency in closing the remaining gaps.

​ Quantify flood risk and uncover new opportunities with AIR inland flood models