May 31 is designated National Dam Safety Awareness Day in the U.S. to promote individual and community responsibility, best practices for dam safety, and the steps that can be taken to prevent future catastrophic dam failures or lessen the impact if a failure were to occur. May 31 was selected because it marks the anniversary of the deadliest U.S. dam failure. On that day in 1889 the South Fork Dam in Pennsylvania collapsed and sent 20 million tons of water from Lake Conemaugh surging downstream.
South Fork was an earthen dam, 72 feet high and 991 feet long, built 1838–1853 by the Commonwealth of Pennsylvania to form a reservoir. It was soon abandoned, however, because it was obsolete by the time it was complete. It eventually passed into private ownership and its condition deteriorated further; leaks and an 1862 collapse were patched up, the iron discharge pipes were sold for scrap, and poor repairs were made. None of this stopped the level of the lake being raised by its new owners, the prestigious South Fork Fishing and Hunting Club, which counted wealthy Pittsburgh industrialists and financiers such as Andrew Carnegie, Henry Clay Frick, and Andrew Mellon among its members. Warnings about the parlous state of the dam were ignored.
About 14 miles downstream, the industrial City of Johnstown sits in a river valley on the Appalachian Plateau 60 miles east of Pittsburgh. Lacking any defenses, Johnstown flooded regularly following spring mountain snowmelt or heavy precipitation at any time of year. After several days of unprecedented rainfall in May 1889 many residents had retreated to upper floors of their homes in anticipation of another of these nuisance floods.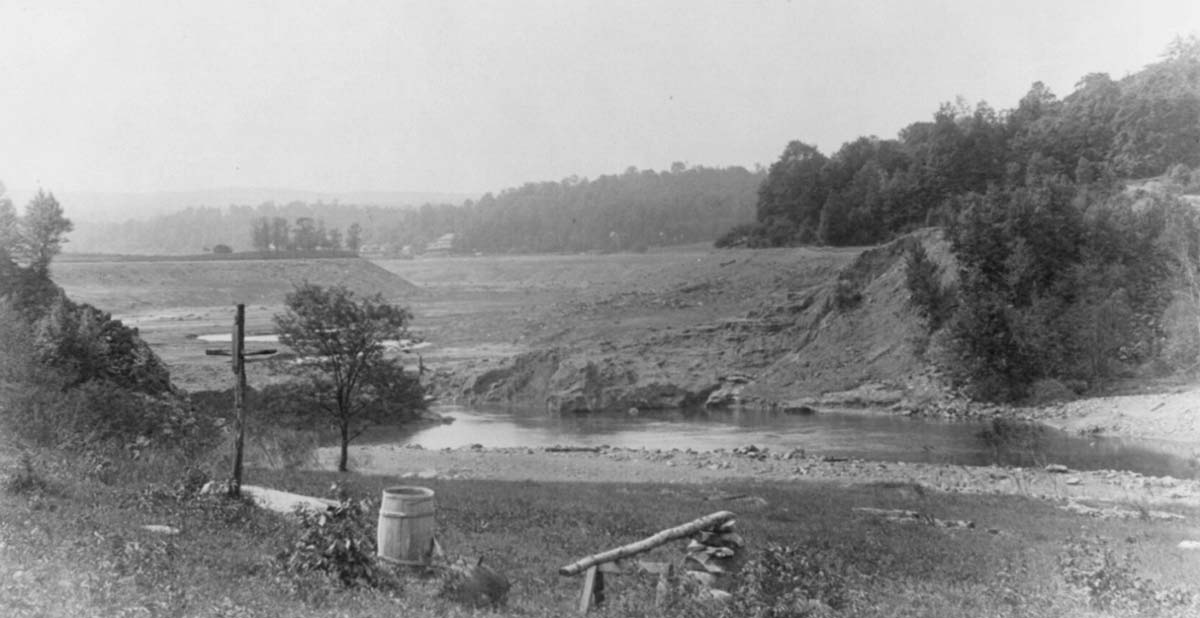 Upstream, the rising level of Lake Conemaugh prompted frantic efforts to increase the height of the South Fork Dam, to dig a second spillway, and to remove the screens blocking the dam's overflows, but despite these desperate measures the dam collapsed at about 3 p.m. The water contained by the reservoir poured out, sweeping away several towns and villages before it reached Johnstown within the hour as a fast-moving mass of water and accumulated debris.
The wave that struck Johnstown was estimated to have been 35-40 feet high and to be moving at about 40 mph. Several railroad locomotives were shifted 4,800 feet by the impact and flood marks were found 89 feet above the normal river level. Four square miles of the city and 1,600 homes were destroyed; property damage was estimated at the time to be USD 17 million. The arches of the Pennsylvania Railroad's stone bridge over the Conemaugh River survived but held back a pile of debris reportedly up to 40 feet high and 30 acres in extent. Some people were saved from drowning by this wreckage only to be burned when it caught fire. A total of 2,209 people died in the city—perhaps one fifth of the population and the country's greatest civilian loss of life to date.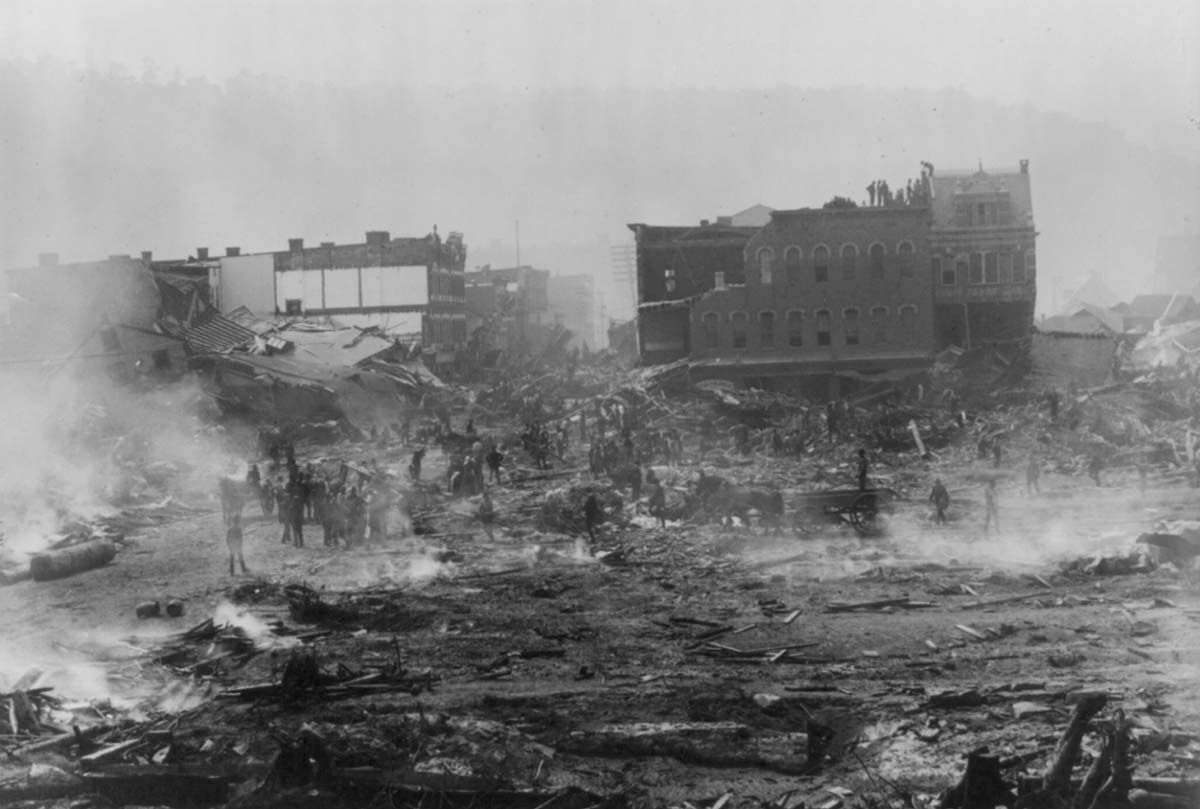 Thanks partly to dramatic press coverage there was an almost immediate public response; donations from the U.S. and 18 other countries poured in and quickly totaled more than USD 3.7 million. Johnstown was soon rebuilt, partly with donated construction materials, and the newly formed Red Cross arrived swiftly to mount its first major peacetime disaster relief effort.
The collapse of the South Fork Dam was triggered by several days of exceptional rainfall increasing the level of Lake Conemaugh, but it was caused by years of inadequate maintenance and upkeep. Overtopping, when water spills over the top of a dam, accounts for approximately 34% of all U.S. dam failures according to the Association of State Dam Safety Officials (ASDSO) and is the principal cause of failure. Foundation defects are responsible for about 30% of failures and are the second most likely cause. Cracking due to the settling of the dam or other movements is the third most likely cause, inadequate maintenance is the fourth, and piping—internal erosion caused by seepage—is the fifth, responsible for about 20% of failures.
Dams have failed in every state. ASDSO notes that although dam failures are not particularly common, "as the nation's dams age and population increases, the potential for deadly dam failures grows." The American Society of Civil Engineers has argued that "dam failures not only risk public safety, they also can cost our economy millions of dollars in damages" and that "failure is not just limited to damage to the dam itself, it can result in the impairment of many other infrastructure systems, such as roads, bridges, and water systems."
By 2030, seven out of 10 dams in the U.S. will be more than 50 years old. The February 2017 spillway failures at the Oroville Dam in California and the May 2020 failures of the Edenville and Sanford Dams in Michigan provide recent evidence that the risk is very real. Disaster was narrowly averted at Oroville, but in Michigan more than 11,000 people were evacuated, 2,500 structures were damaged, about 150 homes were destroyed, and a further 790 sustained major damage. The state estimated damage to homes, businesses, and nonprofit organizations at more than USD 175 million. With the growing number of dams in need of attention and the increasing value of property in harm's way, dam safety needs to become a higher priority.

​ Read "Imagining the Worst: What if the Oroville Dam's Auxiliary Spillway Failed Catastrophically?"