April 19 is the anniversary of the worst act of U.S. terrorism prior to the attacks on September 11, 2001, and the deadliest act of homegrown U.S. terrorism to this day. On this date in 1995 a former Army soldier with strong anti-government leanings detonated a truck bomb about 15 feet from the face of the Alfred P. Murrah Federal Building in Oklahoma City, which housed the regional offices of several federal agencies.
When terrorists use conventional weapons—the effects of which tend to be highly localized—they are likely to be targeting specific buildings or facilities. The amount of damage that occurs at or near the site of an attack depends on a wide variety of factors. In addition to the type and severity of the attack, and the type of weapon used, the surrounding buildings can have a profound effect on the damage from an attack.
The Oklahoma City bombing left a nearly 7-foot deep crater and a huge pile of rubble. It killed 168 people, injured hundreds more, and demolished the Alfred P. Murrah Building's north façade. In total it destroyed 86 vehicles and 16 buildings and damaged a further 324 structures within a five-block radius. Minor damage was reported as far as a mile away.
Updates to the AIR Terrorism Model for the United States, anticipated for release this summer, include enhancements to the modeling of conventional bomb blast attacks such as the one in Oklahoma City. In particular, the updated AIR model can produce a more realistic damage extent for scenarios similar to the Oklahoma City bombing, which was estimated to have had the energy of approximately 4,000 lbs. of TNT.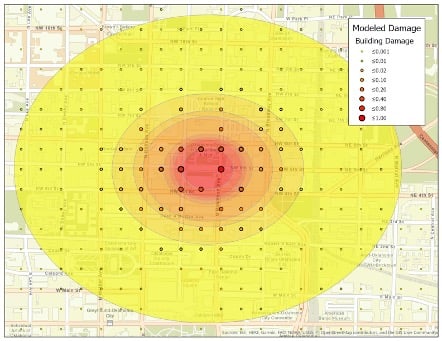 In a recent analysis AIR modeled a blast similar in size and location to the Oklahoma City bombing recurring today using the updated AIR U.S. Terrorism Model and the 2019 version of AIR's U.S. Industry Exposure Database (IED), which is modeled at a 90-meter resolution. The modeled damage footprint of this analysis is presented in Figure 1 where the individual point locations represent locations within the IED. The size and color of each point represent the modeled mean damage ratio for the building or buildings aggregated to that location. These colors also correspond to the building damage ratio radii that have been observed for the Oklahoma City bombing. The purpose of the analysis was to evaluate the recurrence of a historic terrorism event.
The threat of terrorism continues to rise and managing risk from terrorism has become an essential part of business. Anthony Quinn Warner's detonation of a recreational vehicle (RV) bomb in downtown Nashville, TN on December 25, 2020 is a reminder that this form of blast attack remains a very real threat.

Read "Managing U.S. Terrorism Risk: A Look Back at the OKC Bombing"