When thinking of states most impacted by natural catastrophes, Florida and California immediately spring to mind, but according to FEMA, Texas has had more disasters declared since 1953 than any other state. In recent years Texas has experienced numerous kinds of disasters, including floods and hurricanes, tornadoes, hailstorms and wildfires—but winter storms can be an issue too. Disasters were declared for freezing events in 1984 and 1990 and for a severe winter ice storm in 2001, for example, and frigid temperatures and prolonged hard freezes were experienced in 2011.
During the winter months, winter storms are the main source of weather-related damage in all areas of the U.S. Even cities in the Northeast and Midwest, which are well-prepared for severe weather, have been brought to a standstill by heavy snow and blizzards. The Gulf Coast and Southeastern states do not generally experience winter storms that produce large amounts of snow or freezing temperatures; however, cold air can reach this region and cause temperatures to drop below freezing. These areas usually do not have snow removal programs and the accumulation of snow or ice on the roads raises the risk of traffic accidents. Buildings are also not prepared for severe winter weather and may be unheated and poorly insulated.
Snow and Sub-Zero Temperatures
A series of winter storm events across the U.S. recently led to widespread catastrophic freeze impacts, particularly in the State of Texas. Starting on February 12 and continuing through the following week, these storms impacted more than 70% of the continental United States with freezing temperatures, snow, and ice. Thirty-nine states in the continental U.S. fell under some type of winter weather advisory or storm alert—the largest region under a winter storm warning since 2005. More than 2,000 cold temperature records were set.
The storm's cold front caused severe thunderstorms and tornadoes in Georgia, North Carolina, and Florida. Major highways were closed either because of blockages caused by multi-vehicle crashes or to prevent them from occurring. Air travel was seriously affected, with thousands of flights canceled; power outages impacted at least 10 states from Louisiana to Oregon; and COVID-19 vaccine supply and distribution were seriously impaired.
For much of Texas the average winter temperature is about 50°F, and while areas in the western part of the state get an average of about 10 inches of snow per year the Gulf Coast and South and Central Texas often get none. In 1895 a coastal snowstorm dumped 20 inches on Houston on Valentine's Day, and in late March 1957 the Panhandle received 10-20 inches in a blizzard, but these were exceptional events. This February, however, Texas was once again hit hard. Much of the state experienced unusually heavy snowfall. Between 3 and 6 inches blanketed the Dallas area, for example, and Abilene, 170 miles to the west, recorded 14.8 inches on February 14 and set a new record for the city.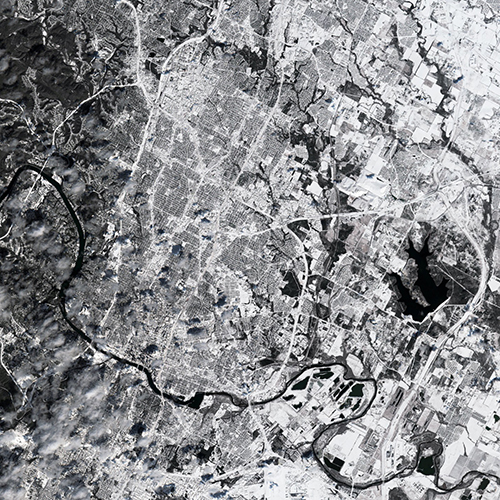 At the same time temperatures plunged and stayed low for six days. At the peak of the low temperatures, on February 15, the average temperature across Texas was just 12°F, or 6° lower than the average in Alaska the same day. Wind chills in the Dallas region reached as low as -15°F, and with a low of 13°F Austin was colder than it has been since 1899. This event marks the longest continuous freeze on record for many locations; Waco, for example, stayed below freezing for 203 consecutive hours—breaking its previous record by 53 hours. Oil wells and refineries, including the largest in the U.S. (The Motiva Enterprises complex in Port Arthur), shut down operations because of the low temperatures and power outages; Governor Greg Abbott issued a disaster declaration for all 254 counties on February 12.
Widespread and Prolonged Power Outages
The unusually low temperatures on February 14 caused a spike in demand just as power production was dwindling because of the freezing temperatures. Consumers lost power just when they needed it most. The storm downed power lines, but the cold led natural gas plants to shut down, wind turbines in the northern Panhandle to lock up, and a nuclear power plant to go offline. An uncontrolled blackout of the entire grid, which could have taken weeks to fully recover from, was only narrowly avoided. More than 4.3 million outages were reported at the peak. A recent blog from our colleagues at Verisk's Wood Mackenzie summarized the Texas energy crisis, its causes and consequences.
Texas has its own entirely independent power grid and about 90% of its electric load is managed by the Electric Reliability Council of Texas (ERCOT). Unlike utilities in the rest of the U.S. ERCOT cannot draw power from other areas if demand spikes or generating capacity fails. El Paso, however, in the far western part of the state, is not on the Texan grid. It was only mildly affected because it is part of the Western Grid, which unites 14 states, Mexico, and Canada, and it was able to draw power from elsewhere in that grid.
Lessons from Texas Freeze Event 10 Years Ago Went Unheeded
What Texas experienced this February was both a significant snowstorm and several days of exceptionally low temperatures. These two events combined, the massive power supply failure experienced, and the widespread flooding from frozen pipes and water supply issues that ensued together created a major disaster that could have been foreseen and better prepared for.
In February 2011 an intense arctic air mass brought several days of sub-freezing temperatures to western Texas, causing widespread failures of infrastructure; more than 3 million ERCOT customers lost power. Before this event, the Southwest had experienced severe cold weather events in 1983, 1989, 2003, 2006, 2008, and 2010. In response to the power failures in 2011, federal regulators observed that periods of sub-freezing temperatures were not improbable in Texas and made a number of recommendations for the improved winterization of ERCOT's power plants—none of which appear to have been implemented. Had the infrastructure been better winterized, much of the misery and many of the losses could have been avoided.
AIR's Global Resilience Practice
One of the challenges encountered by state, local, and federal governments is gaining meaningful insight into the potential frequency, location, and impact of future extreme events. AIR has developed a comprehensive suite of models, data, and mapping capabilities, which are widely used by the insurance industry to understand and manage extreme event risk, and these tools are increasingly being adopted in the public sector.
Our Global Resilience Practice helps governments and non-governmental organizations with hazard mitigation planning, managing financial risks, and identifying effective mitigation strategies before disaster strikes. In Texas, for example, AIR previously worked with the City of Dallas and the 100 Resilient Cities initiative, providing consulting services informed by catastrophe modeling. With AIR's help the City of Dallas was able to gain insights into potential sources of risk, develop a new appreciation of the potential economic losses, and begin the process of developing better-informed risk mitigation plans.

Quantify and manage risks to your community and prepare before disasters occur with AIR's Global Resilience Practice