Floods are the most frequent and costly natural disaster in many parts of the world and the risk is increasing as continued development and the growing impacts of climate change collide. As the economic losses from inland and coastal floods escalate in developing and developed countries alike, increasing attention is being paid to the financial risk management of such natural disasters. Insurance plays a vital role in this risk management, and catastrophe modeling plays a vital role in flood insurance.
The Protection Gap
Every year since 2012 AIR has released our Global Modeled Catastrophe Losses report detailing key loss metrics from AIR's global industry exceedance probability (EP) curve. The 2021 report derives its loss metrics from the most current suite of global property and crop models from AIR, including new models and updates released during 2021 as well as databases of property values for more than 110 countries; AIR's probabilistic atmospheric peril models have been built and validated to represent the near-term climate on a 0- to 10-year time frame, and we will continue to invest in model updates to ensure we are reflecting the changing risk.
The report provides both global insured and insurable loss estimates based on AIR's global suite of models and thus highlights the difference between covered (insured) and the combined total of eligible (insurable) exposures—the global protection gap (Figure 1).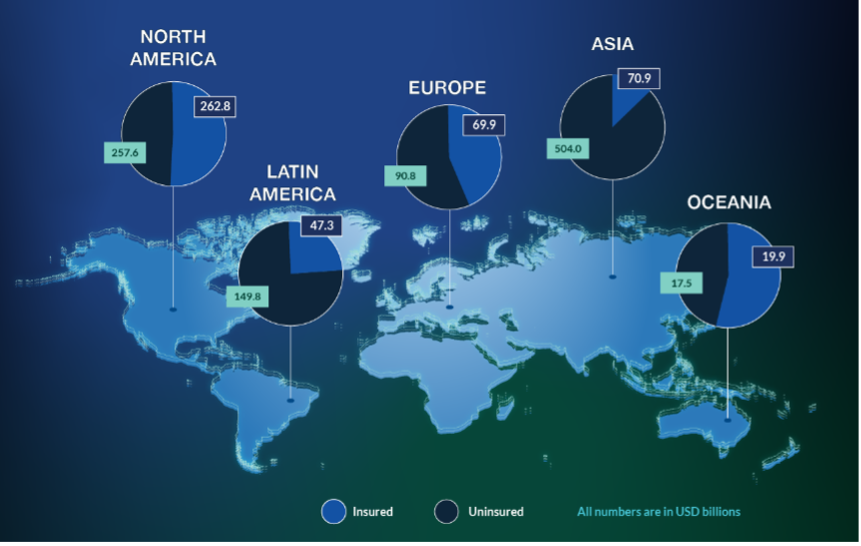 This year's edition also includes a section on the major new report released by the Intergovernmental Panel on Climate Change (IPCC), Climate Change 2021: The Physical Science Basis, and provides an opportunity to suggest how the protection gap might evolve in a warmer climate.
The IPCC report notes that "each of the last four decades has been successively warmer than any decade that preceded it since 1850." The frequency and intensity of weather extremes are changing, and confidence in the attribution of extremes to human influence has strengthened. Heavy precipitation, for example, is happening more often, and rainfall variability is increasing, with implications for both flooding and drought. According to the World Bank, 89% of the people exposed to the growing flood risk around the globe live in low- or middle-income countries, many of which have low insurance penetration. Even in the United States, where insurance penetration is typically high, flood risk is severely underinsured. Figures 2 and 3, taken from the AIR report, show how the contribution from flood goes from 7% of the global aggregate average annual loss (AAL) for insured exposures to 14% of the global aggregate AAL for insurable exposures.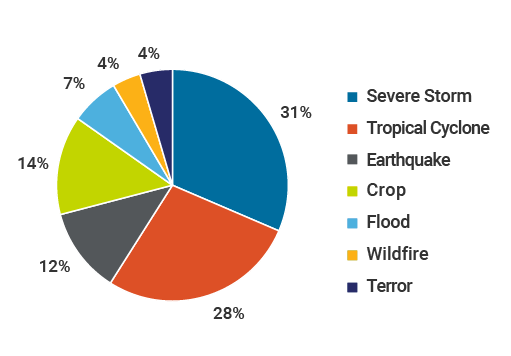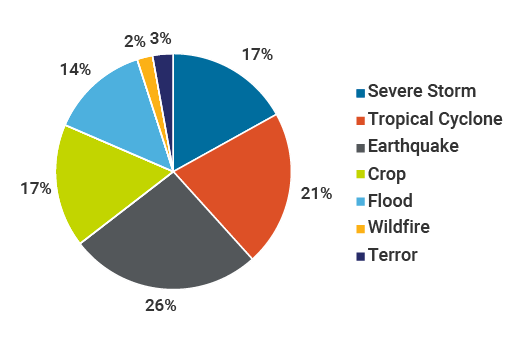 Regional Variation in Gap Evolution
Figure 4 highlights the protection gap between insured and total economic losses for the flood peril in the regions for which AIR has flood models. In the UK, Japan, and Central Europe—areas with good flood insurance (i.e., flood is included in many policies)—the gap is smaller than in areas where take-up rates are much lower, such as the U.S. and other parts of Europe and Asia.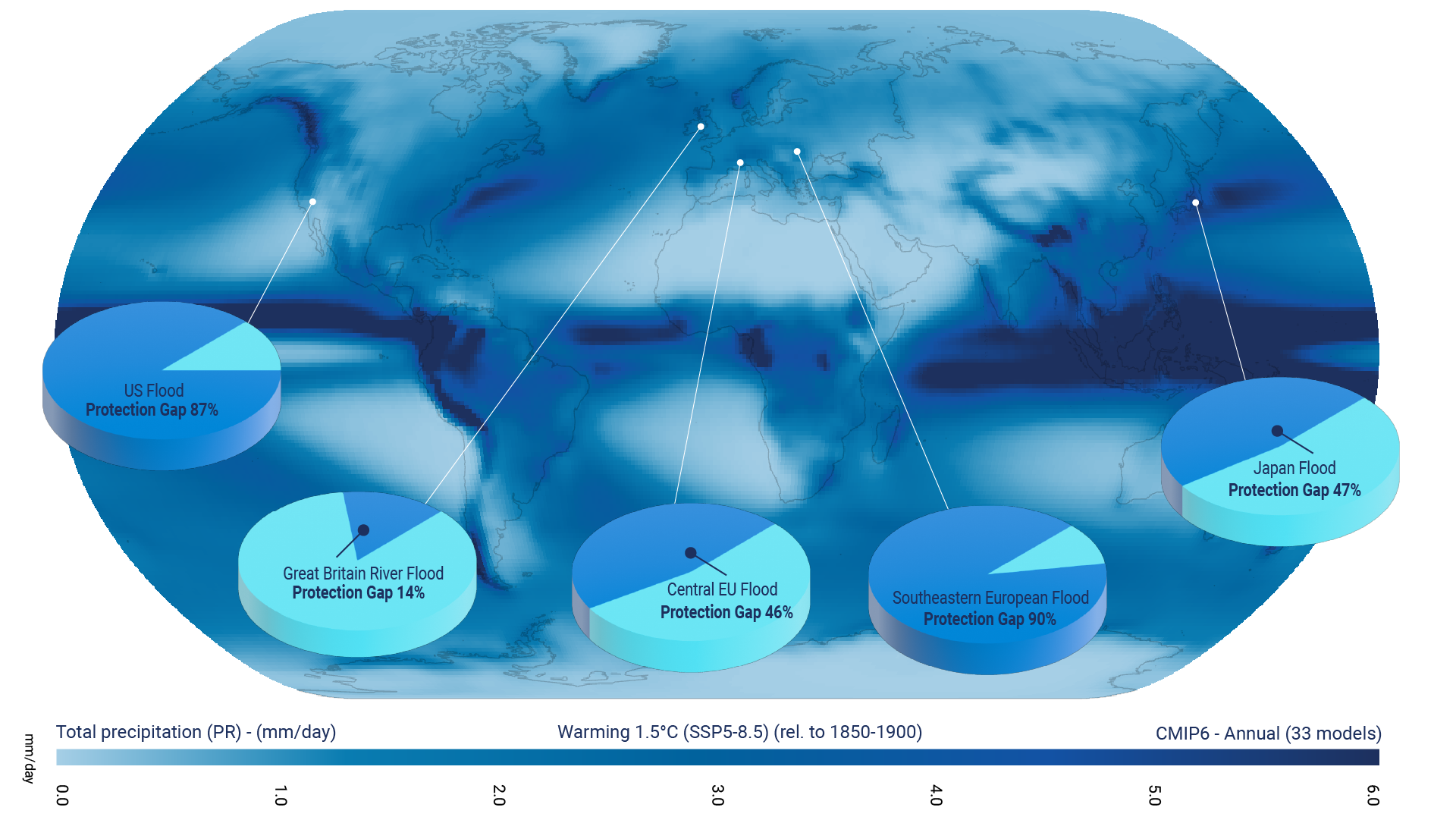 The IPCC report highlights areas where the risk from natural perils is expected to increase over the next 10 to 50 years and includes 11 regional reports of climate change impacts that represent most of the high-level key messages contained in the report. The flooding and precipitation increases that are projected suggest how the protection gap could evolve in different regions. For example:
Europe
The IPCC report expresses high confidence that extreme precipitation and pluvial flooding are projected to increase at global warming levels exceeding 1.5°C in all regions except the Mediterranean. At current levels of flood insurance protection, Central Europe and the UK are better positioned to manage the flood protection gap because they enjoy higher levels of flood insurance penetration than other parts of Europe where the protection gap is much larger. Nevertheless, even the best-insured European regions are not adequately protected and still have work to do.
The United States
It is very likely that Eastern North America and portions of Central North America will see increases in mean and extreme precipitation. While some areas of the U.S. may get drier, many of the populated regions are likely to see more flooding, which will likely exacerbate the overall low level of flood insurance take-up in the country. Successful implementation of the Federal Emergency Management Agency's (FEMA) new pricing methodology for the National Flood Insurance Program, Risk Rating 2.0, and the continued growth of the private flood market fostered by the development of catastrophe models such as AIR's could enable the country's protection gap to be reduced.
Asia
The IPCC report expresses high confidence that average and heavy precipitation will increase over much of the Asia region. There is an extremely wide protection gap in this region (Figure 1). Flood insurance is voluntary in Japan and has comparatively good flood insurance penetration (Figure 4), as Central Europe and the UK do, so it is better positioned to manage the flood protection gap than other countries in the region.
Closing the Protection Gap
Predicting and managing floods is extremely difficult; building and maintaining infrastructure to mitigate their impact is expensive. The importance of mitigating the financial impact of flooding is increasingly recognized if affected regions are to recover comparatively quickly, and this is where insurance has a leading role to play in closing the protection gap
For a whole raft of reasons flood is an extremely challenging peril to insure, and take-up rates—which are rarely adequate—vary greatly around the world. In just three decades catastrophe models have become an essential part of risk management for many perils, but flood is as challenging to model as it is to insure. Huge increases in compute power and other technological advances in recent years have, however, facilitated the development of complex and powerful flood models. In addition, at AIR we invest significant resources to ensure our models continue to reflect the impacts of our changing climate and provide a view of the 0 to 10-year near-present climate. Flood models in turn have enabled the insurance industry to own its flood risk and fostered the development of new financial instruments such as catastrophe bonds. These developments and others like them have the real potential to improve resilience to flood risk around the world.

See AIR's 2021 Global Modeled Catastrophe Losses: Download the white paper.