Matthew, the 2016 Atlantic season's most powerful hurricane, made four landfalls, the last of them in the U.S. with maximum sustained winds of 75 mph. Although it was barely a Category 1 storm when it came ashore in the U.S., it was the country's costliest natural disaster of the year alongside record August floods in Louisiana. The storm's landfall in South Carolina was not primarily responsible for the losses, however, but rather its lengthy passage northward just offshore the East Coast.
The National Hurricane Center began tracking a tropical wave that emerged off Africa on September 23. The wave from which Matthew formed became a tropical depression just to the east of the Windward Islands and became a Category 1 hurricane on September 29 after entering the Caribbean Sea. It intensified rapidly to a Category 5 storm in the southern Caribbean on October 1—the first Category 5 Atlantic hurricane since Felix in 2007.
The storm then turned sharply northward and weakened slightly as it made a succession of landfalls in southwestern Haiti, eastern Cuba, and western Grand Bahama Island. For a while it looked as if Matthew might come ashore in the southeastern U.S. as a Category 3 hurricane, in which case it would have been the first storm of this or higher intensity to strike the U.S. since Wilma in 2005 (Figure 1). But instead, Matthew remained to the east and stayed just offshore paralleling the coastline as it progressed northward, weakening as it went (Figure 2). When it was off NASA's Cape Canaveral launch facility its center was only about 30 miles out at sea; by October 8 it was a Category 2 storm centered more than 50 miles off the coast of Georgia.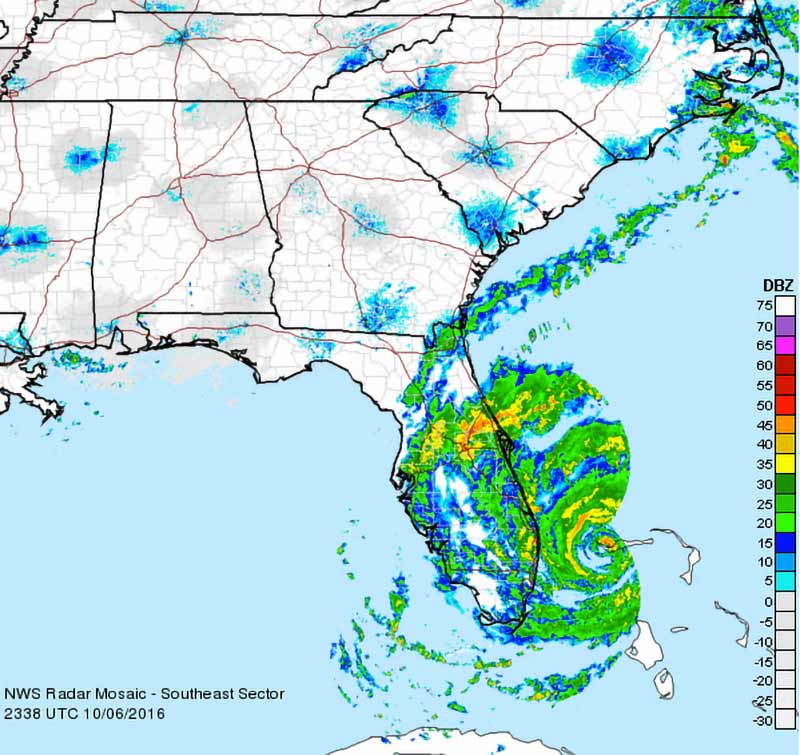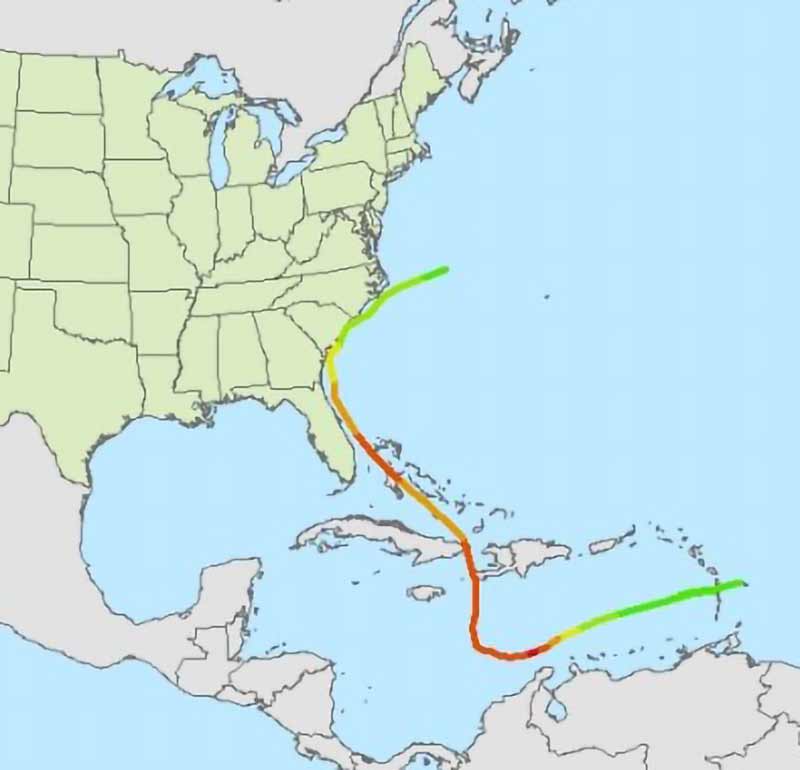 Matthew became the first hurricane since Hazel in 1954 to make a U.S. landfall north of Florida in the month of October. It came ashore on the morning of October 8 near McClellanville, a small fishing town in rural Charleston County, South Carolina. Three hours later its center had moved out to sea again and it remained offshore North Carolina the following day as it began a transition to an extratropical cyclone. Its remnants ultimately merged with a larger extratropical low-pressure system near Atlantic Canada on October 11.
A Long Trail of Damage
As it passed through the Windward Islands Tropical Storm Matthew's heavy rainfall led to flooding and landslides on St. Vincent, but the system began to cause extensive damage after it intensified into a major hurricane and turned to the north. As it passed through the central Caribbean Jamaica escaped with relatively minor impacts, but Haiti was not so fortunate; Matthew struck as a Category 4 hurricane, causing catastrophic damage, leaving more than 500 people dead and 175,000 homeless, and creating a major humanitarian crisis in a country still struggling to recover from a devastating earthquake in 2010. There was also widespread wind damage and coastal flooding in Cuba, and as it passed through the Bahamas on October 6 it affected almost every island in the archipelago and caused extensive damage on Grand Bahama.
Although Matthew tracked too far to the east to strike Florida directly, its eye was never far from the East Coast and the storm was always impacting it. In Florida, more than 1 million people lost power as the storm passed and there was widespread wind damage to trees, roofs, and siding along the coast as well as flooding and beach erosion.
In the 24 hours before it passed Cape Canaveral, centered only about 30 miles out at sea, the storm underwent eyewall replacement and the diameter of its eyewall increased to about 35-45 miles. Farther north, Flagler, St. Johns, and Duval counties experienced maximum inundation levels of 5 to 7 feet above ground level from the combined effect of the surge and tide. Major sand dune damage occurred near Jacksonville and flooding occurred well inland in the vicinity along the St. Johns River, thanks to the storm surge and heavy rainfall.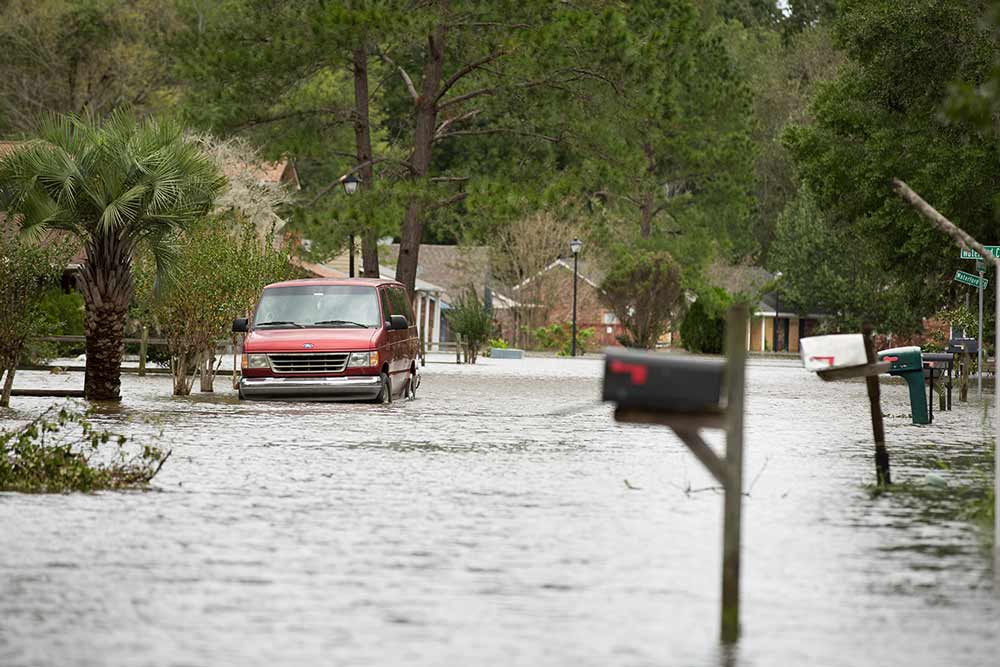 In Florida and Georgia damage was primarily confined to the coastal areas, but Matthew's wind field was expanding and, although still centered offshore, the northwestern edge of its large eyewall began to extend well inland. Hurricane-strength wind gusts and heavy rainfall were experienced in coastal regions of southeastern Georgia and southern South Carolina (Figure 3); a further 478,000 people lost power in South Carolina. The torrential rains spread far inland into the Carolinas and Virginia, causing widespread flooding. The highest rainfall total recorded during Matthew was the 18.95 inches that fell near Evergreen in Columbus County, North Carolina, on October 8-9. The costliest damage from Matthew occurred in North Carolina where 100,000 homes, businesses, and other structures were damaged by historic levels of riverine flooding. The coasts of Georgia and South Carolina experienced maximum inundations 3 to 5 feet above ground level but there was also coastal flooding along the coasts of North Carolina, Virginia, Maryland, and Delaware as the system passed.
A Powerful Reminder
The center of Matthew's eyewall may have been over land in the U.S. for only three hours but the National Centers for Environmental Information, estimated that damage in the U.S. totaled approximately USD 10 billion in 2016 dollars. Verisk's Property Claim Services® (PCS®) pegged insured U.S.-only losses at USD 2.65 billion as of May 2017. In addition to wind damage, many of the losses were caused by storm surge and inland flooding. In total, the storm killed 47 people in the U.S., including 26 in North Carolina, 12 in Florida, 3 in Georgia, 4 in South Carolina, and 2 in Virginia. Hurricane Matthew serves as a powerful reminder that bypassing hurricanes can inflict significant damage if their track remains close to exposure for a protracted period.

​ Read the blog, "Why There Was No Demand Surge after Hurricane Matthew"