Spain has one of the most diverse and varied climates in Europe, thanks to its location, continental land mass, and high mountainous terrain. WeatherOnline notes that "due to its large size, visitors can generally expect a Mediterranean climate, characterized by hot, dry summers and mild, rainy winters." Although it is an unusual experience for many regions, much of the country experiences snow on occasion.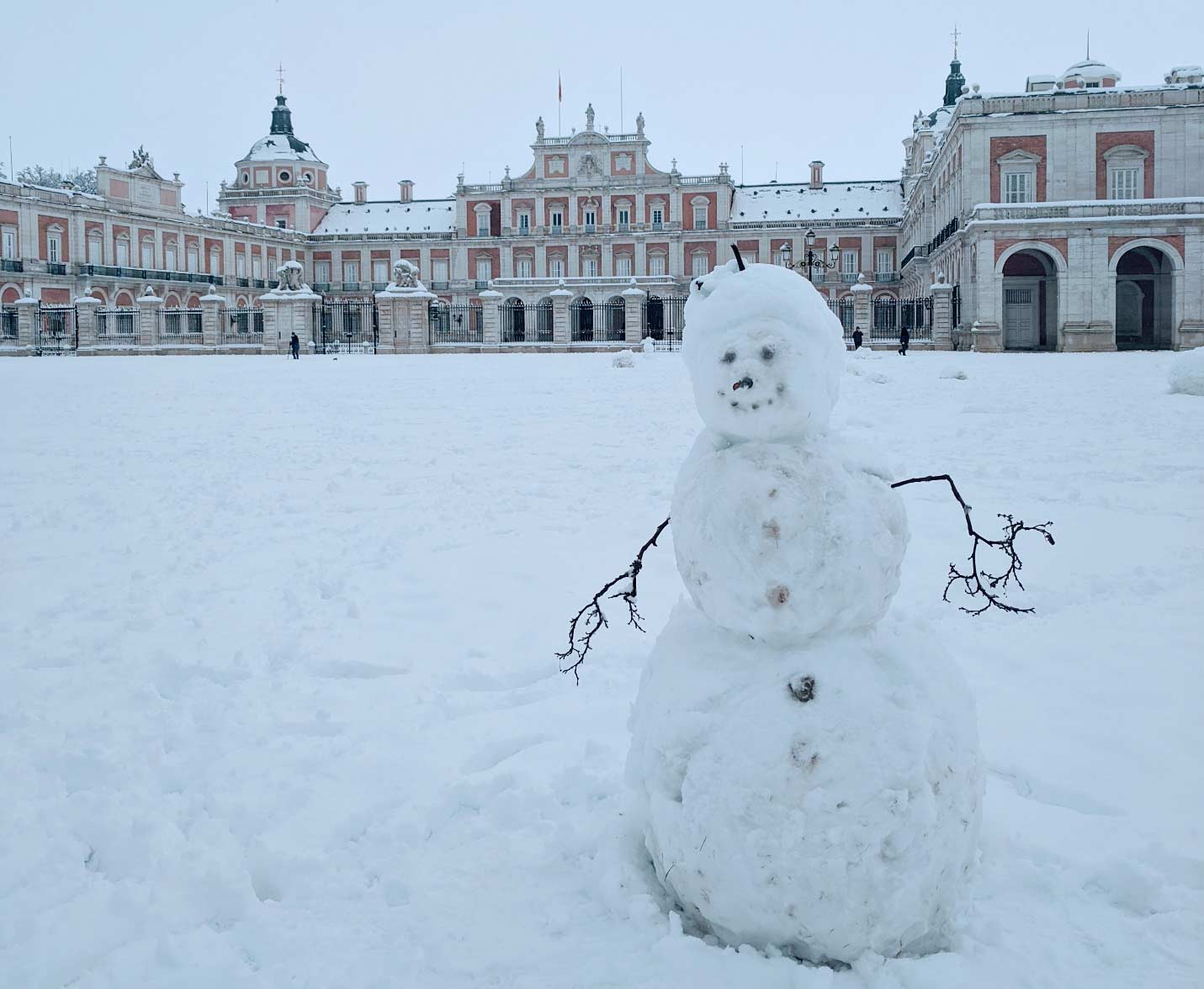 The last accumulating snowfall seen in the central Madrid region was in February 2018 when up to 13 cm (5 inches) fell in parts of the capital. The city has not seen a widespread accumulation of 10 cm (4 inches) since February 2005, but over the course of four days in January 2021 up to 50 cm (20 inches) fell and even higher totals were reported in surrounding areas. This is the region's greatest accumulation since 1971 when Madrid received about 20 cm (8 inches) and surrounding areas saw up to 30 cm (12 inches).
Spain's snowfall came courtesy of Storm Filomena, which brought strong winds, torrential rain, and snow to southeastern and central Spain on January 7. Heavy rainfall in Andalucía in southern Spain caused a series of landslides early the next day on a hillside in the municipality of Casares. And as cold air from Scandinavia and Russia approached, temperatures plummeted and a new record low for the nation of -35.6° C (-32° F) was recorded in northern Spain.
Snowfall was widespread, but the Madrid region was particularly hard hit. Although the nation's highest storm alert was issued for the first time for half of the country, many regions ill-equipped to deal with such conditions were taken by surprise. Schools closed, and as snow and ice accumulated travel problems increased. Flights and rail services were canceled; about 1,000 vehicles were stranded, some with their occupants trapped inside; and blocked roads were closed. Power was lost in some areas and in southern parts of the country riverine flooding occurred; at least four lives were lost to the cold and flooding. Healthcare delivery and the distribution of desperately needed coronavirus vaccine were also disrupted. On Sunday, January 10, many rail services resumed but some roads remained impassable; several days of intense cold followed the storm's arrival.
Polar Vortex Disrupted
Filomena was spawned in part from a series of high altitude atmospheric events that can be traced back to late December. By that time, an event known as a Sudden Stratospheric Warming was in progress. Temperatures at high levels of the atmosphere (i.e., 10 mb) rose by 55o C over the North Pole in a matter of days. The warming caused the polar vortex to split.
The polar vortex typically circles the globe at high latitudes as a ribbon of rapidly moving air, in much the same way as the polar jet stream, except at a much higher altitude. The polar vortex has been weakening for the last 40 years. The weakening is manifested as slower winds but also shifts in its location as well as splits. The causes for the weakening are complex and understanding the degree to which climate change has been playing a role is an active area of investigation.
One theory is that the reduced ice cover in the Arctic, which can be linked to global warming, has reduced the reflectivity of the earth's surface in that region, which allows more of the sun's energy to be absorbed (in summer). The effect is enhanced by more heat-trapping clouds because of the higher temperatures and increased moisture, especially in winter.
The enhanced warming over the poles compared to that at mid latitudes has been referred to as Arctic Amplification, and it may be increasing the wavelengths of the large atmospheric waves (Rossby Waves) that are an important part of the earth's climate. The longer waves are more likely to reach into the stratosphere and disrupt the vortex and even reverse its direction, which causes the warming, which can then split the vortex. The warming happens when the vortex slows so that air from it leaves the ribbon to converge over the North Pole, and then sink.
Jet Stream Shifted
Big stratospheric warming events happen only every couple of years on average in the Northern Hemisphere and the last big one was in 2018—the last time Madrid had a big snowfall. The split vortex typically causes the jet stream at lower levels to buckle southward to create record cold and extreme snowstorms, typically over Europe and the eastern U.S. like the one that dumped nearly two feet of snow over New England and caused record storm surge in Boston Harbor in January 2018.
Another potential impact of climate change is that because of a weaker pole-to-equator temperature difference (because of Arctic amplification) the jet stream is more likely to buckle and dip farther southward.
While the connection between big stratospheric warming events and extreme weather is understood, what causes them and the extent to which climate change is playing a role are still being studied. So, at least for the time being, big snowstorms may not be happening in spite of climate change, they may be happening because of it.

​ Explore the sensitivity of catastrophe risk to a changing climate