Tornadoes can inflict death and devastation at any time of the year in the U.S. The touchdown of a destructive and deadly tornado in Alabama, on January 25, 2021, highlights the fact that not all tornadic activity occurs between the peak months of April and June. It can happen at any time of the year. It is also a reminder that not all tornado risk is confined to the region known as "Tornado Alley," which encompasses the lowland areas of the Missouri, Mississippi, and Ohio river valleys and includes regions of Texas, Nebraska, Kansas, and Oklahoma. Tornadoes have been experienced in all 50 states.
The tornado that struck northern Jefferson County, Alabama, at about 10:30 p.m. on January 25 was spawned by a line of major storms that impacted a wide swath of the country. The twister touched down in Fultondale, a northern suburb of Birmingham, leaving a trail of destruction in a very localized area a quarter mile wide and 9.5 miles long running into Center Point. The National Weather Service's preliminary damage survey results rate the tornado as an EF-3 and estimate its peak winds to have been 150 mph.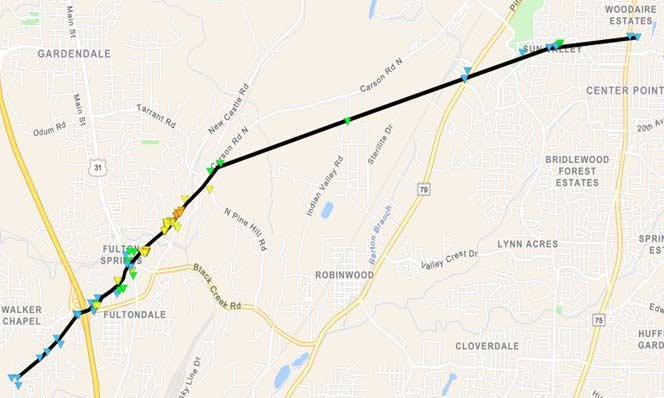 Fultondale High School suffered significant damage, as did the Hampton Inn motel and other businesses. Trees and power lines fell and vehicles including large trucks were moved or overturned. Dozens of homes were severely damaged or destroyed.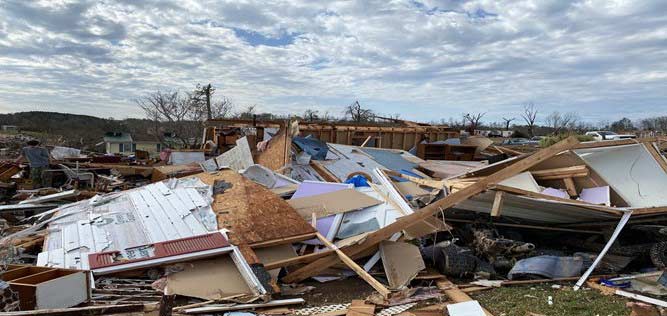 This is far from being the first time the area has experienced deadly and damaging tornadoes. A tornado subsequently estimated to have been an F4 event struck Jefferson County, Alabama, on April 15, 1956, killing 25, injuring about 200, and causing major devastation west and north of downtown Birmingham. In 1977 an F5 tornado struck the northern suburbs of Birmingham on the afternoon of April 4 during an outbreak of violent severe weather that led to 21 tornadoes striking Mississippi, Alabama, and Georgia. Another F5 tornado ripped through the Birmingham suburbs on April 8, 1998, causing catastrophic damage in the cities of Oak Grove, Rock Creek, and McDonald Chapel—which had been devastated by the tornado in 1956.
And most recently an EF-4 tornado with winds of at least 190 mph struck Tuscaloosa and Birmingham' s northern and western suburbs on April 27, 2011. On this occasion a severe thunderstorm outbreak containing over 300 tornadoes—15 of which were classified as violent (i.e., EF-4 or higher), straight-line winds, and baseball-sized hailstones ravaged the Southeastern United States. A record was set for the most tornadoes in a 24-hour period as 190 touched down between April 27 and April 28. Nine violent tornadoes touched down in Alabama on April 27, two of them massive EF5 tornadoes. The tornado that struck Tuscaloosa left a damage trail 80 miles long, killed 65 people, and injured 1,500. It is one of the costliest on record.
Based on reports from the Storm Prediction Center (SPC), only about 3% of tornadoes occur in the month of January, but more than half of those impact the southeastern U.S. This is due to the favorable atmospheric conditions for tornadoes (warm and humid air, strong vertical wind shear) being generally confined to that region during the winter months.
Due to its geography, the U.S. has the most tornado development of any country, with approximately 1,200 tornadoes occurring each year. Prominent southeastern U.S. tornado activity in recent decades has prompted scientists to question the traditional definition of "Tornado Alley" and include some southern states as part of a larger region of frequent tornadoes. But while the recent event in Alabama has once more grabbed people's attention, history tells us to be wary of making too much of short-term variability.

​ Be proactive and own your risk with AIR severe thunderstorm models