The worst disaster to strike India since it achieved independence in 1947 was an M7.6 earthquake that struck the state of Gujarat at 8:46 a.m. on January 26, 2001, the country's 52nd Republic Day. India has been affected by several mega-earthquakes, both within its borders and in the surrounding environs. In the past 250 years, more than 30 earthquakes have caused significant damage.
Most of India lies over a craton (a large, stable crustal block at the center of a continent), but Gujarat is located 400 km from the boundary between the India and Eurasian plates. Its seismicity and proximity to Western Himalayan faults such as the Chaman Fault and Owen Fracture zone, suggest that the region may be a transitional zone between a stable region and an active plate boundary. The principal faults are the east-trending Kachchh Mainland Gedi fault and the Allah Bund Fault.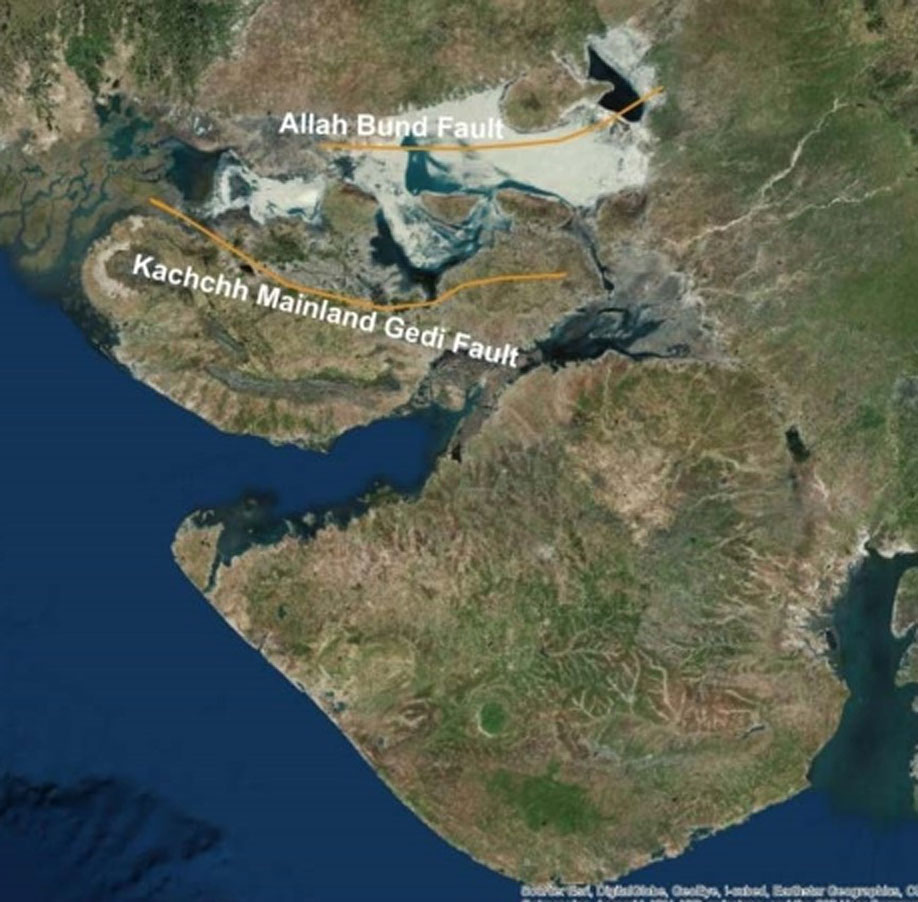 The epicenter of the Gujarat earthquake was located about 70 km northeast of Bhuj, which has a population of 160,000. Shaking lasted for more than two minutes and was felt as far away as Pakistan and northwestern India. Hundreds of aftershocks affected Gujarat for months afterward; approximately 500 occurred within two months after the mainshock.
Resulting Damage
The death toll from the mainshock has been estimated to be more than 100,000, according to some unofficial reports. The official reports varied and had lower but still devastating figures of around 20,000 people. More than 300,000 buildings were destroyed, along with dams, port facilities, roads, bridges, and health, education, and other infrastructures. In Gujarat alone, nearly 800,000 buildings were damaged Kachchh, Ahmedabad, Jamnagar, Rajkot, and Surendranagar were worst hit. More than 1 million families were left without homes due to the extensive damage. Crop loss was also extensive due to liquefaction and shake damage. A strong motion instrument in Ahmedabad, 250 km from the epicenter, showed a PGA of 0.1 g. While this should not have caused significant damage, more than 70 reinforced concrete frame multi-story residential buildings collapsed in Ahmedabad, which has been attributed to the soft soils under these buildings. Collapses in other areas occurred also on soft soil or inland fills. The buildings in Ahmedabad had been filled with unreinforced clay brick, which performs poorly under strong shaking.
Liquefaction was widespread and severe. It was initially observed in areas near the epicenter and in the salt flats in northern Gujarat known as the Rann of Kachchh. Groundwater surfaced and produced geysers in several areas after the earthquake, some reportedly quite large, including one with a 5-km diameter in Rann Kachchh. Water was seen in some desert rivers that had been dry for a century and topographical changes caused springs to appear.
Remarkable Recovery
At the time of the disaster Gujarat, one of the most industrialized states in India, was still reeling from severe flooding in 1998–1999 and punishing droughts in 1999–2000. The earthquake impacted mostly poorer parts of the state causing many people to live in makeshift shelters a year after the quake, but the region was eventually able to make a remarkable recovery.
Financial aid poured in from around the world and a massive reconstruction and rehabilitation program was launched in the affected areas. Tax-free zones boosted economic recovery and companies moved into the area in response. The port town of Mundra, which escaped devastation in the earthquake, grew rapidly into a major industrial hub and now has the largest private port in India. Towns and villages were rebuilt with better housing. In Bhuj, water supply and underground drainage were laid, ring roads and an airport were constructed, and homes were demolished so that roads could be widened. According to the Gujarat State Disaster Management Authority, accomplishments of the recovery included:
3,391 public buildings repaired
640 km of state highways and 3,061 km of rural roads repaired
2,750 km of water supply pipelines laid and 222 deep tube wells drilled
Severe damage to buildings without seismic-resistant engineering was widespread and occurred even in regions far from the epicenter. Post-event damage surveys showed, however, that many engineered buildings withstood the shaking fairly well, some with no damage. These included some government-designed water tanks with capacities as high as 1 million liters. The earthquake prompted widespread studies of building codes and earthquake disaster management in India.
India Earthquake Megadisaster: Are You Prepared? Read the article