Southeast Asia is a region characterized by rapid deformation, pervasive faulting, and widespread seismicity. On January 15, 2021, an Mw 6.2 earthquake struck the Majene Regency, in the western side of Sulawesi island in Indonesia a little after midnight on a Friday, local time (Thursday, January 14, at 18:28 UTC). Its epicenter was located onshore, about 32 kilometers south of Mamuju district, and shaking reached VIII on the Modified Mercalli Intensity scale in some of the affected locations.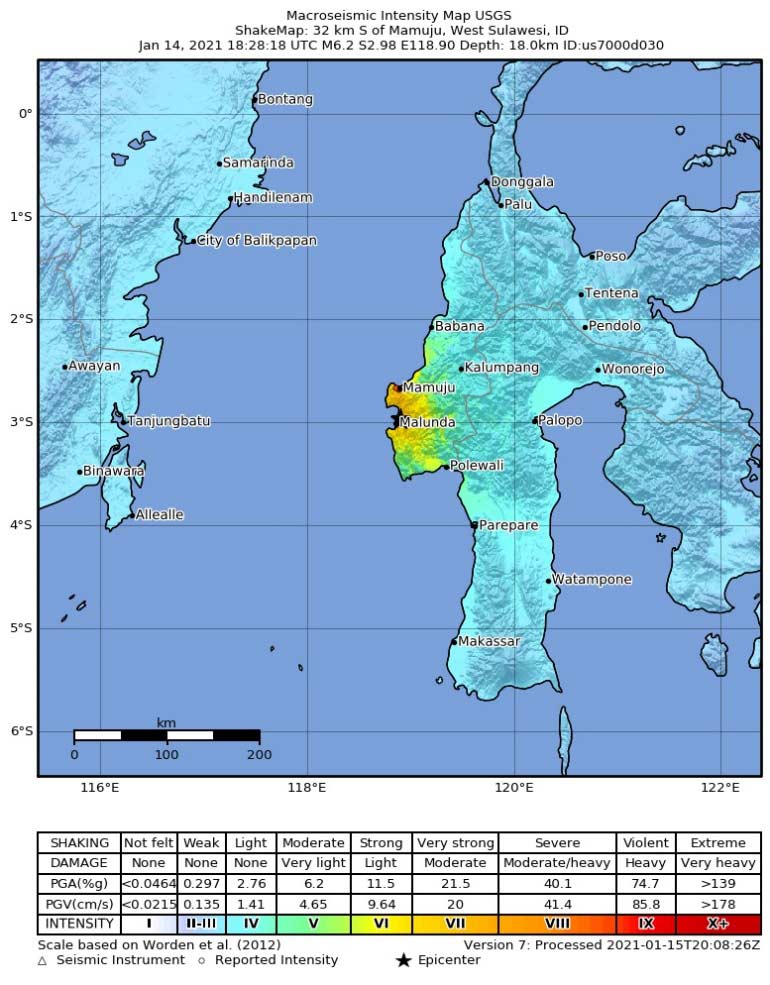 According to the search and rescue agency Basarnas, at least 78 people were killed, predominantly from Mamuju district. The country's disaster mitigation agency (BNPB) reported that more than 740 people were injured and that 27,800 were displaced. Several buildings collapsed—most notably the five-story Mitra Manakarra Hospital—and at least 400 buildings were damaged, including the governor's office in Mamuju, 27 schools, infrastructure, and other public facilities.
Twelve hours prior to the mainshock, an Mw 5.7 foreshock struck the area and caused multiple landslides and building damage in Majene. The Mw 6.2 mainshock was followed by a small number of lower intensity aftershocks—by January 17, only 32 aftershocks had been recorded. Indonesia's Meteorology, Climatology, and Geophysical Agency (BMKG) warned, however, that strong aftershocks were possible and could cause an undersea landslide that might trigger a tsunami. Fortunately, this did not happen.
Tectonic Setting and Historical Seismicity
Located in an area surrounded by numerous large active subduction zones and some of the greatest crustal faults, Indonesia is one of the most seismically active countries in the world. Eastern Indonesia lies on a complex tectonic setting, where the Australia, Sunda, Pacific, and Philippine Sea plates interact and numerous smaller microplates are developed; the motion of these microplates results in large-scale convergence rates. At the location of the West Sulawesi earthquake, the Sunda plate moves east with respect to the Banda Sea microplate at a velocity of about 21 mm per year.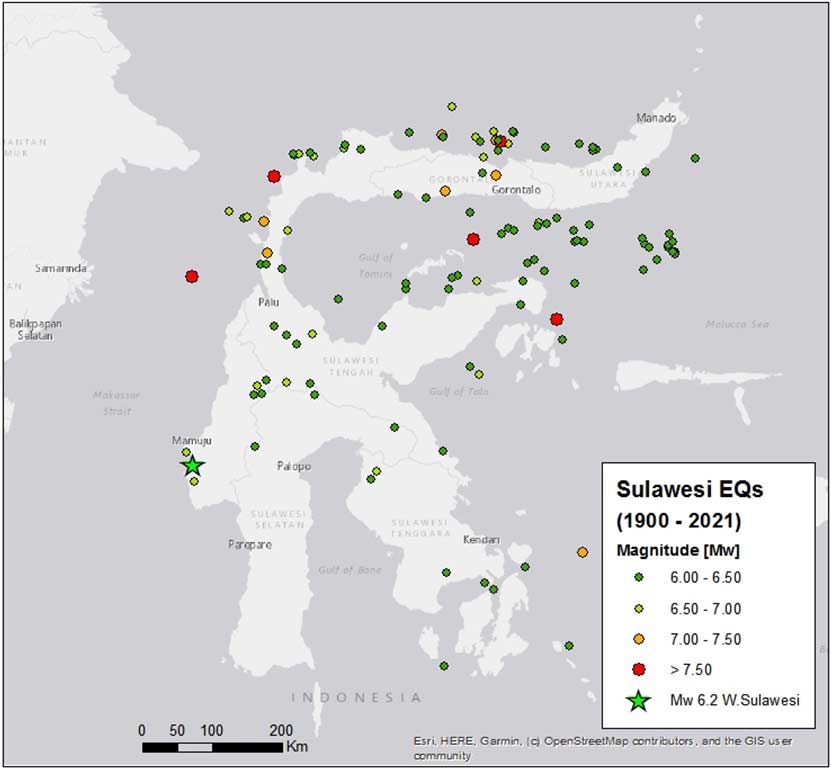 Since 1900, the island of Sulawesi has been struck by 119 earthquakes of Mw 6.0 or greater. The highest seismic activity is mainly observed in the northern and northeastern areas, but significant events have affected the entire the island. In recent years, the most destructive event was the 2018 Mw 7.5 Palu earthquake, which caused major soil liquefaction and triggered a tsunami. This temblor was responsible for the deaths of more than 4,300 people and left 10,000 or more injured.
The January 15 event was a shallow crustal earthquake at the boundary between the Sunda plate and the Banda Sea microplate at a focal depth of 18 km. The earthquake occurred along the Mamuju–Majene thrust fault, which is known to be an active seismic source that has caused several deadly earthquakes in the recent past. The most devastating event was the Mw 7.0 earthquake near Majene in 1969, which caused a massive tsunami and landslides that killed at least 64 people and damaged more than 1,200 houses. Other notable events include the 1967 Mw 6.3 earthquake in Polewali Mandar, which killed 13 people, and the 1984 Mw 6.7 earthquake in Mamuju, which caused significant damage but no casualties.
Historical earthquake records have shown that moderate to high intensity events are not uncommon in this part of the world, some of which can trigger locally devastating tsunamis as well as landslides and liquefaction. The damage and loss of life in Indonesia from this recent earthquake serve as a stark reminder of this region's potential for major earthquakes.

​ Read the AIR Current article "Java Subduction Zone Earthquake: The Worst Is Yet to Come?"