With another Atlantic hurricane season about to start, it is time to consider how we can better prepare for the next landfall. Strong building codes and effective building code enforcement are, as always, an important part of the story. Equally important are the practical steps that individual homes and businesses can take to reduce their risk.
May was the International Code Council (ICC)'s 40th Annual Building Safety Month, and earlier this year ICC contributed to ISO®'s updated National Building Code Assessment Report. This report provides a history of building code development and details how ISO's Building Code Effectiveness Grading Schedule (BCEGS®) program works to support community resilience by assessing building code adoption and enforcement at the local level. The report includes research demonstrating how communities that adopt and enforce strict codes sustain fewer and less severe financial losses. Expert commentary, data, and hazard maps from AIR are highlighted in the report.
Lessons learned from historical events are an important factor in driving improvements in building practices. Recent storms such as Hurricane Michael in 2018 and Hurricane Dorian in 2019 were both "design events", i.e., events with wind speeds at or above the wind load provisions for the applicable codes, and as a result they provided clear examples of which design and construction techniques were effective, and which were not.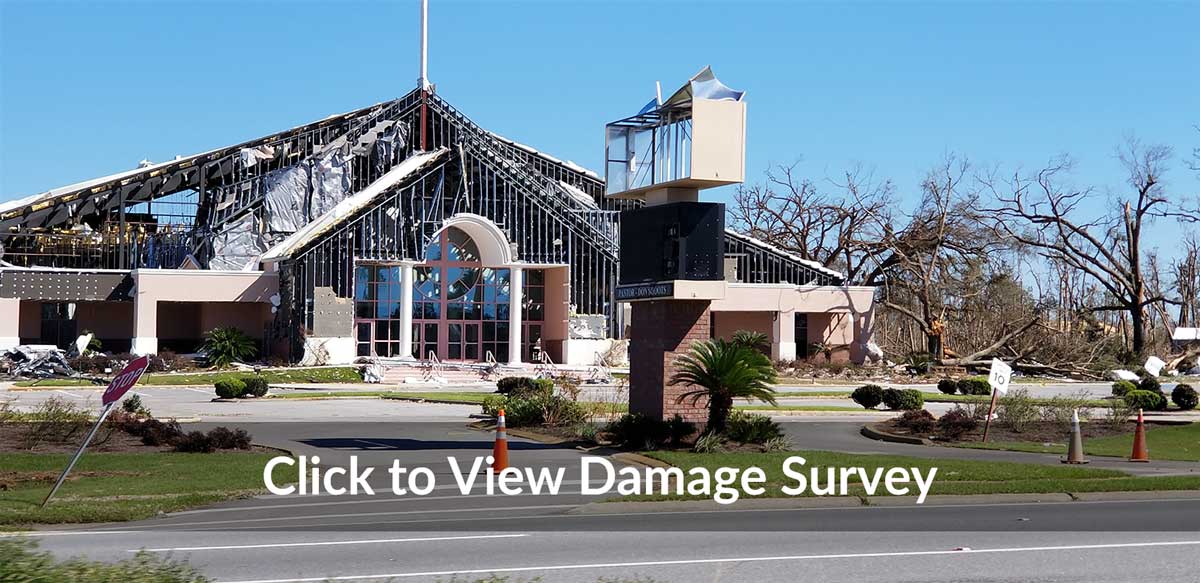 Damage surveys conducted by AIR and other organizations detailed numerous issues, many of which relate to protecting the building envelope from wind and water damage. Post-event damage surveys not only confirm but also enhance our understanding of how buildings behave during extreme events, and organizations such as FEMA can use this information to develop resources to improve the codes and help building professionals retrofit for future events.
How can individual homes and businesses make use of this information?
There are many practical steps individuals can take, building upon the basic concepts used by professionals to protect the building envelope from wind and water damage. Fortunately, there are excellent organizations dedicated to resilience and disaster safety and many resources are available.
The Insurance Institute for Business and Home Safety (IBHS), for example, has multiple resources available, including practical guidance across a range of perils and expert commentary on hurricane preparedness. One of the practical tips for reducing wind damage, for example, is reducing the likelihood of wind-borne debris by trimming tree branches and securing loose objects. Wind-borne debris can damage windows and doors, compromising the building envelope and potentially leading to structural damage.
In addition, the Federal Alliance for Safe Homes (FLASH) is the leading advocate for strengthening homes and safeguarding families from natural and man-made disasters. The FLASH HurricaneStrong initiative includes a multi-pronged approach for hurricane preparedness, from evacuation and disaster supplies to insurance checkups and damage prevention. Recommendations include general guidance, for example ensuring all doors and windows are properly caulked and/or weather stripped to reduce potential water intrusion, as well as specific project examples for strengthening roofs and making landscapes hurricane-resistant.
Strengthening building codes and their enforcement is an ongoing process, but one that helps make our communities more resilient. With the help of organizations like IBHS and FLASH, individuals can improve their resilience as well.

"How the Sand Palace Survived Hurricane Michael", a blog on quantifying mitigating features