Forget The Wizard of Oz. Tornadoes don't really pick up whole houses and deposit them neatly elsewhere in one piece. They are extremely violent phenomena that can bring winds of more than 200 mph and are some of the most destructive forces in nature. While fully capable of lifting automobiles a few feet off the ground and dumping them nearby, they can tear structures to pieces and scatter debris for miles. In addition to extensive property damage, they cause an average of 70 deaths and 1,500 injuries per year in the U.S. alone.
A tornado is a rapidly rotating column of air spawned by a severe thunderstorm, connected to the base of the thunderstorm, and in contact with the ground. While tornadoes can occur almost anywhere and at almost any time, they are heavily concentrated in specific months and regions (warmer months and the Central, Midwest, and Southeast U.S.). Due to its geography, the U.S. has the most tornado development of any country, with approximately 1,200 occurring each year.
Although May is the top month in the U.S. for tornado touchdowns—with an average of 276 for the 20-year period of 1996–2015—March sees 76, slightly more than the 72 and 71 tornadoes that touch down on average in August and September, respectively. March generally marks the point in the year when the number of tornadoes begins to rise, and it has seen some particularly destructive events.
March Mayhem
The deadliest U.S. tornado ever—the Tri-State Tornado—which killed 695 people in Missouri, Illinois, and Indiana, occurred on March 18, 1925, for example. And on March 14, 2008, the first tornado recorded in Atlanta, Georgia, since record-keeping began in the 1880s touched down in the city's center. The Atlanta tornado, an EF-2, was 200 yards wide and tore a path 6 miles long, causing widespread damage in Atlanta's commercial district, including the CNN Center and the Georgia Dome. East of Atlanta's center, an auto parts warehouse collapsed and a Georgia State University dormitory was seriously damaged. Numerous cars were overturned, windows were blown out, and buildings flooded during the storm. The tornado continued into the residential neighborhood of Cabbagetown, where the top floor of an old industrial building collapsed. Numerous single-family, wood-frame houses in the neighborhood sustained heavy damage from overturned trees.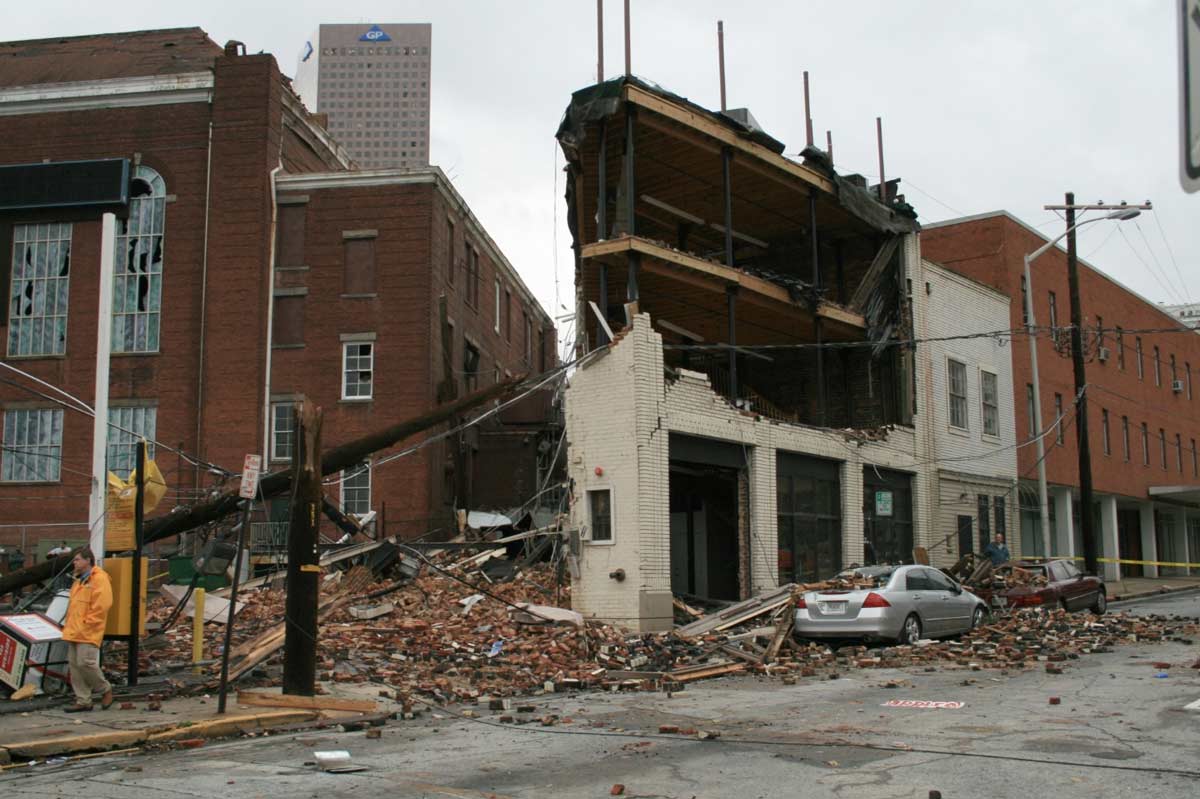 Just a couple of weeks ago, on March 3, 2020, 24 people were killed and hundreds of buildings were destroyed during an outbreak in Tennessee. Initial surveys reported by the National Weather Service indicated EF-3 tornado damage in East Nashville, Nashville's Donelson neighborhood, and Mount Juliet about 20 miles east of Nashville. The National Weather Service office in Nashville rated one of these, the Putnam County tornado, an EF-4, with top winds of 175 mph.
Wind and Airborne-Debris
Most tornadoes touch down in wide open rural areas where they do little harm. Built-up urban neighborhoods are smaller targets for tornadoes to strike, but when they do hit one they can cause major damage, as we saw recently in Tennessee. Exposure to their extreme winds and impact from airborne-debris are the two principal ways in which tornadoes inflict damage. In an urban location there can be both a great deal of debris flying around and a large number of structures in the vicinity to be struck by it. Occasionally tornadoes touch down in parts of a major city, where the potential for damage is even greater. As well as Atlanta, tornadoes hit parts of Omaha, Nebraska, on May 6, 1975, Oklahoma City, Oklahoma, on May 3, 1999, and Birmingham, Alabama, on April 27, 2011, for example, causing significant destruction.
To learn more about tornadoes, read some of our previous blogs and view our event impact surveys:

Learn more about the U.S. Severe Thunderstorm Model for the United States