Large-scale crop insurance covering multiple states has been available in India for more than three decades, but overall penetration in terms of gross cropped area is only around 30-35%, according to The Economic Times—far below the planned target of 50%. The Indian government recently proposed changes to Pradhan Mantri Fasal Bima Yojna (PMFBY), its flagship crop insurance program, to address challenges in its implementation.
The issues with PMFBY—a multistakeholder program involving farmers, insurers, banks, state governments, and the central government—were highlighted in a 2017 report. Changes have been proposed to make the program more beneficial to farmers, but this will be the second round of reforms to PMFBY in four years and it is difficult for the program's implementers to make organizational and operational changes so frequently. Among the many changes proposed, we assessed the key seven and their likely impacts
1. Enrollment to Be Voluntary for All Farmers
Although the intention is to make the scheme more farmer-friendly by making it voluntary, there may be unintended consequences. Figure 1 shows the PMFBY Kharif farmers enrolled vs. national average premium rates. While premium rates depend on many factors, further reductions in enrolment could lead to rate increases.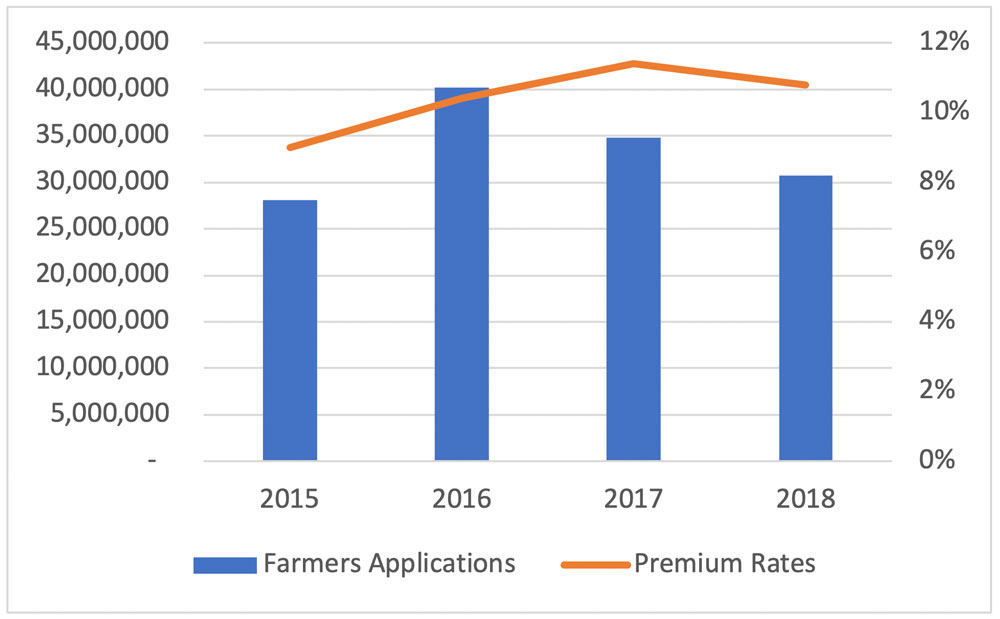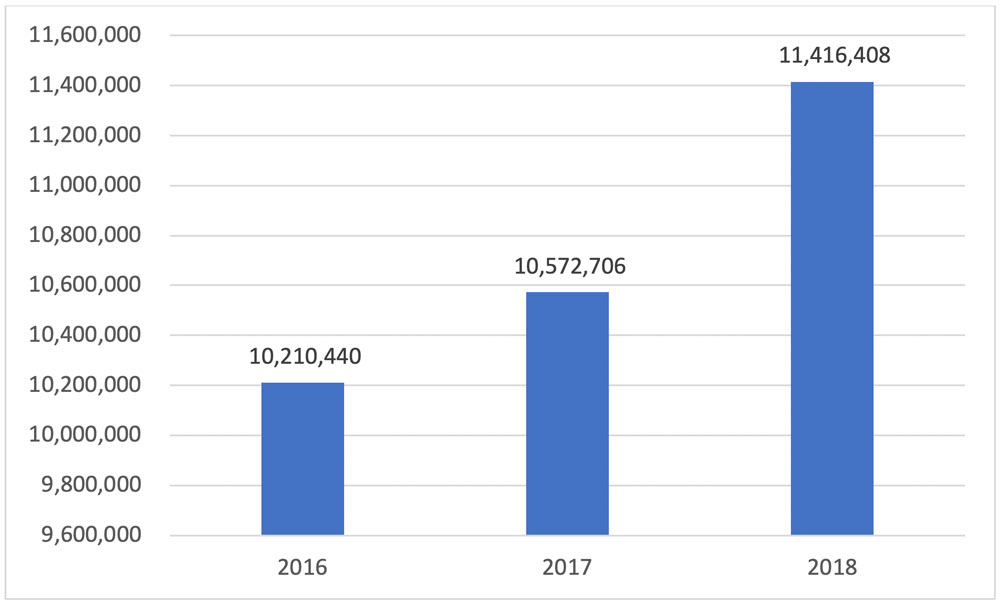 Given that the program is to be voluntary, there is bound to be a reduction in the number of farmers enrolled in the next few seasons. Based on the 2019 data currently available at the PMFBY website, only 37% of those enrolled are non-loanee farmers (farmers with no loans from financial institutions). The number of non-loanee farmers enrolled has been increasing (Figure 2) but it would take substantial marketing efforts to ensure that a high number of the existing loanee farmers are retained, as many with assured irrigation facilities may withdraw.
Given the increased basis risk, there is a high chance that premiums will increase; this would affect state exchequers, as the central government has capped their subsidy limit. States with a higher percentage of non-loanee farmers might reduce the sum insured if the burden increases for them, which in turn would not be beneficial for farmers taking insurance.
2. Allocation of Business to Insurance Companies for Three Years
This proposed change would be beneficial for all stakeholders. Rather than annually, the insurance companies' offices at district level could be leased and maintained for 3-year periods and marketing costs could be spread out over three years instead of one. Farmers will not need to worry about changing their insurer every year to follow up for registration or claim settlement. Since the program is now to be voluntary, service delivery will be the key for insurers to generate interest among farmers.
3. Central Subsidy to Be Limited
The subsidy would be limited for premium rates up to 30% for unirrigated areas/crops and 25% for irrigated areas/crops. Districts having 50% or more irrigated area will be considered as irrigated areas/districts. Previously central government and states shared the subsidy on an equal basis. Now the central government has capped the limit at 30%. The objectives of increasing farmer's coverage and capping the subsidy premium do not align.
With an expected increase in premium rates and reduction in central subsidy, the states might take measures to reduce their subsidy burdens. During the last two years there has been a focus on increasing non-loanee farmer enrolment, but states with higher numbers of non-loanee farmers are likely to be disincentivized by this measure.
The budget for PMFBY has grown little in the last two years, while funding for a new program— Pradhan Mantri Kisan Samman Nidhi (PM-KISAN,)—has increased significantly from Rs 20,000 crore in 2018-19 to Rs 75,000 crore in 2019-20. Making PMFBY voluntary and restricting the central government contribution will pave the way for extra subsidy for PM-KISAN.
4. Flexibility to Implement the Program with Additional Risk Covers/Features
The additional risk covers and features States and Union Territories may implement include prevented sowing, localized calamity, mid-season adversity, and post-harvest losses. In addition, specific single peril risk/insurance covers, such as hailstorm, may be offered under PMFBY even with or without opting for base cover. It isn't clear whether subsidies would be provided for additional cover or if this will be clarified in new policy guidelines.
This change should benefit farmers as single cover premiums might be reduced. Given the gaps in farmers' understanding of the existing program, however, there could be further confusion with respect to perils covered. It is important that rural and co-operative banks understand the program and its additional peril coverage. The next one or two seasons may lead to confusion, litigation, and a surge in complaints lodged for localized calamities. Reductions in coverage combined with increased complaints may prove operationally challenging for insurance companies.
5. States to Be Prohibited from Implementing the Program Following Considerable Delays in Releasing Premium Subsidy to Insurance Companies
A "considerable delay" in states releasing the requisite premium subsidy to concerned insurance companies beyond a prescribed time limit will result in those states being prohibited from implementing the program. Cut-off dates for invoking this provision for Kharif and Rabi seasons will be March 31 and September 30 of successive years.
If a state delays in two consecutive years and is not allowed to implement the program, it is not clear what alternate insurance mechanisms would be available. The definition of "considerable delay" will have to be made clear in policy guidelines.
6. Two-Step Process to Be Adopted for Estimation of Crop Losses/Admissible Claims
The two-step process would be adopted based on a defined deviation matrix using specific triggers such as weather or satellite indicators for each area along with normal ranges and deviation ranges. Only areas with deviations will be subject to Crop Cutting Experiments (CCEs) for the assessment of yield loss.
There have been substantial improvements in yield assessment using satellite imagery and other scientific methods, but CCEs are still the best way to access yields. According to The Economic Times, India has insufficient weather stations to access these indicators at granular level. We will have to wait for policy details for clarification.
7. Central Government Share in Premium Subsidy to Be Increased for Northeastern States.
Arunachal Pradesh, Nagaland, Manipur, and Mizoram were not previously covered under the program and the central government wants to better support these states by increasing the subsidy from 50% to 90%. However, no incentive has been given to insurance companies to work in these states where administrative costs are high.
More Details Needed
When such major changes are proposed, it is important that all stakeholders in the program are given sufficient information about the proposals. With detailed policy yet to be released, however, implementing the changes might create confusion among stakeholders, particularly banks and farmers. Excellent service delivery sustained throughout their three-year allocation of business will likely be key to insurers ensuring high enrolment from farmers.

For more information, read "Current Crop Risk in India: How Can It Be Managed Effectively?"