The 2019 Pacific typhoon season was the costliest ever recorded. It was an above-average year with a grand total of 29 named storms, 17 typhoons, and four super typhoons. The season's activity started right out of the gate when Pabuk, the first named storm of the year, attained tropical storm status on January 1 to become the earliest-forming western Pacific tropical storm on record. The activity continued to the final days of the year when Phanfone, the final named storm of the season, dissipated on December 29.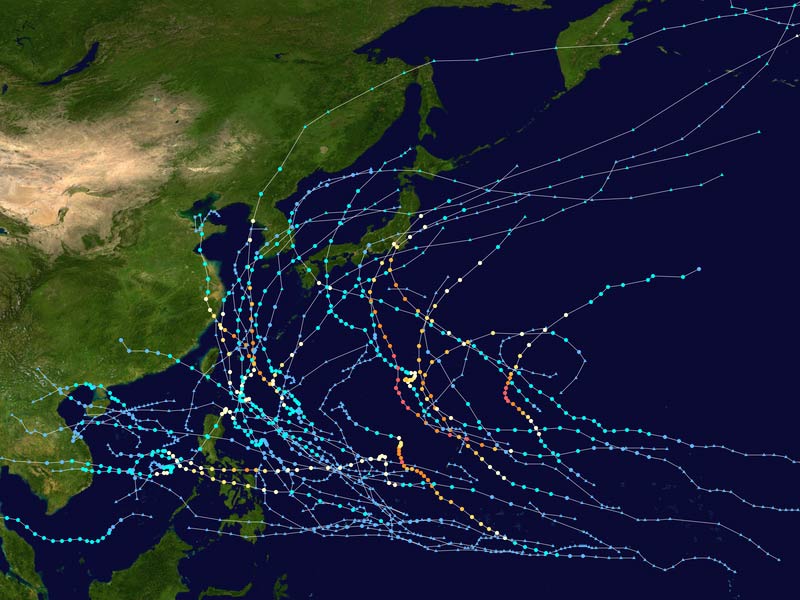 Despite the large number of named storms, most of the losses arising from the 2019 Pacific typhoon season were associated with just four: Typhoons Lekima, Faxai, Mitag, and Hagibis. In 2019 the Philippine Area of Responsibility (PAR) experienced 17 typhoons, the costliest of which was the year's penultimate Pacific tropical cyclone, Typhoon Kammuri, which was known locally as Tisoy. (The PAR is an area in the Northwestern Pacific where PAGASA, the Philippines' national meteorological agency, monitors weather occurrences; tropical cyclones that enter or develop in the PAR are given Philippine-specific names.) An average of 20 typhoons are experienced each year in the PAR, six of which typically make landfall with another four passing by closely enough to cause loss. Most of these landfalls and bypassing storms occur along the relatively unpopulated eastern coast and because of weak steering currents, tend to move slowly. As a result, heavy precipitation and flooding are common.
Kammuri made landfall near Gubat in Sorsogon Province, Philippines, on December 2 soon after reaching its peak intensity as a Category 4-equivalent typhoon. It whipped across Bicol Region with wind speeds of about 195 km/h and then weakened as it moved onshore. Three more landfalls followed in Burias, Marinduque, and Mindoro islands, respectively, before the system exited the country on December 4 as a Category 2-equivalent typhoon.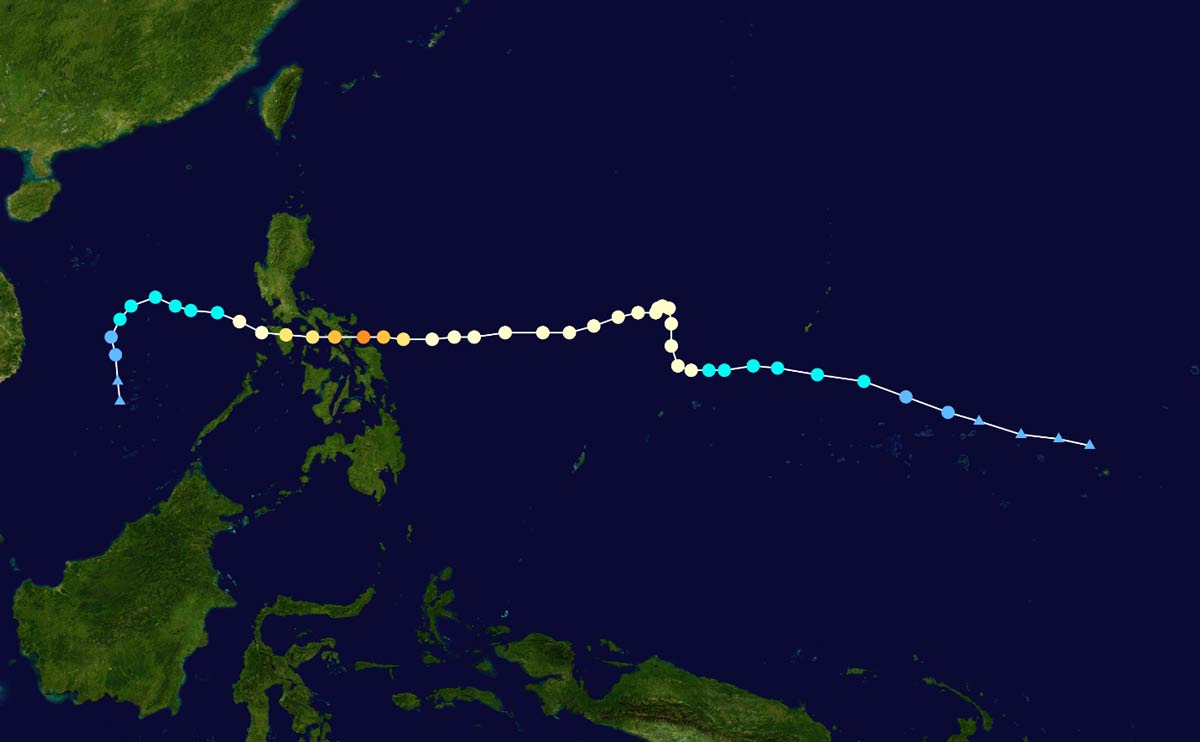 Prior to the storm's arrival, more than 130,000 people were evacuated. The areas mostly affected—Bicol, Calabarzon, Mimaropa, eastern Central Luzon, and Cagayan—experienced heavy rain and powerful winds causing massive damage to infrastructure and agriculture. The storm was responsible for power outages, travel disruption, extensive building damage, and many casualties. In addition, the typhoon's passage caused many outdoor events at the Southeast Asian Games, which were being held in the Philippines at the time, to be rescheduled or canceled.
According to a report issued by the Philippines government in December 2019, damage to crops and agriculture from Kammuri was estimated to be PHP 5.9 billion (USD 116 million). More than 68,000 houses, schools, and other structures were reported destroyed and at least 463,000 were damaged. Because damage exceeded PHP 1 billion PAGASA decommissioned the name Tisoy from its naming lists.
Kammuri's eye passed only about 75 miles (120 km) south of Manila, and for a while it looked as though it was going to make a direct hit. The 16 cities within the Metro Manila area form the most densely populated region of the Philippines and contain approximately 70% of the insurable property in the country. Losses could be significant if a typhoon were to hit this region directly, as they do from time to time. The most devastating to strike the area in recent years was Typhoon Ketsana in 2009, which caused about USD 1.09 billion in damage, mostly from widespread and heavy flooding.
Kammuri made landfall in the Philippines as a Category 4-equivalent typhoon. A recent AIR analysis of modeled Kammuri-like storms passing directly through the Metro Manila area confirmed that even a Category 3-equivalent typhoon could have a catastrophic impact when tracking through a high exposure area such as this.
The occurrence of Kammuri coincided with the recent World Bank cat bond issuance that secures risk transfer and disaster insurance protection for the Philippines—the first of its kind in Asia. The Philippines cat bonds are important first steps toward safeguarding post-disaster financing to developing economies, but more needs to be done to close the Global Protection Gap. In Asia as a whole, only 9% of insurable losses are insured, highlighting an opportunity and a responsibility for the insurance industry to act.

Measuring the Global Insurance Gap: View the infographic