Catastrophe models have decisively contributed to overcoming the limitations of standard actuarial techniques and the historical loss record they rely upon; their use is standard practice in the property insurance and reinsurance industries. Catastrophe modeling is also being increasingly adopted by other segments within this sphere, such as casualty insurers and reinsurers.
In a wider context, catastrophe modeling can also contribute to a more resilient society in many ways. In recent years, for example, there has been a focus on new ways for public and private sectors to collaborate on the humanity of risk. Government and non-governmental organizations (NGOs) are involved in disaster risk management (be that through response, mitigation, preparedness and/or financing) and are increasingly seeking the use of catastrophe models to inform their decisions.
This post focuses on the topic of transboundary disaster response and preparedness, and AIR's contribution to the IN-PREP project – a 2017 to 2020 initiative that brings together 20 European institutions under the guidance and sponsorship of the European Commission and its Horizon 2020 framework.
What Is IN-PREP?
IN-PREP focuses on the collaborative response planning and communication between different agencies involved in transboundary crisis management in Europe. Effective disaster response and preparedness relies on an accurate and expeditious response to rapidly changing scenarios. However, research has shown that response can be hampered by a lack of appropriate communication between agencies during crises, stemming from barriers between organizations in terms of interoperability, organizational culture, and lack of common tools.
IN-PREP's objective is to create a platform—the Mixed Reality Preparedness Platform (MRPP)—to facilitate the vital exchange and flow of information across transboundary emergency response agencies during crises. The MRPP will facilitate interoperability through decision support mechanisms and the integration of situational awareness capabilities with real-time information.
MRPP will ultimately allow for crisis practitioners and first responders from different agencies to train and plan collaboratively for future events by sharing response planning across borders and agencies securely, as well as communicating relevant information and coordinating critical resources in real time.
Since IN-PREP's inception, the MRPP has been continuously tested and improved through disaster preparedness activities that test hypothetical crisis scenarios and evaluate the IN-PREP system in the context of participants' readiness to respond and their ability to work together.
This training program is tailored to first responder and civil protection agencies and offers an opportunity for realistic training in joint operational situations. Each of the exercises (Table 1) takes participants through the process of dealing with a simulated disaster scenario. Participants provide solutions to problems in real time as they arise and change, with information reaching and flowing across the different agencies through the IN-PREP system.
Table 1. MRPP training exercises. (Source: AIR)
Type
Hypothetical Scenario
Location
Date
Table-Top Exercise (TTX)1
Industrial accident resulting in the release of dangerous quantities of chlorine
Spoleto, Italy
November 2018
TTX
Emergency evacuation of a cruise ship
Savona, Italy
June 2019
TTX
Flood event caused by levee failure
Zwolle, Netherlands
October 2019
Demonstration (Demo)2
Terrorist attack
Confidential
Confidential
Demo
Earthquake followed by cascading infrastructure failure
Savona, Italy
February 2020
Demo
Forest fire during a refugee crisis
Rhodes, Greece
April 2020

1A table-top exercise will take participants through the process of dealing with a simulated disaster scenario, testing their emergency plan in an informal, low-stress environment
2A demonstration involves full-scale deployment of all levels and ranks of participants from many agencies. It is a high stress and labor-intensive exercise involving actors in realistic role-play. It provides real-world conditions and role-playing for all participants
AIR's Contribution to IN-PREP
At each training session, the participants' feedback is used to improve the MRPP to better serve the IN-PREP system. The more realistic the scenario, the better the opportunities for learning and improving. AIR catastrophe models help inform the definition of the different scenarios in terms of their location, size, severity, and associated likelihood. More importantly, AIR's terrorism, flood, earthquake, and wildfire risk modeling capabilities are used to ensure that the participants in the training exercises have access to state-of-the-art risk assessment capabilities and results.
AIR's human impact and damage results (Figure 1) are made available to participants in real time, at different stages of the hypothetical scenarios, through the IN-PREP MRPP. These can decisively contribute to: identifying mitigation and preparedness needs, improving emergency response plans, improving the effectiveness of collaborative practice for unexpected situations, and ultimately contributing to better informed decisions.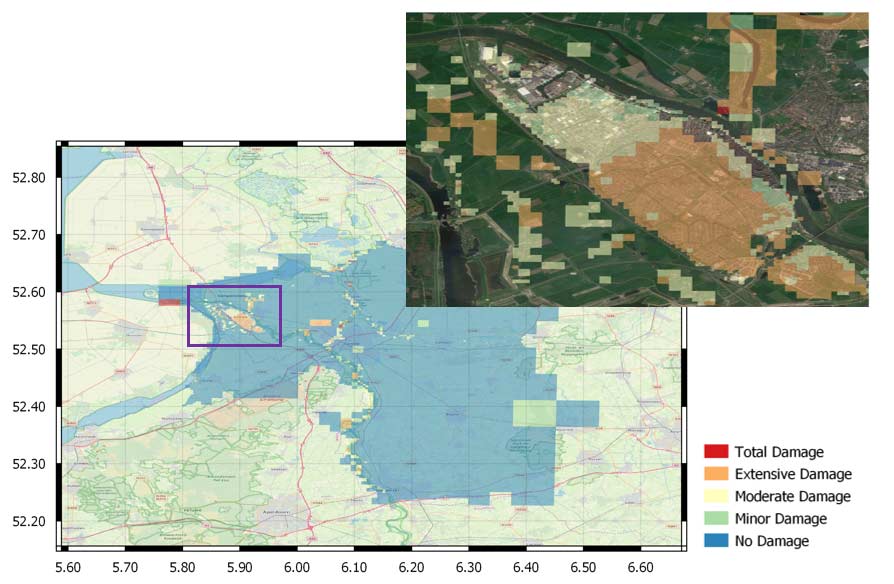 AIR is dedicated to helping both developed and developing countries manage the burden of natural catastrophe risk. As a business, we strive to help society better prepare for catastrophes and their aftermath and continue to work with public and private partners globally toward this goal. Catastrophe models are powerful tools that can be used in many ways to make residents, businesses, and communities more resilient.

Schedule a consultation with the AIR Global Resilience Practice