We hear a lot about hurricanes in the Caribbean, but a lesser known risk is from earthquakes. Last week's quakes in Puerto Rico and the massive Haiti earthquake 10 years ago, however, are reminders that the risk is real. Large historical events dating as far back as 1502 reveal that seismic events have caused extreme devastation in some of these island countries. In 1907, for example, nearly 85% of the buildings in Kingston, Jamaica, were reportedly destroyed by an Mw 6.8 earthquake and many others were damaged. The quake killed 800-1,000 people and triggered a tsunami with wave heights up to 8 ft in Kingston.
More recently a Mw 7.0 earthquake occurred on the eastern segment of the same fault system that devastated Haiti exactly 10 years ago yesterday. The earthquake struck at 16:53 local time (21:53 UTC) on January 12, 2010, at a focal depth of 13 km. It occurred as a combination of reverse and left-lateral strike-slip faulting on the Enriquillo-Plantain Garden fault system and was the most severe earthquake to strike the country in more than 200 years.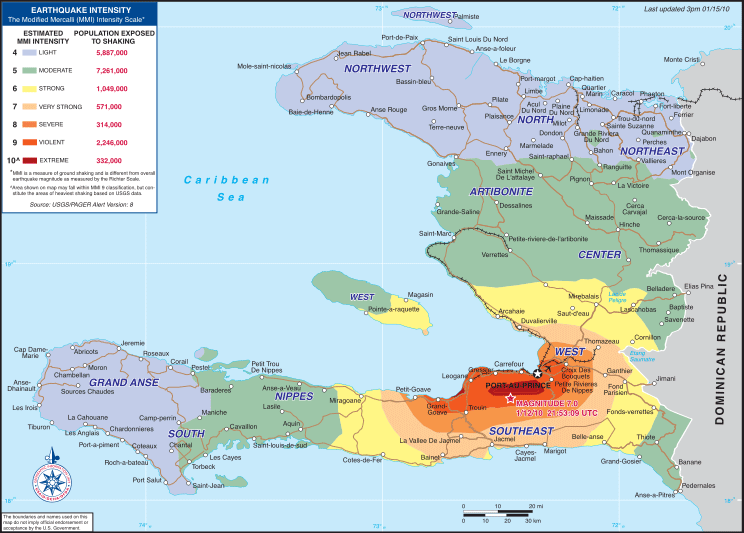 The earthquake's epicenter was located just 25 km (16 miles) west of Haiti's capital, Port-au-Prince, near the town of Léogâne; both communities were devastated. Haiti is the third largest and the second-most populous country in the Caribbean and at least a third of its inhabitants live in Port-au-Prince or its surrounding metropolitan area.
The level of ground shaking that was experienced during this event can cause moderate to severe damage even to earthquake-resistant structures, but prior to the 2010 Haiti earthquake there were no building codes and construction standards were very low. Houses were often raised where they could fit and the residential neighborhoods in the hills above Port-au-Prince included rapidly expanding areas of shanties built, often with no foundations, on slopes.
The poor local construction practices along with the quake's shallow depth and proximity to large population centers underlain by soft soil contributed to a devastating outcome. At least 100-160,000 people lost their lives; 250,000 residences and 30,000 commercial structures collapsed or were severely damaged. Many noteworthy buildings including the Presidential Plaza, the Port-au-Prince Cathedral, the luxurious Hotel Montana, the National Assembly, and the United Nations Stabilization Mission in Haiti were either significantly damaged or destroyed entirely. Although building codes have been introduced since the 2010 earthquake, these codes are poorly enforced and adherence to them is low.
Haiti is the poorest nation in the Western Hemisphere. Massive foreign aid was promised, but recovery was further hindered by a cholera epidemic, a three-year drought, and additional destruction from Hurricanes Sandy and Matthew in 2012 and 2016, respectively. Haiti has still not recovered.
Tsunami and Liquefaction
While shake poses the largest risk from earthquakes in the Caribbean, it is important to note two sub-perils relevant to this region—tsunami and liquefaction. Many historical observations recount the impacts from tsunami and liquefaction damage, both of which, for example, caused substantial damage to Jamaica's Port Royal in 1692. On that occasion about 33 acres—roughly half of the city—was submerged under 40 feet of water from a local tsunami. There was extensive liquefaction damage and about 2,000 people died in the quake and the following tsunami; many more died afterward from injuries and disease.
The Caribbean is an active and complex seismic region primarily situated between the North American and South American tectonic plates. The updated AIR Earthquake Model for the Caribbean, anticipated for release this summer, will provide the most up-to-date information to support earthquake risk mitigation strategies in the region.

Read "The 2010 Haiti Earthquake: From Devastation to a Deeper Understanding of Caribbean Seismicity"