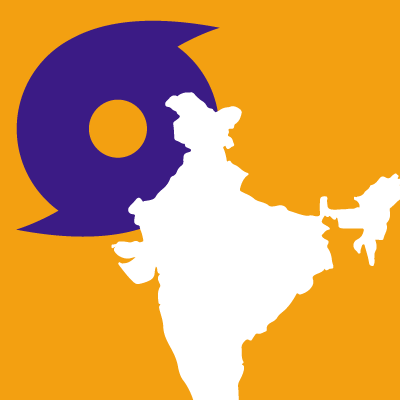 Tropical Cyclone Fani (pronounced "Foni"), made landfall on the coast of Odisha state around 9:30 a.m. local time on Friday, May 3. This huge and powerful storm came ashore 255 miles (411 km) southwest of Kolkata with sustained winds of nearly 125 mph, categorized by the India Meteorological Department as an Extremely Severe Cyclonic Storm—the equivalent of a strong Category 3 hurricane on the Saffir-Simpson scale. In terms of wind speed it was the strongest April storm to strike Odisha state.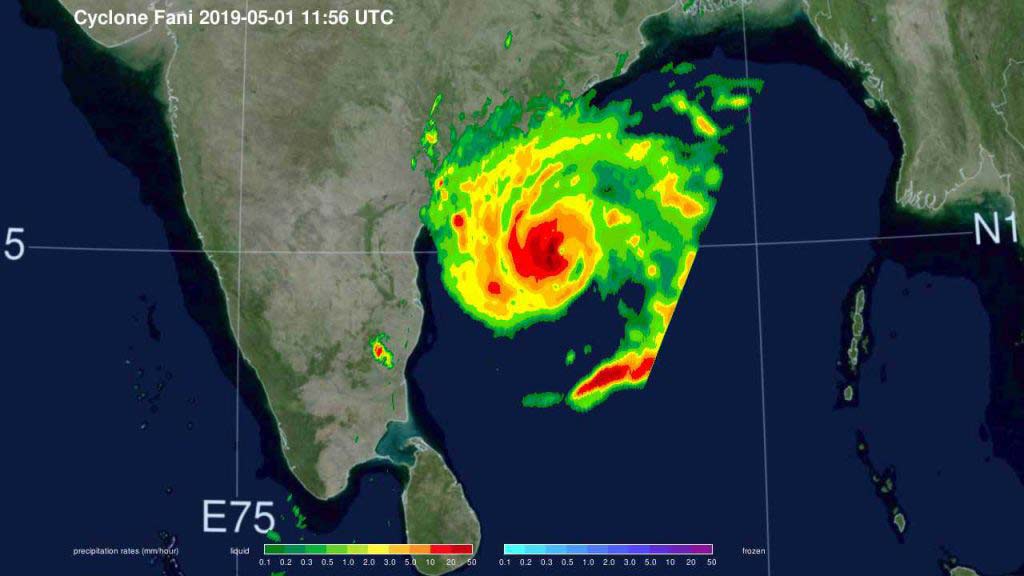 A storm surge of 1.5 meters was reported in some areas. In addition, Fani delivered soaking rain to the region; NASA recorded up to 2 inches (50 mm) per hour in the western quadrant of the storm. By Friday evening the storm had weakened slightly and was moving north-northeast toward the state of West Bengal and Bangladesh. Wind seems to have been responsible for most damage, rather than flooding, although low-lying and coastal areas experienced inundation.
About 1.4 billion people in South Asia, 81% of the region's population, are acutely exposed to at least one type of natural hazard and live in areas considered to have insufficient resources to cope with and rebound from an extreme event. According to the United Nations, 28 million people live in the path of Fani. Fortunately, Indian authorities were able to evacuate 1.2 million people from high-risk areas ahead of the storm's arrival, and the death toll was comparatively low. In Odisha, 38 people lost their lives. The Orissa super cyclone of 1999, for which no such mass evacuation was prepared for, killed more than 10,000.
Fani was responsible for extensive wind damage to houses, older buildings, temporary shops, gas stations, and airport and railways stations in the city of Puri, within 50 miles of landfall, where 25 fatalities were registered. Power and telecommunications outages occurred throughout the area and restoration may take up to a week. Flights were suspended ahead of and during the storm, but road and rail traffic will likely be impacted for some time after. In Bhubaneswar, near Puri, most of the area's thatched mud brick homes have reportedly been destroyed. The 12th century Jagannath temple in Puri and the nearby "Kalpabata" tree, which holds religious significance, sustained minor damage. Coastal flooding has occurred in Bangladesh, and weather impacts extended as far as Mount Everest in Nepal, where climbers withdrew to lower level camps. 
Prime Target
India is one of the five countries most frequently hit by natural disasters and its location places it at risk for tropical cyclones. Compared with other regions of the Indian Ocean, however, the North Indian Ocean basin has a relatively low level of tropical cyclone activity. Nevertheless, about five tropical cyclones occur there annually, one or two of which are likely become major storms. This tropical cyclone activity peaks before the monsoon season (in May and June) and again post-monsoon (in October and November).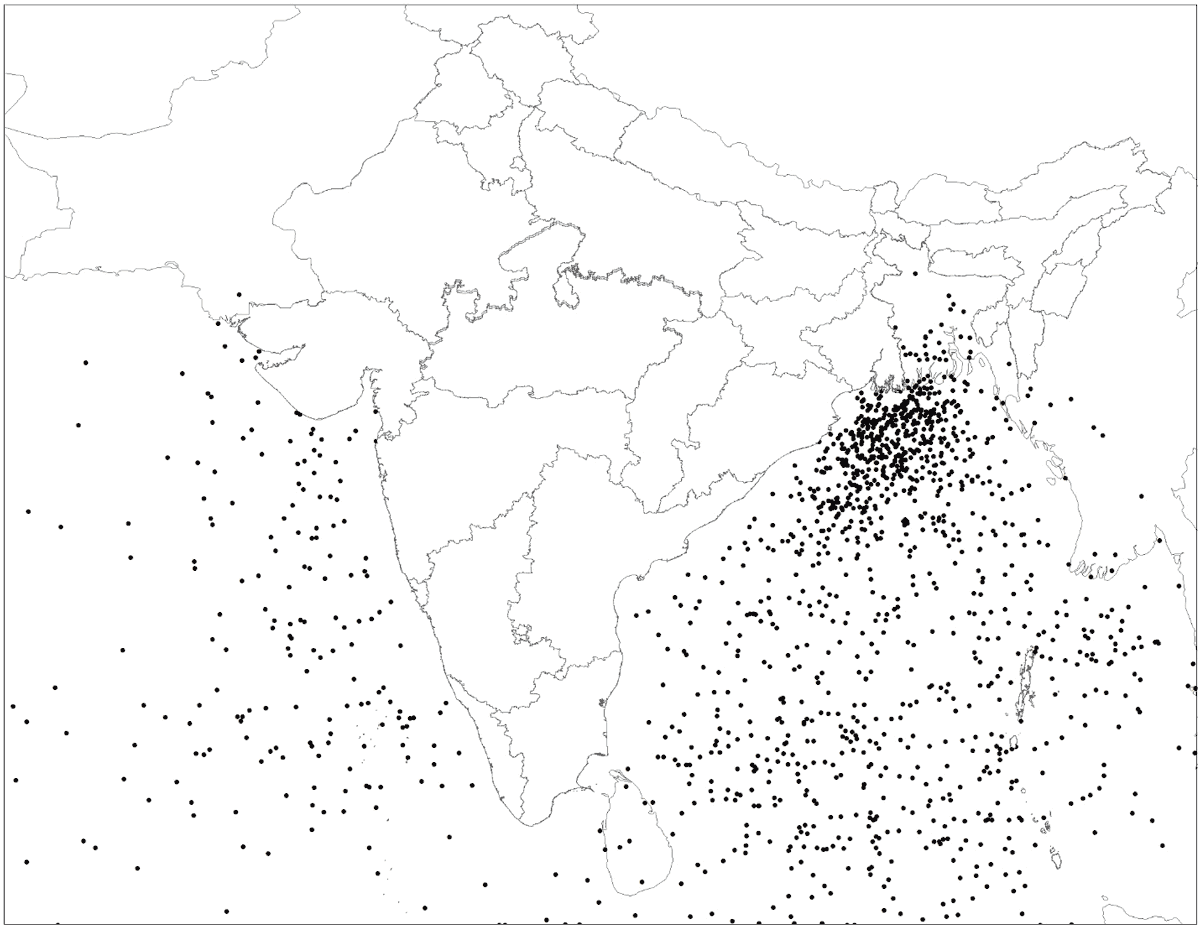 Tropical cyclones are four times more likely to develop in the Bay of Bengal than the Arabian Sea on the west side of the subcontinent. This is due to the higher average sea surface temperatures of the Bay of Bengal and because it is closer to the Northwest Pacific basin and can contain disturbances that have formed in the Pacific Ocean basins. In addition, the upper level winds that steer cyclones move in an east to west direction in the Northern Hemisphere, and generally steer storm systems toward the east coast of India and away from the west coast.
The regions vulnerable to tropical cyclone damage are primarily those near the coast below the 27° latitude, some of which have a high population density relative interior parts of the country and contain major cities. Among these are Odisha and Andhra Pradesh states, where several cities have incurred damage from at least one major tropical cyclone in the last two decades. While Indian cities contain a higher number of buildings that can be affected by a storm, they tend to be better engineered than those in rural areas.
In the last three decades the region has experienced several damaging tropical cyclones, including:
Fortunately, the region's resilience is improving as pre-cyclone evacuations become more efficient and modern urban buildings employ more durable construction types, such as confined masonry and reinforced concrete. While unreinforced masonry is still pervasive throughout rural India in low- and mid-rise residential and commercial structures, modern urban buildings incorporate advanced features in their design and are subject to enhanced construction practices and stricter code enforcement. This is particularly true of new high-rise buildings, which are generally made of reinforced concrete. Insurance penetration in the state of Odisha, however, remains low and low insured losses are expected from Fani.
Read the white paper "After Phailin: Understanding Cyclone Risk In India" for a quantification of potential losses had Phailin made landfall at different locations on India's east and west coasts.