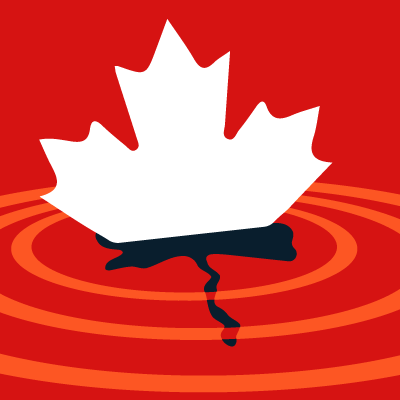 For the third time in as many years, Canada is experiencing major flooding. The most seriously impacted areas are in the provinces of Ontario and Quebec, but parts of New Brunswick are also affected. Floods are the most common natural hazard facing the country and one of the costliest, according to Public Safety Canada. Major flooding was experienced in Quebec as recently as 2017. Then, as now, heavy rainfall coincided with rapid snowmelt to overwhelm watercourses.
Ontario is experiencing major flooding along the Ottawa River, which has now peaked with levels higher than those experienced in 2017. In some parts of the river such as Lac Coulonge, Arnprior, and Ottawa, records have been broken; a state of emergency has been declared in Ottawa. The Ottawa River Regulation Planning Board has reported that reservoirs in the northern part of the watershed being used to store runoff and minimize flooding downstream, have been filling rapidly. Further rainfall, which the soaked ground has limited capacity to absorb, is expected this week.
For Quebec the current flooding started to develop on April 19 as rivers and lakes began to overflow. The failure of a barrier protecting Sainte-Marthe-sur-le-Lac, a suburb west of Montreal, led to water up to 1.5 meters (5 feet) deep surging through the area. By the end of April 9,500 people across the province had been evacuated from their homes. According to the provincial government at least 11 locations in Quebec have rivers at major flood stage and more than 6,400 residential structures are estimated to have been flooded, but more damage may be reported as waters recede.
Rising water levels in the Saint John River in New Brunswick have led to the deployment of armed forces to locations such as Island View, Fredericton, Oromocto, Grand Lake, Gagetown, and Grand Bay to assist. Using satellite imagery, the New Brunswick Emergency Measures Organization (NBEMO) has reported 16,155 lots touched by floodwater, but not every building on those properties has been impacted.
As well as the increasing frequency of severe weather events leading to higher lake and river levels, the Insurance Bureau of Canada (IBC) attributes growing losses from flooding in Canada to "disappearing wetlands, ageing infrastructure, growing development on floodplains, and homeowners increasingly finishing their basements."
Flood Insurance in Canada
The major floods that inundated southern Alberta in June 2013 were responsible for Canada's third greatest insured losses from natural catastrophe. The IBC reported insured losses of nearly CAD 2 billion, largely resulting from sewer backup, and economic losses of about CAD 6 billion. The CAD 2 billion figure is low because at that time overland flood coverage—defined as covering damage from freshwater from rivers, lakes or water accumulated as a result of heavy rainfall—was not generally available in Canada. In many cases, overland flood damage is a common exclusion from homeowners' policies, and catastrophic losses ultimately fall to taxpayers via government emergency funds.
Overland flood coverage has become available nationally since 2015 in direct response to the 2013 Calgary flood. The IBC estimates that as of 2017, the take-up rate in Quebec, for example, is around 33%.
Pending the development of a national flood insurance program for Canada—the only country in the G-7 that doesn't have one—the IBC is urging provincial governments to spend more on educating consumers about their risk of water damage and to improve land use planning. It has also put together a program called Flood Factor to help educate homeowners about the steps they can take to protect themselves.
Hazard Maps
Governments, insurers, and homeowners need to work together to reduce losses caused by natural disasters. While government can manage building codes and zoning laws, it's also up to insurers to carefully evaluate their risk profiles and exposures to ensure that they continue to maintain adequate reserves in the event of a catastrophe.
A useful first step in risk assessment is a detailed hazard map. These maps indicate the associated risks for perils such as inland flood for a range of return periods, such as 100, 250, and 500 years. The Geospatial Analytics Module in AIR's Touchstone® platform lets you seamlessly integrate exposure information with location-specific hazard maps, including flood inundation footprints for Canada. As the insurance industry in Canada continues to cope with recent losses, the development of risk maps and probabilistic models as well as a deeper understanding of underlying hazards can help provide more effective risk management.
AIR flood hazard maps display the extent of the flooding associated with river flow magnitudes at various return periods