As science and technology improve, we should expect life expectancy to logically follow suit—so why has life expectancy in the U.S. dropped for the third year in a row, and what does it mean for life insurers, reinsurers, and enterprise risk management?
There have been continuous improvements in life expectancy in the United States since 1900 across all age groups (except for a decline early in the 20th century due to the 1918 Influenza Pandemic). Advancements in medical technologies and the availability of new drugs and treatments have improved our quality of life and our health. There has been a slowdown in this improvement since 2010, however, and starting in 2015 we have actually observed a decline in U.S. life expectancy, continuing through the latest Center for Disease Control and Prevention (CDC) report for 2017.
Breaking Down Average Life Expectancy Trends by Cause
In 1900, the average life expectancy at birth was 47.3 years old, compared with 68.2, 78.5, and 78.7 years old in 1950, 2010, and 2016, respectively. A large portion of these improvements in mortality rates can be attributed to the development of vaccines and antibiotics, which help prevent deaths from infectious diseases such as influenza, pneumonia, tuberculosis, and diarrhea—the leading causes of death in the early 1900s.
By the mid-1900s, diseases of the heart and cancers became the leading causes of death, replacing infectious diseases. Although these two diseases remain dominant contributors to mortality, and although there have been improvements in mortality rates due to these causes, we have observed a reduced rate of improvement in the last few years.
Why Have Improvements in Longevity Slowed?
Mortality rates due to drug overdose (a subtype of unintentional injuries), chronic liver disease, suicide, and Alzheimer's disease have gone up in the past few years, causing a slowdown in longevity improvement, and in 2017 resulted in shortened life expectancy. According to the CDC, the 10 leading causes of death in 2016 and 2017 are similar; however, mortality rates increased for most causes and decreased for only one cause.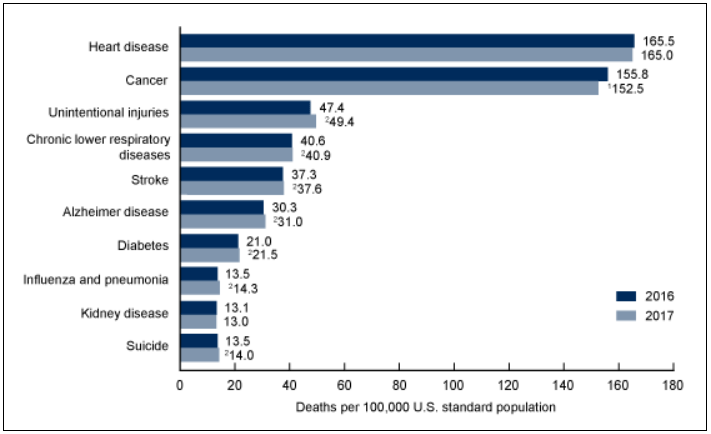 Unintentional injuries, suicide, and influenza and pneumonia are increasing at the fastest rates of 4.2%, 3.7%, and 5.9%, respectively. Drug overdoses during the 2017 opioid epidemic are the main contributor to unintentional injuries that caused an increase in mortality. Furthermore, the U.S. experienced a more severe seasonal flu in 2017 than in 2016, which impacted mostly children and the elderly. Cancer is the only cause that is decreasing by 2.1%, where heart disease and kidney disease didn't change significantly. These changes mainly affected young adults and the elderly (people between ages 25 and 44, and 85+) as can be seen in Figure 2.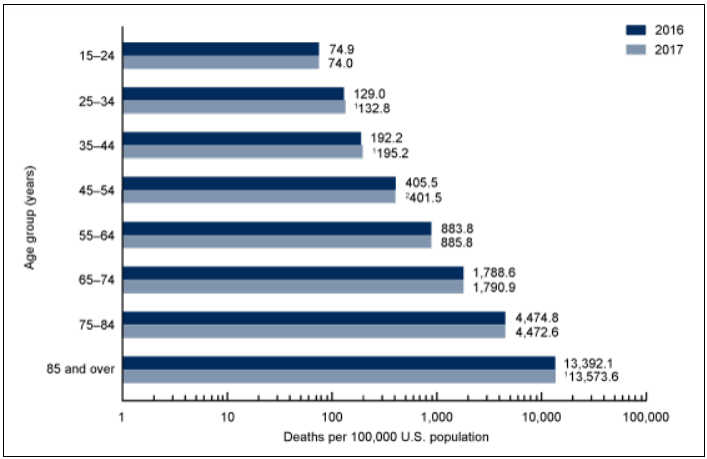 Understanding the Drivers of Longevity and Mortality Risk
Overall, evaluating the improvements in mortality rates in recent years shows that the policies and practices put in place in recent decades to minimize heart diseases and cancers continue to successfully contribute to the decline in mortality from these diseases. On the other hand, the recent epidemic of drug overdose is claiming more lives every year, which highlights the need to consider new regulations to better control it.
Aggregate historical data doesn't tell the whole story and can mask trends in specific subpopulations, such as drug overdoses in certain age groups. The ability to identify and understand the specific drivers of mortality and longevity trends and their associated variability is crucial to improving risk mitigation and decision-making in the life insurance community.
U.S. Life Expectancy: Trends, Uncertainties, and Longevity Risk