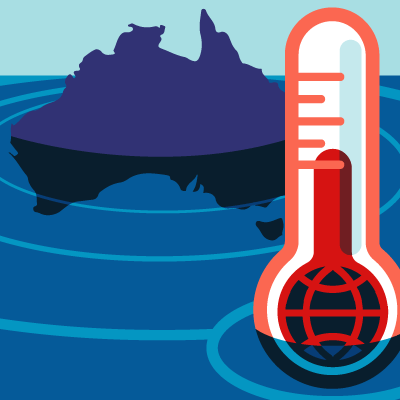 Late January storms dumped more than 1 meter of rain within 48 hours on parts of Queensland in northeastern Australia, and widespread flooding ensued. The warm waters that typically exist in the western tropical Pacific and along the eastern coast of Australia are a source of fuel for deep clouds, heavy rainfall, and tropical cyclones affecting northeastern Australia (i.e., Queensland). But during an El Niño event the easterly trade winds relax and these warm waters shift eastward, taking with them the probability of such wet and stormy weather. So, do we know why the city of Townsville, 1,350 km north of Brisbane, came to experience historic flooding?
A Recurring Climate Pattern
The El Niño is part of the El Niño Southern Oscillation (or ENSO for short), and La Niňa events can develop in between El Niños and have somewhat opposite effects. El Niños tend to form every two to seven years. The last significant one was 2015–2016 and it was the strongest ever recorded. At the time, much of Queensland was suffering through one of its worst droughts ever—although it had started before that El Niño began.
Technically speaking, the world is currently ENSO-neutral, although the index for the strength (or weakness) of an El Niño event has been showing more favorability to an appearance. Cooler-than-normal ocean conditions have existed off the coast of Queensland for several months. The slow El Niño development was likely one of the reasons for the reduced hurricane activity over the North Atlantic last year. The latest forecast shows there is a 65% chance that an El Niño will officially form and continue through the Southern Hemisphere autumn this year. However, it will probably not be anything close to as strong as the one seen in 2015–2016.
Bucking the Trend
As conditions are leaning more toward an El Niño event, the current flooding in Queensland, and Townsville specifically, is somewhat contradicting the climate—occurring as the warm waters shift eastward and the probability of wet and stormy weather is reduced. But this wouldn't be the first time this has happened. In January 1998, for example, during the second strongest El Niño ever recorded, Townsville also saw significant flooding after what locals remember as "The Night of Noah." That flooding was attributed to the remnants of Cyclone Sid, which had formed near Darwin in the Northern Territory of Australia two weeks earlier.
Is Climate Change to Blame?
The reality is that impacts from El Niño events can vary, depending on the strength of the event and even the characteristics of the event—for example, how far eastward the warm waters have shifted. And weak to moderately strong events can be more easily overpowered by other climate signals or weather systems.
I have not said much regarding the impacts of climate change on the Townsville flooding because such an attribution would require considerable research. Evaluating how floods in that region have changed over the last 150 years or so using actual rain gauge measurements, for example, would be a start. But this would have to be backed up with climate change simulations from computer-run general circulation models and then the information produced would have to make sense from a physics or meteorological standpoint. So, for now, let's just take baby steps—or should I say El Niño steps—to start understanding the 2019 floods in Townsville.
Read the white paper "Climate Change Impacts on Extreme Weather" for a risk-based discussion on climate change and its effects on atmospheric perils