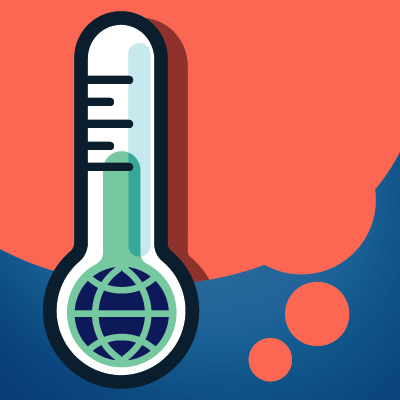 What do our clients and the greater insurance industry think about climate change? We decided to do some market research to find out, and to gather input into enhancements with respect to climate change that we might incorporate into AIR's catastrophe models and additional products. Our market research consisted of a series of 30-minute phone interviews, as well as an online survey.
We had several motivations for undertaking this research. One was to understand the industry's reactions to our 2017 white paper, Climate Change Impacts on Extreme Weather, co-authored by Dr. Peter Sousounis and AER's Dr. Chris Little, which reviewed the latest research on how the frequency and intensity of hurricanes, floods, droughts and other extreme events will change over time. We also wanted to get reactions to AIR's report for the Association of British Insurers, UK Windstorms and Climate Change – Impact on Insurance Industry, which analyzed UK Met Office climate change projections on how an increase in temperature of just a few degrees could lead to increased insurance losses from windstorms, depending on the region of the UK.
Read our white paper to find out how climate change could impact the frequency and intensity of hurricanes, floods, wildfires and other perils.
Anyone who had read either of those reports was given the opportunity to have a phone conversation with both of us. Due to the overwhelming number of responses we received, only 18 conversations could be scheduled. However, we did provide everyone we were unable to speak with an opportunity to participate in an online survey.
Here are some of the insights and takeaways we gleaned.
Climate Change in the ~10+ year Time Horizon
A myth we often hear is that the insurance industry doesn't care about climate change because the effects of climate change can take years, if not decades, to be realized and insurance policies are typically 1-year contracts. What we found was completely different.
There was certainly interest in climate change impacts in the coming year, but we saw a wide variety of answers. The majority centered around wishing to understand a 5- to 10-year time horizon or longer and being able to understand how today's average annual loss (AAL) could potentially change over such a period.
These results were consistent with a survey conducted at our 2017 Envision Europe conference where we asked a similar question. On that occasion 30 out of 50 respondents indicated 10 to 15 years as being the time horizon of interest.
Strategic Long-Term Planning and Climate Change
Some insurers cited that having an understanding about what the AAL could be in ~10 years compared to the AAL for the coming year would help them make better strategic planning decisions. With customer lifetime values for insurers' customers being 7, 8, 9 years or more, having an understanding about how the risk will change over time would enable insurers to better set guidelines for where to grow or retract coverage.
Some insurers make longer-term commitments to their customers—still 1-year policy terms, but with a commitment to renew; for them, knowing how losses will change beyond the 10- to 15-year time horizon is important.
We also heard respondents talk about how climate change is informing their investment decisions, with companies pointing out that they are seeking to invest monies collected from premiums in companies that are prepared for the future. This trend dovetails well with Corporate Social Responsibility (CSR) investment initiatives, as well as green initiatives aimed at insuring firms striving to reduce their carbon footprints.
A Desire to Know Climate Change and Climate Variability Impacts More Directly
We received a lot of input from respondents who seek more granularity in their ability to understand climate change's impacts by peril, and in their ability to better isolate those effects on a regional level. Some insurers—notably those within the insurance linked securities (ILS) space—were curious to better understand short-term fluctuations influenced by climate variability, such as ENSO, AMO, and NAO affecting various perils—especially Atlantic hurricanes. To this point, our European ETC model, released in 2018, allows clients to identify years with positive and negative phases of NAO. And, we are already hard at work incorporating similar climate signals into a future U.S. hurricane model. As we update our other models, we will continue that strategy as the science permits.
Changing Attitudes, with Europe Leading the Way
While we found that insurers of all sizes, headquartered in various countries, are concerned about the impacts of climate change, those based in Europe were more likely to have climate change committees or directives mandated by the CEO or Board of Directors. Several companies had recently updated their company position statements (or were planning to do so) or are sharing ideas in collective industry climate change committees and working groups with the expectation that more regulation will follow in the coming years. Regardless of whom we spoke with, respondents recognized that attitudes have shifted in recent years. Most industry professionals acknowledge climate change and are actively working to manage to it.
There were various other general insights and reactions shared with us, as well as product and consulting feedback directed to AIR. We look forward to continuing to engage our clients and the broader insurance industry in these discussions, as our goal is to incorporate that input into future solutions and thought leadership content.
As world leaders recently convened in Poland for COP24 to negotiate a set of rules for implementing the Paris Climate Agreement, much work lies ahead to execute on the plan to mitigate the effects of a changing climate. At AIR, we remain committed to researching the impacts of a changing climate so that we can best prepare both the insurance industry and society.
How is climate change impacting your organization in 2019? Let us know in the comments below.
Read our white paper to learn how climate change could impact the frequency and intensity of natural catastrophes