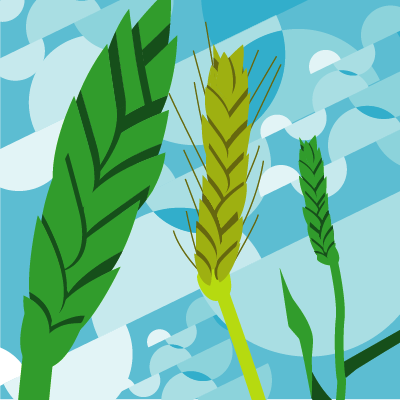 Crop exposure changes much more frequently than property exposure; crop rotation practices lead to changes in crop exposure as often as every year, with more gradual changes caused by shifting weather and climate patterns. In the private U.S. Crop Hail insurance program, the prevalence of policy conditions applied can also vary from year to year as individual companies choose which policy forms to offer and farmers decide which policy to purchase. To accurately and realistically capture your crop hail risk and potential losses, assessments must use the most current crop exposure and policy data.
Recent Shifts in U.S. Crop Exposure
While crop areas can shift from year to year on a local scale due to crop rotation practices, a more general trend has been observed in planted crop acreage in recent years. Planted area of principal crops in the U.S. has decreased at the national level since 2014. One major crop for which planted acreage has steadily decreased is winter wheat (Table 1).
Table 1. Acres planted in the United States. Principal crops include corn, sorghum, oats, barley, rye, winter wheat, durum wheat, spring wheat, rice, soybean, peanut, sunflower, cotton, dry edible bean, potato, canola, proso millet, and sugarbeet. Harvested acreage is used for all hay, tobacco, and sugarcane in computing total area planted. Includes double cropped acres and unharvested small grains planted as cover crops. (Source: USDA 2017 and 2016 Crop Production Summaries)

|   | 2014 | 2015 | 2016 | 2017 |
| --- | --- | --- | --- | --- |
| Principal Crops | 326,436,000 | 318,975,000 | 319,238,000 | 319,136,000 |
| Winter Wheat | 42,409,000 | 39,681,000 | 36,152,000 | 32,696,000 |
As crop exposure changes over time, the overall risk of insured crop hail losses changes. Vulnerability to hail damage varies both by crop type and by developmental stage of a crop at the time of a hailstorm. If agricultural land is planted with different crops, a thorough risk assessment must account for the new crop exposure. If overall planted area of insured crops reduces, the decreased risk of loss should also be considered.
U.S. Crop Hail Policy Terms Were Recently Updated
Production Plan is one of the major lines of business in the U.S. Crop Hail insurance market. It covers hail losses that fall within the deductible of a farmer's MPCI policy and allows the farmer to receive indemnity payments based on production loss. Production Plan policies may have a deductible (referred to as minimum loss), typically 5% or 10%; an indemnity is paid only if the hail loss exceeds the minimum loss on the policy.
In 2016, Production Plan policies sold in Texas saw a definitive shift from a minimum loss of 10% to a minimum loss of 0% (Figure 1).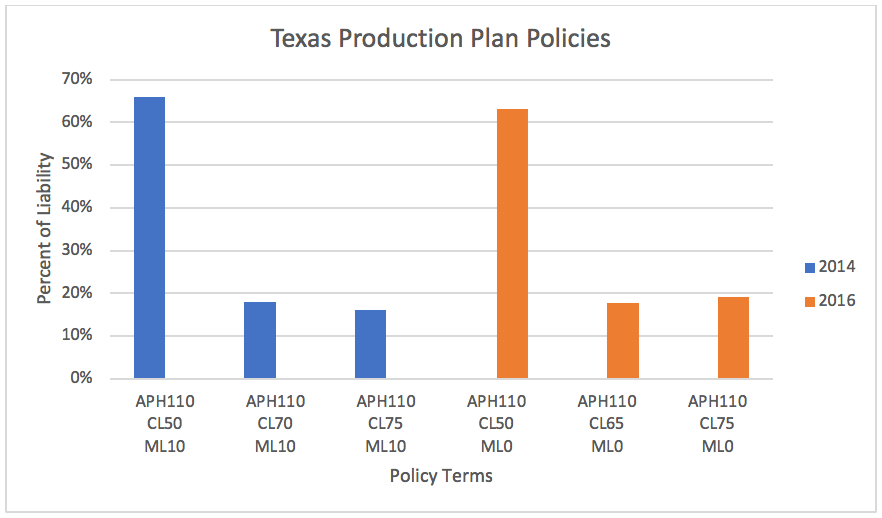 This change in policy terms resulted in indemnity payments to farmers for smaller hail losses (up to 10% loss), whereas these losses would have fallen within the policy deductible in previous years. The aggregate effect on the U.S. Crop Hail insurance industry of many smaller loss-causing events throughout a year can be significant and can lead to an increase in industry losses.
A similar shift toward 0% minimum loss Production Plan policies was observed after 2011 in several states, including Nebraska, Iowa, North Dakota, and South Dakota.
Capturing Changes to U.S. Crop Exposure and Policies
Changes to U.S. crop exposure and the Crop Hail insurance program are captured in regular updates to AIR's U.S. Crop Hail Model. The most recent model update, released on August 1, reflects updates to planted crop exposure in the U.S. and recent changes to policy terms across both the Crop Hail and Production Plan lines of business.
Maximize profit potential and make better decisions with AIR crop models and services.