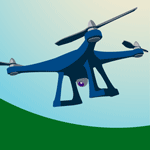 Just last year we blogged about five ways unmanned aerial vehicles (UAVs)—popularly known as drones—were transforming the insurance industry. These transformations were the following: drones playing an important part of the insurance claims process; more precise risk management and tailored pricing; better data for better catastrophe models; lower losses from fraud; and drones and artificial intelligence coming together for independent functionality.
With commercial UAVs a nascent but nonetheless hyped industry, it's worth revisiting our earlier post with the general state of the current UAV industry in mind. Have any of these transformations happened yet, and if not, how close are they? In addition, what are the trends encouraging or hampering these transformations? Generally speaking, in this blog we'll be discussing the U.S. market and regulatory framework.
The UAV Landscape
Over the past year the entire UAV industry has continued to grow. In 2012 the commercial UAV sector was valued at USD 40 million; this number soared to USD 1 billion by the end of 2017. This growth is fueled by the large number of new companies entering the industry and looking to capitalize on increasing funding. Since 2000, more than 300 UAV-related companies have been started, collectively raising more than USD 3 billion in capital.
While the commercial side of the UAV industry is expanding, however, the regulatory side is struggling to keep pace. The Federal Aviation Administration (FAA), which has jurisdiction over UAV operations, has greatly streamlined both their permitting for commercial drone operations (under Part 107 of FAA regulations) and enforcement of errant drone pilots. This has resulted in record numbers of legally operated drones in the nation's airspace, along with hefty fines for unlawful UAV operations.  Although there is now a regulatory framework in place for UAVs, it is still very new and its robustness is unproven, which may be holding back wider adoption of UAVs among risk-adverse industries, such as construction, engineering, and insurance.
With these recent changes in mind, let's revisit our original five points and see where they stand today.
Drones play an important part of the insurance claims process. Status—happening now.
The insurance claims process is a natural fit for UAV uses. A number of small, local UAV providers have begun operations to provide imagery following fires and automobile crashes. The biggest news, however, is that Munich Re is partnering with a UAV provider to offer drone imagery, analysis, and reporting to their clients.
More precise risk management and tailored pricing. Status—~5 years out.
UAVs are already being used on a small-scale, local level to collect property information, but neither the technology nor the regulations currently permit large-scale collection of property information to allow precise risk management and tailored pricing. On the technology front, longer UAV flight time and autonomous flight capabilities are required. On the regulatory side, the property and privacy laws are unclear, and this has resulted in concerned property owners shooting down drones.
Better data, better catastrophe models. Status—~5 years out.
Similar to #2, the technology and regulations do not yet allow UAVs to perform large-scale data collection. In addition, the FAA prohibits post-catastrophe UAV operations around emergency response efforts. There have been numerous reports of drones forcing firefighting helicopters to land during recent California wildfires, for example.
Lower losses from fraud. Status—~2 years out.
Using local, on-demand UAV-acquired imagery to detect fraud is an active area of research. Along the lines of #1, with large insurance and reinsurance companies collecting UAV data there will soon be enough sample data sets to effectively detect fraud from the air.
Drones and artificial intelligence (AI) come together. Status—happening now, with commercial grade products ~3 years out.
With the ability of drones to collect large amounts of aerial imagery, the question of how to analyze and make sense of this data is rapidly emerging Lots of R&D is being done, some of it by very large tech companies, which shows how important (and profitable) combining drones and AI will be. And to a large extent, realization of this combination will allow the other four to become realities.
Drones have barely begun to impact the insurance industry, but it is clear that they have the potential to transform it, and that it will not be long before this potential is realized. 

Read more: "Drones: I Have Seen the Future, and It Works!"