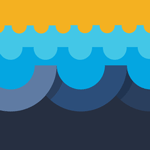 On May 27 dramatic flash flooding wreaked havoc in the historic center of Ellicott City, 13 miles west of Baltimore in Maryland. Late in the afternoon two waves of intense flooding surged down picturesque Main Street up to 8 feet deep, inundating first floors and basements, washing vehicles away, and depositing tons of debris and mud; tragically, a life was lost. This event hit the headlines, thanks to dramatic video footage and because it is even worse than the major flooding there in July 2016.
Sadly, such inundation is nothing new for Ellicott City, for it has experienced many major floods in the past. Most were associated with the Patapsco River, but according to Preservation Maryland, last week's event was Ellicott City's 15th catastrophic flash flood since 1768.
Today, Ellicott City is part of the Baltimore metropolitan area, but it originated as a rural community that prospered by harnessing the location's great potential for water power. It was a mill town said to be built around seven hills through which streams converge on a small river, aptly named the Tiber. Main Street follows the steep valley of the Tiber down to the Patapsco River.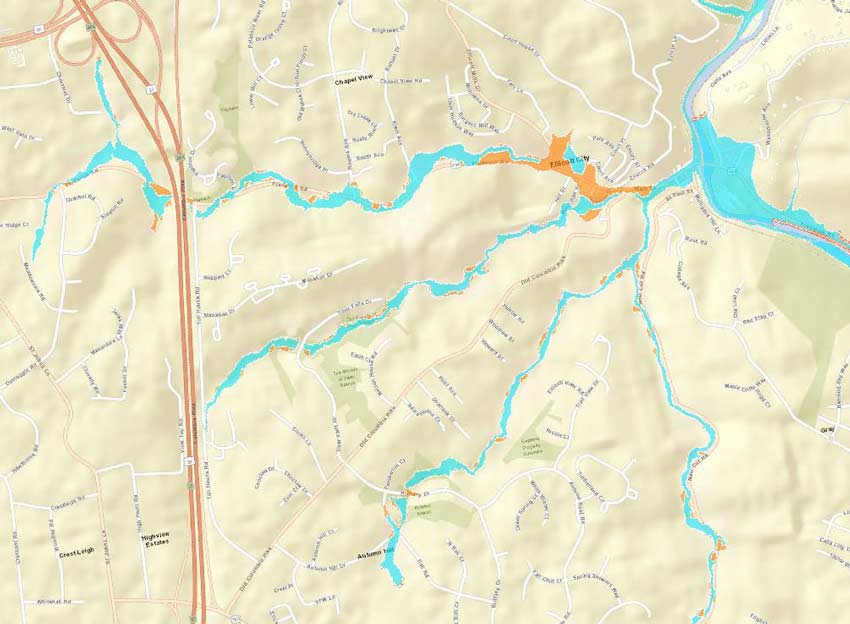 Significant Rainfall
As in 2016, last week's flash flooding followed prodigious amounts of precipitation falling on the area in a short space of time. What would typically have been two month's worth of rain—about 8 inches—fell mostly in the three hours between 3:30 and 6:30 p.m. Such an astonishing amount of rainfall in just about three hours corresponds to a greater than 1,000-year return period event, according to NOAA's precipitation frequency data set. In addition to a flash flood emergency for Ellicott City, a flood warning was issued for locations along the Patapsco River in Anne Arundel, Howard, and Baltimore counties.
Near record-high levels of atmospheric moisture and a stalled cold front were among the factors that contributed to the quantity of rain that fell. Between Ellicott City and Baltimore strong and slow-moving thunderstorms with just about nowhere to go formed and reformed—almost a textbook example of what meteorologists call training convection. Some locations in the area experienced even more rain than Ellicott City, with the National Weather Service reporting up to 10.38 inches.
Topography and Development
Other principal contributing factors to the flooding were topography and development. Ellicott City is located in a small and high-sloping drainage basin, or catchment, which acted as a funnel. Four small rivers converge at a choke point where last week's flood waves arrived at similar times. This choke point is located, unfortunately, in the downtown area; floodwaters from upstream were constricted, increasing the water velocity and its power to carry things along with in it its way.
There are various types of floods; what occurred in Ellicott City was an inland flood, which in simple terms is a condition of high water that occurs when the land's ability to absorb moisture is overwhelmed by the amount of water it receives. The historic center of Ellicott City features narrow streets and is heavily paved (impervious surfaces are unable to absorb moisture). Significant sections of the river in the downtown area are below ground within large culverts under the streets and beneath buildings. If the capacity of these culverts is exceeded, the floodwater will back up and find another way downhill—above the streets in this case.
Furthermore, beyond its historic center Ellicott City has experienced significant suburban development over the past century. Large portions of the watershed were developed prior to stormwater management regulations, and even the most recent developments are not designed to handle larger than 100-year floods.
In a natural forested or grassland drainage area, a portion of precipitation is absorbed and stored in the ground; excess rainwater runs off overland and into streams. Development decreases natural infiltration by increasing the impervious area of pavement and roofs; instead of a portion of rainwater being stored in the ground and decreasing and/or delaying the peak flows, most of it runs directly into rivers. Ellicott City's flash floods were caused as much by the area's topography and land use choices as by the amount of precipitation that fell.
Mitigation
On four occasions Ellicott City has been named one of the "20 Best Places to Live in the United States" and it was included in a list of the "Top 25 Most Uniquely American Cities and Towns" in 2009, partly because of the appeal of Main Street. After the floods in 2016 a major flood mitigation project was initiated, but less than a third of it had been completed when last week's flood struck. Completion of this work will improve Ellicott City's resilience, but given its topography and the constraints associated with its status as a national historic district, further flooding from major events should be anticipated.

Seize the day with better flood risk management tools