Premium rates for U.S. crop insurance policies, which vary by county, crop, and coverage level, are updated annually based on the federal government's understanding of the risk. These annual rate changes can alter the locations and types of policies for which profitable opportunities for (re)insurers exist; one of these opportunities involves "fund designation".
Crop Insurance Fund Designation: A Tale of Two Funds
The Risk Management Agency (RMA)—the division of the United States Department of Agriculture (USDA) that manages the Federal Crop Insurance Corporation (FCIC)—establishes the rate for each policy and allows approved insurance providers (AIPs) to designate each individual policy they write into one of two funds: Commercial or Assigned Risk. The Commercial fund enables the insurer to take on most of the risk as well as most of the potential reward, while the Assigned Risk fund places most of the risk and reward back on the RMA. This allows insurers to control their risk-reward appetite in a market where they are unable to refuse a policy, and allows high risk policyholders to have more affordably priced insurance.
Fluctuations in Crop Insurance Premium Rates
The U.S. Federal Crop Insurance Act requires the RMA to periodically review premium rates and adopt "as soon as practicable, rates and coverages that will improve the actuarial soundness" of the crop insurance program. This rerating helps the RMA establish premium rates that are reflective of the risk, and more weight is given to loss experience from more recent years "as they are more representative of the risks that growers currently face." It also ensures "that the Federal crop insurance program does not place an unnecessary financial burden on growers or on the American taxpayer through inaccurate premium rates."
For example, if a crop in a certain location has done well in recent years, the premium rate for the policy covering that crop, in that area, could be lowered as the risk is seemingly lower. It is, however, important to note that a few good years does not necessarily reflect lower risk in coming years. The opposite also may occur; if a crop in a certain location has performed poorly in recent years, premium rates may increase for that crop in that area.
Rerating Can Shift (Re)Insurance Policy Risk
As the RMA adjusts premium rates on U.S. crop insurance policies based on its regularly updated view of risk, the risk for (re)insurance policies can shift. This may affect which fund—Commercial or Assigned Risk—offers the most opportunity for profit. If a premium rate is reduced, it can make affected policies riskier for the (re)insurer, which in turn may make it judicious to place them in the Assigned Risk fund. Conversely, if a premium rate is increased, it can lower the risk of impacted policies and make the Commercial fund more fiscally appealing.
To better understand how crop insurance premium rate changes may impact fund designation, we can look at a recent example. Soybean premium rates decreased in the 2018 Reinsurance Year by between 0% and 20%, depending on the county, coverage level, and plan, which could mean more soybean policies should go into the Assigned Risk fund (depending on a company's portfolio). Figure 1 shows the industry average change to premium rates for soybean using constant price and price volatility from 2017 to 2018. At the state level, all but Iowa show reductions in the premium rate, although at the individual policy level soybean premium rates changed from +30% to -40%. This makes it especially important to be up to date on these premium rate changes.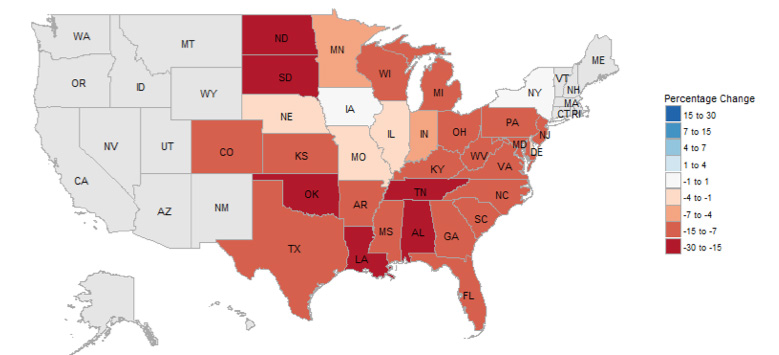 Optimize Your Crop Insurance Fund Designation
Premium rates for every policy are set by the RMA. Higher premiums are charged when the RMA believes the policy has larger risk associated with it. Knowing how your view of the risk differs from the RMA's view is crucial to leveraging opportunities for profit. Policies you believe have lower risk than the RMA-set premiums can bring advantageous loss ratios and gains for a book of business during the current crop season.
Choose an allocation strategy that best fits your risk-return target with AIR's Fund Designation Service