Since 2007 the property catastrophe (re)insurance market has been suffering from a prolonged stretch of declining prices, and last year's results show no sign of that trend ending. Accordingly, (re)insurers who focus on property cat need to look at other risks to diversify their sources of revenue growth.
The Enduring Soft Market
A soft market is defined as one where demand for insurance is lower than its supply. In this environment, insurance premiums decline, coverages broaden, competition increases, and available capital increases.
The year 2017 was very active with major hurricanes hitting the U.S. Mainland, Puerto Rico, and other U.S. territories and Caribbean islands; record-breaking wildfires in California; and an M7.1 earthquake affecting Mexico City. These large loss events left many (re)insurers with hope that the market's perception about catastrophic risk would change in a way that caused the market to naturally correct itself.
According Guy Carpenter, these events weren't like past hardening events where supply and demand imbalances and shifting views of risk drove rates higher. Instead the 2017 events were largely within modeled parameters, and overall industry capital did not decline.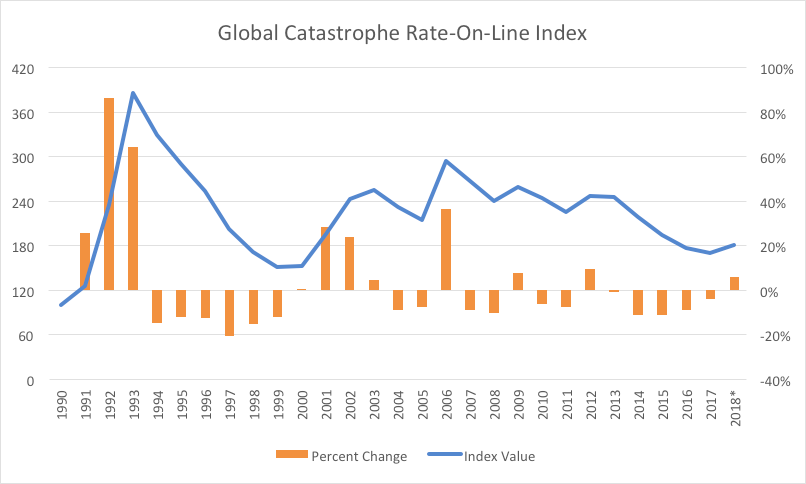 Now property cat insurers must ask themselves: If the past year didn't harden the market, what will? Given the maturity of the industry's understanding of natural catastrophe risk and the maturity of models, how likely is it that alternative capital will create more competition? If not property cat, which line of business has the most promise for growth?
Cyber Is the Next Source of Growth
The cyber insurance market is an emerging one whose exponential growth in the last several years has been driven by the increasing awareness and cost associated with data breaches, ransomware, service provider downtime, and other types of incidents. According to ISO MarketStance, the U.S. cyber insurance market, where more than 90% of the cyber policies are being written today, is expected to grow from USD 2.5 billion to USD 6.1 billion in the next two years. Much of this growth will come from the middle market segment where cyber insurance penetration rates are currently low.
These numbers speak for themselves, and it is widely accepted that cyber is the insurance industry's top growth market with many (re)insurers preparing to enter into it. The challenge for new or recent entrants who have limited experience writing this type of risk will be to avoid becoming "naïve capital" that ambitiously enters the market only to exit rapidly once a large loss event hits.
Data and Analytics Can Lead the Way
A small group of cyber insurers currently dominates the market and has accumulated years of data and experience that have helped them gain their lead. But this position is not permanent. The rapidly evolving nature of cyber risk can make this history-based information irrelevant. Modeling and analytics, such as those available in ARC, are also becoming an equalizer because they provide access to detailed cyber risk data and insights by leveraging data science, behavioral analytics, network models, stochastic methods, and expert views to provide up-to-date views of cyber risk.
Do you view cyber risk as an opportunity for your organization?