In this era of global warming, how is it that the northeastern U.S. just experienced four nor'easters in the space of three weeks, and Spain, Italy, Ireland, and England were slammed by Arctic winds, bitter cold, and major snowstorms?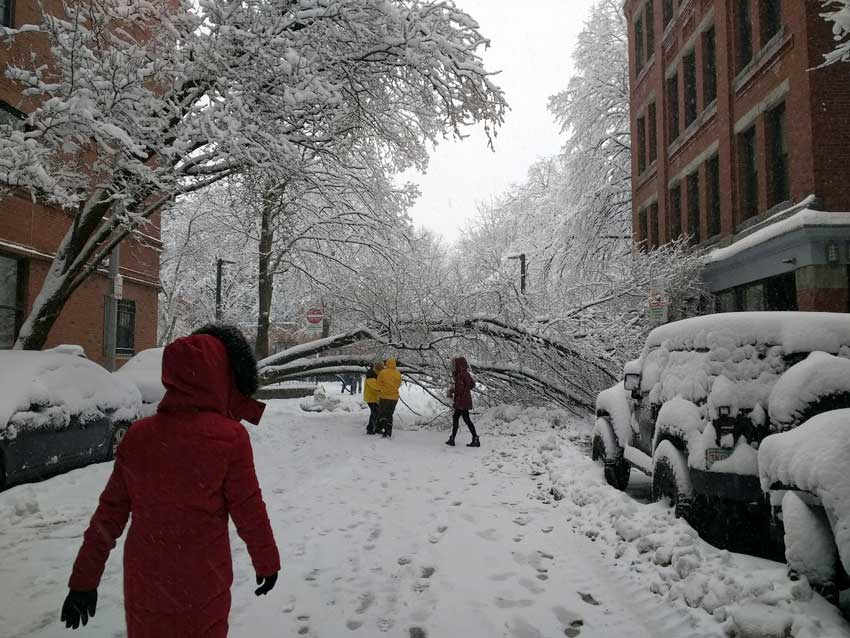 Global warming has been happening since the beginning of the Industrial Revolution back in the 1850s. Our globally averaged temperature has increased by about 1.1° Celsius. But global warming does not mean that the warming has been uniform across the planet—in space, or in time. As different parts of the globe warm more than others, more complicated regional temperature and weather changes occur.
In fact, global warming should, more appropriately, be called climate change, to reflect the fact that portions of our planet have been cooling—at least recently, temporarily, and during certain seasons. Take the (north)eastern portion of the U.S., for example, where most of the recent winters have exhibited below-normal temperatures and above-normal snowfall. Of course, natural climate variability also plays a role, especially as it is influenced by climate change.
A Split Polar Vortex and Climate Change
A few years ago, the term polar vortex became popular in the news. It was the explanation for why Baltimore, Philadelphia, New York, and Boston were experiencing record snowfall totals—by event and by season.
Recently my colleague at AER, Judah Cohen, shed some light in a blog on this phenomenon, specifically on how variations in the polar vortex affect weather patterns. It is a well-known fact that the poles are warming faster than equatorial regions. The melting terrestrial ice cover is part of the reason why sea levels are increasing. Melting polar ice may also be responsible for the variations in the polar vortex.
The polar vortex oscillates between a strong and weak state; the weakened state allows for polar air to ooze southward. Judah contributed to a study that found the vortex is weakening more often and for an increasingly longer portion of the winter season. In fact, the colder snowier periods are associated with the vortex splitting to form a high-low pressure dipole that funnels cold air southward—over the eastern U.S. and Europe as it turns out.
The connection to climate change, I would posit, is that a reduction in ice cover allows more northward transport of heat (from the underlying ice-free water) over the Arctic. This heat transport is maximized in late fall, when polar ice cover is at a minimum. What happens near the surface makes its way up to the stratosphere, causing the polar vortex to weaken more often. These changes take time, which is why what happens at the surface in fall doesn't affect the vortex until winter. Another effect is that snowfall over Siberia increases—in October! In fact, a visible precursor to a cold, snowy winter in the eastern U.S. is a cold, snowy October in Russia.
For a Limited Time Only?
As noted, the polar vortex has weakened during many recent winters, with some exceptions for strong El Niño/La Niña episodes. But, there is no telling for how many more winters this will happen. As more polar ice melts, the phenomenon could change. Until that happens, folks in the northeastern U.S. especially may be experiencing more nor'easters with above-normal snowfall, strong winds, and flooding storm surges—even through March, as has been the case this year. The four nor'easters in the first three weeks of March have caused a lot of coastal wind and storm surge damage, not to mention a lot of snow. Two of the top three all-time high water levels in Boston Harbor have occurred this winter.
So, climate change can be responsible for colder, more wintry conditions in parts of the world—at least for the time being. It may be a transient feature of a warming planet, but as far as winters in the northeastern U.S. are concerned, it is a feature that the insurance industry should be aware of.

What does the evolving severity of extreme weather phenomena mean for the insurance industry? Read my white paper "Climate Change Impacts on Extreme Weather"