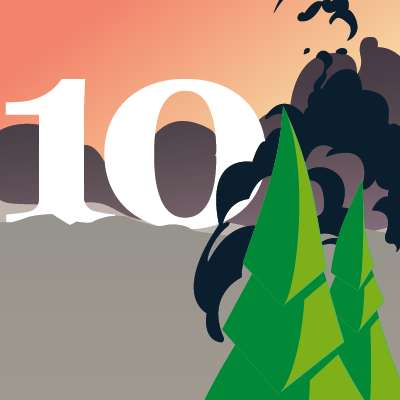 No stranger to wildfire, Butte County has experienced 34 fires greater than 1,000 acres since 1984, according to the interagency program Monitoring Trends in Burn Severity (MTBS). Topography, vegetation, and weather patterns are the top factors contributing to this county's high wildfire risk, especially in the Camp Fire–affected area.
Paradise, the town in the main area destroyed, is situated on a mountain plateau between two deep canyons. This area is commonly referred to as the Lower Ridge. To the east of Paradise is the Feather River and to the west is Butte Creek. The elevation ranges from 1,500 feet at the southern boundary of the town to 2,200 feet at the northern. Such topography is particularly favorable for fire spread, as fire travels faster uphill than downhill.
During high-temperature, low-humidity conditions, wildland fires can intensify rapidly. Even in the absence of strong winds, a fast-moving fire can generate its own updrafts, particularly in canyons, causing embers or brands to be carried aloft and drop far away. This results in spot fires over a wide radius as the wind changes its direction. While such topography makes fire spread more easily, firefighting is harder on slopes than on level ground.
The factors that combined to create the conditions that led to the highest potential for extreme fire behavior in Butte County were: favorable topography for fire spread; dominant vegetation in its driest state; hot, dry weather brought by a north wind. The main vegetation cover on the Lower Ridge is brush, a type of fuel that burns easily. Brush fuel, unlike grass fuel, does not respond quickly to the relative humidity. Brush fires can be difficult to control under normal summer conditions because fuel moisture drops to its lowest level in late summer. Butte County experiences cool, wet winters and hot, dry summers. While the temperature drops in autumn from its summer peak, occasional strong north winds in autumn can bring high temperatures with very low humidity.
Proactive Wildfire Mitigation
As discussed in an earlier blog, many communities in high-risk areas are participating in property-level and community-level wildfire mitigation efforts. Following the "Siege of 2008," during which thunderstorms ignited at least 2,000 fires across California in just two days, Butte County implemented several wildfire mitigation efforts, including logging and fire breaks. Local agencies and the county fire department cooperated with various federal, state, and private agencies in developing a community wildfire protection plan, for which pre-fire strategies and tactics were set, implemented, and updated through the years.
In and around Paradise multiple fuel reduction projects were implemented from 2001 to 2009. Fire break zones were created all over town. Although Paradise Fire Safe Council documents do not include fuel reduction projects in the past 10 years, some additional projects may have been performed between 2009 and 2015. The Butte County Community Wildfire Protection Plan last updated in November 2015 (CWPP 2015) for example, summarizes programs such as vegetation management, wildfire awareness education, and wildland fire prevention engineering to that date.
Actions were also taken in the community to improve the resilience of homes and other structures in case of wildfire, such as enforcing and increasing the compliance level with defensible space laws and regulations. Residents are required to prune their trees and clear brush from homes, or be subject to fines for not taking appropriate precautions before wildfire season; many homeowners enlist off-duty firefighters to double-check their work. Educational workshops were conducted regularly to inform residents about best practices for fire prevention. The Butte County Fire Council has also offered brochures to residents about what to do in case of wildfire, which evacuation routes to take out of town, and what to take with them.
A New Normal
The AIR Wildfire Model for the United States simulates more than 9,000 fires in Butte County in its 10,000-year stochastic catalog and indicates significant high risk within the perimeter of the Camp Fire. The risk was well-understood in Butte County, and Paradise initiated a series of mitigation programs, but given the conditions on November 8 these measures were not sufficient to save the town.
With increasing incidence of extreme wildfires in past decades, a paradigm shift has occurred in the view of risk because of the increasing amount of exposure in the WUI. This development both places more exposure in harm's way and, since humans are responsible for starting most wildfires, increases the likelihood that ignitions will occur.
Once regarded only as an earnings volatility risk, the 2018 wildfire season has demonstrated to insurers that wildfires can indeed cause insolvency. Therefore, it is more important than ever that insurers effectively capture their wildfire risk with a probabilistic tool such as AIR's U.S. wildfire model. Homeowners and communities in areas prone to wildfires also need to acknowledge their risk and implement—and sustain—mitigation efforts. All it takes is a spark to turn risk into reality.
Visit "California on Fire: The New Normal?" to learn more about this wildfire and the growing risk in California