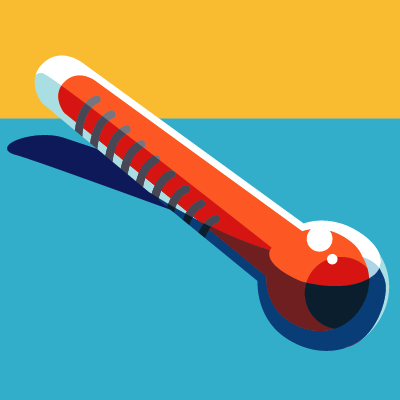 The North Atlantic Oscillation (NAO), which is one of the parameters affecting Atlantic storm tracks during wintertime, was in its positive phase throughout the summer of 2018. However, by the end of October, shortly after the start of the extratropical cyclone (ETC), or windstorm, season in Europe, the NAO index dropped below the zero line. Although it is not possible to draw reliable conclusions about its phase for the entire upcoming season at this time, we may ask: what could a negative NAO index mean for the 2019 ETC season in Europe?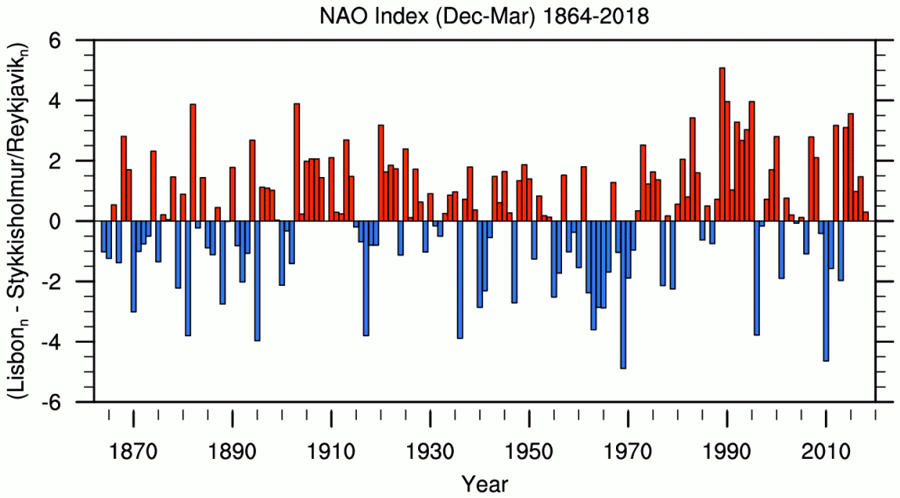 When the NAO is in its negative phase, the atmospheric pressure gradient at sea level between the Icelandic Low and the Azores High is weaker than average, resulting in weaker westerlies (wind currents moving from West to East). As a consequence, storms tend to be weaker and their tracks tend to be shifted southward compared to average storm tracks. From a statistical point of view, this means a reduction in the probability of storms hitting Scandinavian countries and increasing probabilities of storms hitting the central and southern parts of Europe.
These unfavorable conditions for Southern Europe may become rarer in future due to global warming as the amount of CO2 and other greenhouse gases in the atmosphere increases considerably. Ensemble analyses of climate model projections indicate that in a warmer climate, the NAO will be more positive. However, this signal is relatively weak. Nonetheless, climate model simulations indicate a decrease in severe windstorms over Southern Europe, and an increase in the windstorm risk over Central and Western Europe. While there is no clear signal on the number of intense storms, the overall number of storms is predicted to decrease in a warmer climate due to a reduced meridional temperature gradient and associated decreased low-level baroclinicity. When they occur though, storms are expected to be more intense.
There is still a lot of research needed to fully understand the impact of climate change, the NAO, and how the NAO will affect ETC risk in Europe. The AIR Extratropical Cyclone Model for Europe can help users assess the potential impacts of NAO phases, either for seasonal variations or for their own long-term view of climate change on their individual books. In addition, information is provided on the NAO phase associated with each event in the 10,000 year stochastic catalog, which allows users to filter for specific events and to build NAO composites to obtain their own view of risk.
Download the issue brief "Climate Change Impacts on Extreme Weather" for a discussion of the implications for the insurance industry