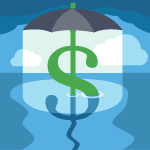 The year 2018 marks the 50th anniversary of the National Flood Insurance Program (NFIP), and this critical program currently finds itself in dire straits. The NFIP is USD 20 billion in debt, even after Congress forgave USD 16 billion in November 2017. Additional claims this year from hurricanes Florence and Michael will only serve to deepen the hole the NFIP finds itself in.
This program is in need of reform, but legislation capable of doing that is currently mired in Congressional committees as the deadline to re-authorize it looms on November 30th. While it is unclear what Congress will do, two potential outcomes seem most likely: Either the program could be extended for an additional six months, similar to the four-month extension that was passed in July, or the NFIP could get a shorter seven-day extension that would line it up with the December 7 deadline for a comprehensive government spending bill that is currently facing Congress.
If the NFIP is not re-authorized by Congress, the nation will face the following consequences:
Flood insurance contracts issued before the deadline will continue until the end of their policy term of one year.
The NFIP will no longer be authorized to issue new flood insurance contracts or renew existing policies set to expire.
The authority for NFIP to borrow funds from the Treasury will be reduced from USD 30,425 billion to USD 1 billion. This reduction in the NFIP's borrowing abilities would mean that after the USD 1 billion is depleted, claims would have to wait to be paid until sufficient premiums were received to pay them.
More than 5 million homeowners and businesses rely on the protection the NFIP provides from catastrophic flooding. It is unclear what would happen to these individuals should they experience a devastating flood during a lapse in the program. In the past, Congress has retroactively reauthorized the NFIP to cover these temporarily lapsed periods, but there's no guarantee that this will happen again. A lapse in the NFIP could also slow recovery efforts in North Carolina, South Carolina, Florida, and Georgia, as the NFIP would no longer be able to accept new claims related to hurricanes Florence and Michael. However, FEMA would still have the authority to pay pending flood insurance claims with available funds.
Furthermore, if Congress does allow the NFIP to expire, the residential housing market in at-risk areas could effectively grind to a halt, as potential buyers would no longer be able to obtain the insurance required by the banks responsible for issuing mortgages to these individuals. According to the National Association of Realtors, approximately 40,000 home sale closings per month could be affected by a lapse in NFIP coverage.
For more discussion of the NFIP read "Opening the Floodgates for Private Flood Insurance"