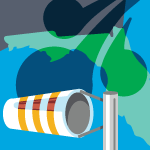 On October 7, 2018, more than 600 miles southwest of the Florida Panhandle, Michael became a named tropical storm. Less than 72 hours later it made landfall as a monster Category 4 hurricane and obliterated portions of the Panhandle. It then moved through Georgia and both South and North Carolina to exit into the Atlantic from Virginia.
Hurricane Michael was unprecedented in many respects, but particularly in its landfall location and its intensity given the time of year. Wind and storm surge devastated portions of Mexico Beach and areas to the southeast including Port St. Joe, St. Joseph Peninsula, Apalachicola, St. George Island, and Carrabelle. Panama City, to the northwest, emerged to scenes reminiscent of Hurricane Andrew's passage across southern Florida back in 1992 with forests of pine trees snapped like toothpicks. Communities throughout the Florida Panhandle, where no hurricanes stronger than Category 3 had been recorded, wondered how something like this could happen.
Visit our image gallery of the Hurricane Michael damage survey
I joined up with a Structural Extreme Event Reconnaissance (StEER) field assessment team funded by the National Science Foundation (NSF) and led by Dr. David Prevatt of the University of Florida and faculty members from other institutions in the field of Wind Engineering. The goals of the investigation were to do a preliminary evaluation of the structural performance of commercial and residential buildings and to determine the effectiveness of building codes and provisions. The sections that follow describe  some of my initial observations.
Panama City
As I drove in through Panama City on Saturday morning, just three days after landfall, the destruction I saw was considerable. Emergency crews were navigating scattered debris, downed power lines, glass fragments, and flattened trees to account for the missing and maintain order amid the chaos. Utility workers were out restoring the power grid while locals were sifting through debris trying to salvage what they could.
Buildings across many different lines of business appeared to have been affected and various structural failures were on display. Commercial auto repair shops and office buildings were destroyed; strip malls, churches, hospitals, houses, and schools all revealed their shortcomings (Figures 1, 2, and 3). In an earlier blog we discussed how building stock in the region was a concern due to the age distribution and some relaxed building code practices. The combination of these factors was clearly responsible for the many failures on display.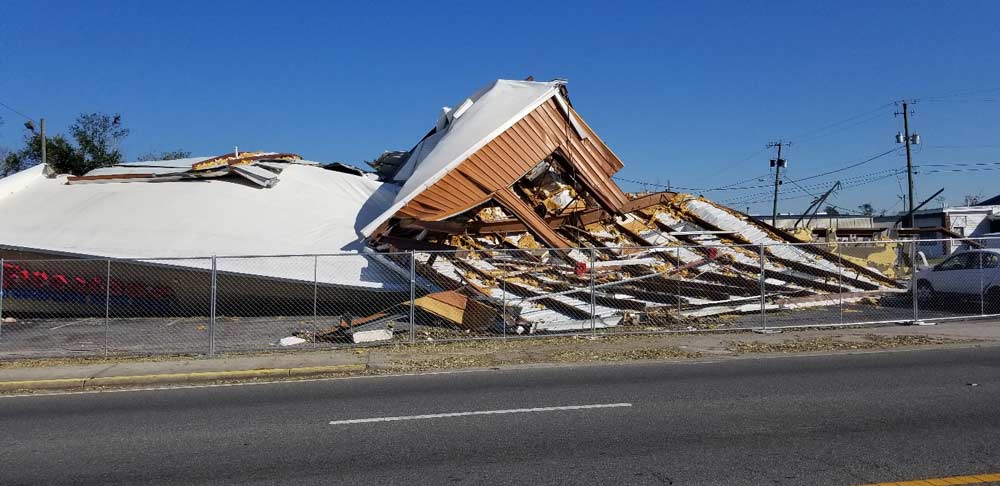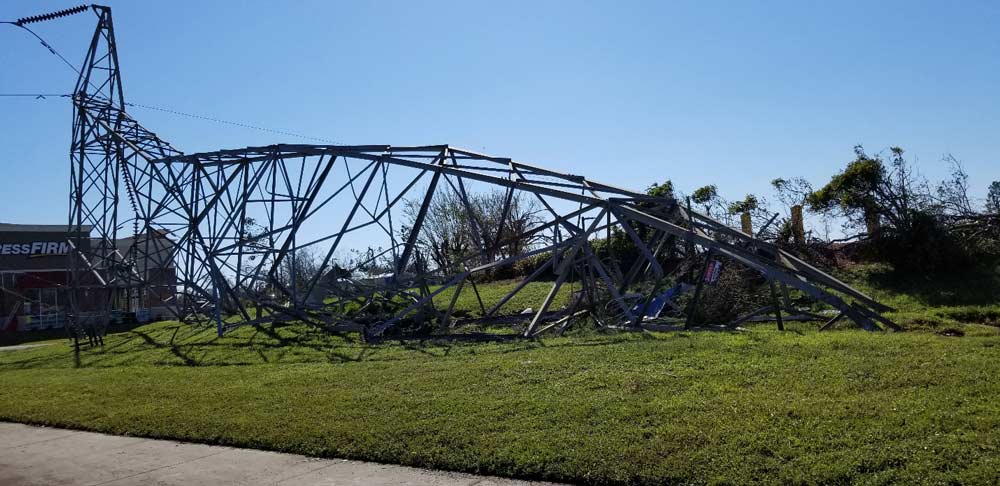 We surveyed some neighborhoods that contained a mix of structures with pre- and post-Florida Building Code (FBC) provisions and saw newer buildings perform much better. Nevertheless, we noted that some avoidable failures occurred, such as windows broken by wind-borne debris impact, garage door failures due to lack of bracing, and sheathing failures due to incorrect fastening (Figure 4).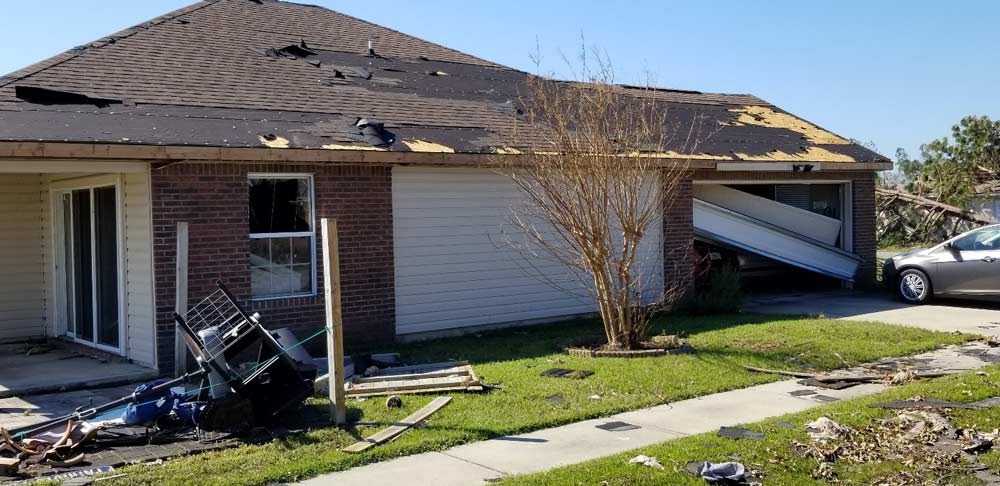 Mexico Beach and Beacon Hill
The amount of damage we encountered on this stretch of coast, where Hurricane Michael made landfall, was even more serious than what we had encountered in Panama City. A combination of storm surge and wind damage reduced a quaint beach town into an apocalyptic wasteland. Houses were plucked from their foundations and slammed into other homes, causing cascading failures (Figure 5). Upper floors sheared from lower floors by the wind came crashing down. In some cases structures and roofs—incredibly, still intact—relocated a few hundred feet away (Figure 6).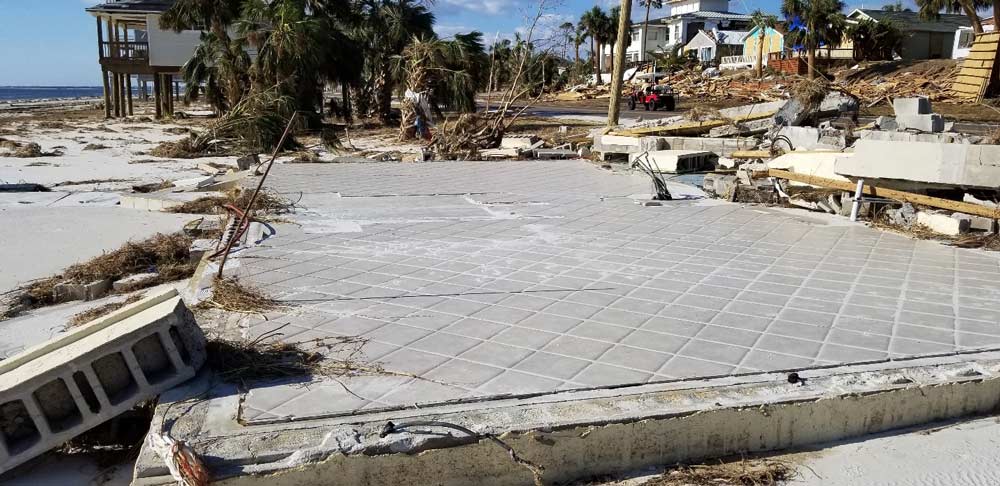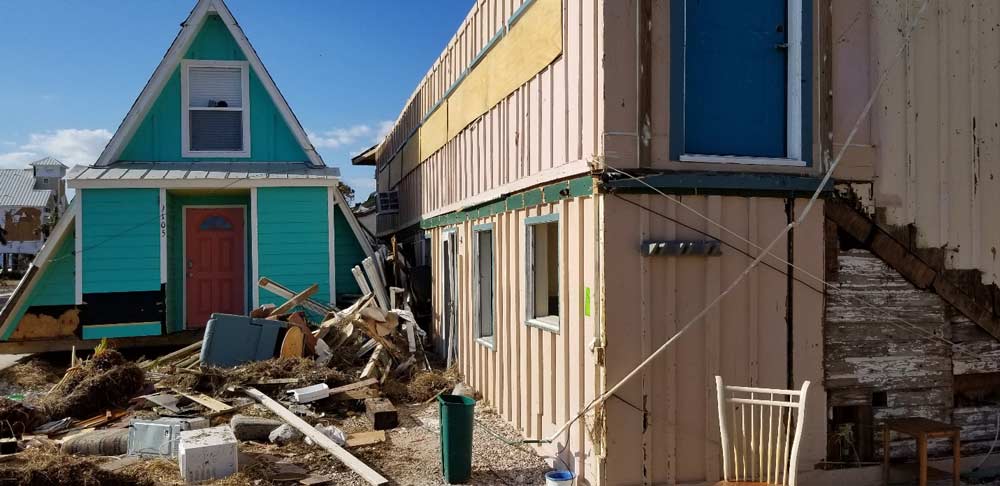 All too often piles of debris or remnants of some form of foundation remained where homes once stood (Figures 7 and 8). What the surge did not wash away, the wind battered. There were, however, some exceptions, particularly the few structures that had been elevated on pilings and built to withstand extreme winds; generally these suffered only  external damage and some interior losses (Figure 9).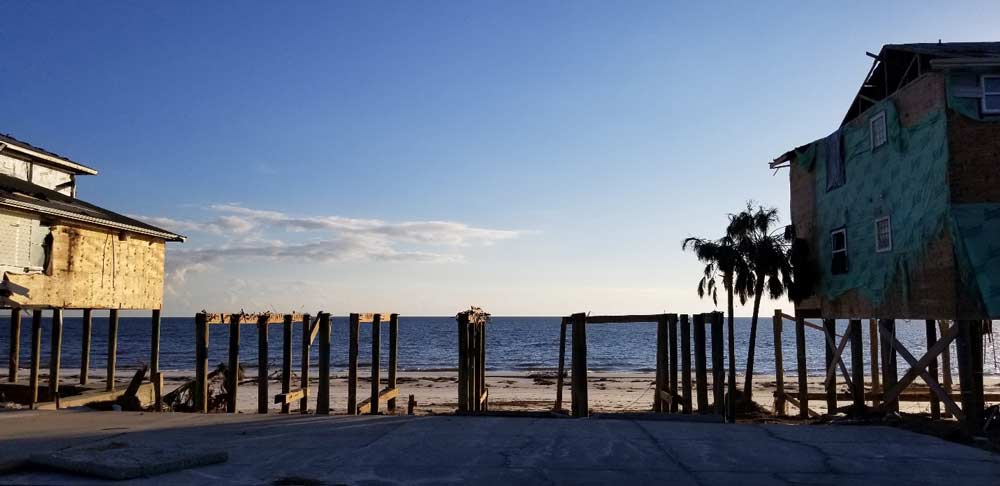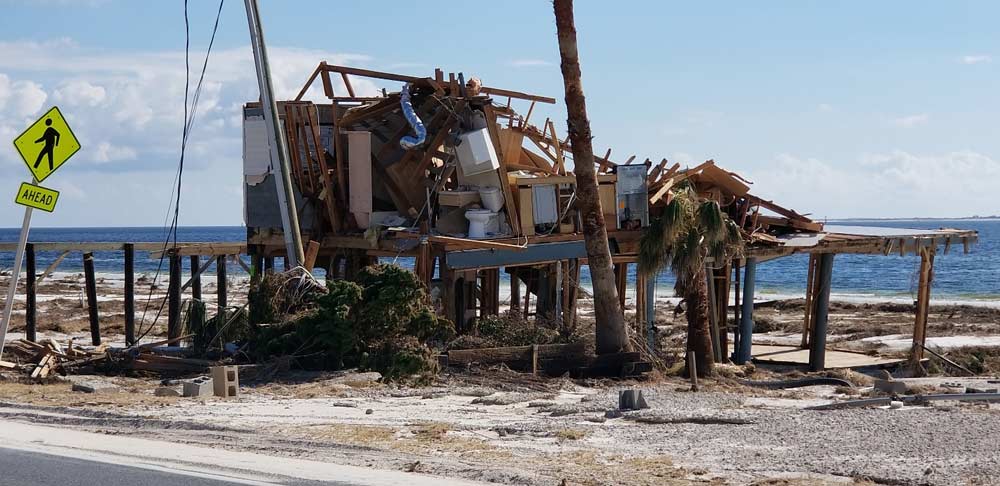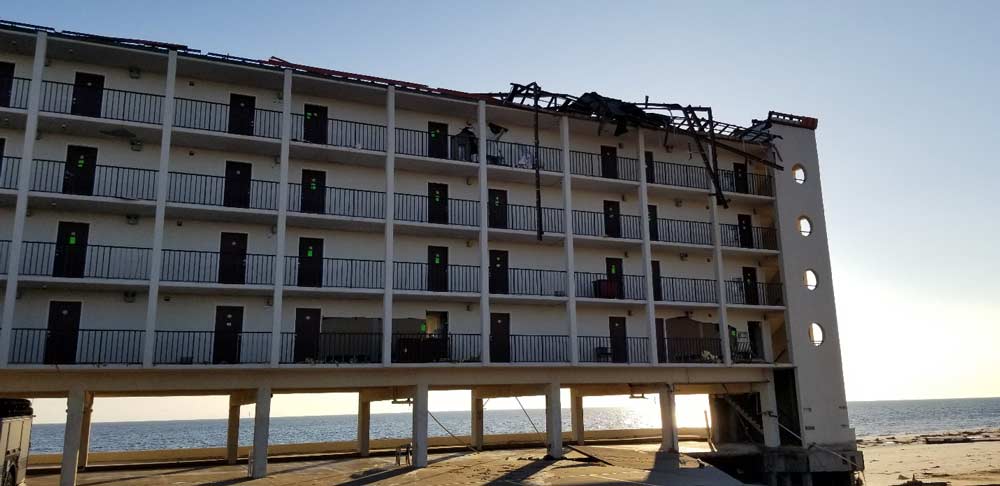 Southern Florida was considered to have some of the best storm-resistant building codes in the U.S. until Hurricane Andrew struck in 1992 and damaged or destroyed thousands of homes. That event was a wake-up call, and as a direct result the Florida Building Commission revamped the state's building codes and put in place a rigorous enforcement process. Their work paid off and now Florida is known to have some of the strongest and best-enforced codes in the country.
The design wind speeds in the Panhandle, however, are lower than in Southern Florida. Furthermore, much of the exposure in the areas devastated by Michael was constructed before 1995 and was therefore built under codes that predated the lessons learned from Andrew. A monster Category 4 hurricane making landfall in the region was not anticipated, and the destruction that resulted from Michael should be another wake-up call as the Panhandle rebuilds.
I would like to thank the following members of the StEER team for allowing me to collaborate with them on this investigation: Drs. Kurt Gurely, Jean-Paul Pinelli, David Prevatt, David Rouche, John Cleary, Justin Marshall, and Daniel Smith.   
To learn more about this storm's historic landfall visit "Hurricane Michael: Lessons in Risk Management and Resilience"